TweakTown's Rating: 78%
The Bottom Line
More of a collector's item than something you'd use daily, the DROP + The Lord of the Rings keyboard collaboration combines beautiful designs with great flourishes from Tolkien's world. It's fine for gaming and productivity, but better suited for a shelf rather than a desk.
Pros
+

Beautiful design

+

Sturdy with an anodized aluminum case

+

The Elvish font for the keycaps is awesome (with Dwarvish and Black Speech also available)

+

It comes with alternative keycaps in orange to add some color

+

Keycaps have a great feel
Cons
-

No software support

-

Limited customization

-

Tactile bumpy switches and curved keycaps might not be for everyone

-

Elvish font is great, but it can make it difficult when gaming or typing
Should you buy it?
Avoid
Consider
Shortlist
Buy
Introduction & Specification Details and Close-up
Anything peripheral-wise can be a collector's item, whether it's a limited run of controllers for a console, a headset with specialized branding, or a mechanical small form-factor TKL keyboard. And that's exactly what you've got here with this collaboration between DROP and Middle-Earth Enterprises. A run of mechanical keyboards using DROP's custom ENTR form factor and design with three styles to choose from: Elvish, Dwarvish, or Black Speech. Even though the Black Speech model features the most menacing (and, by that token, gamer-like) design, this review covers the Elvish model.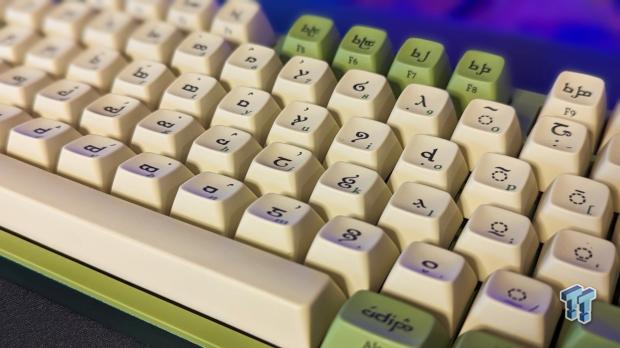 There's no denying that the result is a beautiful keyboard, with so many great little touches made in a nod to the iconic The Lord of the Rings books. Each keycap features the corresponding letter written in Elvish font with some great artwork that includes one of the Rings of Power instead of the Windows icon. Granted, modern-day English can be found next to the Elvish text, but it is rather small - so there's a definite bonus to knowing Elvish when using this keyboard.
The DROP + The Lord of the Rings Elvish Keyboard is modeled after the existing ENTR mechanical keyboard from the company that presents a high-quality first step into the world of mechanical keyboards, albeit with licensed Lord of the Rings models commanding a premium price. As a Lord of the Rings fan, this is the sort of peripheral I'd put on display versus actually using, but as this is a review, I managed to put it through its paces and even fire up some classic Lord of the Rings games to check its gaming chops. Let's hunt some Orc.
Specifications & Close Up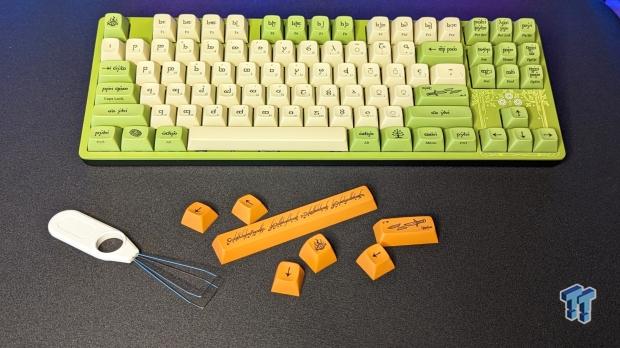 Product Name: DROP + The Lord of the Rings ENTR Keyboard
Product Type: Wired Gaming Keyboard
Size (Full/TKL): TKL
Switch: Holy Panda X Switches
Actuation Point/Force: 2.0mm/60G
Interface: USB-C
Lighting: White illumination
Dimensions: 360 x 127 x 32 mm
Weight: 930 grams (keyboard)
What's in the Box: DROP + The Lord of the Rings ENTR Keyboard, 7 alternative keycaps, Keycap puller, USB-A to USB-C cable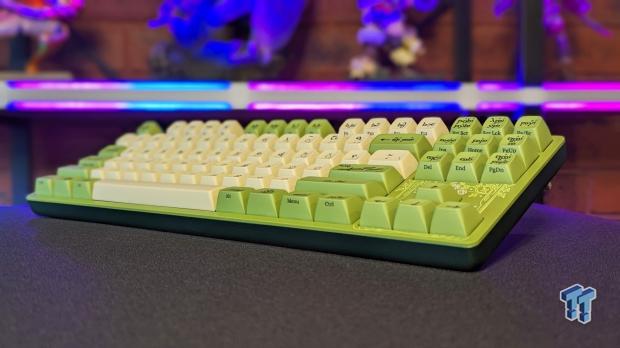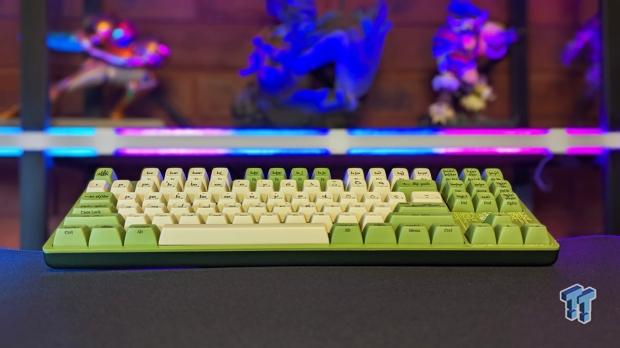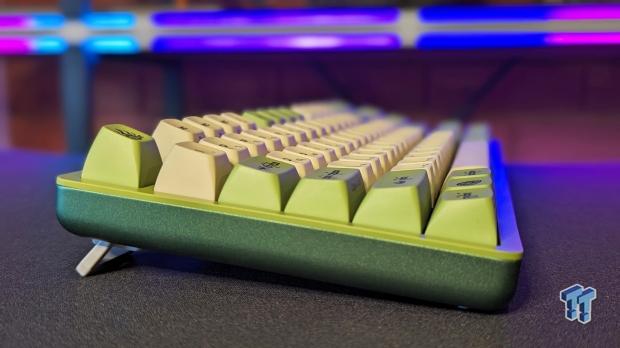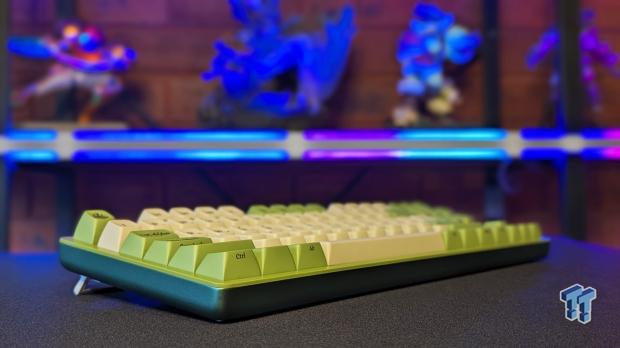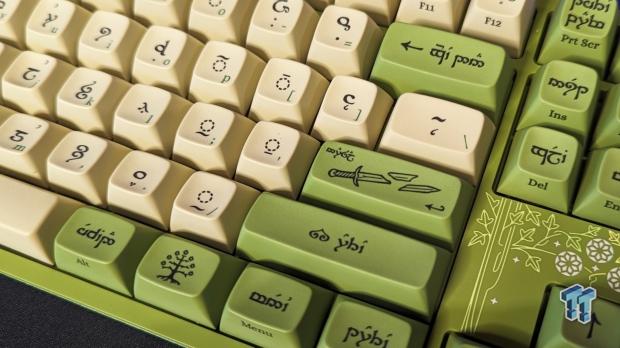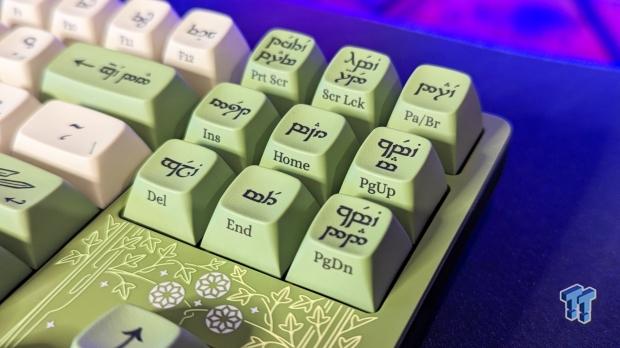 Kosta's Test System Specifications
Motherboard: MSI MPG X670E Carbon Wi-Fi
CPU: AMD Ryzen 9 7900X
GPU: NVIDIA GeForce RTX 4090 Founders Edition
Cooler: Corsair iCUE H100i RGB PRO XT Liquid CPU Cooler
RAM: 64GB (2x32GB) Corsair DOMINATOR PLATINUM RGB DDR5 DRAM 5200MHz
SSD: Sabrent Rocket 4 Plus-G M.2 PCIe Gen 4 SSD 4TB, Sabrent Rocket 4 Plus Plus M.2 PCIe Gen 4 SSD 8TB
Power Supply: Thermaltake Toughpower GF1 850W
Case: Thermaltake Core P3 Tempered Glass Snow
OS: Microsoft Windows 11 Pro 64-bit
Design & Software
Design
The DROP + The Lord of the Rings Elvish Keyboard is beautiful and a statement worth repeating. The build quality is uniformly excellent, and it's weighty too. A lot of this comes down to DROP making use of its popular ENTR mechanical keyboard as the basis for the design, which means an anodized aluminum shell, custom double-shot PBT MT3 keycaps, simple white lighting to compliment the design, and giving the overall look a green and beige finish to match the old-school terminal-like ENTR mechanical keyboard.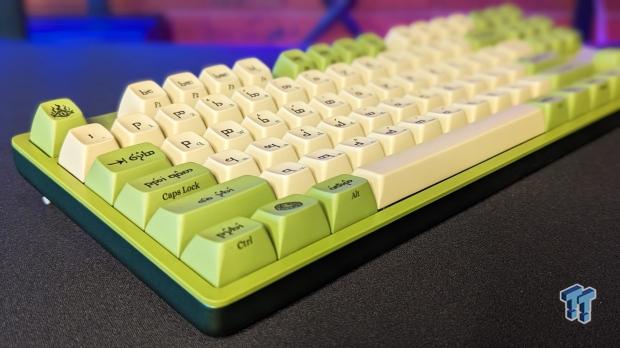 For those that might need a refresher or don't remember a time when computer keyboards all looked the same, the MT3 style of the keycaps means they're curved to form a crater that mimics the style seen throughout the 1980s. Back when PCs could only display a handful of colors at best. With The Lord of the Rings having a timeless quality, the mix of green and beige keys strikes a balance between the fantasy world of Tolkien and retro computing. It's awesome here with the Elvish model and looks fantastic with the Dwarvish and Black Speech designs.
It's a looker, and the feel of the keycaps is quite nice, with the Holy Panda X switches being of the tactile style seen in older keyboards. With 60G of required force for each keystroke, if you're used to linear switches or the faster variety that has become a mainstay for PC gaming, there is an adjustment period when returning to a more tactile switch like the one found here or the CherryMX Brown. Undoubtedly many prefer this switch style as it's less audible but retains that noticeable click you associate with mechanical keyboards.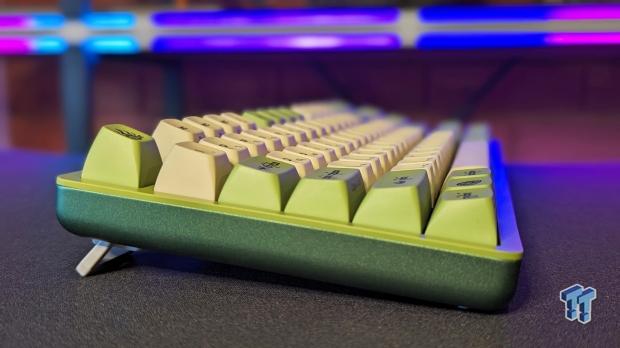 That said, there is some echo with using the DROP + The Lord of the Rings Elvish Keyboard, especially when pressing the larger keys like Enter or the Spacebar. The switches are not pre-lubed, per DROP, and are soldered, so they are not hot-swappable. This is worth noting if you prefer a different style or need to replace switches at some point. On the customization front, you get some orange Autumn-themed alternative keycaps that look wonderful and contrast nicely with the green. Again, this is a beautiful keyboard.
Software
DROP + The Lord of the Rings ENTR Keyboard doesn't feature any official software support, and all secondary functionality is relegated to the hotkeys - covering media controls, LED brightness controls, bringing up display options, task view, and a few others. With keycap legends written in Elvish, secondary legend information lists the key's function in English, so there's no room for hotkey info - which makes all of that something you need to learn by keeping the handy card DROP packs in the box close by.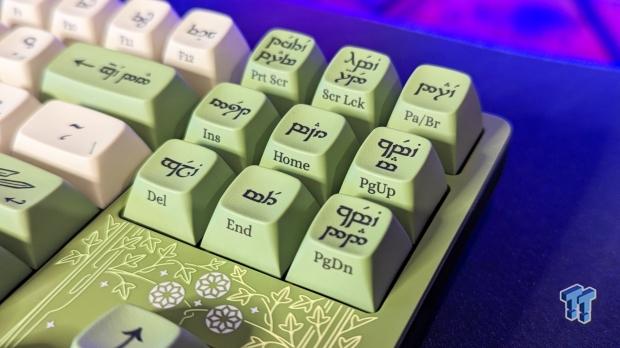 The fact that the lighting here is limited to a more complimentary white means you won't need to sync or make any real adjustments, and for the most part, as soon as I learned that Fn+F1 was for muting audio, I was pretty much all set. For those looking for deeper customization, including macro recording and profile switching, the DROP + The Lord of the Rings ENTR Keyboard is mostly barebones.
Gaming Performance and Productivity
Gaming Performance
Okay, so the tactile style of the switch is fine for gaming, though it's widely accepted that faster linear switches are more suitable for fast-paced first-person shooters. It all comes down to more required force and a larger overall travel distance, though the Holy Panda X switches performed great in our testing. After playing a round of Apex Legends, it felt more fitting to fire up the brilliant Middle-Earth: Shadow Of Mordor.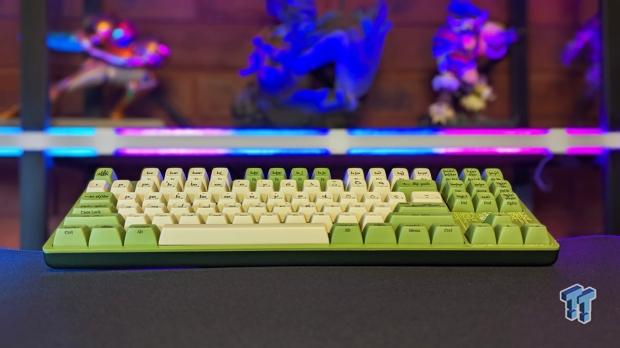 Even though that's the sort of game tailor-made for playing with a controller, as a third-person action game in the style of Assassin's Creed, it works great with keyboard and mouse controls. Again, even though linear switches are better suited for gaming (and the MT3 style of the keycaps takes some getting used to), it was fun playing this classic using a keyboard that felt in step with the fantasy in a way that RGB lighting can't match. Rest assured, even though it was tempting, I didn't fire up the critically maligned and shockingly bad-looking The Lord of the Rings: Gollum game that came out recently.
Productivity
The curved MT# keycap style is cool for day-to-day typing, mimicking the early computing data entry era, albeit with Elvish font instead of English. Based on the latter alone, it's safe to say that the DROP + The Lord of the Rings Elvish Keyboard isn't suited for gaming or productivity; it's a stylish and beautiful collector's item that is also fully functional. Touch types out there won't have any issues using this and will get a kick out of pressing on the broken shards of the blade Nasrsil whenever they press Enter.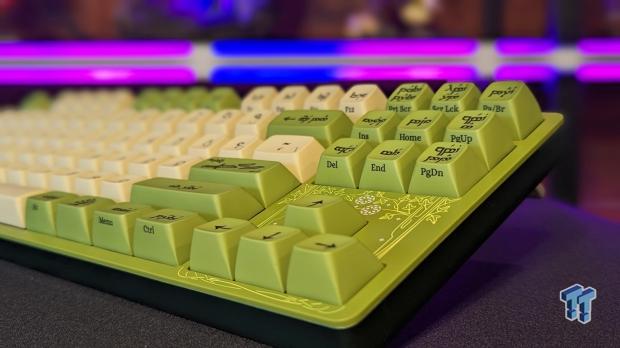 But, without labels for secondary functionality and almost everything in Elvish, it's not an intuitive setup if you plan on using this as your go-to keyboard. Plus the TKL format means no numpad.
Keyboard Click Sound Level
To test a keyboard's overall sound level, we use the Ozito Digital Sound Level Meter capturing the sentence "the quick brown fox jumps over the lazy dog" multiple times and recording the maximum dB level. This indicates how "loud" the switches used are for everyday usage. The following chart showcases where the DROP + The Lord of the Rings ENTR Keyboard sits.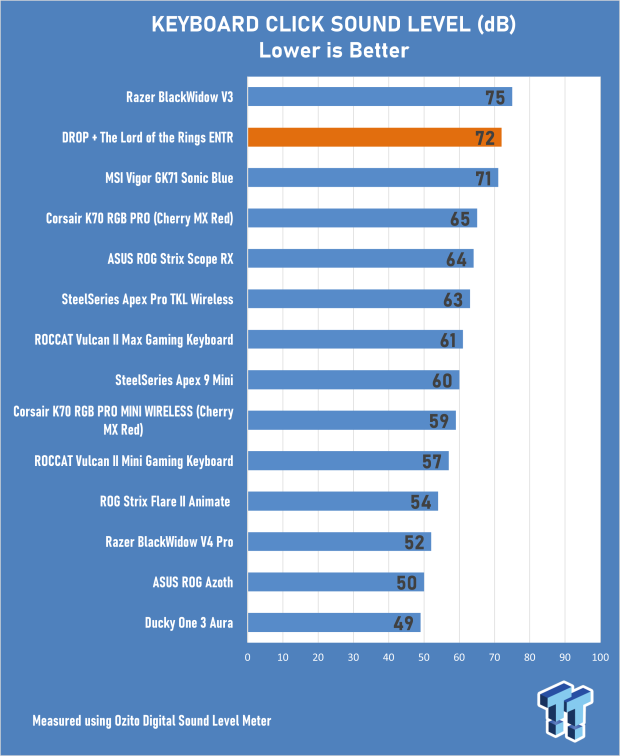 Final Thoughts
It's well-built, beautiful, and functional; the DROP + The Lord of the Rings ENTR Keyboard collection screams collector's item. Like the others on offer, the Elvish model reviewed here is beautiful, and there's a classic, timeless quality to the overall design that feels in step with Tolkien's incredibly detailed fantasy world. If you're fluent in the fictional Elvish language created for the book series, this might be the perfect blend of function and form. However, it makes using it for gaming or productivity a little unintuitive and cumbersome for the rest of us. Though that's part of the charm, we wouldn't change a thing about the shelf-worthy physical design.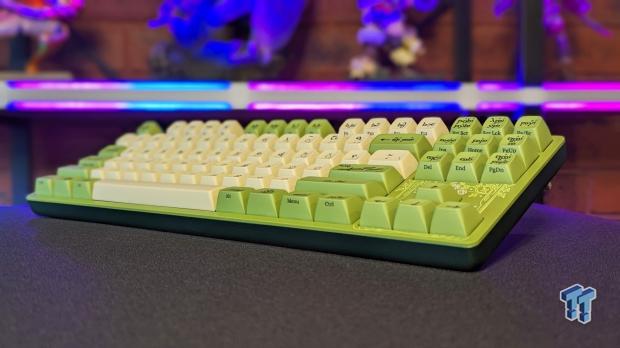 As a mechanical keyboard, it's impressive, too, with the tactile Holy Panda X switches and curved keycaps carrying an old-school mechanical keyboard feel that's nice. It's not perfect, there's a bit of an echo to the overall sound it makes, and there's very little in the way of customization you can do. But, as a collector's item for the many Lord of the Rings fans out there - it's pretty wonderful.