TweakTown's Rating: 90%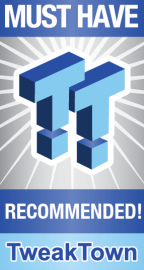 The Bottom Line
The Ducky One 3 (in full-sized transparent Aura form) is built like a tank, with keycaps and switches that deliver a great typing-feel suitable for gaming and productivity. It's also one of the quietest mechanical keyboards we've reviewed.
Pros
+

Excellent and weighty build quality

+

Keycap feel is excellent

+

Cherry MX Red linear switches perform beautifully

+

Customizable and available in different colors and form factors
Cons
-

No software support

-

Customization can be a slow process as it's all about pressing different key combinations

-

It can be hard to see the key labels with the transparent Aura model
Should you buy it?
Avoid
Consider
Shortlist
Buy
Introduction & Specification Details and Close-up
Ducky makes great mechanical keyboards; that much has been true for many years. And with an eye toward customization, you're looking at hot-swappable switches, multiple physical designs in terms of form factors and sizing, and various color profiles that pop. In full-size form, the Aura model reviewed here features a transparent finish that makes each key vibrantly pop when lit. The effect is visually striking and somewhat distracting (in the best way). With white, grey, blue, and even bright yellow variants available (among others), not to mention a multitude of different colored keycaps, creating your very own Ducky One 3 is an exciting part of the process.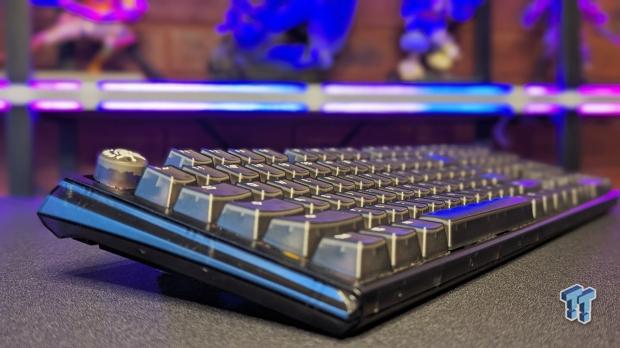 What sets Ducky keyboards apart from the competition, especially with other brands that use CherryMX switches with a similar focus on customization? The answer comes down to the build quality and a uniform sense of design that carries across all the different Ducky One 3 models. The Taiwan-based company calls it Quack Mechanics (seriously), where weight distribution, acoustics, keycap feel, and the overall typing experience all comes together with a singular focus on delivering excellence.
There are many great mechanical keyboards out there in 2023, and you might say that as PC gamers, we're a little spoiled for choice - but even so, the odds are that as soon as you place your hands-on the Ducky One 3, your immediate response will be something along the lines of "this feels good."
The reason for that is not one thing but everything from switches to keycaps to using foam pads to dampen the sound. Even the height adjustment clips on the underside have a premium feel, giving off a satisfying click when locked into place. Compared to the well-received Ducky One 2, the One 3 improves latency for better gaming performance. There is one catch, all customization is onboard, so it's a series of complicated key combinations to make changes instead of firing up software. A deal breaker? No, but something to remember if you plan on jumping into the world of Ducky keyboards.
Specifications & Close Up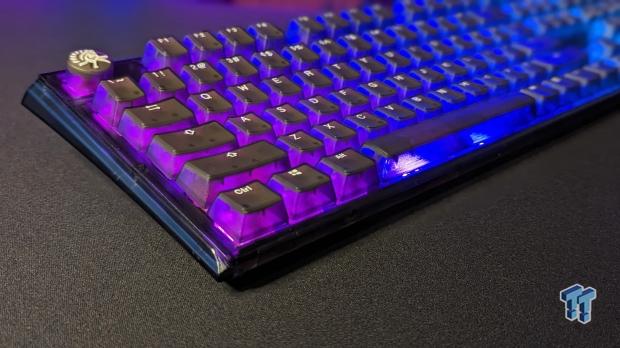 Product Name: Ducky One 3 Aura Keyboard
Product Type: Wired Gaming Keyboard
Size (Full/TKL): FULL
Switch: Cherry MX Red (Linear)
Actuation Point/Force: 2.0mm/45G
Interface: USB 2
Lighting: RGB per-key illumination
Dimensions: 450 x 140 x 40 mm
Weight: 1123 grams (keyboard)
What's in the Box: Ducky One 3 Aura Keyboard, 11 alternative PBT keycaps, Keycap puller, Switch puller, Quick start guide, Stickers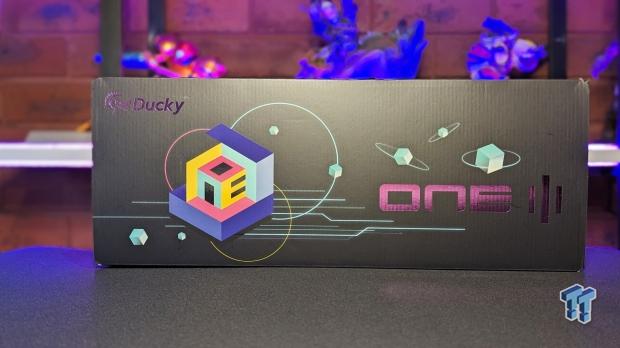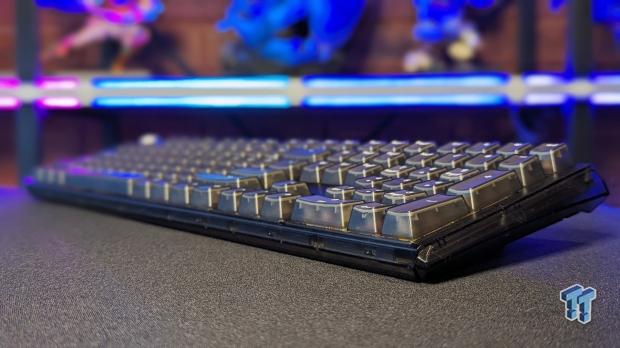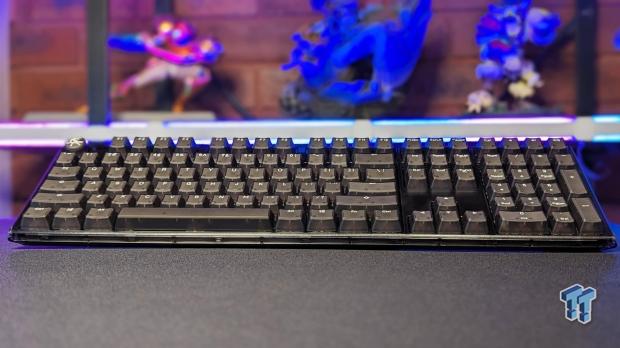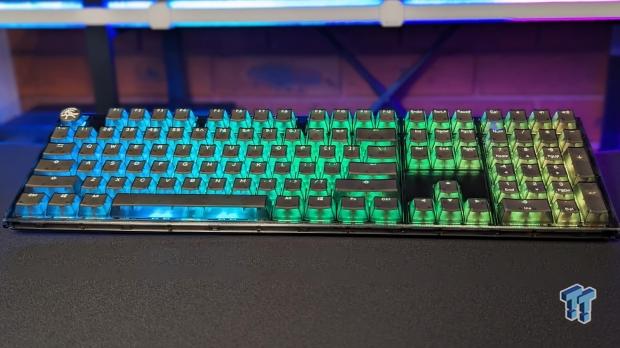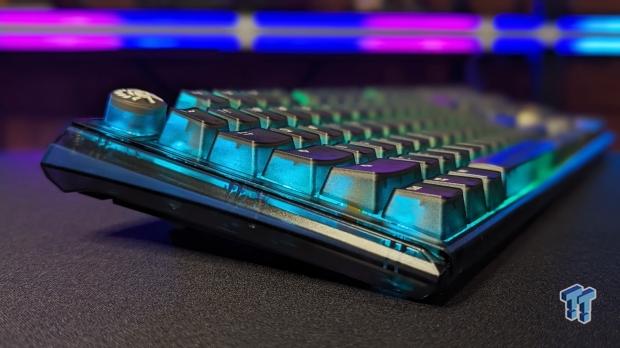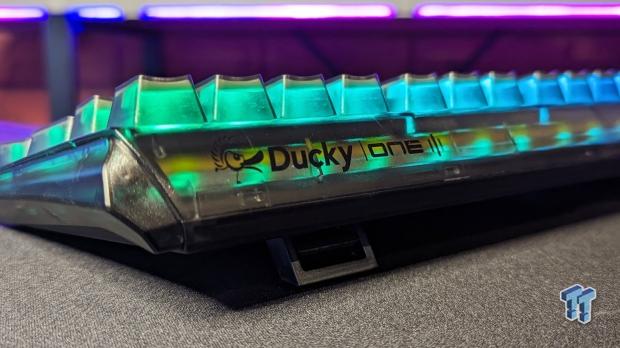 Kosta's Test System Specifications
Motherboard: MSI MPG X670E Carbon Wi-Fi
CPU: AMD Ryzen 9 7900X
GPU: NVIDIA GeForce RTX 4090 Founders Edition
Cooler: Corsair iCUE H100i RGB PRO XT Liquid CPU Cooler
RAM: 64GB (2x32GB) Corsair DOMINATOR PLATINUM RGB DDR5 DRAM 5200MHz
SSD: Sabrent Rocket 4 Plus-G M.2 PCIe Gen 4 SSD 4TB, Sabrent Rocket 4 Plus Plus M.2 PCIe Gen 4 SSD 8TB
Power Supply: Thermaltake Toughpower GF1 850W
Case: Thermaltake Core P3 Tempered Glass Snow
OS: Microsoft Windows 11 Pro 64-bit
Design & Software
Design
The Ducky One 3 is built to last; its overall weight is sturdy, and the high-quality double-shot PBT keycaps are stain resistant and have a great feel. Above all, though, how each key feels as sturdy as the next helps drive home a great first impression. Some of it comes down to even weight distribution found across the Ducky One 3. Some of it comes down to using multi-layered padding to reduce each keystroke's overall sound (and rattle). Even though the construction and outer layer is mostly all plastic, the Ducky One 3 is built like a tank. A mechanical keyboard that will see you through more than a couple of PC upgrades or builds.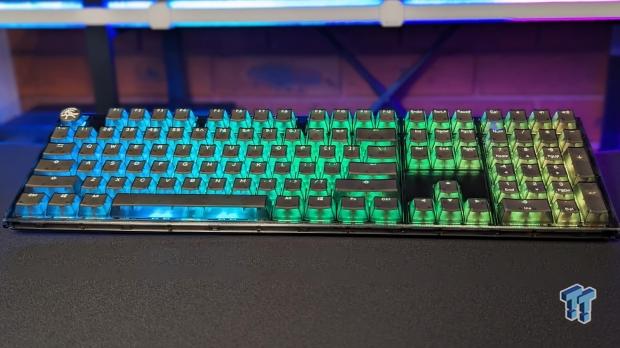 The Ducky One 3, in full-sized form with numpad and all keys present, is big and bulky but still compact. Dedicated media controls are relegated to individual keys for increasing volume, decreasing volume, and muting, with an additional dedicated Calculator key thrown in for good measure-a productivity nod because Ducky's build quality and type feel are great for non-gaming related key-presses. Setting aside gaming, if you're a writer or spend time at the keyboard as part of your day-to-day, you'll be impressed with what's on offer here.
The model reviewed here uses the CherryMX Red linear switches for fast actuation and a responsive feel. As far as mechanical switches go, the Red linear style has quickly emerged as one of the most popular, as it's less about the traditional 'click' you find on a mechanical keyboard and more about fast and smooth performance that's great for both writing and gaming. CherryMX Red switches feature a 2.0mm pre-travel distance with only 45G of operating force required for each keystroke. They might not be the fastest switches, but the balance is perfect for productivity and gaming.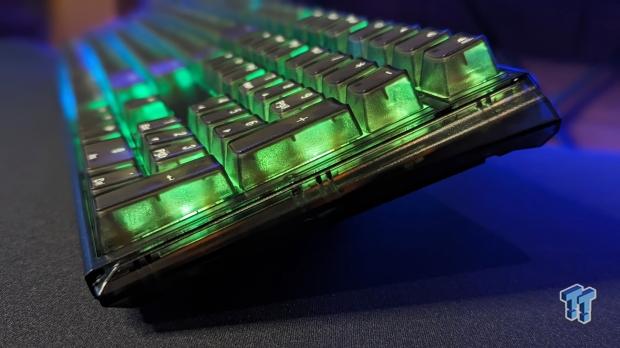 Paired with Ducky One 3's multiple layers of padding that include a layer underneath the PCB, you're getting one of the quietest mechanical keyboards we've tested. Keyboard sound can be an issue in some environments, especially if you're in a group chat, so if you're looking for a quiet performer, this could be the keyboard for you. And if you're the type that would want to customize various keycaps, Ducky includes a bunch for you to get started on that keycap color journey.
Software
For peripherals in 2023, no matter the brand, there's a dedicated app you need to install to make adjustments, tweak lighting settings, and update the firmware. The Ducky One 3 Aura is a little different, and in keeping with Ducky's previous releases, it doesn't feature any official software support. Instead, all customization is handled directly via the keyboard, where you're given some in-depth - if complicated - controls to learn. You need to refer to the Ducky One 3 manual, as the clean look of the keyboard means that secondary functions are not written on keycaps.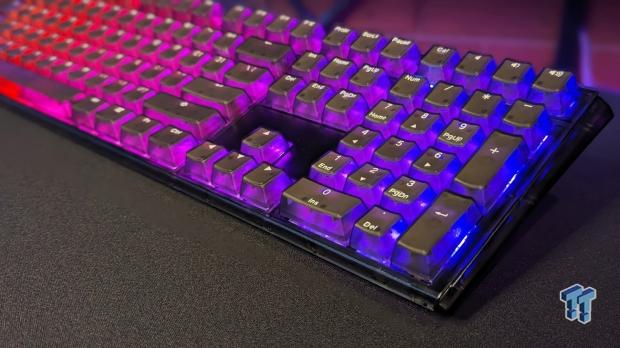 How complicated is it? Well, it depends. Cycling through the various RGB lighting profiles is done by holding down the function (Fn) key and pressing F10 - covering modes like waves, color cycle, raindrop effects, and more. Fn + the left and right arrow increases or decreases the RGB effect's speed, while pressing Fn + F5-F7 lets you adjust the brightness levels for the Red, Green, and Blue hues. Fn + Spacebar displays many colors, and pressing the corresponding key is how you set all keys to be that one color. Undoubtedly, even without software, you've got some powerful controls, but it's not all that intuitive.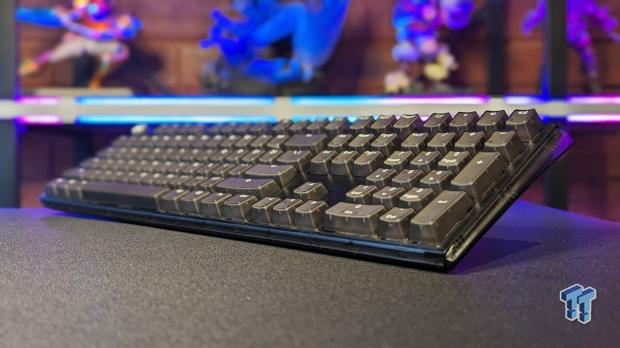 So yeah, it can quickly get out of hand - and having the manual open or a printout of the keyboard functions nearby is a must. Interestingly though, and something more prominent with the transparent Aura keycaps, is that the lighting on Ducky's keycap labels doesn't illuminate- which can make it hard to see key lettering in a dark room or if you've got too much RGB action going on.
You can also record macros using a series of keystrokes and save profiles, and there are other more detailed settings you can access via the keyboard itself. There are even DIP switch functions on the underside to turn off the Windows key (which is always a plus when gaming) and other functions. Ducky has crammed all of the customizations you normally associate with a dedicated app into the keyboard.
Gaming Performance and Productivity
Gaming Performance
The Ducky One 3 is a great mechanical keyboard for gaming for several reasons. The CherryMX Red linear switches deliver a fast and smooth experience that is perfect for fast-paced titles like shooters. The double-shot PBT keycaps have an excellent feel, and the high-quality materials and weighty build mean that the keyboard won't budge when sitting on a desk. The only thing missing is a comfy wrist rest, which is always nice to see - but not a deal-breaker. Playing games like Apex Legends, Diablo IV, and Call of Duty was excellent and free from any issues.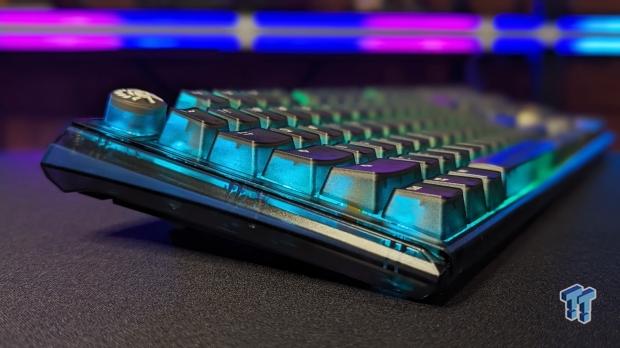 Without software support, you do miss out on having easy access to things like profiles and even syncing the RGB lighting to match the game you're playing, but these are more value-add features than things you'd consider top of the list when choosing a keyboard. By default, Ducky keyboards turn off the Windows key, which makes the Ducky One 3 an out-of-the-box keyboard ready for PC gaming.
Productivity
With an actuation point of 2.0mm and the brilliant acoustics of the Ducky One 3, you've got something as great for productivity as gaming. Secondary functionality and dedicated media controls might be slim (or hidden behind complex keyboard shortcuts and key combinations). Still, if you're after something purely for writing, there's a typewriter-like quality here in that it's weighty and built to last. This review was written on the Ducky One 3 Aura - and it's been smooth sailing. Or typing.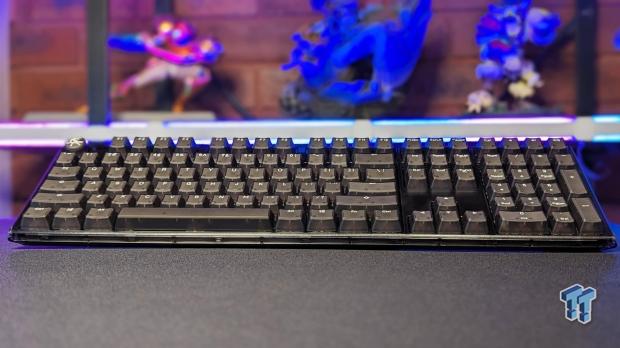 Typing here is exceptional, to the point where you can see why so many in the media and written review space love Ducky mechanical keyboards. It's a no-frills experience (no wrist rest) with the bonus of a dedicated calculator key - which comes in handy for working out performance differences when comparing GPUs, for example.
Keyboard Click Sound Level
To test a keyboard's overall sound level, we use the Ozito Digital Sound Level Meter capturing the sentence "the quick brown fox jumps over the lazy dog" multiple times and recording the maximum dB level. This indicates how "loud" the switches used are for everyday usage. The following chart showcases where the Ducky One 3 Aura Keyboard sits.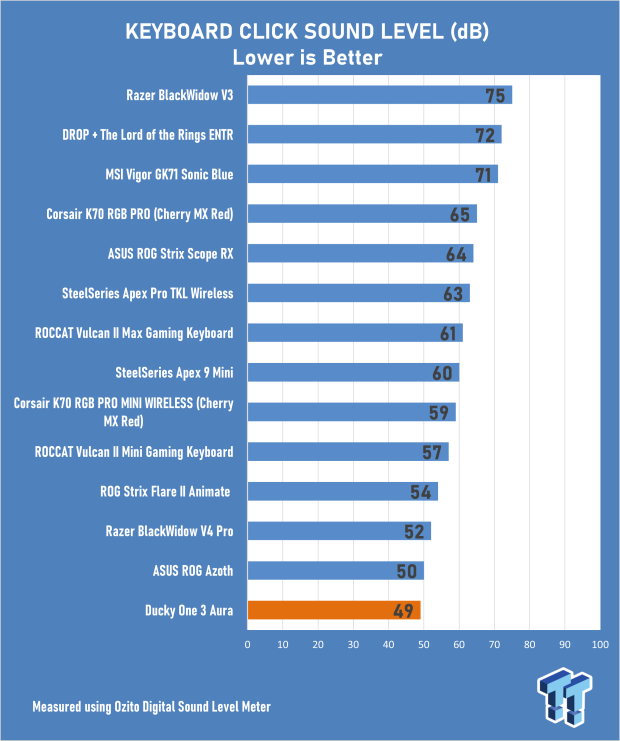 Final Thoughts
The Ducky One 3 is an excellent gaming keyboard built to last and is a solid productivity performer. With swappable keycaps and even switches, paired with its sturdy and weighty construction, it's the sort of keyboard you could upgrade or modify alongside your PC. And with several different color options and switch options, there's a Ducky One 3 to suit all sorts. TKL, full size, bright yellow, or transparent like the Aura model you see here.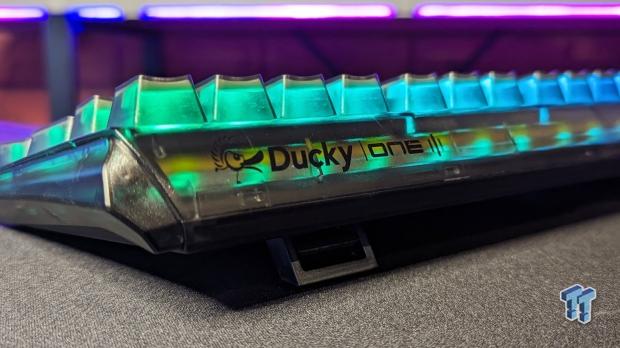 The only downside is that all customization is handled via the keyboard, using a detailed list of key combinations to customize lighting effects, set up macros, or even switch between profiles. Ducky has always focused on constructing its keyboard to hit a certain balance where everything feels right - and the Ducky One 3 lives up to that ideal in spades. Look no further if you're after a keyboard that will go the distance and is great for gaming and productivity tasks. Just figure out what color and keycaps will best suit your rig.