TweakTown's Rating: 81%
The Bottom Line
SilverStone's Fara 512Z is a mid-tower ATX case that features tempered glass, a mesh front panel, and a rotatable PCIe bracket. Fairly standard air flow oriented design that meets a $116 price point.
Pros
+

Priced at $116

+

Includes three aRGB fans

+

Included aRGB/Fan controller

+

Can flip the PCIe slots to facilitate a vertical GPU mount orientation
Cons
-

Absence of rubber cable grommets

-

Very standard design
Should you buy it?
Avoid
Consider
Shortlist
Buy
Introduction, Specifications, and Pricing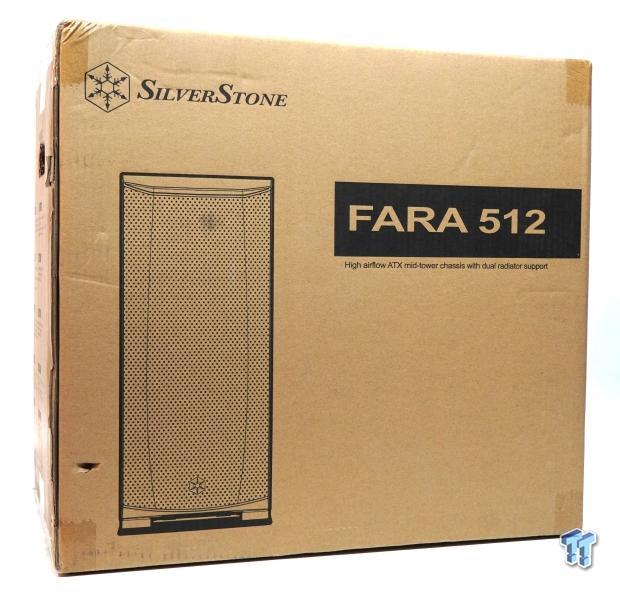 SilverStone, which I consider to be one of the older case manufacturers, reached out and wanted to see if I could take a look at their Fara 512Z compact mid-tower PC case. Featuring three aRGB 120mm fans in front of a meshed out front intake, the Fara 512Z is a step in the right direction. Adding in a slightly tinted tempered glass side panel with a price point of around $116 seems that SilverStone has a potentially good case to be had.
Packaging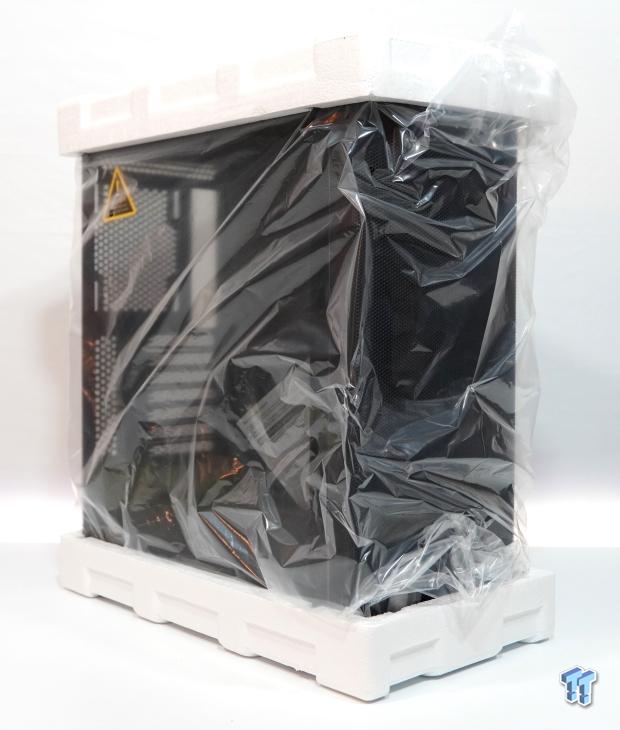 Removing the Fara 512Z from the brown cardboard shipping box reveals two hard foam pieces protecting the case's top and bottom. Also, a clear plastic bag helps keep dust and debris away while shipping.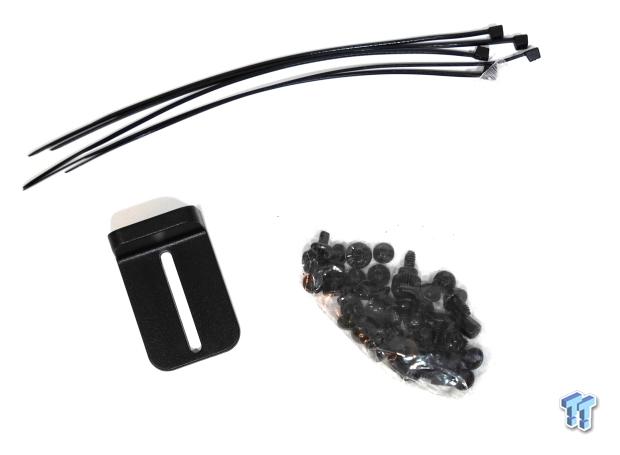 The Fara 512Z includes the standards, a few zip ties, screws, and a simple GPU sag bracket.
Outside the SilverStone Fara 512Z Mid-Tower Case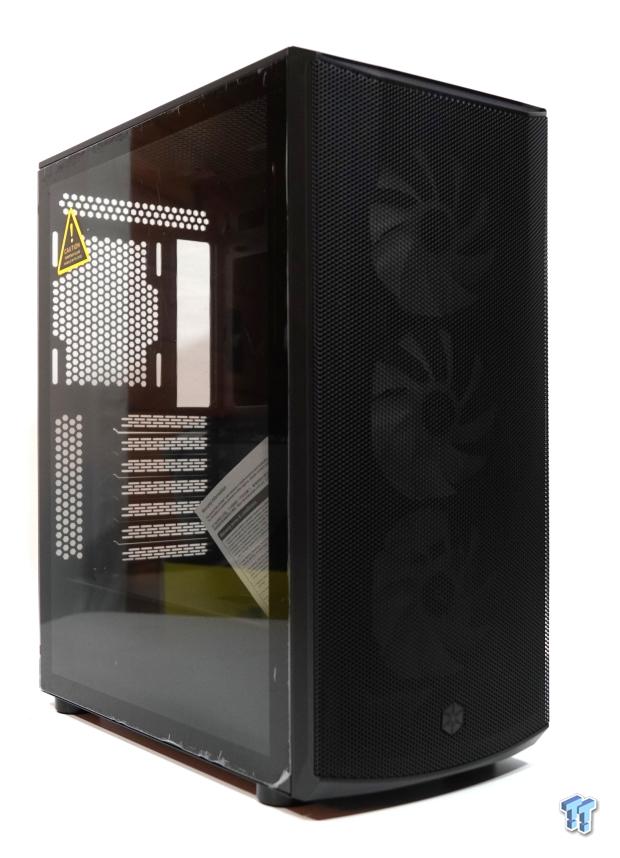 Pulling off the shipping materials from the Fara 512Z shows a sleek design that should work well in terms of cooling performance.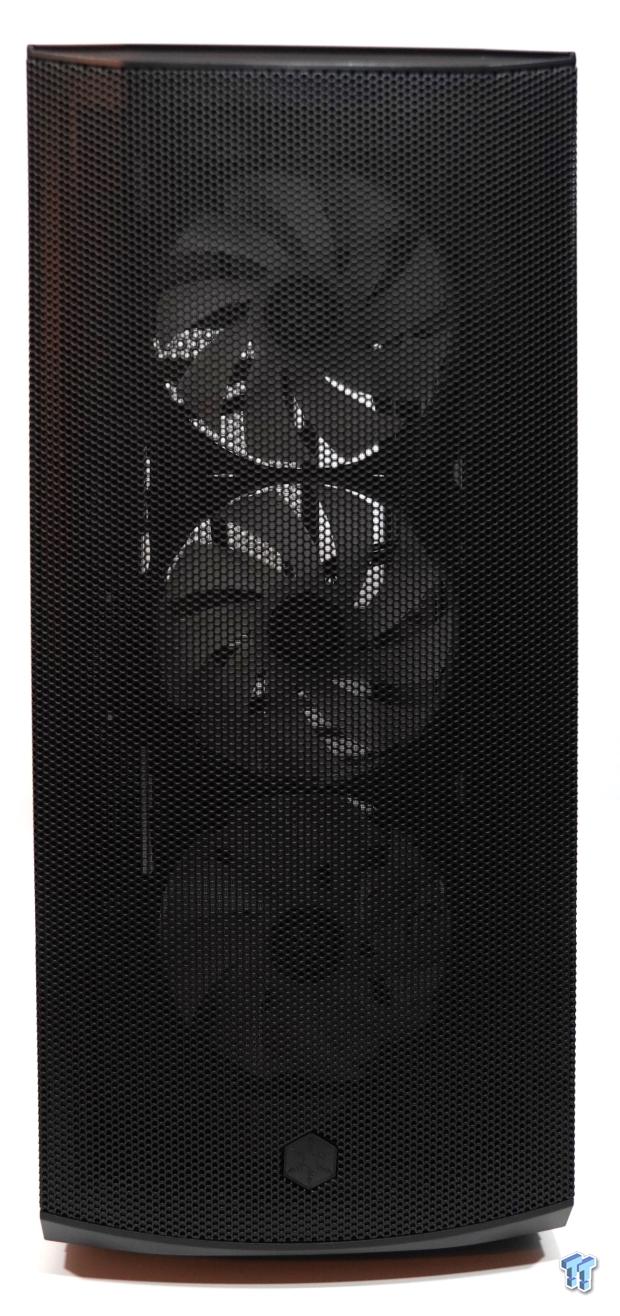 The front of the Fara 512Z is completely meshed out without any restrictions. Visible behind the mesh front panel are three 120mm aRGB fans. The top of the front panel also has an accent aRGB strip.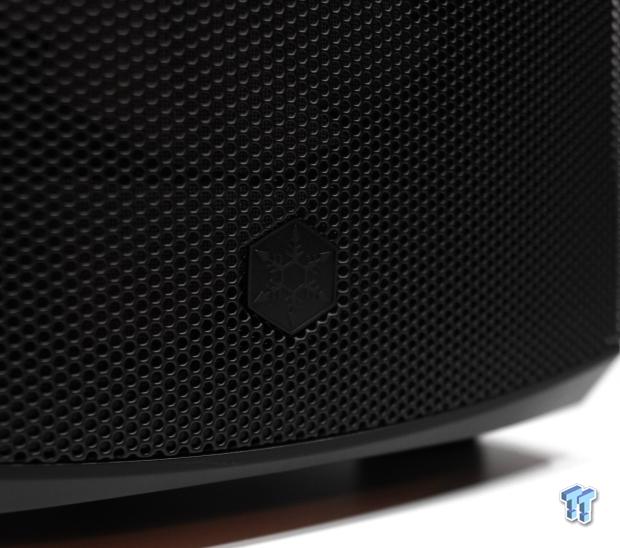 A closer shot of the front mesh panel, the finer mesh should catch dust nicely and be easy to clean. Also, the SilverStone logo is relatively subdued in the bottom center.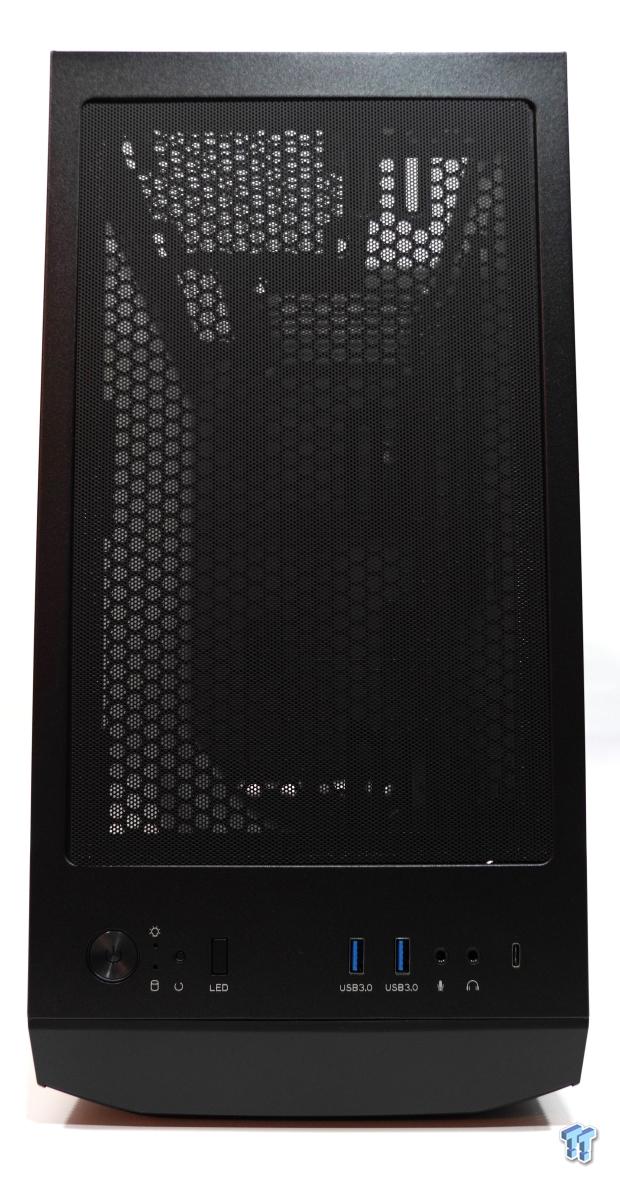 The top of the Fara 512Z houses the front I/O and a top mesh dust filter that supports two 120mm or 140mm fans and their corresponding radiators. The front I/O consists of a circular power button, activity lights, a small reset button, and a dedicated LED button to color cycle the aRGB elements if not connected to the motherboard. Further to the right are two USB 3.0 Type-A ports, a dedicated microphone and headphone 3.5 jacks, and a single USB Type-C port.
Above the I/O is a magnetic dust filter, which dust filters on exhaust are pointless. In most cases, the top dust filter is recessed, causing less space inside for top-mounted radiators that are exhausting hot air out of the case, defeating the point of a filter outside the case.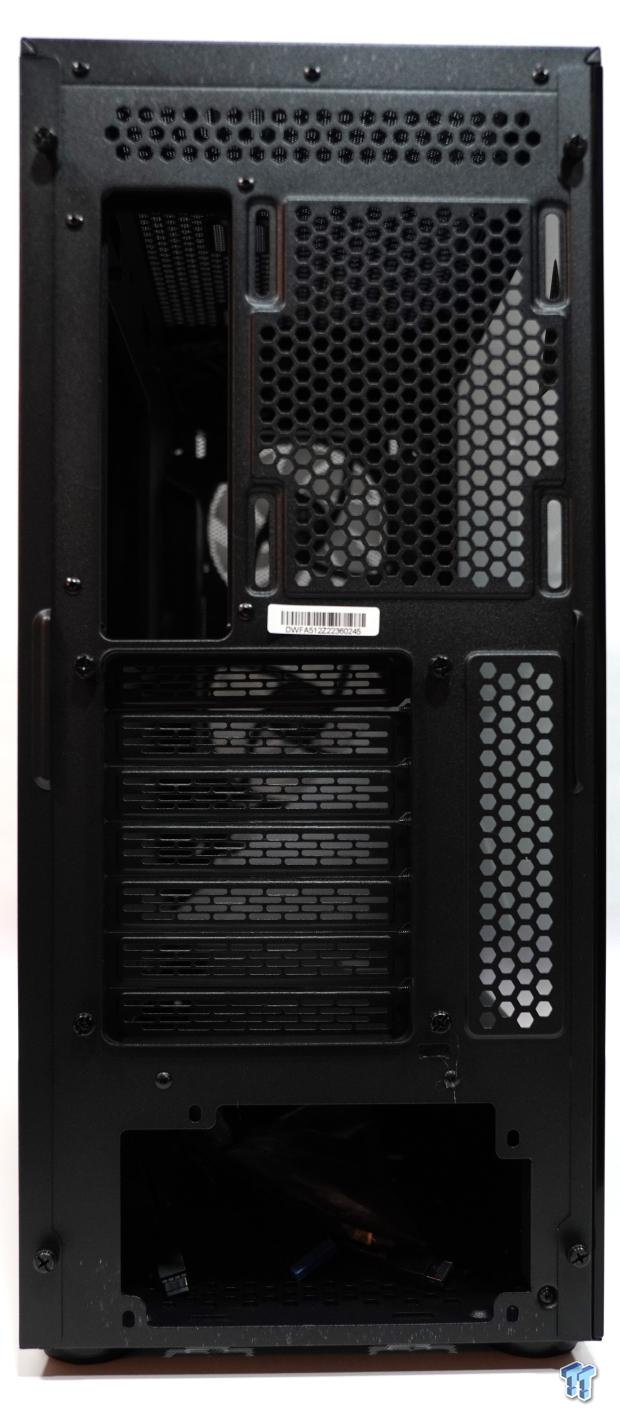 The back of the Fara 512Z is relatively standard, supporting a single 120mm exhaust fan. Honeycomb mesh is in front of the rotatable PCIe bracket, allowing for a vertical GPU mounting orientation. The same honeycomb mesh is on the 120mm fan slot and the very top. However, no rear 120mm fan is included.
The only thing that stands out is that the PCIe slot covers differ from the rest of the design. The design of the PCIe slot covers seems very "Star Wars."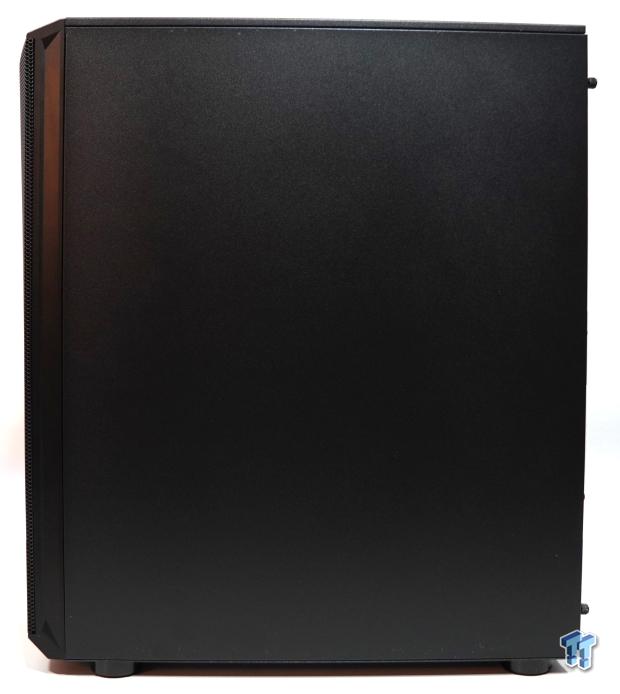 The rear side panel of the Fara 512Z is reasonably basic.
Inside the SilverStone Fara 512Z Mid-Tower Case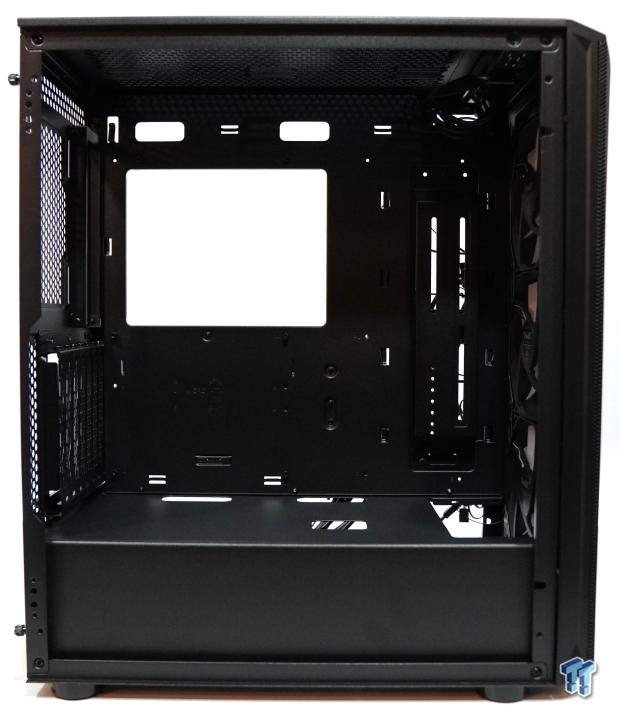 The inside of the Fara 512Z is relatively open for a compact mid-tower case. Support for either a 280mm or 360mm front-mounted radiator or AIO, as well as support in the roof for a 240mm or 280mm radiator or AIO. The back motherboard wall has a large cutout with several smaller ones for cable passthrough, albeit without rubber cable grommets.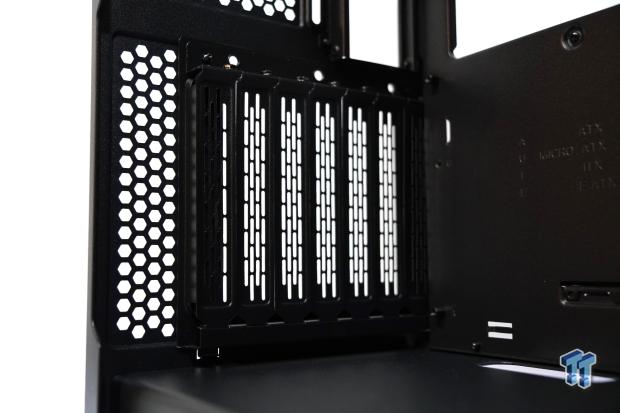 The seven PCIe slots can be rotated 90 degrees to support vertical GPU orientation. A PCIe riser card is not included. Again this would have looked more uniform if all the patterns matched.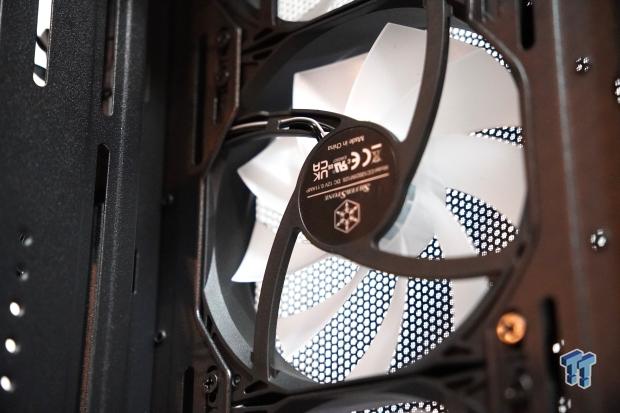 The three included 120mm aRGB fans with the model number CC12025M12S. No fan specifications are found. All three fans were mounted upside down, and I suspect this was to ensure the cables were routed to the rear back panel for a cleaner look. In terms of noise, all three 120mm fans were quiet enough that they were not noticed over the sound of the CPU cooler.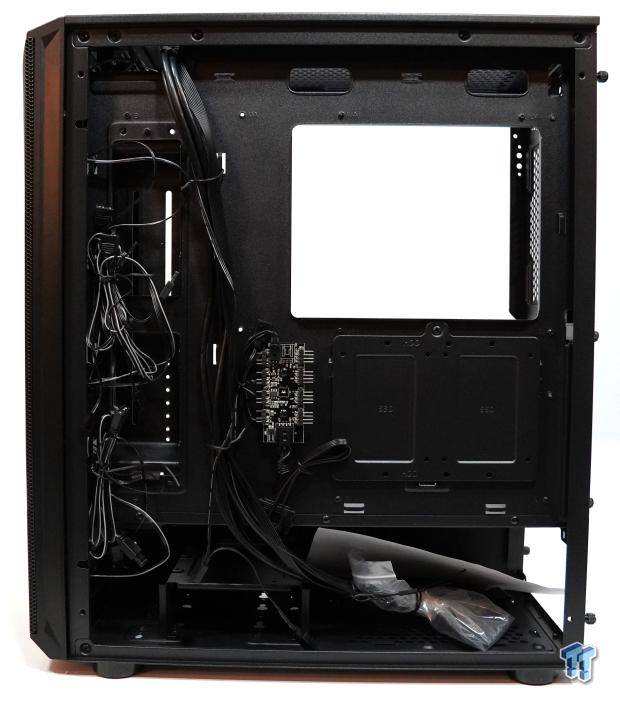 Taking the rear side panel off, we are greeted with wires from the three included 120mm aRGB fans and the front I/O cabling. Cable management here is passable. However, no actual main raceway is present. I appreciate the all-blacked-out cables, which help keep a more stealthy look.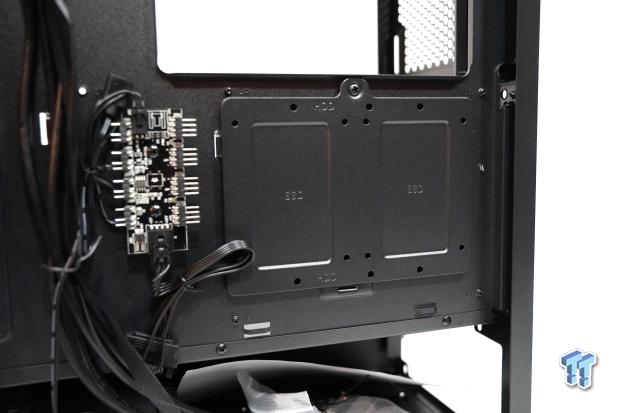 Behind the motherboard tray, next to the aRGB/Fan controller, is a tray that supports two SSDs or HDDs, held in with a single screw.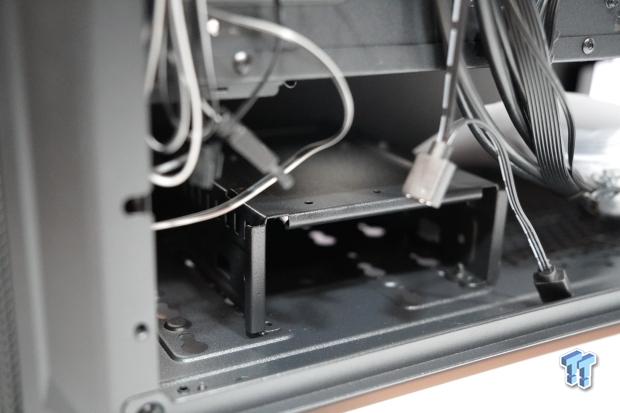 In the basement, there is support for a single 3.5" HDD and another 2.5" or 3.5" SSD or HDD right on top of the mounting bracket. The HDD mounting bracket can be moved up about 30mm to support long PSUs or removed entirely.
Test System, Installation, and Finished Product
Motherboard: ASUS Prime B760M-A D4 (INTEL B760) - Buy from Amazon
CPU: Intel Core i5 12600K - Buy from Amazon
Cooler: Cooler Master Hyper 212 Halo Black - Buy from Amazon
Memory: Team Group T-Force Vulcan Z DDR4-3200 16GB - Buy from Amazon
Graphics Card: NVIDIA RTX 3090 Founders Edition - Buy from Amazon
Storage: Corsair MP600 PRO XT Gen4 PCIe x4 NVMe M.2 SSD - Buy from Amazon
Case: SilverStone Fara 512Z
Software: AIDA64 Engineer 6.32.5600, and CPU-z 1.94.0 x64
Power Supply: Corsair RM850x Shift 850w ATX 3.0 PSU
OS: Microsoft Windows 11 Pro 64-bit Build 22621 - Buy from Amazon
Software: AIDA64 Engineer 6.8.6300, and CPU-z 2.03.0 x64
Final Thoughts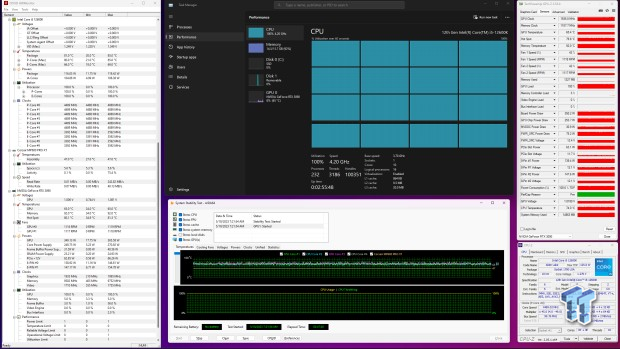 So, what was the SilverStone Fara 512Z like to build in? It was good, the build went smoothly, and that's all you could ask. With three 120mm aRGB fans, the front intake looked great and performed well enough to keep the Intel Core i5 12600K cool on the Cooler Master Hyper 212 Halo Black CPU cooler, which idled around 20C with a 17C ambient air temperature.
Running the load up to 100% made the 12600K run up the flagpole to a max of 85C. However, the RTX 3090 FE from NVIDIA idled at 24C and only reached 65C at full throttle. Aida64 Engineer's System Stability Test was used for just under three hours.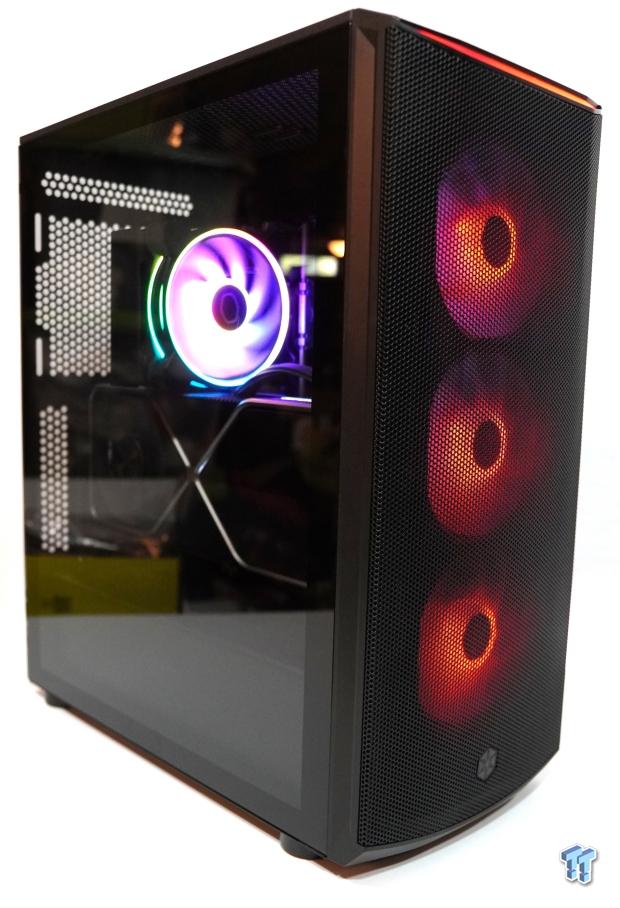 What are my final thoughts on the Fara 512Z from SilverStone? Inherently I don't have any issues with it at all. The cooling performance is fantastic, the aesthetic is sleek, and the price point is appropriate. However, the Fara 512Z needed to do more to wow potential builders to use this case instead of others.
Sure, the rotatable PCIe mounting bracket is excellent, but other than that, the Fara 512Z lacks the hat trick needed to make it a more desirable case over others in the compact ATX case market.