TweakTown's Rating: 91%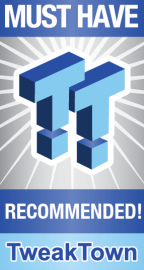 The Bottom Line
The TD500 Mesh V2 is definitely an improvement over the original, while marking all the boxes needed for a great budget ATX PC case.
Pros
+

Includes three aRGB 120mm fans

+

Supports two 360mm radiators simultaneously

+

Amazingly low price point of $89.99
Cons
-

No removable PSU bracket

-

Lack of front 420mm radiator support

-

No rear fan included
Should you buy it?
Avoid
Consider
Shortlist
Buy
Introduction, Specifications, and Pricing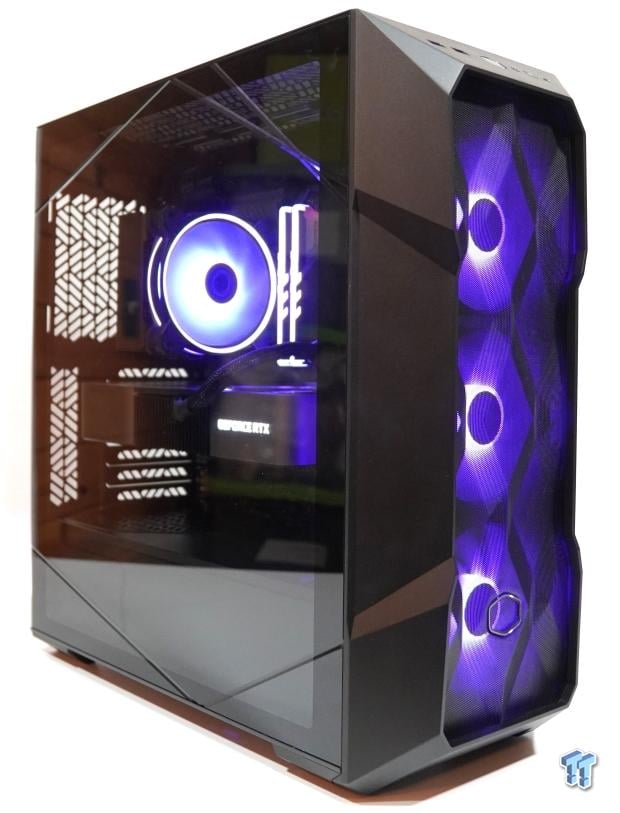 Cooler Master in 2023 seems to have been focusing on the high-end PC case market with cases like the HAF 700 EVO, HAF 700, and the 30th-anniversary edition of the Cosmos. Well, today, we will look at a more budget-optioned mid-tower case, the MasterBox TD500 Mesh V2.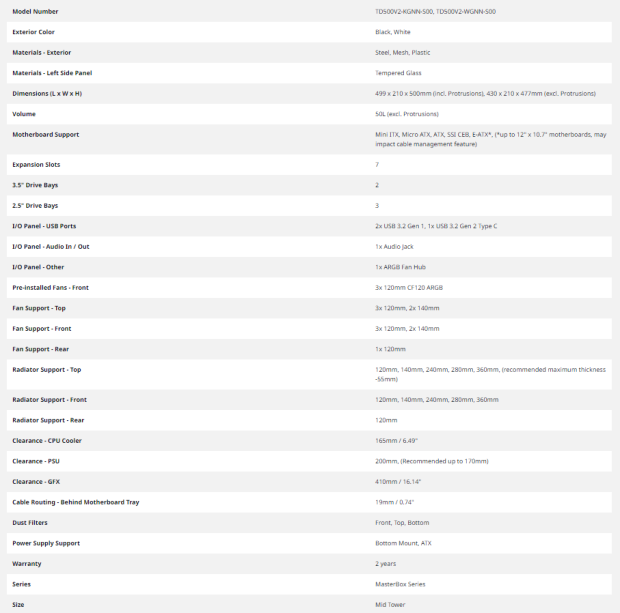 Running down the specifications of the TD500 Mesh V2 is a lot of the same as the OG TD500 Mesh with a few changes, which I will cover later in the review. Pricing is another thing that Cooler Master didn't want to increase, which currently sits at $89.99, which in today's market, is stellar.
Packaging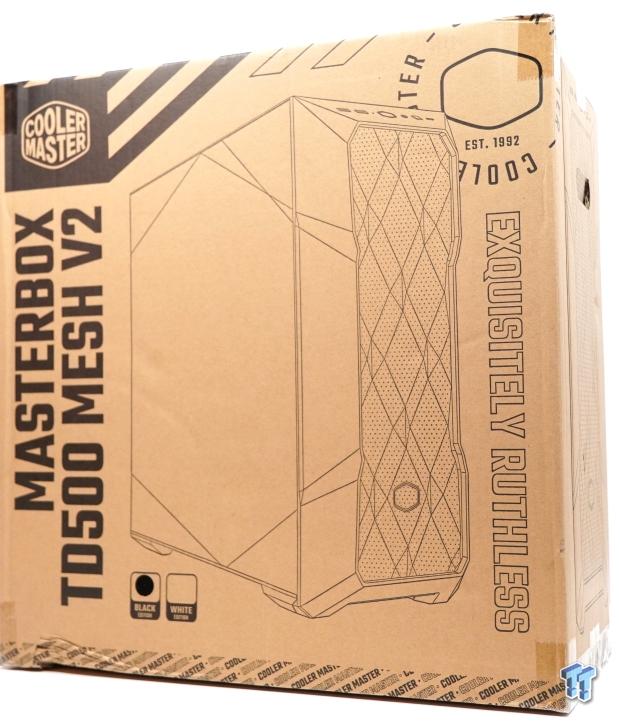 The packaging on the Cooler Master MasterBox TD500 Mesh V2 is in the standard brown cardboard box with lettering and pictures on the sides.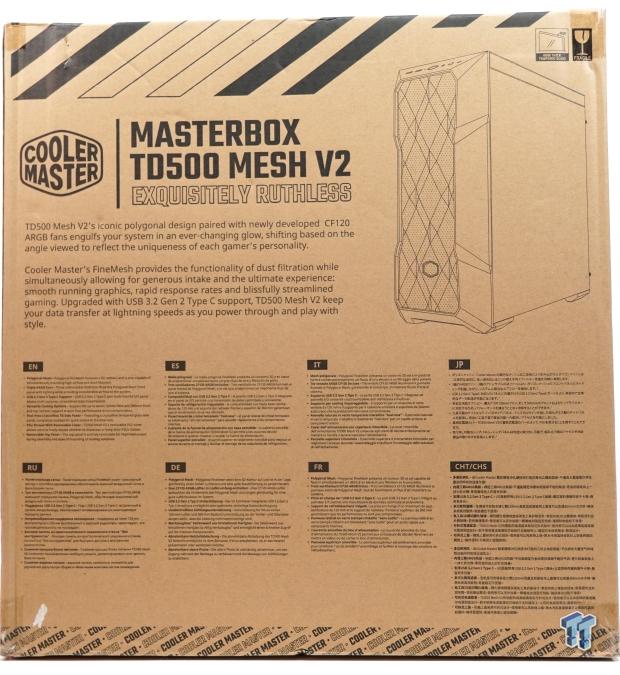 The backside of the box is another image of the case with a few points focusing on the main features of various languages.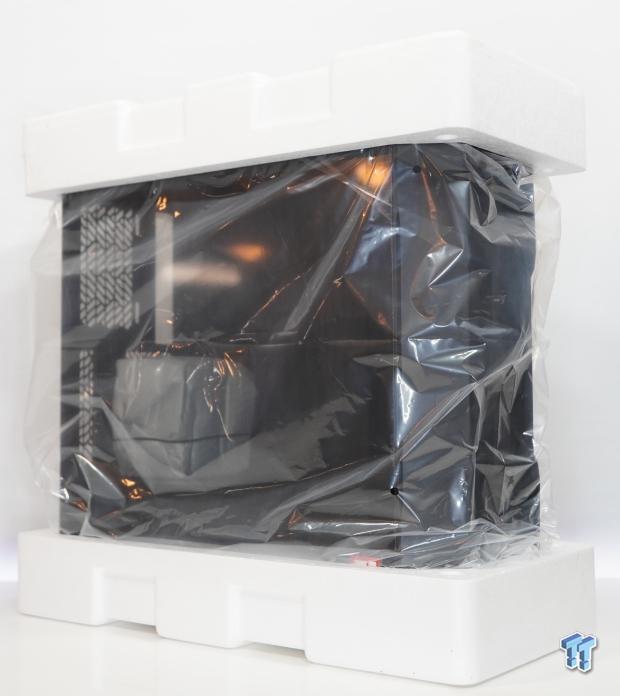 Taking the CM MasterBox TD500 Mesh V2 out of its cardboard shipping box is the industry standard, with two white foam pieces on the top and bottom of the case and a clear plastic bag for added protection while in transit.
Outside the MasterBox TD500 Mesh V2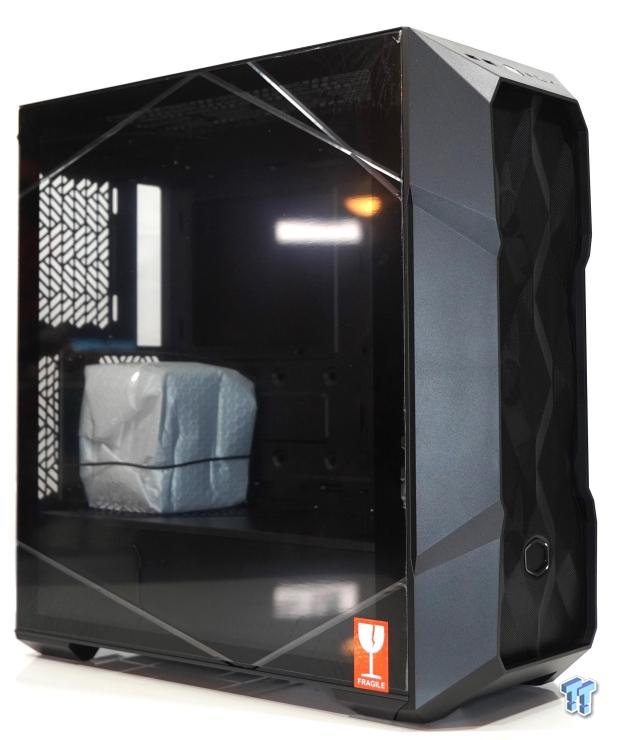 Removing the TD500 Mesh V2 from its packing materials, the TD500 Mesh V2 looks strikingly similar to the previous version.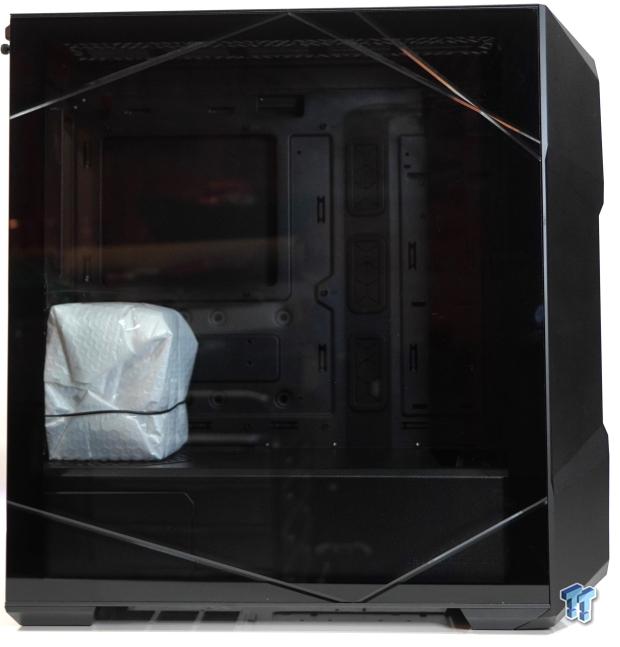 The slightly tinted tempered glass side panel, which has angular cuts, adds an extra level of flare.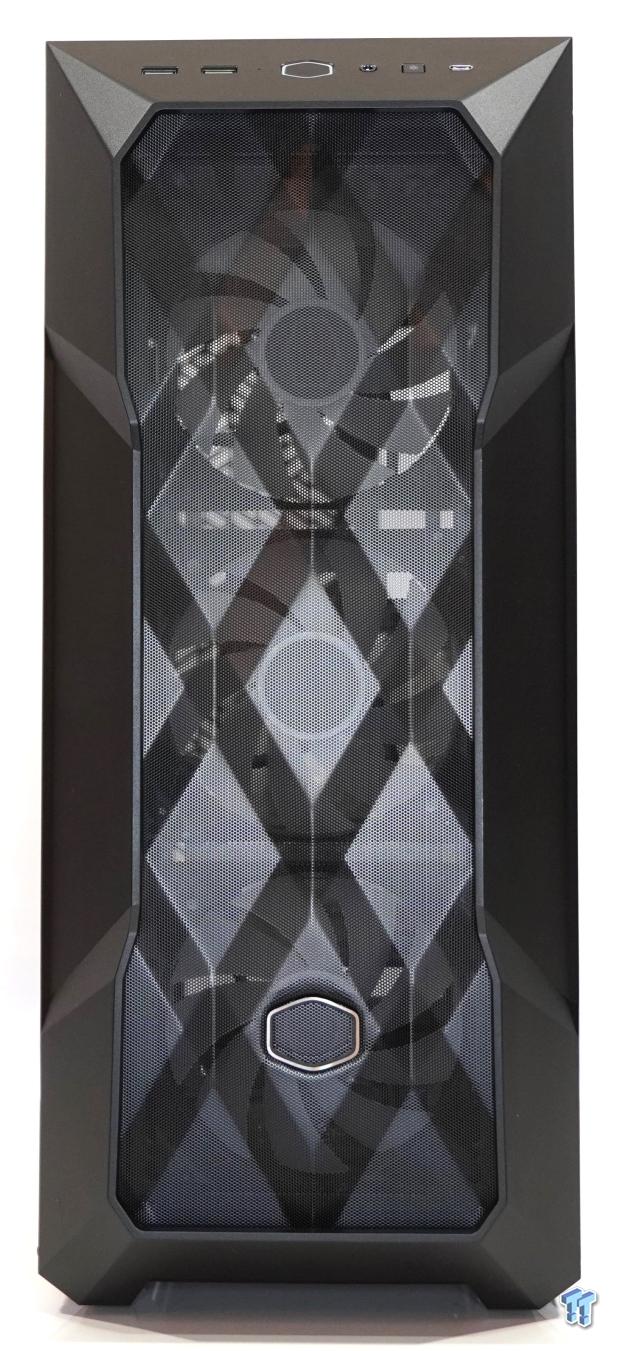 The front air intake is completely meshed out, allowing the three included 120mm fans to pull fresh cool air in. The TD500 Mesh V2 keeps the angular patterns of the original TD500 Mesh, which is a huge plus.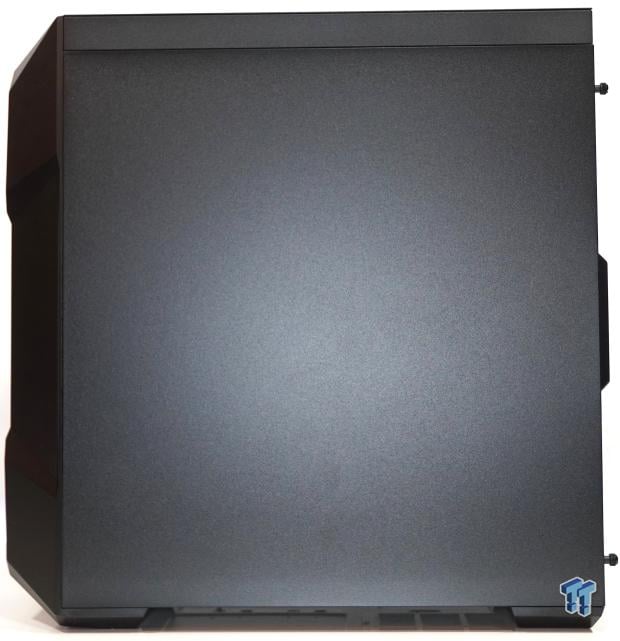 The other side panel is the typical side panel you would see on just about every budget mid-tower pc case. The top section, however, is increased in size by about 26mm; more on that later.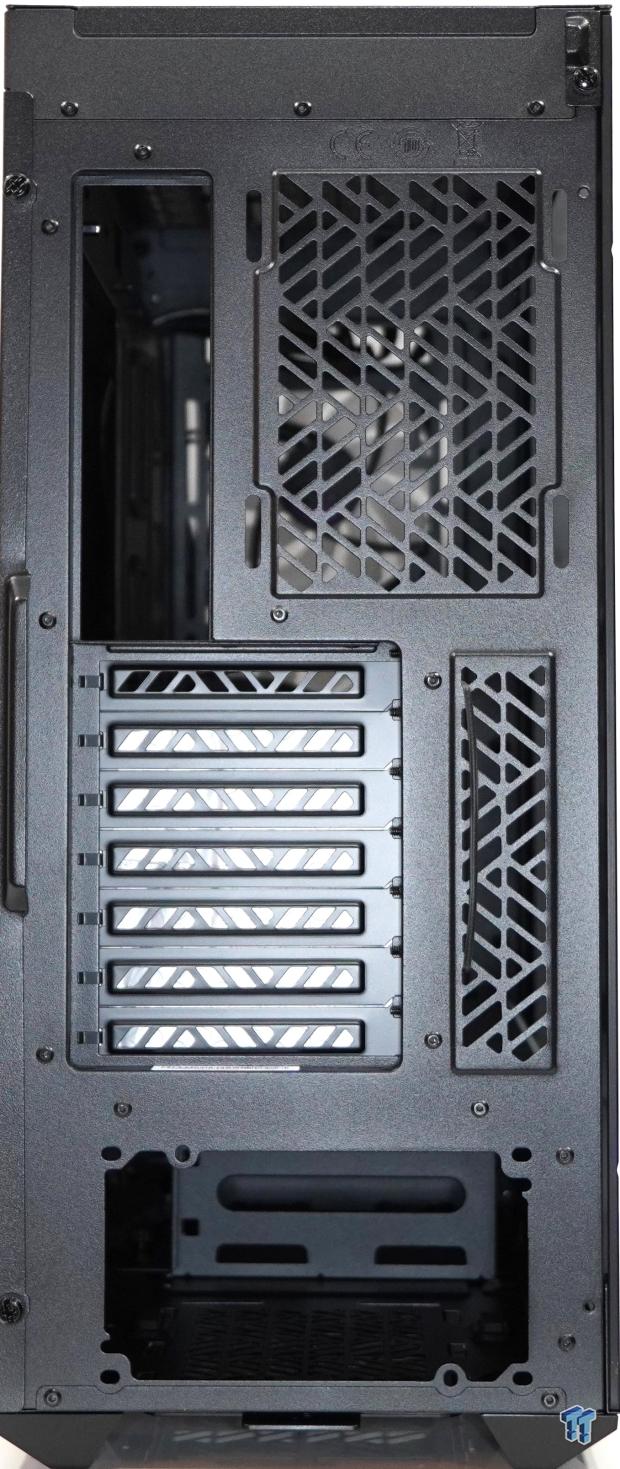 The rear I/O is somewhat interesting. There is support for seven PCIe slots but nothing in terms of vertical GPU mount. Removing all the PCIe slot brackets to support an aftermarket vertical GPU mount is the alternative. A removable PSU bracket would have aided in easier PSU installation. Lastly, having only support for 120mm rear exhaust fans and not 140mm baffles me.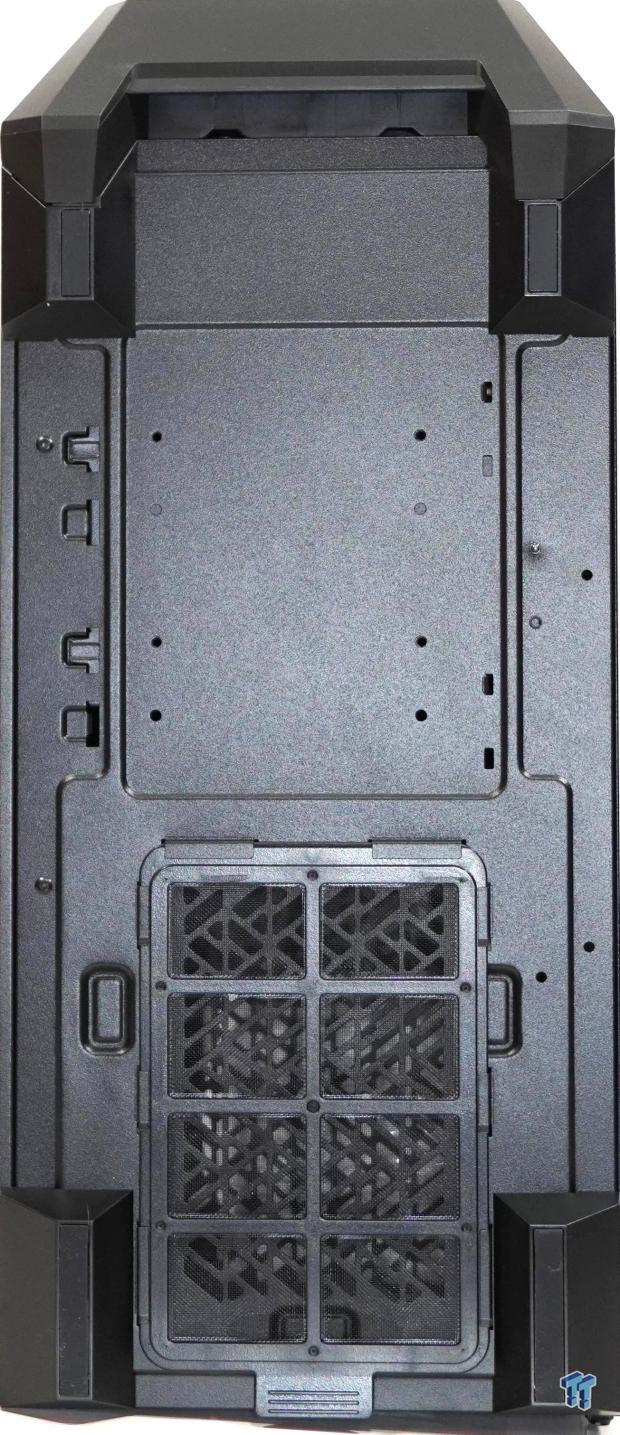 The bottom of the TD500 Mesh V2 is pretty standard. Four good-sized rubber-dampened feet and a slide-in PSU dust filter slide in from the rear.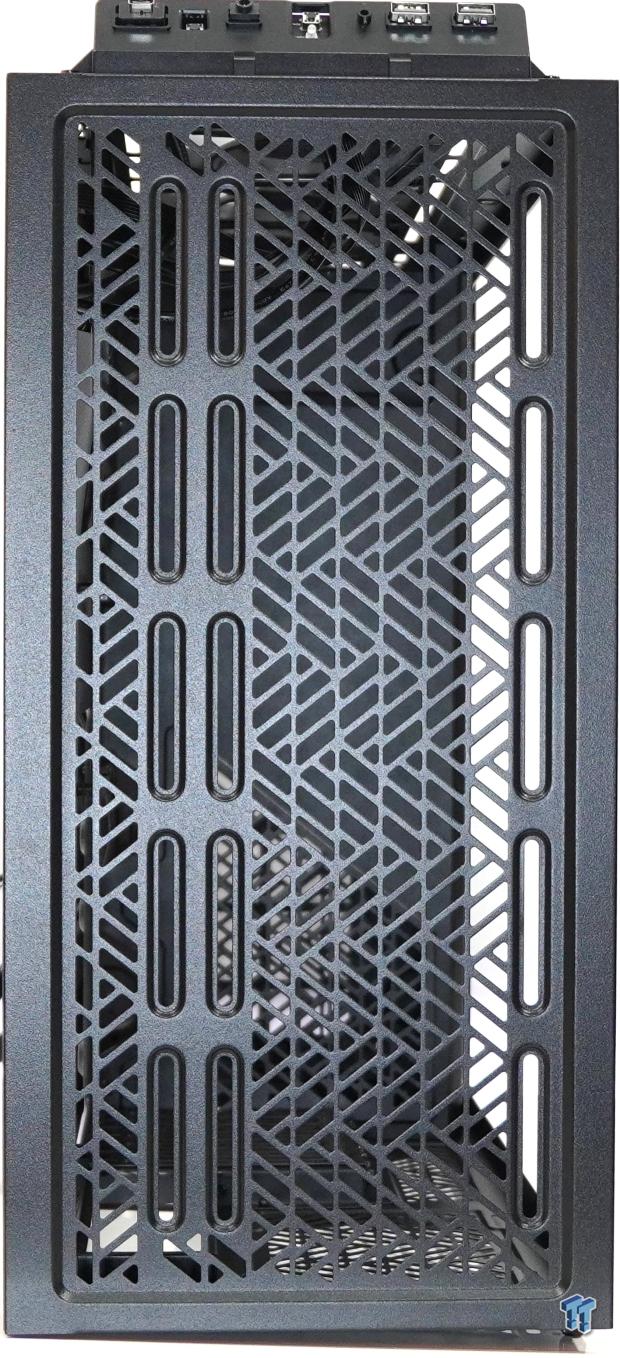 The top section of the TD500 Mesh V2 supports three 120mm or two 140mm fans with matching radiators and AIOs. A top full-length dust filter is also included.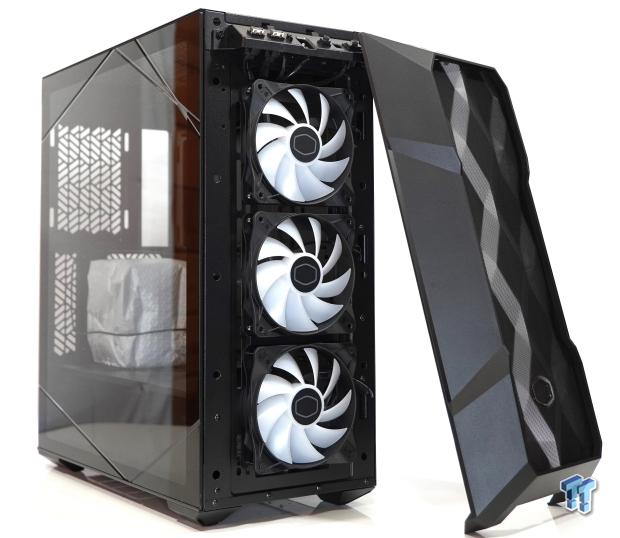 Pulling the front of the TD500 Mesh V2, the three included CF120 aRGB 120mm fans that Cooler Master has included are quite visible and are mounted from the outside.
Inside the MasterBox TD500 Mesh V2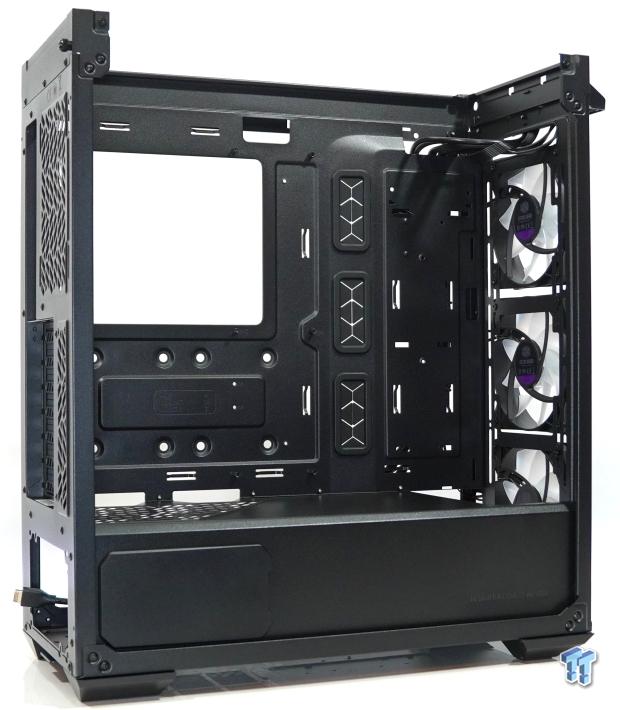 Taking the side panels off allows the TD500 Mesh V2 to show another great feature, a removable roof. This allows the builder to install fans or radiators outside of the case allowing for an easier time building while having better cable management.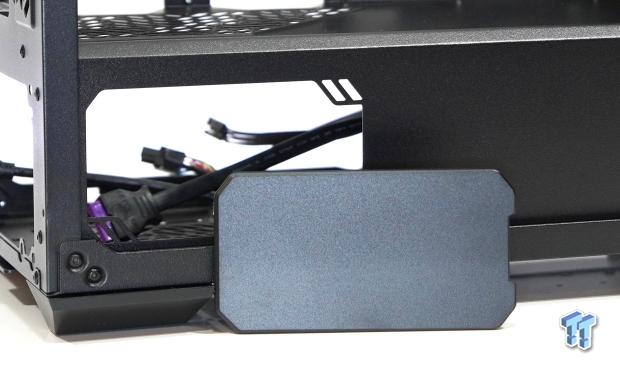 The PSU shroud has a removable plate that allows the end-user to either show off their PSU or hide it away for a clean aesthetic.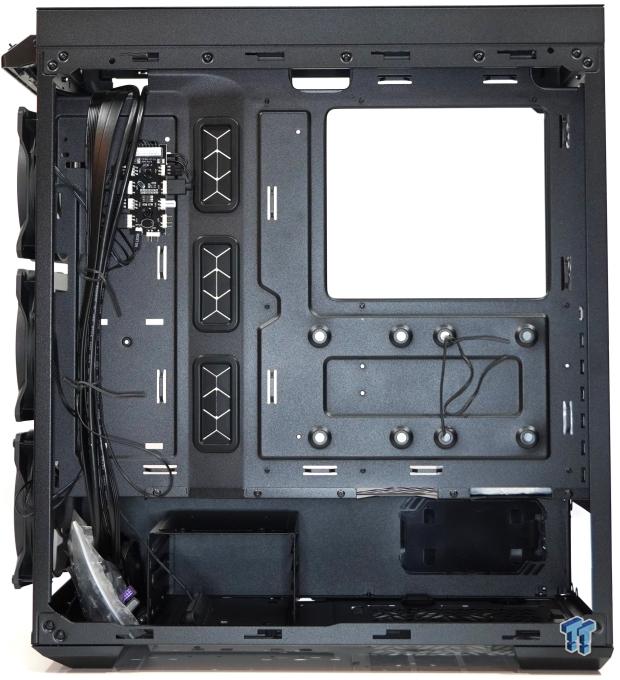 The backside of the TD500 Mesh V2 is well laid out, with three rubber grommets in the center channel to allow for good cable management. A couple of 2.5" HDDs or SSDs can be installed on the back of the motherboard tray with the included mounts. The basement, so to speak, has room for up to 170mm in PSU length. If the dual 3.5" HDD mount is removed, longer PSUs can apply.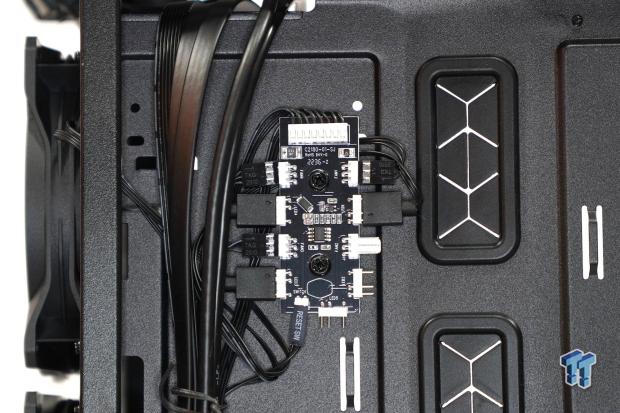 To the left of the first rubber grommet is a four PWM/aRGB fan controller - a nice touch for a case with an MSRP under $100.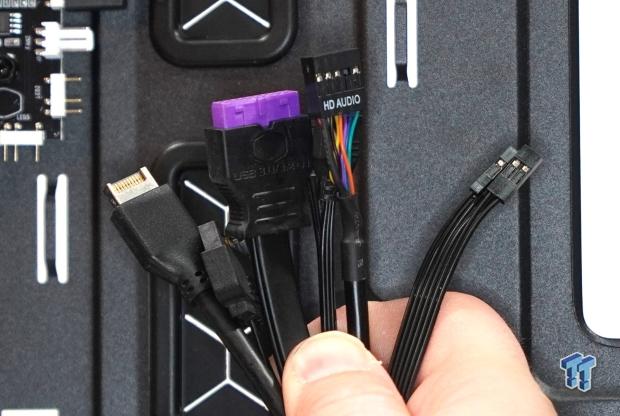 Front panel cable connections include a USB 3.2 Type-C Gen 2, SATA power for the included fan/aRGB controller, USB 3.0 header, 3-pin fan header, aRGB header, a multi-colored HD-Audio header, and separated PWR and HDD light headers.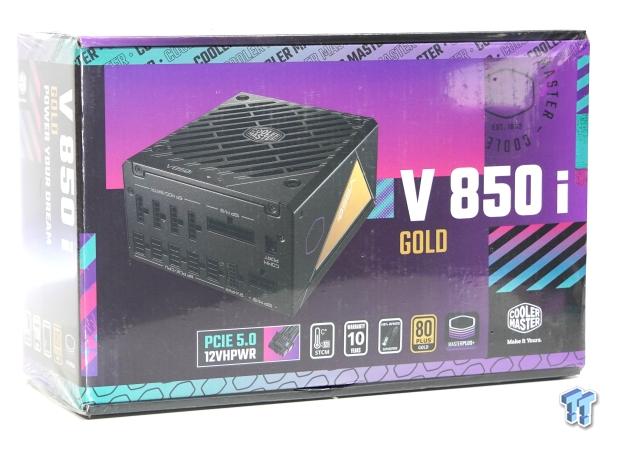 Cooler Master also sent over a few other products for the build and review, including the V850i Gold PSU. The V850i is a digital ATX 3.0 PSU with a 16-pin 12VHPWR connector.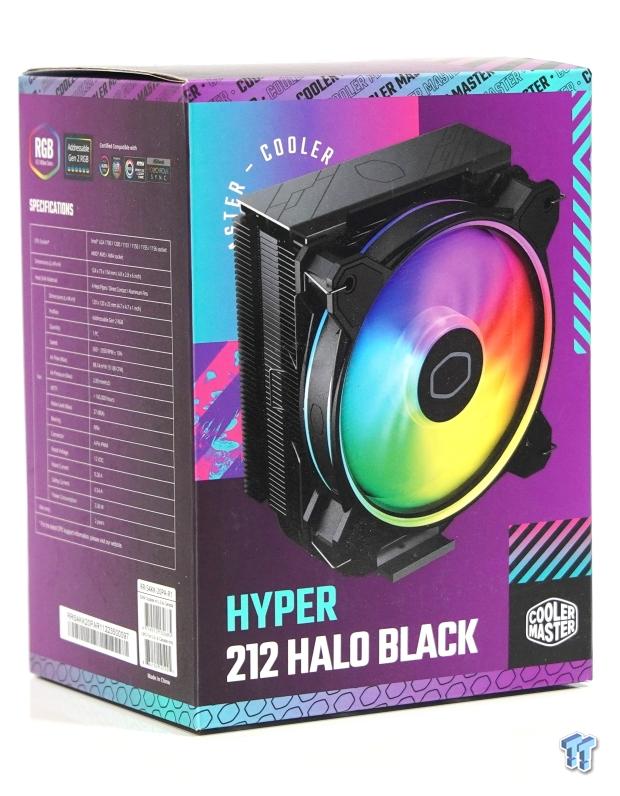 Cooler Master also sent along their new Hyper 212 Halo Black CPU cooler.
Ryan's Test System
Motherboard: GIGABYTE Z690 AORUS PRO (INTEL Z690) - Buy from Amazon
CPU: Intel Core i5 12600K - Buy from Amazon
Cooler: Cooler Master Hyper 212 Halo Black - Buy from Amazon
Memory: Patriot Viper Venom 32GB DDR5 5600 RGB - Buy from Amazon
Graphics Card: NVIDIA RTX 3090 Founders Edition - Buy from Amazon
Storage: Corsair MP600 PRO XT Gen4 PCIe x4 NVMe M.2 SSD - Buy from Amazon
Case: Cooler Master TD500 Mesh V2
Software: AIDA64 Engineer 6.32.5600, and CPU-z 1.94.0 x64
Power Supply: Cooler Master V850i Digital ATX 3.0 PSU
OS: Microsoft Windows 11 Pro 64-bit Build 22621 - Buy from Amazon
Software: AIDA64 Engineer 6.8.6300, and CPU-z 2.03.0 x64
Installation, Finished Product, and Final Thoughts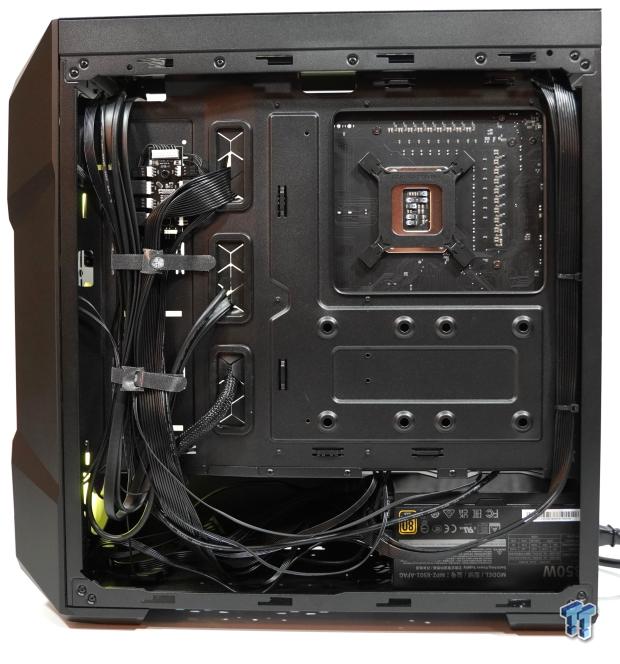 Having now built in the Cooler Master TD500 Mesh V2, I can now say with certainty that it was extremely easy to build in. I did not run into any WTF moments as one would sometimes run into, which is relatively common. Having the included fan/aRGB controller that was pre-wired meant I could save time and just move on with the rest of the build, and not having to fuss with every aRGB cable was brilliant.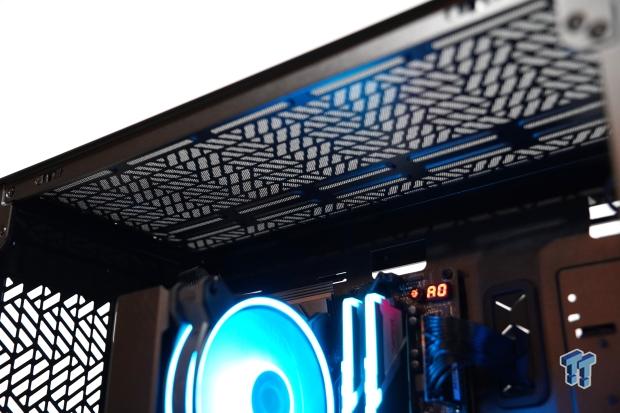 Three things make TD500 Mesh V2 better than the original. First, a removable roof makes installing AIOs, CPU tower coolers, and cable management a breeze. Secondly, the front I/O was improved by including a USB 3.2 Gen 2 Type-C connection; having this connection is getting more and more common. Lastly, my third thing is the price. If you had asked me how much this case would be, I would have told you at least $120, not $90.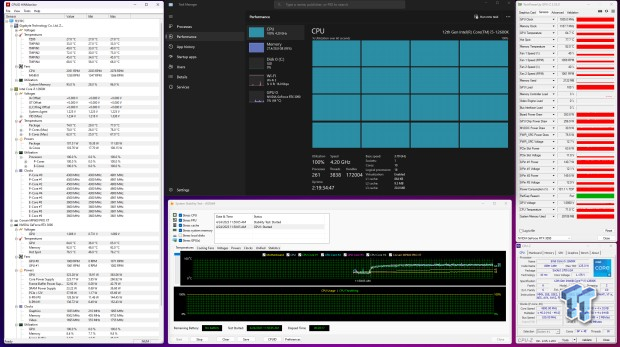 In terms of testing the TD500 Mesh V2, the test PC houses an Intel Core i5 12600K on an AORUS Z690 Pro motherboard. Running Aida64's System Stability Test for at least 20 minutes heats up the 12600K to 77C on the Hyper 212 Halo Black, which is not bad for a single tower-style air cooler. The GPU, an NVIDIA RTX 3090 FE, only ran up to 65C, which is quite chilly for a GPU of this stature. The ambient temperature was 17C.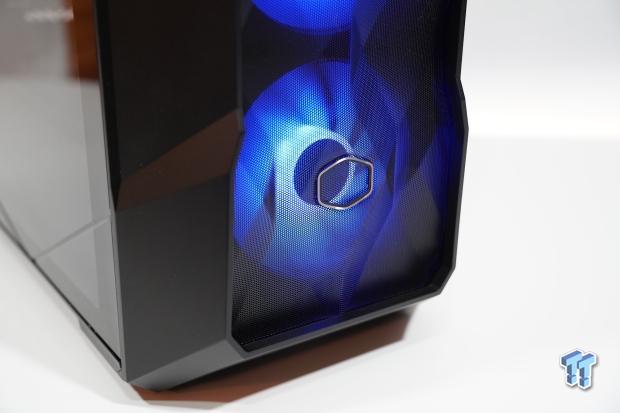 Is this version of the TD500 Mesh better than the OG? Yep, it is. Does the Cooler Master TD500 Mesh V2 lack a few things? Yeah, but for $90, you really can't go wrong. However, if I must critique, the only things I would change would be support for 420mm radiators in the front, something that is becoming more and more common. Also, having a rear fan, though not the end of the world, would be nice, even if the price was increased to $100, the TD500 Mesh V2 would still be worth the additional $10.