TweakTown's Rating: 92%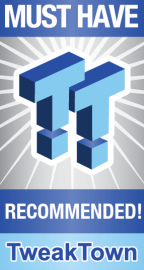 The Bottom Line
While features are not prevalent here, performance and low cost without bells and whistles is what this RAM is all about. Crucial may not appeal to the gamers with their fancy systems, but they offer quite the bang for the buck while ticking boxes.
Pros
+

Built for stability

+

Dependable

+

Affordable

+

Known IC manufacturer

+

OC headroom
Cons
-

No pretty heat spreaders

-

No RGB

-

Nothing to see once installed (maybe a pro for some builders)

-

Loose timings
Should you buy it?
Avoid
Consider
Shortlist
Buy
Introduction, Specifications, and Pricing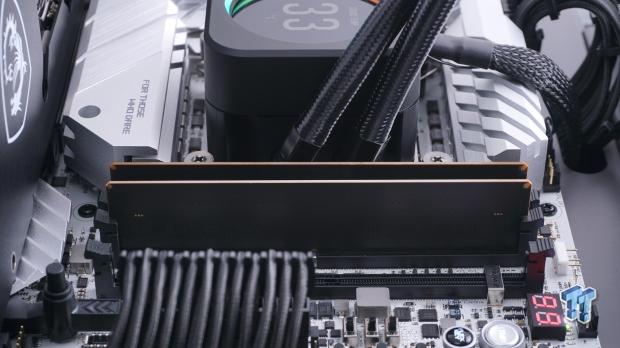 When looking for a new set of DDR5, many will be keen to migrate towards something pretty, and most likely, something with lights on them. However, to many, stability has the utmost priority. Many companies are working towards higher speeds with lowered timings, but Crucial is taking a different approach. With the Ballistix brands now gone, Crucial does not need to bin their kits so tight, nor do they have to work towards insane speeds to keep up with the competition.
Since Crucial and Micron are tied at the hip, there are plenty of ICs to play with, but this time for RAM geared to the productivity side of the PC arena. Of course, gamers can still use these sticks and be just fine going about their lives, but to be blunt, there are better kits for maximizing FPS on a high-refresh monitor. For photo editors, music producers, videographers, and many more, the last thing you want is an XMP profile tuned too tight for the rest of your build. You simply want something dependable and stable to get the job done with minimal outside forces working against you while trying to get the job done.
Crucial, with their new individual sticks or pre-combined "kits" of DDR5, has the perfect solution for those in such situations. The "kit" we have is actually comprised of two CT16G52C42U5 sticks but can be had in 32GB density sticks, as well as 32GB and 64GB kits. For reference, the 32GB kit has the part number CT2K16G52C42U5. Any way you find them for purchase, you will find naked black sticks with no thrills or frills that are ready to get down to business.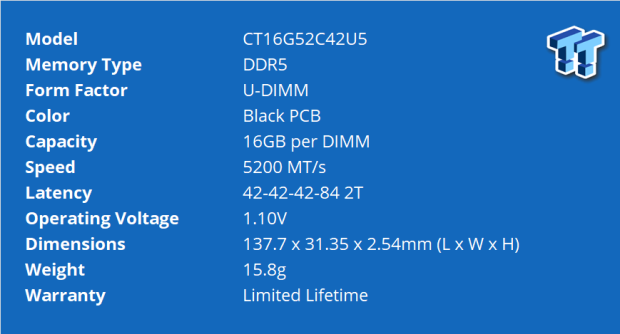 As we mentioned, Crucial sent us two single packs of CT16G52C42U5 to make up our 32GB kit for testing. Inside the packaging are sticks with black PCBs, no heat spreaders, and nothing more than a Crucial product sticker to change the sea of blackness. Each stick is said to run at 5200 MHz, and we find that the defaults and an XMP profile set these sticks the same. Once powered up, we found them to run at 5200 MT/s with 42-42-42-84 2T timings. Another benefit of the lower speed and higher timings is that these kits need just 1.10V to operate.
Dimensionally, these sticks are as small as you currently find until low-profile kits become a thing. Since everything about this RAM is exposed to the world, the sticks measure 137.7mm long, 31.35mm high, and are only 2.54mm thick. Also, rather than weighing in at nearly 50 grams as many do, these sticks weigh only 15.8 grams each. Along with stability, efficiency, and reliability, these sticks are backed with a limited lifetime warranty, should you run into an issue with them.
Pricing for what we have in hand with a pair of CT16G52C42U5, we looked at Amazon and saw a $65.99 price per stick. Essentially that would be 131.98 for the kit we are testing. However, if you are to buy them as a kit, with the 2K near the front of the part number, you will see it is advantageous to go this route. When we looked at the CT2K16G52C42U5 listing, we found it to cost just $114.99. A fantastic price for 5200MHz memory in our minds, but in our quest here, we will see if there is anything more to them than what we see on paper and see if maybe these budget-friendly sticks have something for everyone, not just the productivity crews out there.
Packaging and Crucial CT16G52C42U5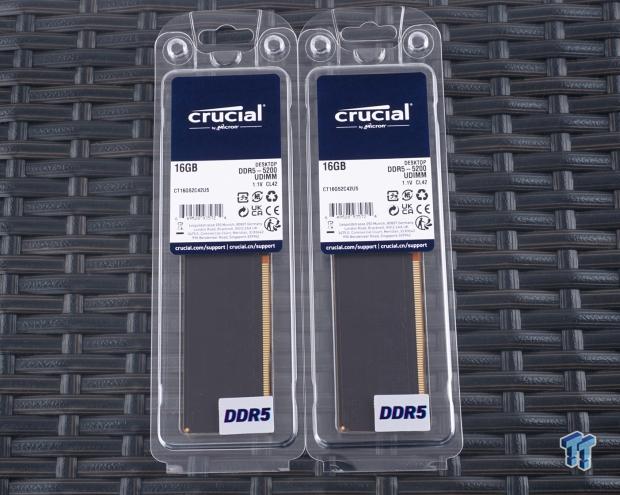 As we have said, we were sent two individually packed sticks with the CT16G52C42U5 part number and 16GB of density. The clear packaging allows a good look at the product on both sides, and the small stickers on the front cover all the necessary details consumers need to know.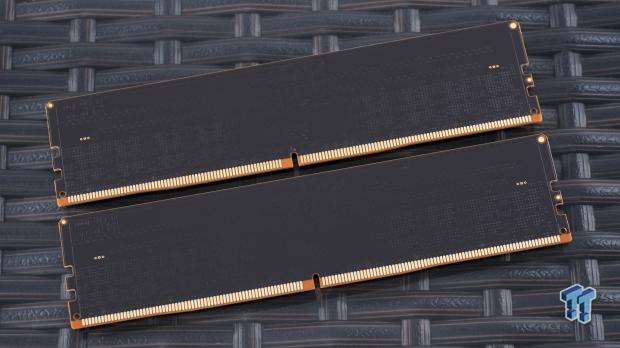 Out of the box, we can look at the side of the RAM many will see when looking into their cases. Without heat spreaders, we are left with a view of blackness with the various dimples in the PCB for the solder points on the reverse.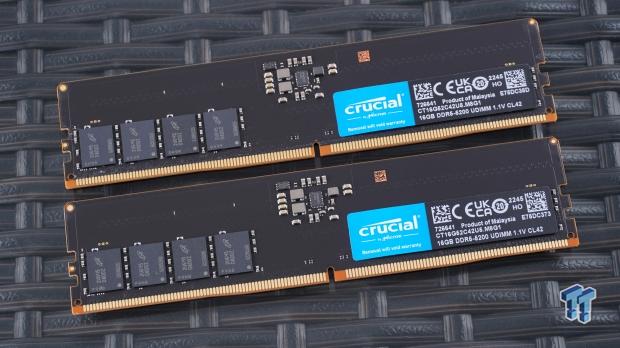 The sides of the sticks you will hardly ever see are this. We can plainly see the ICs, the PMIC, the PCB, and the product sticker. Much like the sticker on the packaging, this one offers the model, density, speed, voltage, and CAS latency.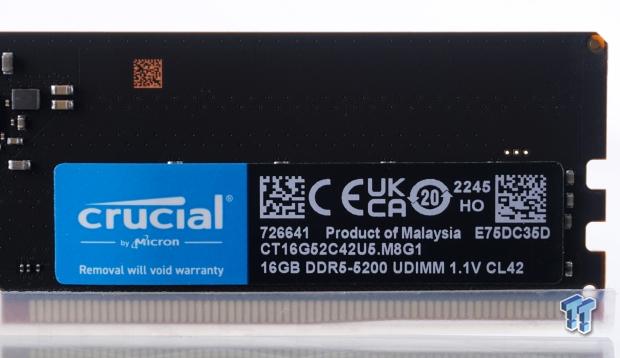 In case it was too small in the previous image, we made sure to get close to the sticker on these sticks. Outside of what we just mentioned, we see that these are made in Malaysia and that if you remove the stickers, you will void the warranty.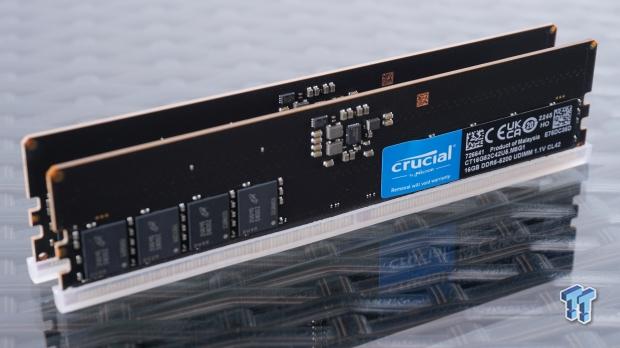 Since we have enough images of the bare side of the RAM coming up, when we set them up to get a look at the overall design and layout, we chose the busier side to look at. It is obvious there is no spreader, so designing is left to the RAM format; in that layout, the thickest part of the stick is the PMIC area.

Much of the view you will see when using the Crucial DDR5 is of the cut ends of the PCB and the tan color that goes along with that. However, since these are built for stability and reliability, those PCs will likely stay closed more than with enthusiasts.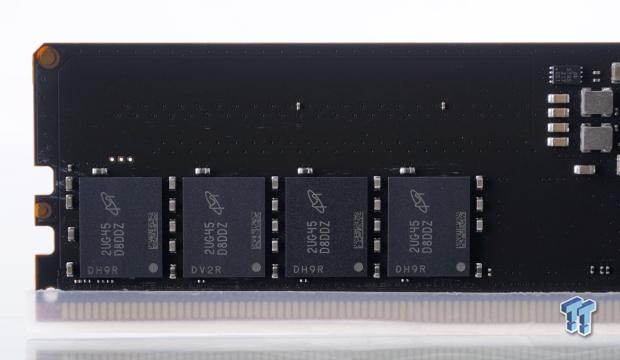 Of course, Crucial would not be Crucial without the Micron ICs. In this instance, we have 2UG45D8DDZ chips on the PCB. While we have tested D9 versions, these are the first D8 models, and hopefully, they have better movement than the older ones for the OCer in us.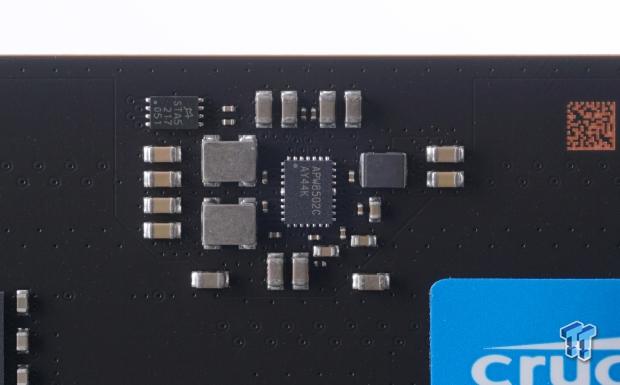 The PMIC used in these kits is the APW8502CAY44K made by Nordic Semiconductors. While they do a terrific job at delivering the small amount of power this RAM needs, they just so happen to be unlocked PMICs.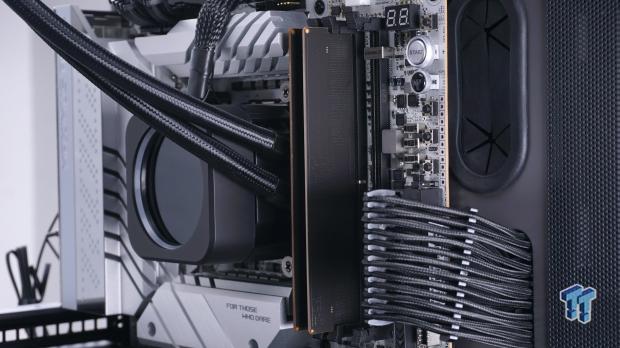 Once installed, there is nothing to write home about when it comes to appearances, but again, it is not the intent of Crucial, to begin with. Even so, we do not mind the black hunks of PCB as a view but Crucial misses out on some easy logo placement, just as far as product recognition goes.
Test System Details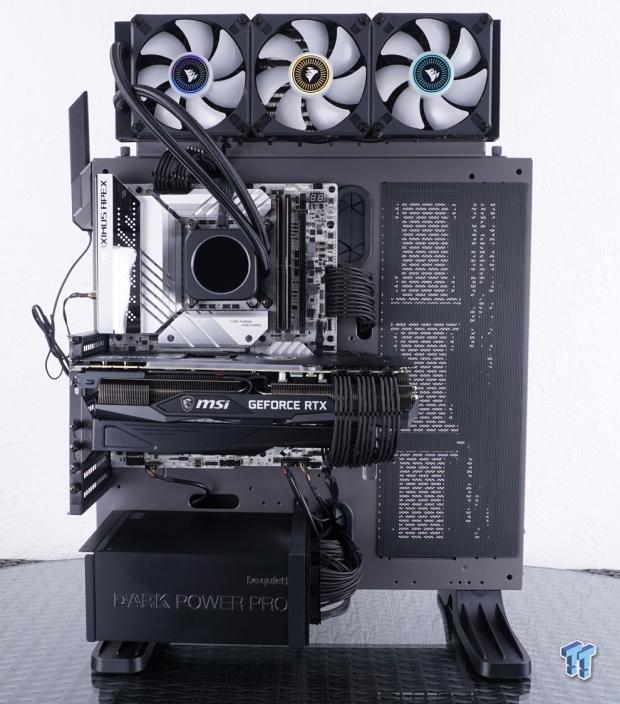 To obtain the Intel CPU-Z screenshots, you will see directly following this image, and this is the system we used to do it, as well as in attaining the results seen in the following pages. Thanks go out to be quiet!, ASUS, and NVIDIA, for supporting this venture. Detailed specifications of the system can be found below.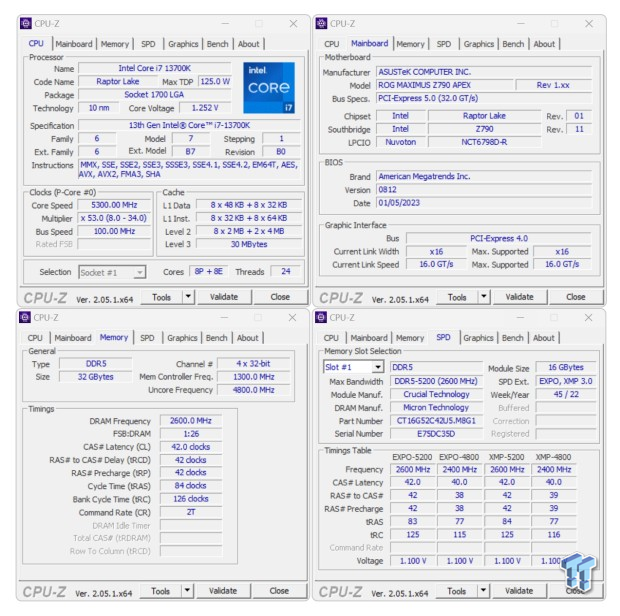 Whether you enable the system defaults in BIOS or apply the XMP profile, you will get this once the system is running. The Crucial RAM is at 5200MHz with 42-42-42-84 2T timings. After a trip back to BIOS, we see that the VDIMM is indeed 1.10V, while the system agent was set to 0.801V and the memory controller was set to 1.119V.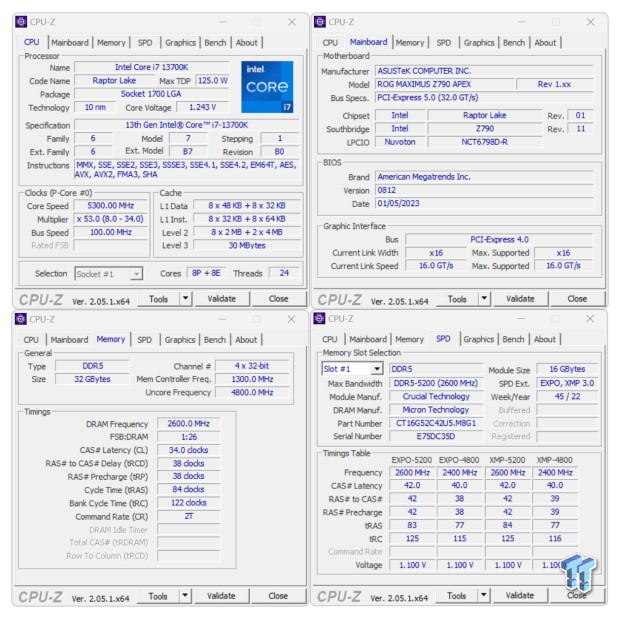 As we do, we add a small amount of voltage and see what shakes. In this instance, we got the Crucial RAM timings down a bit. With speed still at 5200MHz, we lowered the timings to 34-38-38-84 2T. For the voltages, we are using 1.20V for the VDD, VDDq, and Tx, whereas the system agent uses 0.9V, and the memory controller is pushed to 1.2125V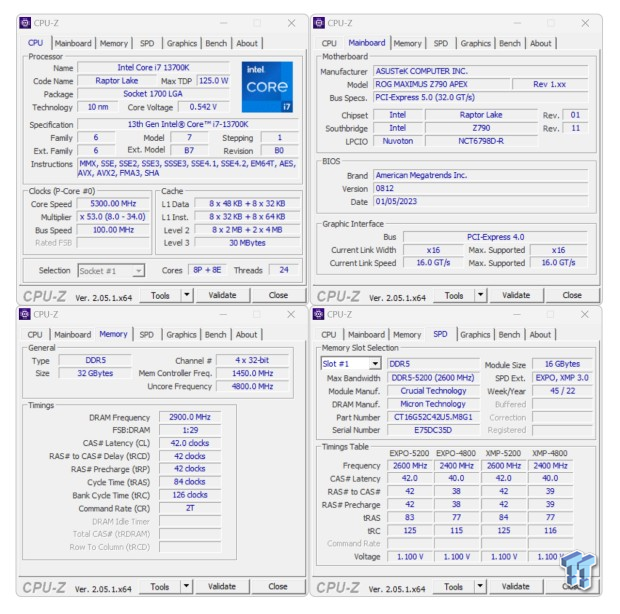 We clocked for more speed by starting over with the timings back at 42-42-42-84 and using the same voltages as described in the previous image. While not a vast speed gap, we got another 600 MHz out of these unmatched sticks, landing us at 5800 MHz as the top speed.
Chad's Intel DDR5 Dual-Channel Test System Specifications
Intel Performance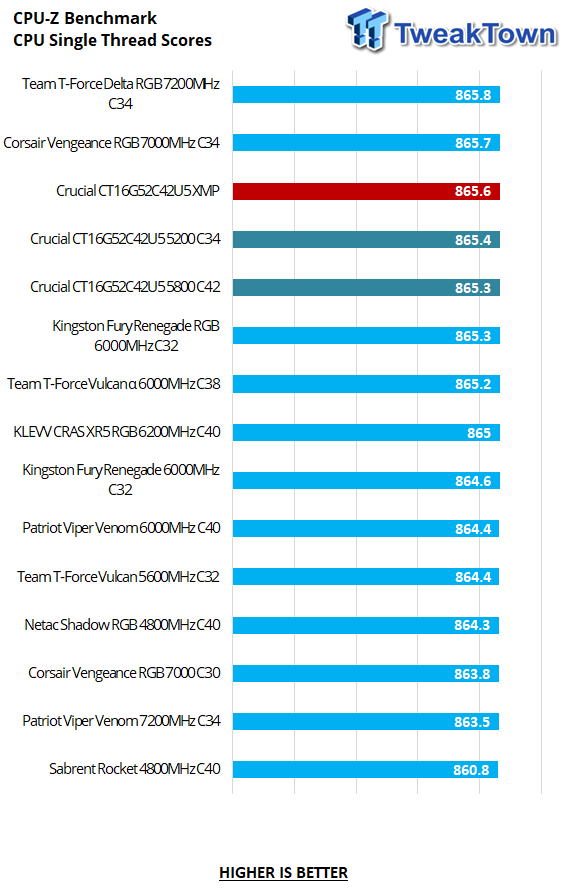 While we had little hope for a kit with this lower speed and loose timings, the CPU-Z benchmark prefers it. The XMP setting delivered the best results, with the overclocked results just shy of that mark. However you slice it, a third-place finish is more than we expected to start things off.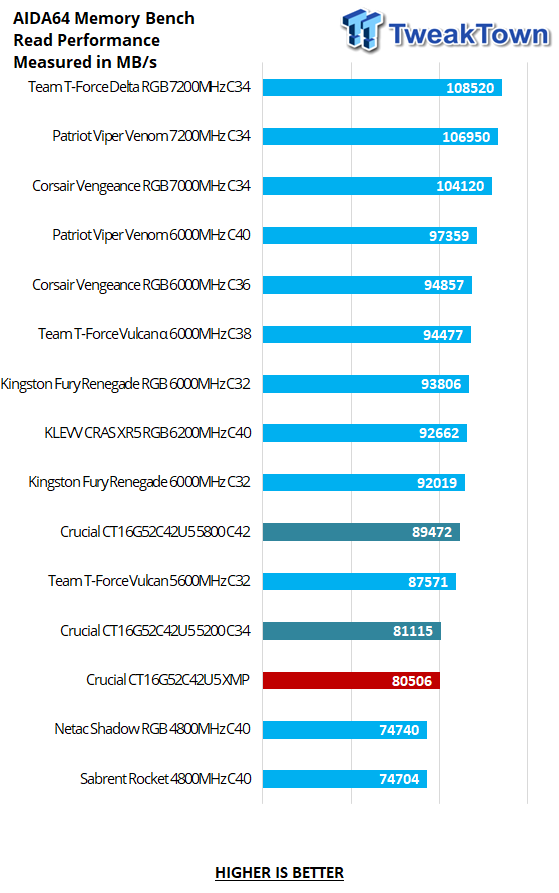 Moving into AIDA64, we kicked off the benchmark and recorded the read results that fit where expected. These Crucial sticks are slightly slower than a kit of 5600 MHz and are faster than both 4800 MHz kits. Reducing the timings gives us a 609 MB/s boost, but we see an increase of 8966 MB/s with more speed.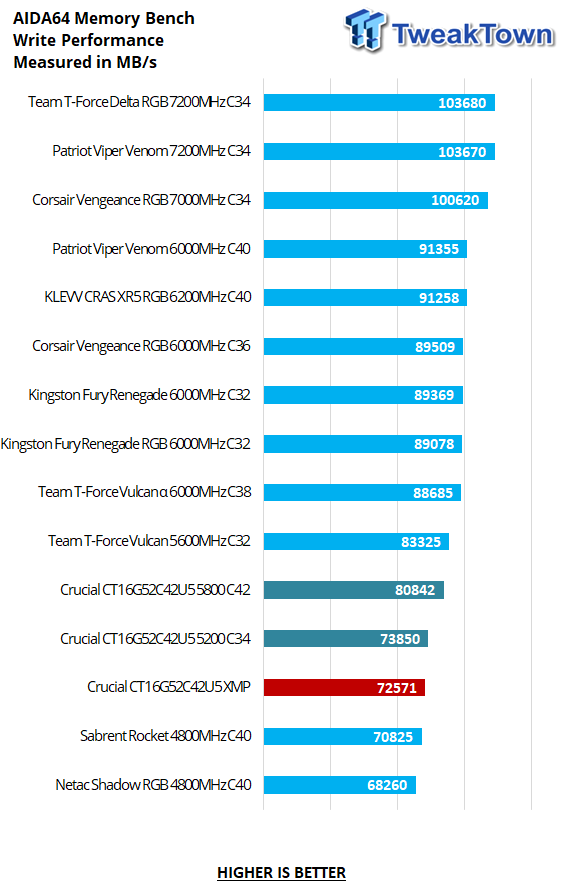 Again, Crucial finds itself near the bottom of the write performance chart, but again it falls in line by speed. Tightening up the timings offers 1279 MB/s more throughput, but again, speed is king, with a boost of 8271 MB/s.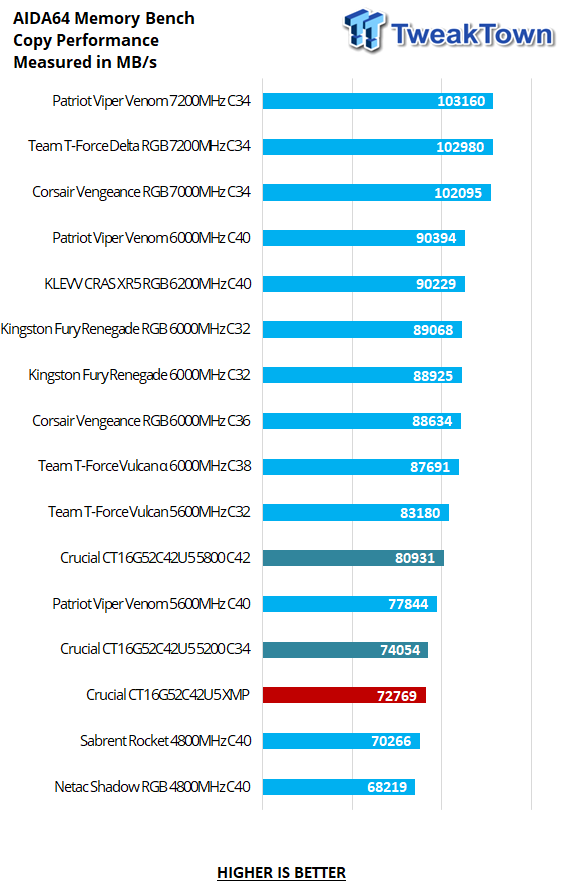 Still near the bottom, but again in line with what the speed dictates, it should do while using the XMP option. Reducing the timings nets us 1285 MB/s more, and running the Crucial at 5800 MHz gets us 8162 MB/s more throughput than XMP.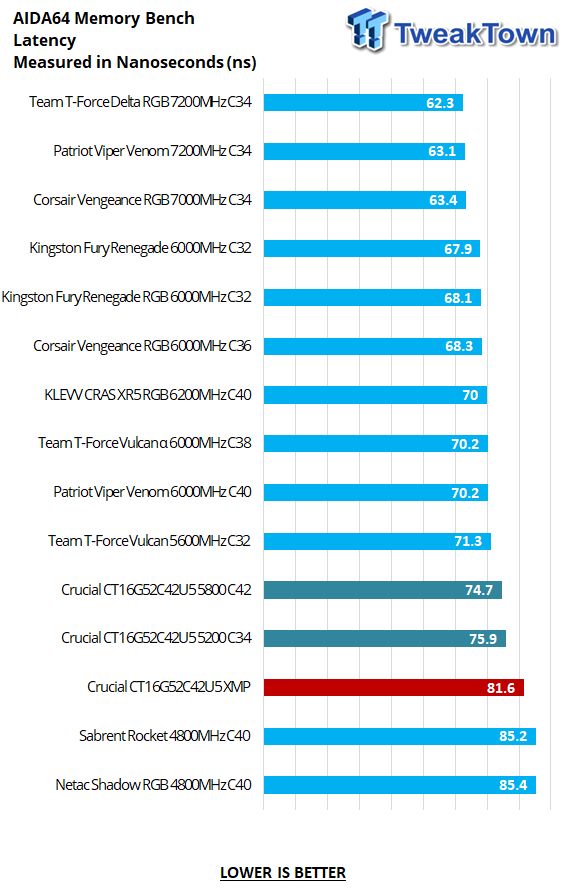 Latency is not great compared to many others on the list, but latency is not the end-all for DDR5. Again, they are faster than the 4800 kits and slightly slower than the 5600 kits, where they should be.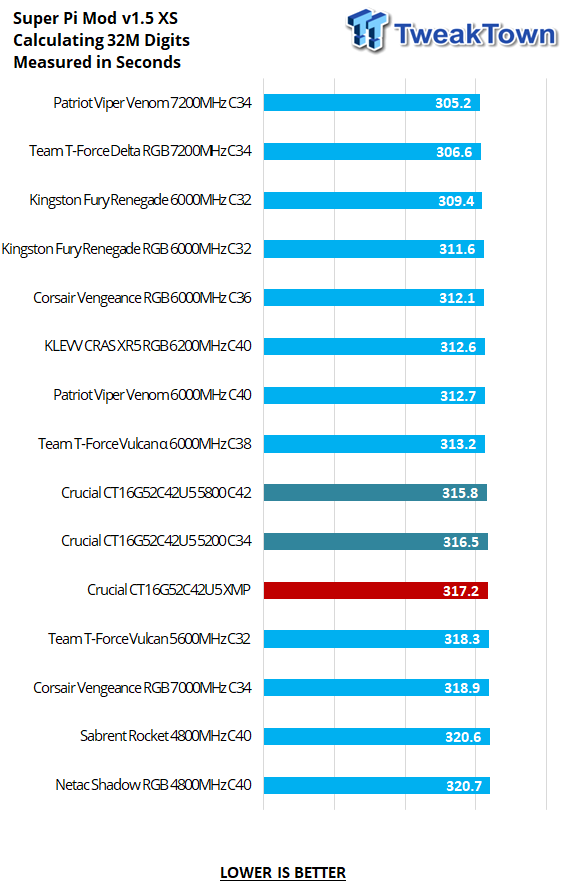 In something like Super Pi, where you are calculating digits of Pi, the Crucial 5200 sticks do rather well. Not only can they outpace the 4800 sets, but they also jump ahead of the Vulcan 5600s and the Vengeance 7000s.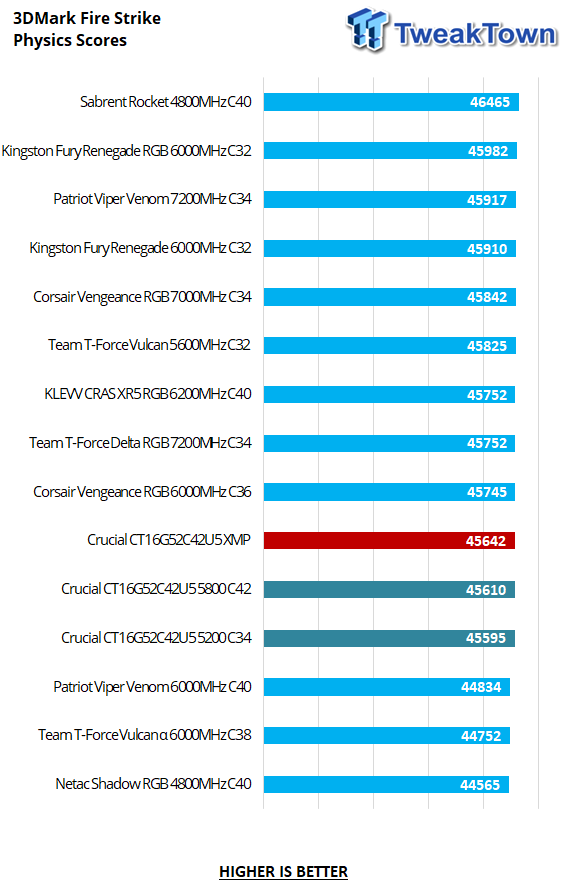 The physics portion of Fire Strike seems to appreciate the speed with these timings, as they outscore a pair of 6000 kits from multiple manufacturers. While overclocking was of no benefit, all scores are similar, within the margin of error.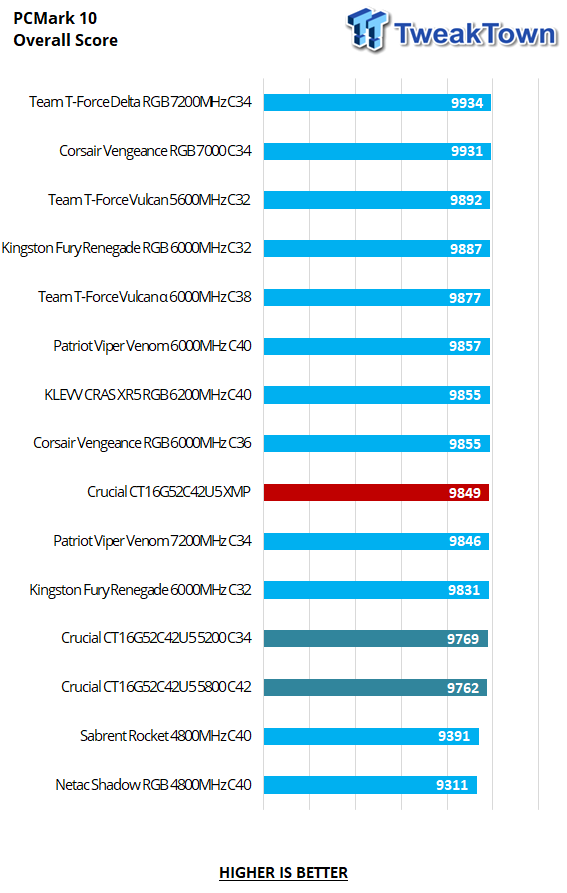 PCMark 10 also scores the Crucial DDR5 higher than we expected. Using the XMP profile, we landed ahead of some serious contenders. Again, overclocking did us dirty in this metric, but it shows how well this kit is set up, even if it looks like poo at first glance.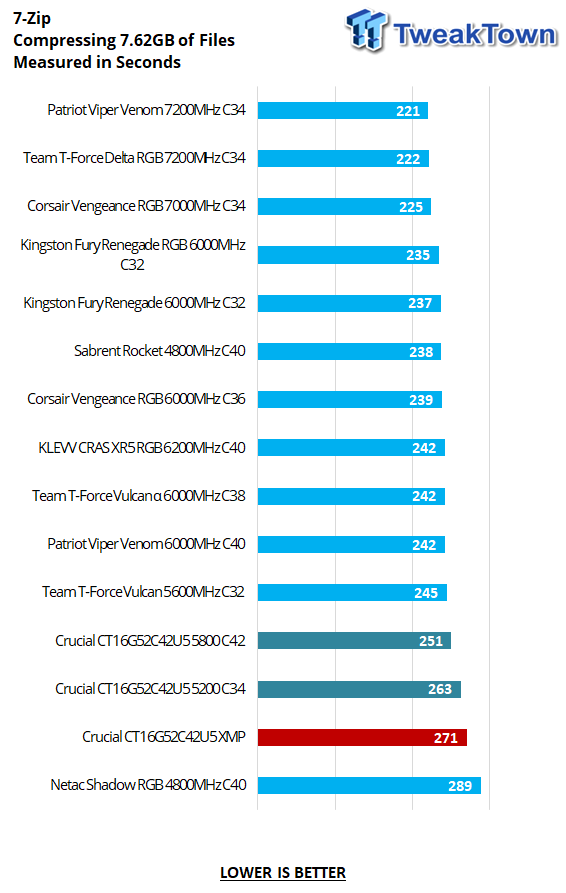 It appears that 7-zip puts the whoopin' on Crucial with then second from last. Look closer, though, when comparing scores, outside of that Sabrent anomaly, they score better than the Shadow RGB and are just behind the Vulcans at 5600 MHz. Reducing the timings nets us another eight seconds, but we get twenty seconds back over XMP, running them faster.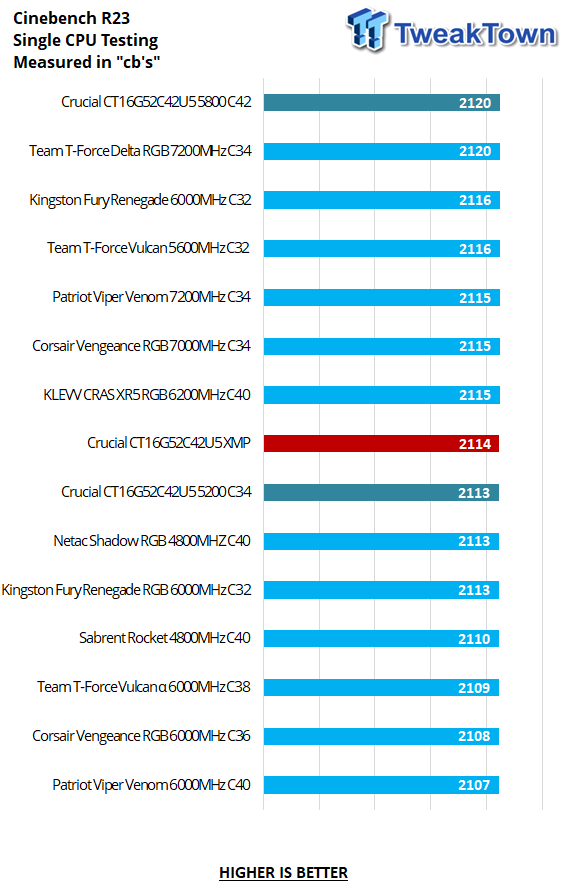 Even with Cinebench R23, the Crucial kit performs admirably. Right in the middle of the pack is where Crucial and this XMP profile landed. We lost a point trying to lower the timings but got up to the top of the chart by increasing the speed.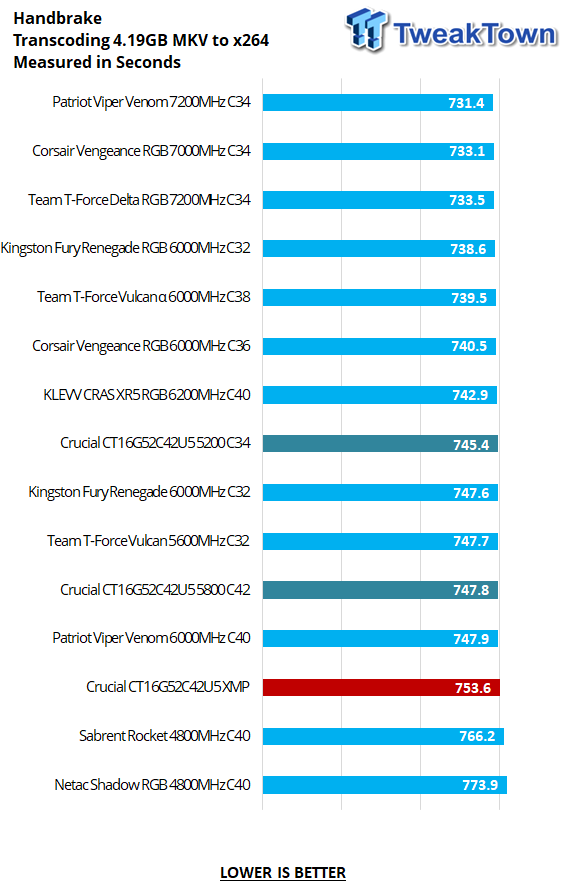 Handbrake testing shows how strong this set of DDR5 is. The XMP profile option lands as it should, between the 4800 kits and the 5600 kits. Everywhere else, more speed seems to win over lower timings, and while we get 5.8 seconds back with more speed, we got 8.2 seconds back with tighter timings.
Final Thoughts
Typically, at this point, we would talk about the heat spreader design, color choices, and how well it goes with our system, but none of that applies here. Crucial came out with a basic-looking kit with more performance under the hood than we expected. Aesthetically, the black-on-black works for us, and the plain view side of the sticks is something we are willing to deal with, even in a gaming rig.
Most professionals only open the PC to clean it, if that, and in such an environment, heat spreaders, lights, and style do not matter. The key to success with this product is reliability, stability, and low energy-using performance.
Even though we expected the looser timings to hinder performance, we found it not an issue. There is some give and take to make it all work. This kit could have shipped with better timings, but it would need more voltage to do so, and these sticks are geared towards plug-and-play, no-nonsense, stick them in, power them up, and things just work.
That is why you would opt for such a kit, and to help drive that point, the default SPD/JDEC profile and the XMP profile are identical. If you forget to enable XMP, you still reap all of the performance available from these Crucials.
Shockingly, there was quite a bit left in the tank for those willing to play around in their BIOS. With minimal added voltage, we found impressive results in the overclocking arena. At 1.2V, we got this kit to run with CAS34 and could otherwise run them at 5800MHz with CAS42.
Even with such low voltage applied, Crucial equipped our set with unlocked PMIC, so you can get much crazier with your attempts than we did. We will go as far as to say we had much more luck with these D8 ICs than we did with previous D9 samples.
What we have in hand would set you back roughly $132. On its own, we still feel that you are getting what you pay for and more. However, you do not have to buy unmatched singles like we were sent; you can buy "kits." Instead of looking up the CT16G52C42U5, search for the CT2K16G52C42U5 and save yourself some funds.
In kit form, you only need $114.99 to get these modules to your door. At that sort of cost, it is hard to put this kit down for any reason, and treating it for what it is, we cannot complain about what we saw.