TweakTown's Rating: 97%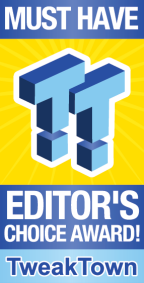 The Bottom Line
This set of Patriot Viper Venom Gaming DDR5 has impressed us, not only for its looks and performance, but a major factor is the cost. You will be hard pressed to find anything else with these specs with so little comparatively invested.
Pros
+

Visually appealing

+

Cooled PMIC

+

XMP profiles pre-programmed

+

High-contrast aesthetic

+

Price and performance
Cons
-

Not as much flexibility as expected

-

No RGB
Should you buy it?
Avoid
Consider
Shortlist
Buy
Introduction, Specifications, and Pricing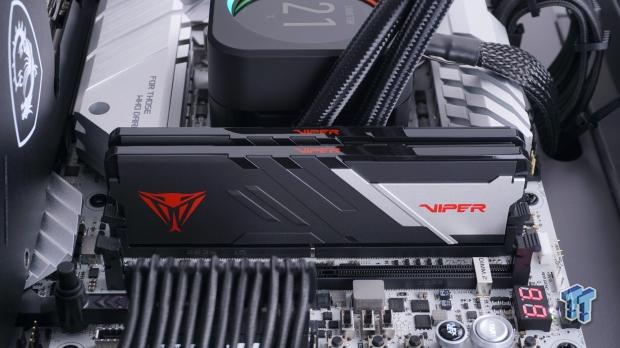 As we have said, Patriot is a company that was never tight with samples and has kept us busy over the years. Sometimes they sent us what we would consider average kits, but more times than not; they came through with many high-end examples of where the market was then. Whether it be some of the fastest DDR4 back in the day or another of the fastest kits we have yet to test with DDR5, their out-of-the-box performance has always been stellar and well worth the investment.
While TEAM beat Patriot to the punch by delivering a set of 7200MT/s DDR5 first, what we have for you now is a slugfest to see which kit is best overall and more worthy of your business. While these two will go blow for blow in our charts later in the review, we find these Patriot sticks look like others we have seen in their DDR5 lineup, and for us, this is a great thing. We love the design Patriot is using, not only for its appeal with their high-contrast design but also because they seem not to leave any stone unturned when it comes down to even the finest details.
Even though we realize that Patriot and their Viper Gaming series of memory may not be on your radar, maybe it is fine time that you look at them in a different light. As we have stated in previous reviews, no other company pays as much attention to every little detail as we see with Patriot. To some, that may not hold much weight, but for someone who sees a broad spectrum of what is available on the market, those smaller details stack up and are things that we feel will win you over. Even if Patriot is someone you do not even have pop into your mind when looking for RAM, by the time you finish this review, we hope you can start to see them as we do and appreciate what they have on offer.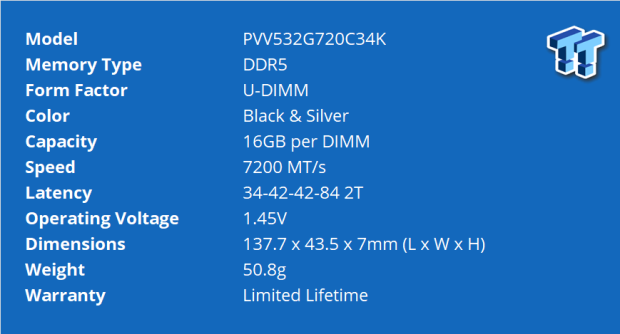 First things first; the chart. In it, we find the part number PVV532G720C34K, which tells us that this is Viper DDR5 RAM with 32GB of density. The speed is 7200MT/s at CAS34, and the K stands for black. Of course, they are not completely black, as they keep the same aesthetic as the 6200MT/s kit we saw last, and there is a mix of black and silver and bright red pops of color. Our two-stick kit came with a pair of 16GB sticks which are shown to run at 7200MHz with the XMP 3.0 profile enabled.
Once enabled, timings change to 34-42-42-84 2T, and the voltage is increased to 1.45V for proper functionality. The last few points in our chart over the 137.7mm length of each stick, the 43.5mm height, and the 7mm thickness, along with each stick's hefty 50.8-gram weight. Lastly, Patriot covers your kit with a limited lifetime warranty if an issue arises.
The chart doesn't tell us that the ICs under the hood are SK-Hynix A-Die, some of the most coveted currently. We also get an unlocked PMIC, which can deliver the tinkerers out there even more from this kit. Beyond that, you will find a trio of XMP profiles. Of course, there is the initial XMP profile set to what the packaging alludes to, 7200MHz with 34-42-42-84 2T timings, but there are two more. The second option runs these Vipers at 7000MHz with 32-48-48-96 2T timings, while the third offers 6800MHz with 34-44-44-84 2T timings. The second option needs 1.45V to run, whereas the third option can run with 1.40V.
Our kit is an early run, where we were told only four kits hit our shores, and all of them went out for review. As we write this, we cannot locate these kits in the wild, and you will see one thing: universal packaging at this time, something that will not be seen with the retail packaging once it is available. Back to the former point, not having any live stock does leave us unable to link you to them directly, but we were told of the MSRP.
As we look at the other similar kits with similar specs, we find it will take nearly $250 to get you into this speed range. However, it appears Patriot studies the market well, as our kit in hand is slated to set you back just $182.99. That is a massive amount of savings. If we were to base our findings specifically on cost, which we don't, this set of Patriot Viper Venom Gaming RAM certainly would have a huge advantage right out of the gate.
Packaging and Patriot Viper Venom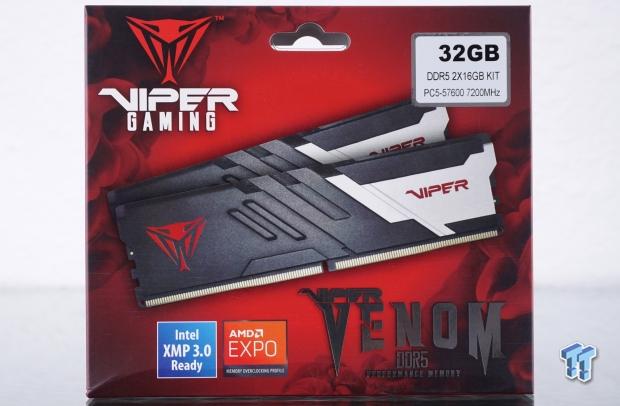 Our set of Viper Gaming RAM comes in a red and black package with the Viper Venom DDr5 Performance Mem0ory shown in the center. The top-right corner shows us the specs of 32GB and the PC5-57600 or 7200MHz. At the bottom, we see XMP 3.0 support and an AMD EXPO icon, which does not apply to our kit; it is due to this being an early sample before completed retail changes.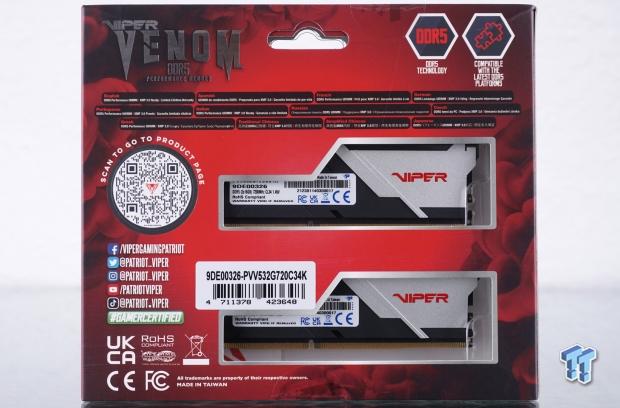 Around back, we are told that these are DDR5 performance UDIMM in a few languages before we run into the code, which takes you to the product page. Under the code are the social media addresses, while;e to the right are windows to look at the sticks, with the product number placed between them.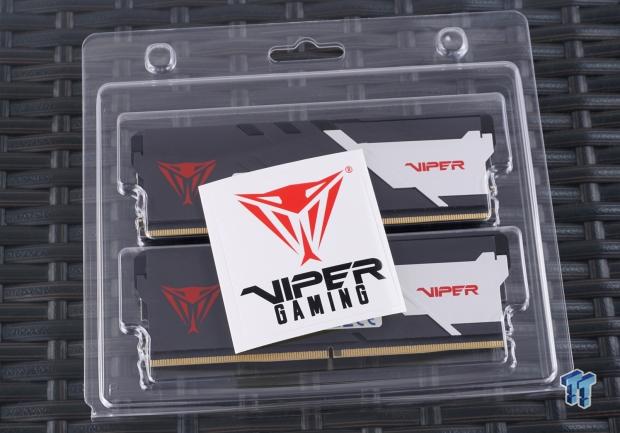 After removing the exterior packaging, there is another layer we need to get through before we can look at the Viper Venom. We found a sticker floating inside the box, outside the form-fitting plastic inner packaging, which keeps the RAM away from static discharge and protects the surfaces of these slick-looking sticks.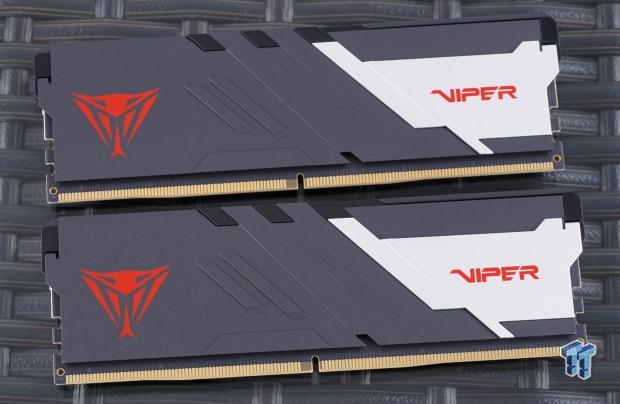 These may look familiar, as they share much of the aesthetic that our 6200MHz kit did, but this time around, RGB is not included in this set. However, they will be available in both flavors. Initially, our eyes are drawn to the red Viper logo at the left and the Viper name to the right, and that high-contrast section of silver against the matte black is one of the better designs we have seen.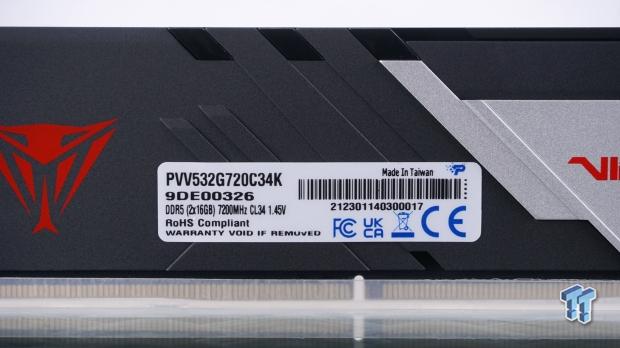 The other side of each stick is identical to what we saw in the previous image, except Patriot adds the product sticker. We find the part number, density, speed, latency, and voltage. Other things to note are that these sticks are made in Taiwan and that removal of these stickers does void that limited lifetime warranty.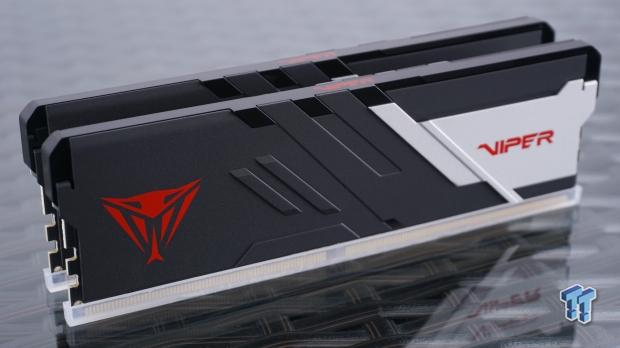 As we step back for another view of this kit, the light is less abusive, and the multiple surfaces stand out much better. Not only does the red pop more from this angle, but we can also see the shiny plastic tops standing out against the matte finish applied to the sides.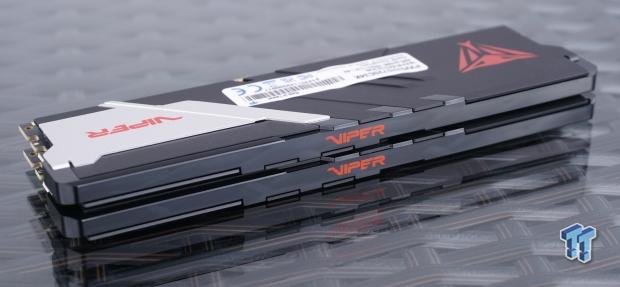 We already know the tops are black and shiny, but we get to know more from this angle. Painted on both is the Viper name, again with that same bright red color, allowing anyone to glance at them and know who made them. We also like the flat design, which enables chassis lighting to be reflected off the entire surface.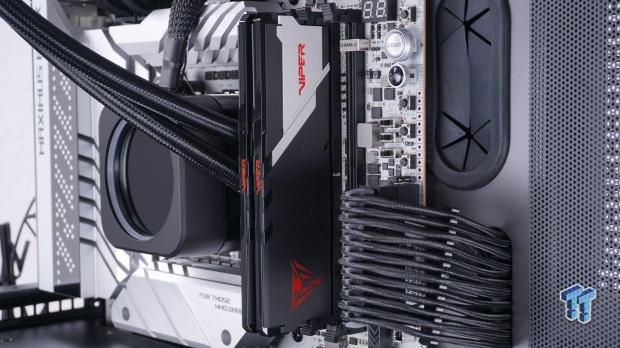 Installed onto the Z790 APEX, the Partiot Vipewr Venom stands independently and is in terrific contrast to the rest of the build. Once the system is powered, you will enjoy this appeal without the glow of RGB lighting coming from them, making them harder to see.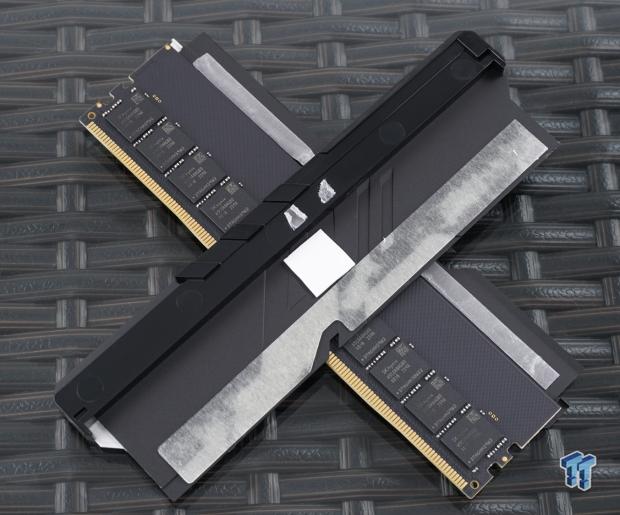 In the backs of the hefty aluminum heat spreaders, we find thermal tape to adhere to the ICs and a thermal pad to cover the PMIC. The eight ICs on each stick are SK Hynix made, but this time is a set of H5CG48AGB0, which are the coveted A-Die ships.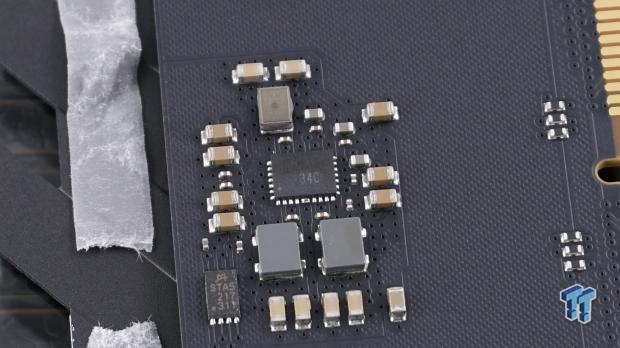 Richtek makes the PMIC of choice, even though the thermal pad has removed the paint making it hard to tell. With a close enough image and some contrast in PhotoShop, we saw shadows of 0D=9C in the chip.
Test System Details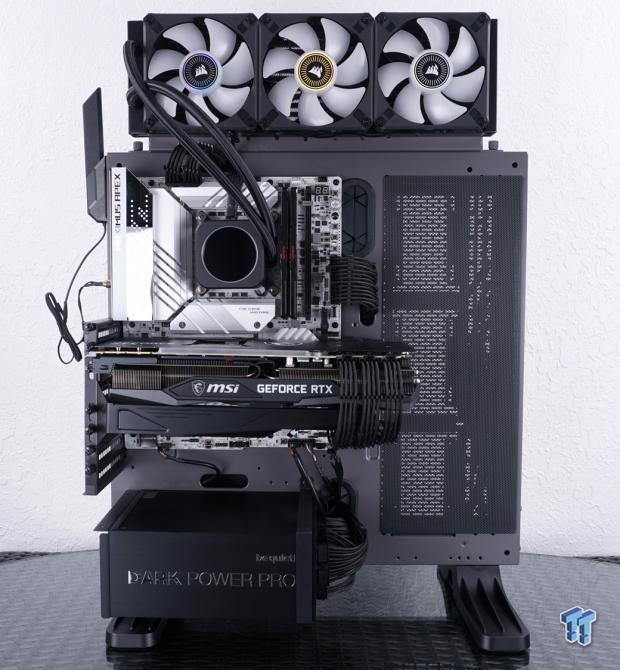 To obtain the Intel CPU-Z screenshots, you will see directly following this image, and this is the system we used to do it, as well as in attaining the results seen in the following pages. Thanks go out to be quiet!, ASUS, and NVIDIA, for supporting this venture. Detailed specifications of the system can be found below.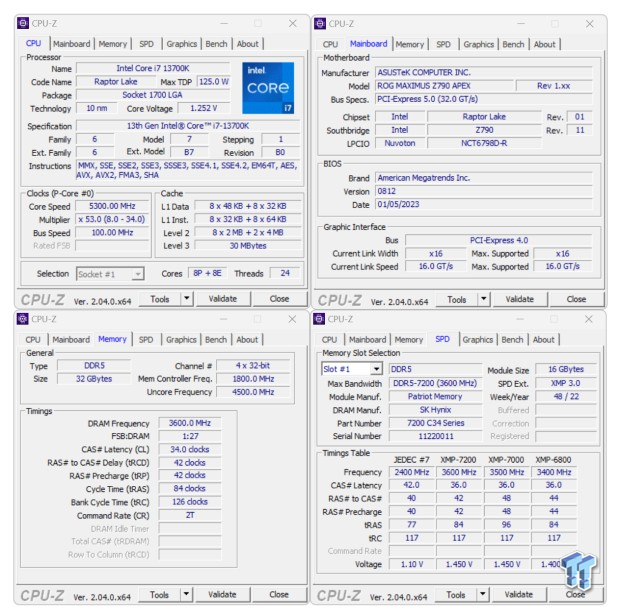 Once the first of three XMP profiles was enabled, we rebooted the system to find them running precisely as described. Fresh into Windows, we open up CPU-Z and see what is happening. The speed is set to 7200MHz with the exact 34-42-42-84 2T timings shown on the product page. We also went back into BIOS to look at the voltages and found the VDD, VDDq, and Tx voltages used 1.45V, whereas the system agent draws 1.281V, and the memory controller was set at 1.296V.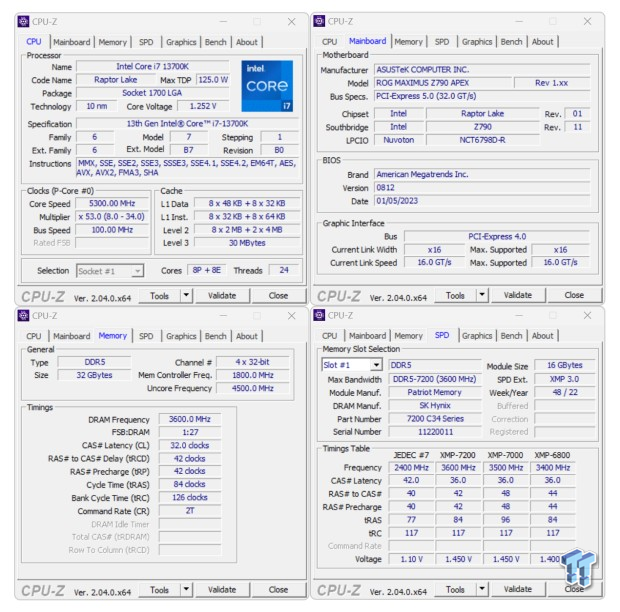 We then attempted to reduce the timings while keeping the same speed the XMP profile offers, and while there was not much movement, there was some. We ended up with 32-42-42-84 2T as the lowest stable settings on the latest APEX BIOS. With this attempt, we bumped the VDD, VDDq, and Tx to 1.55V, while the system agent was pushed to 1.380V and the memory controller to 1.39375V.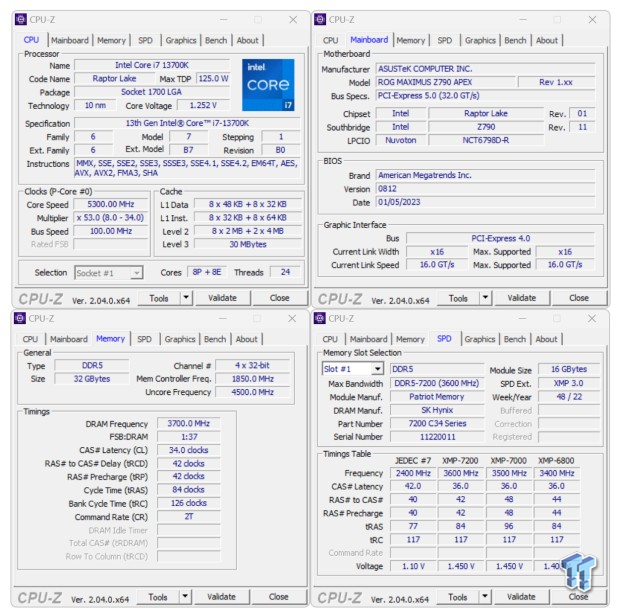 Our other way of looking at overclocking is to keep the XMP timings and increase the seed as much as possible. While we saw 7467MHz in Windows, it did not pass all the tests, and we had to back things down to 7400MHz to be stable throughout all of them. The voltages used are the same as we reported with our tightened timings approach.
Chad's Intel DDR5 Dual-Channel Test System Specifications
Intel Performance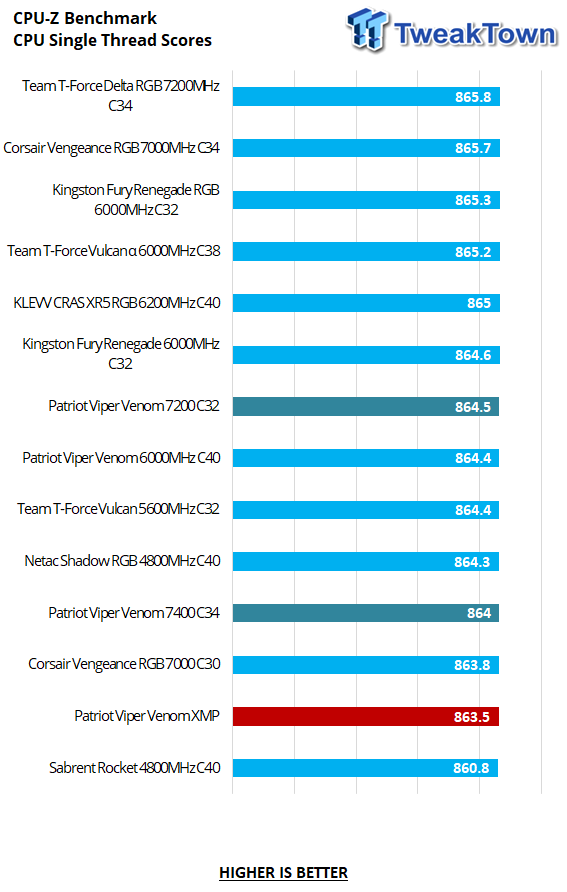 CPU-Z benchmark, while easy to run and get a score, puts results in an odd order, which is present in what we see from this set of Patriot DDR5. Second to last place is never good for such a speedy set of RAM, but we improved the scores with some overclocki9ng. To add perspective, the Corsair Vengeance kit did not rank in this chart as expected either.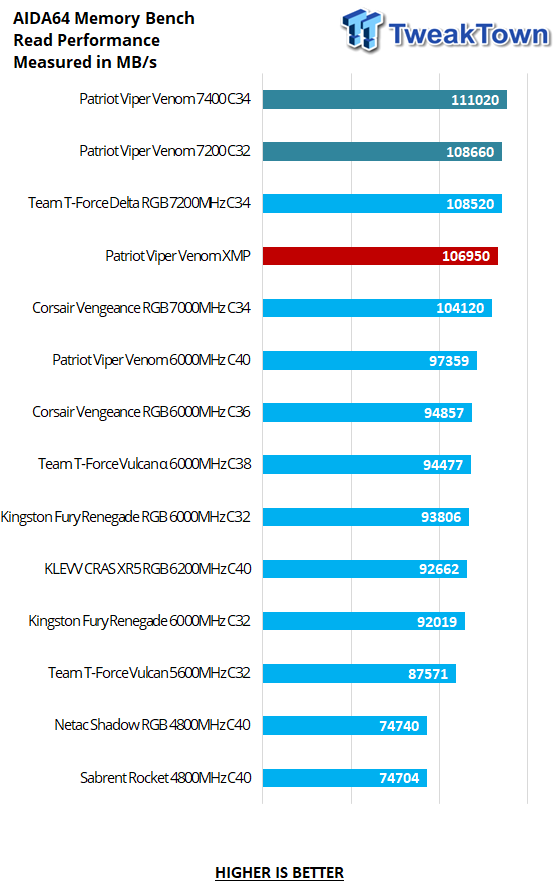 As we move to AIDA 64 for some results, we find the Viper Venom in second place, not far behind the TEAM kit, with a baseline of 106.950 MB/s read throughput. By lowering the CAS timing, we gained another 1710 MB/s, and with an increase of speed added, the boost comes to the tune of 4070MB/s over the XMP results.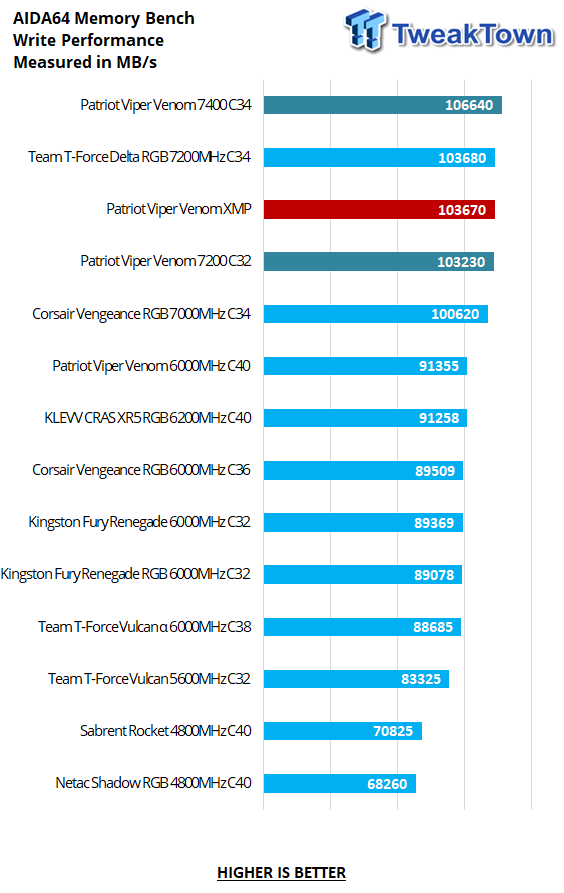 Only 10MB/s separate first from second place, with Patriot just behind the set of TEAM RAM. The 103,670MB/s XMP results are pretty good. However, lowering the timings lost us a few hundred MB/s, but increasing the speed gave us another 2970MB/s of write performance.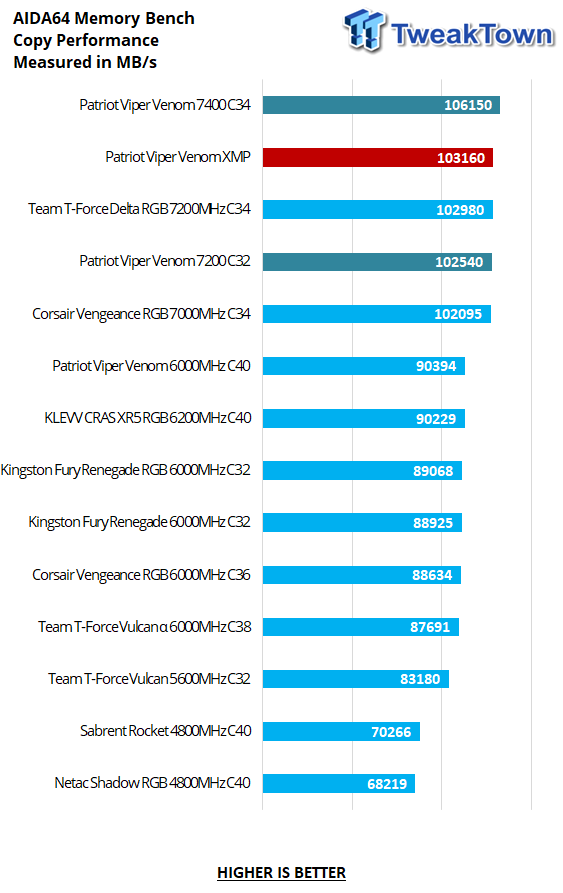 Patriot takes the lead with their copy performance results. At 103,160MB/s, they are slightly faster than the TEAM kit, and again, we took a slight hit running them at CAS32. For those willing to try increasing the speed, you can see the gains are worth it, and in this instance, we got another 3610MB/s versus the XMP run.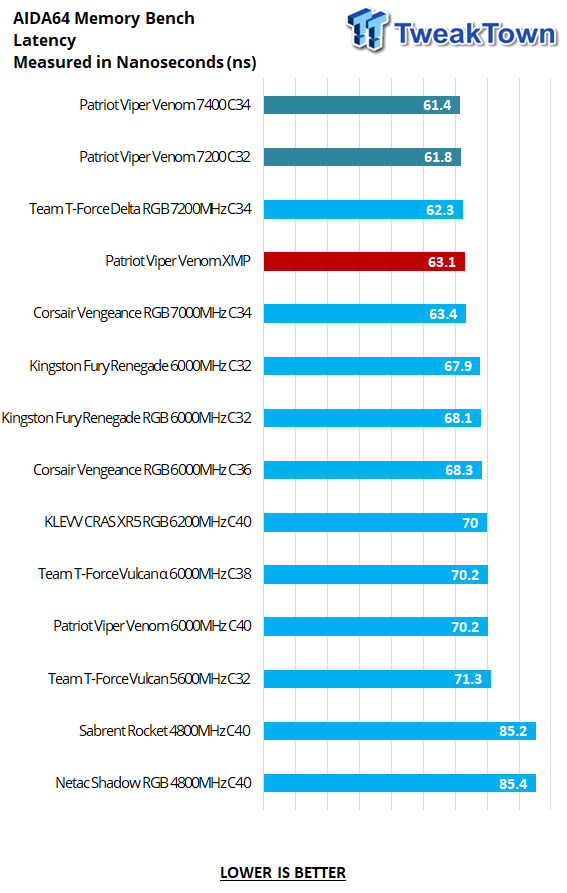 We cannot complain about the out-of-the-box latency, as the Viper Venom comes in at 63.1ns. The Patriot memory tops the chart with either of the ways we chose to run them, although added speed wins out over lower timings.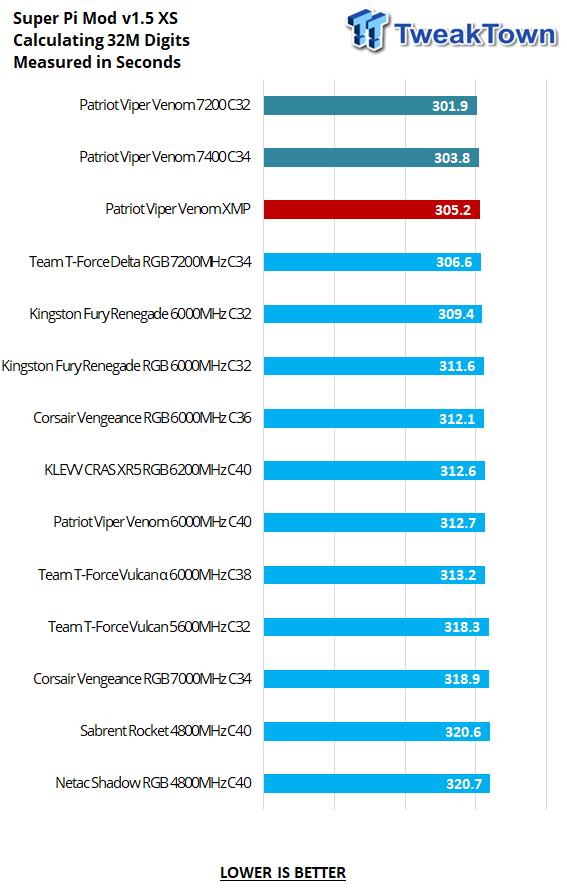 The time to complete 32M digits of Pi also shows Patriot well. More than a second faster than the TEAM kit did it, we find Patriot at the top of the chart. Added speed reduced the time by only 1.4 seconds, but with the CAS set to 32, we found another 3.3 seconds.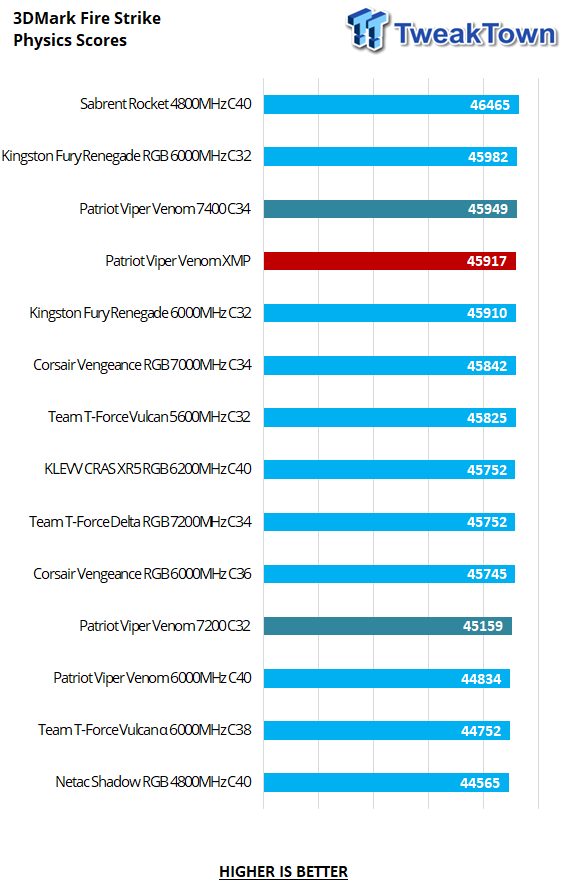 Scores tend to be a bit all over the scale regarding the physics portion of Fire Strike from 3DMArk, but the Viper Venom placed much higher than TEAM this time. With the XMP profile enabled, Patriot scored third place, and we did slightly better with more speed. However, reducing the timings put this kit behind the Delta RGB by a fair margin.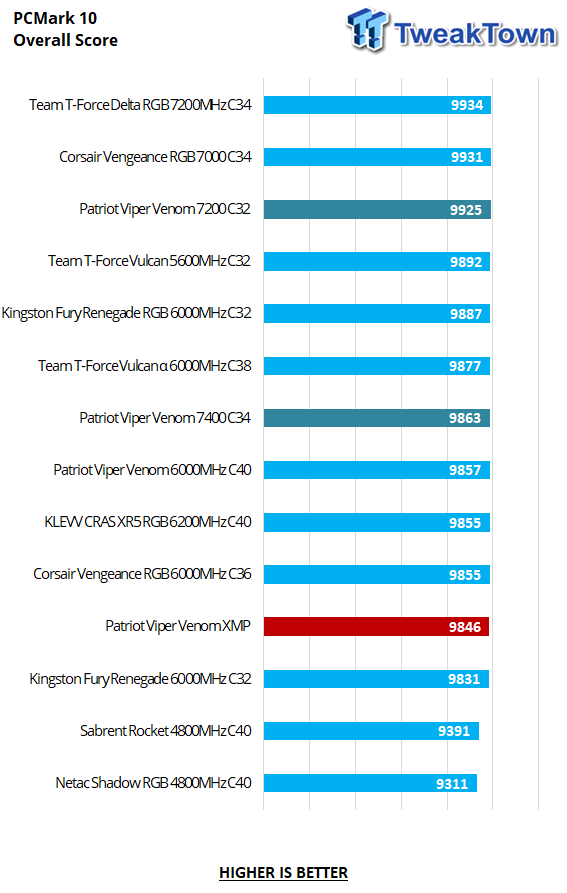 PCMark whooped on these Patriot sticks a bit. We find the XMP run near the bottom of the chart, but overclocking shows its prowess. With additional speed, we scored above the average line, and setting them to CAS32, they are only nine points out of first place.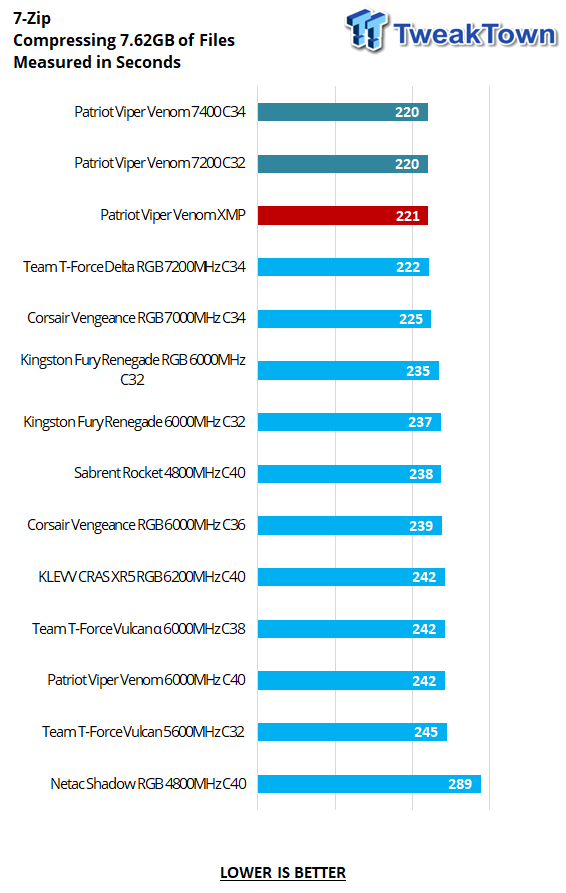 Compressing files with 7-Zip, the Patriot Viper Venom retake top honors, and even if only just, they are ahead of the Delta RGB. Overclocking did not produce significant time changes, but either way, we attempted to run them overclocked; we gained a second for every 7.62GB of data we compressed.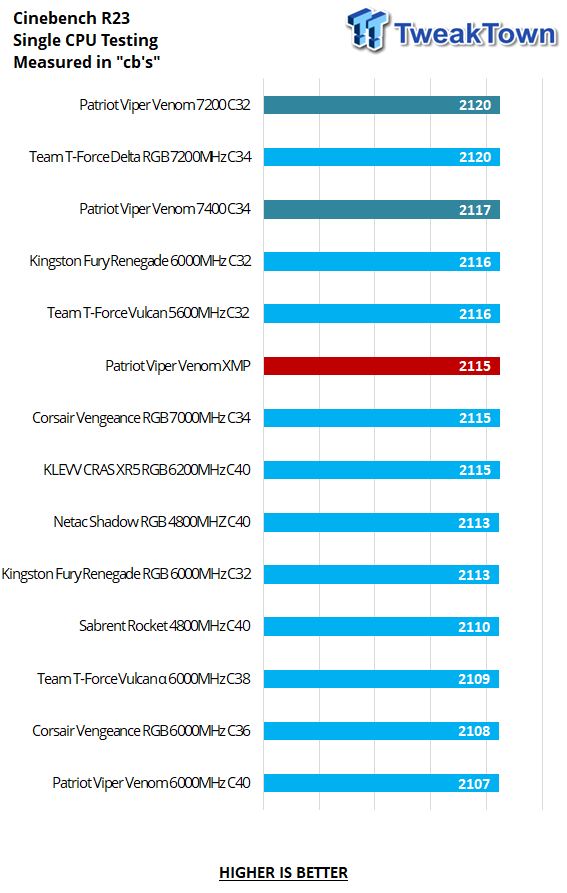 Cinebench results are not that horrible in such a tight group of scores. While Patriot landed at fourth place in the XMP results, we could jump up to either side of the TEAM kit with little overclocking. In this instance, CAS32 resulted in more points than when we increased the speed, but all three results are commendable.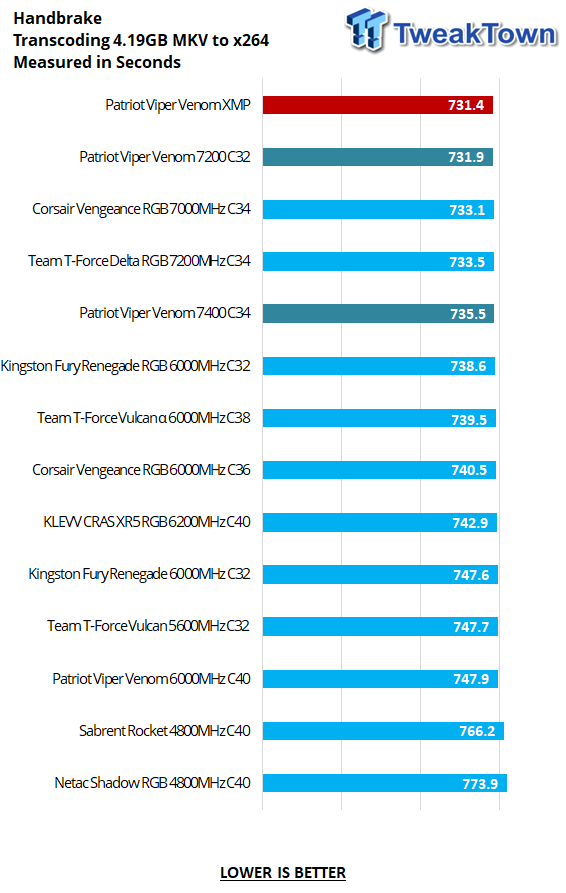 Using Handbrake to transcode files, Patriot jumps into the lead early, with nearly two seconds to spare before the TEAM kit finishes. Overclocking the kit was of no benefit to reducing the time to completion, but lower timings beat out added speed.
Final Thoughts
As you know, we love the Patriot Viper Venom appeal, as even in an all-black system, that silver and bright red paint will stand out in the sea of black. On our test system, they are an outstanding addition with high contrast. Even without the RGB on the RAM, we were not bothered, as the lighting from other devices can be seen in the shiny black top cover of the heat spreaders.
Speaking of the heat spreaders, these Patriot sticks are some of the heaviest we have tested, which means more metal is used. All other components being similar across others, we can say that the added aluminum kept our set of DDR5 cool and collected. Even with the additional voltage applied, we never saw 50°C in our open-air environment.
Beyond the heft and appearances, we look at the components that go into these kits. An unlocked Richtek PMIc is a good start, as the XMP profile must be enabled to set the 1.45V. Going beyond that did not net us leaps and bounds when it came to overclocking, but not all kits are created equal, and your results may vary, and it may depend on the BIOS used as well.
That being said, with speed starting at 7200MHz, we had hoped for more flexibility, but it being binned this tight at that speed helps explain the limits of movement in these A-Die ICs. We will be trying older BIOS files in our spare time to come, and if we find anything much different than the results shown, we will make an addendum and add it to the end of this review.
As we mentioned earlier in the review, we assumed the Patriot and TEAM kits would trade blows, and they did. We have to say that TEAM won out a few more times than Patriot did, but TEAM is also charging a fair bit more for their kit. We see only RGB TEAM kits, and they will set you back nearly $250.
The fact that the MSRP of these Patriot Viper Venom Gaming DDR5 is set at $182.99, the difference is enough for a CPU cooler, a PSU on sale, or a few other things that can help you get better components elsewhere in the build. The few points here and there nor the additional RGB is worth it to us, and if it were our money, we would seriously consider these Patriot sticks over others we have seen thus far.