TweakTown's Rating: 93%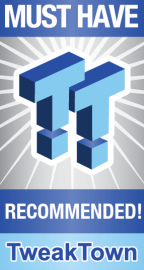 The Bottom Line
Exceptional gaming performance sets the Rocket 4 2230 apart from the rest of its kind.
Pros
+

Single sided

+

Gaming

+

Endurance
Cons
Should you buy it?
Avoid
Consider
Shortlist
Buy
Introduction & Drive Details
As we've alluded to on many occasions, we are of the opinion that both Sabrent and Phison are the most forward-thinking purveyors of solid state storage in the industry. Whether it be bringing forth the first 4TB M.2 SSD, the first 8TB M.2 SSD, or the first DirectStorage-focused gaming SSD, Sabrent/Phison collaborations have enriched the state of consumer solid state like nobody else.
So, here we are again with another Sabrent/Phison collaboration that, while not the first of its kind across the industry, does represent some firsts for both companies. For Sabrent, the Rocket 4 2230 represents a couple of firsts for the company. First and most obvious is the form factor of the subject of today's review, being the first of its kind for a Sabrent SSD. Additionally, the Rocket 4 2230 is Sabrent's first PCIe Gen4 DRAMless SSD offered outside the portable realm.
For Phison, what we have in the Rocket 4 2230 at 1TB is more of something we've wanted to see from them forever, and that's an efficient flash package. Finally, a 16-die flash package! It's about time. Stacking flash die 16-high is the most efficient way to package flash. 16-die packaging is the current limit of die-stacking technology, but it's been around for years. However, Phison has been reluctant to employ 16-die packages on its SSDs.
When packaging its flash, Phison has traditionally chosen the path of least resistance, typically being 4-8 die packages, as this results in higher yields. But it also results in double-sided SSDs at 2TB or more that are quite literally covered in flash packages. Contrast that with what we get from fab-built SSDs, which are typically more elegant 2-package single-sided designs. Suffice it to say, we are excited to see Phison packaging at least some of its flash 16-dies high.
The appeal of Sabrent's newest offering is quite obviously its super-compact form factor. At a mere 22mmx30mm and, just as importantly, single-sided, Sabrent's Rocket 4 2230 is intended to fill an ever-emerging compact yet upgradable storage niche exemplified most recently by the wildly popular handheld PC gaming device, the Steam Deck.
Sabrent's Rocket 4 2230, form factor aside and just as important as we see it, has been engineered to deliver all the performance of similarly configured SSDs with PCB footprints three times its size. This is the magic of 16-die flash packaging. You've got to love that, and in fact, consumers are loving it, as it is being gobbled up as fast as Sabrent can make them.
Drive Details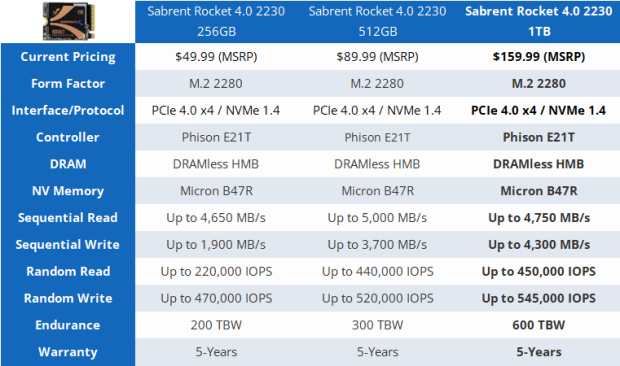 For controller duties, Sabrent uses Phison's E21T, a 4-channel PCIe Gen4 x4 DRAMless controller we've seen a lot of lately. The drive is arrayed with a single 1TB package of 512Gbit Micron B47R.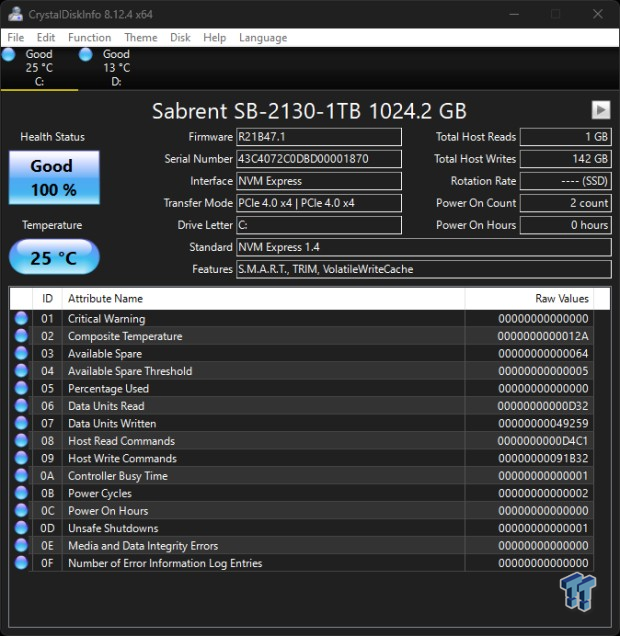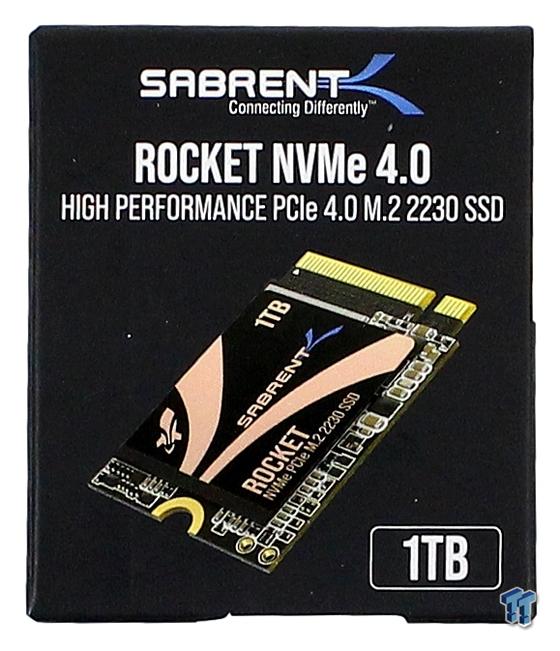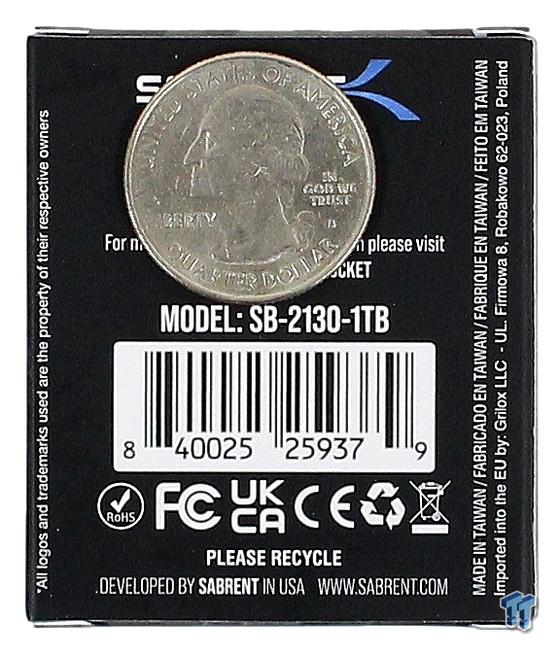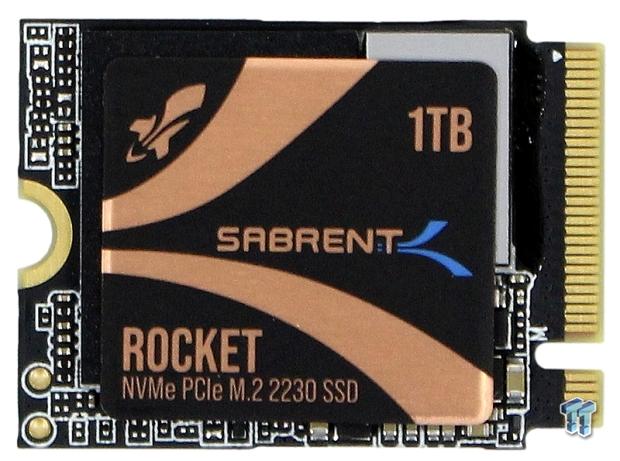 As previously mentioned, our 1TB test subject is a preferred single-sided design, making it fit better and easier to cool than equivalent double-sided designs. Excellent.
All Sabrent SSDs come with valuable complimentary software, including a copy of Acronis for Sabrent and Sabrent's award-winning Rocket Control Panel SSD management software. You can get Sabrent's Rocket Control Panel here.
Use Rocket Control Panel to download Acronis and other Sabrent complimentary SSD management software. Register your Sabrent SSD via the Rocket Control Panel to activate a limited 5-year warranty, the limitation being TBW (Total Bytes Written). Without registration, Sabrent warrants its SSDs for 1-year, so be sure and register your Sabrent SSD.
Jon's Test System Specifications
Intel Test System
AMD Test System
Because we at TweakTown like to be first at everything whenever we can, we are going to present our storage performance results for the test subject on both 13th Gen Intel and 7000 Series AMD platforms going forward for the foreseeable future. Because Intel still delivers the best real-world storage performance, (Look Here), our running chart will continue to be Intel-based until AMD can deliver better real-world storage performance than its rival.
Synthetic Benchmarks: CDM, Anvil, ATTO
CrystalDiskMark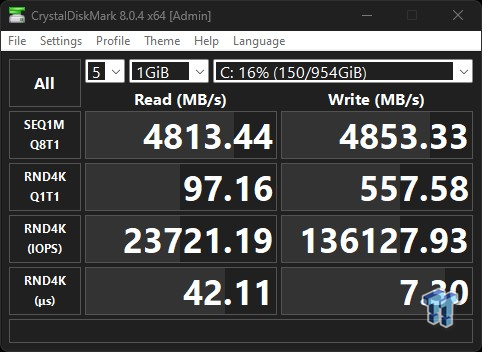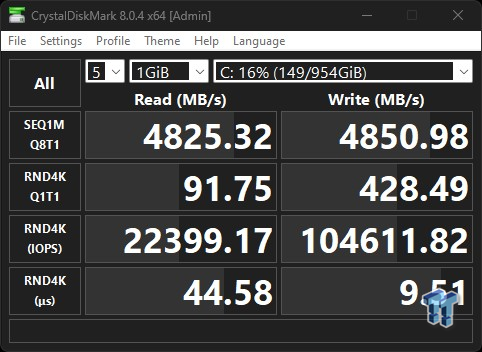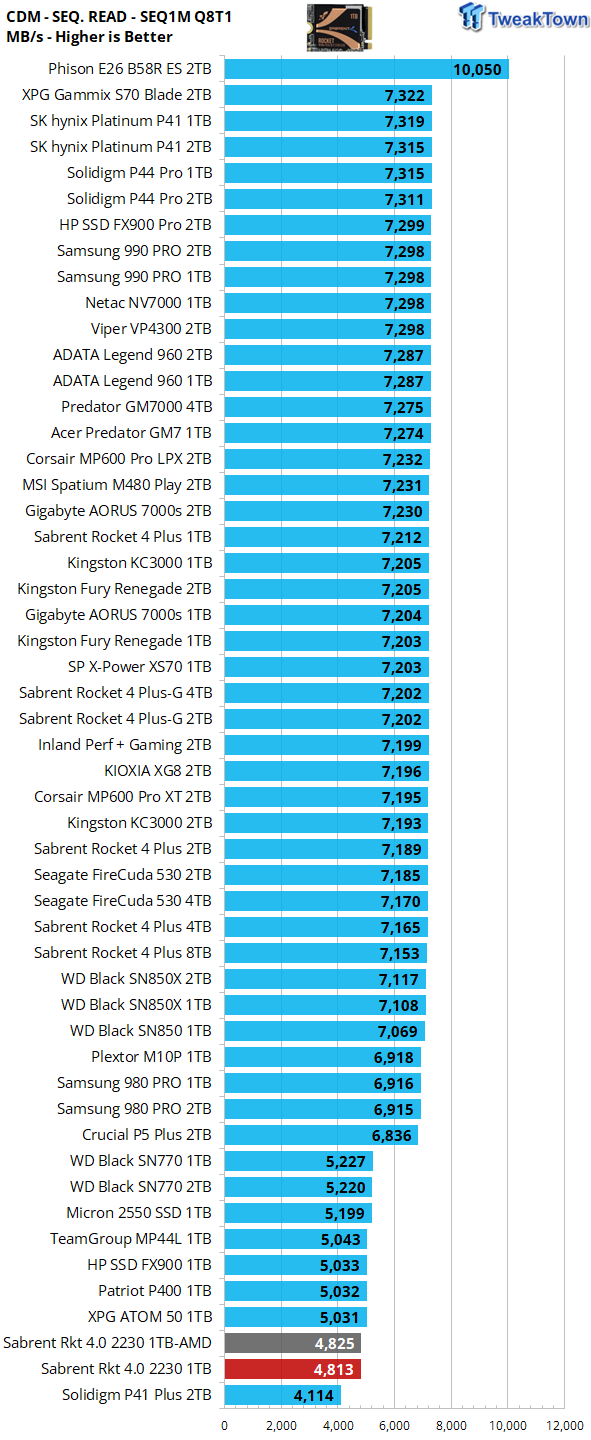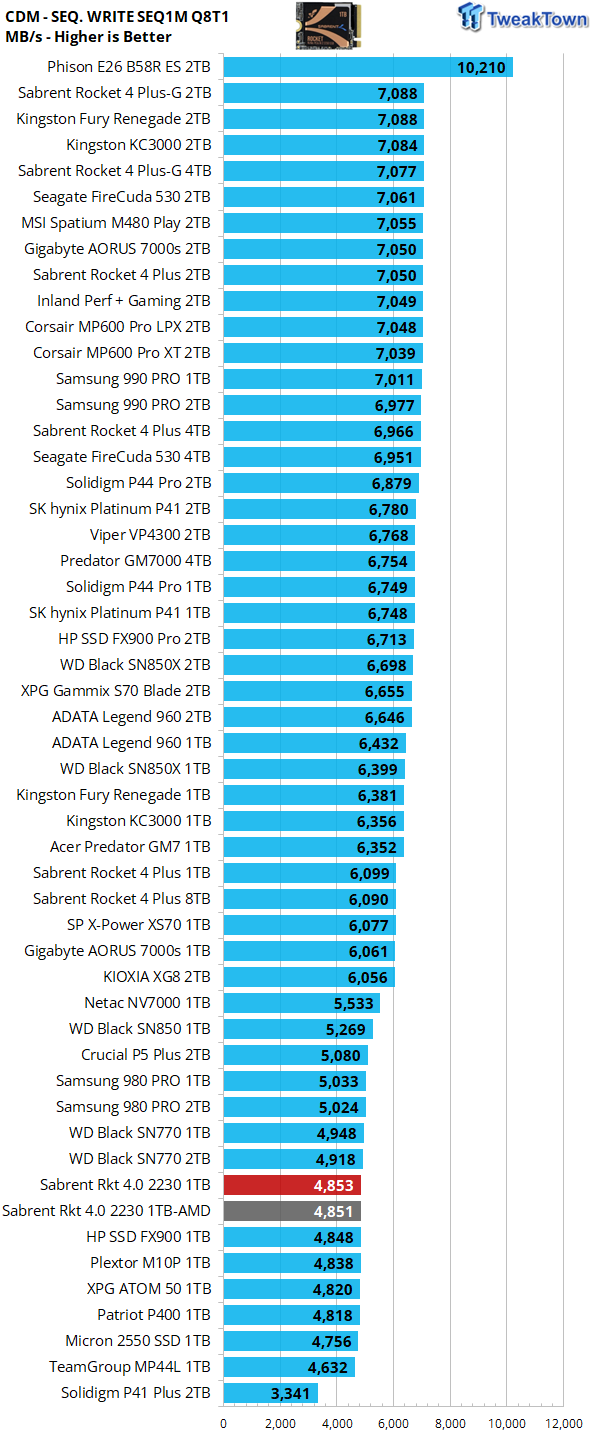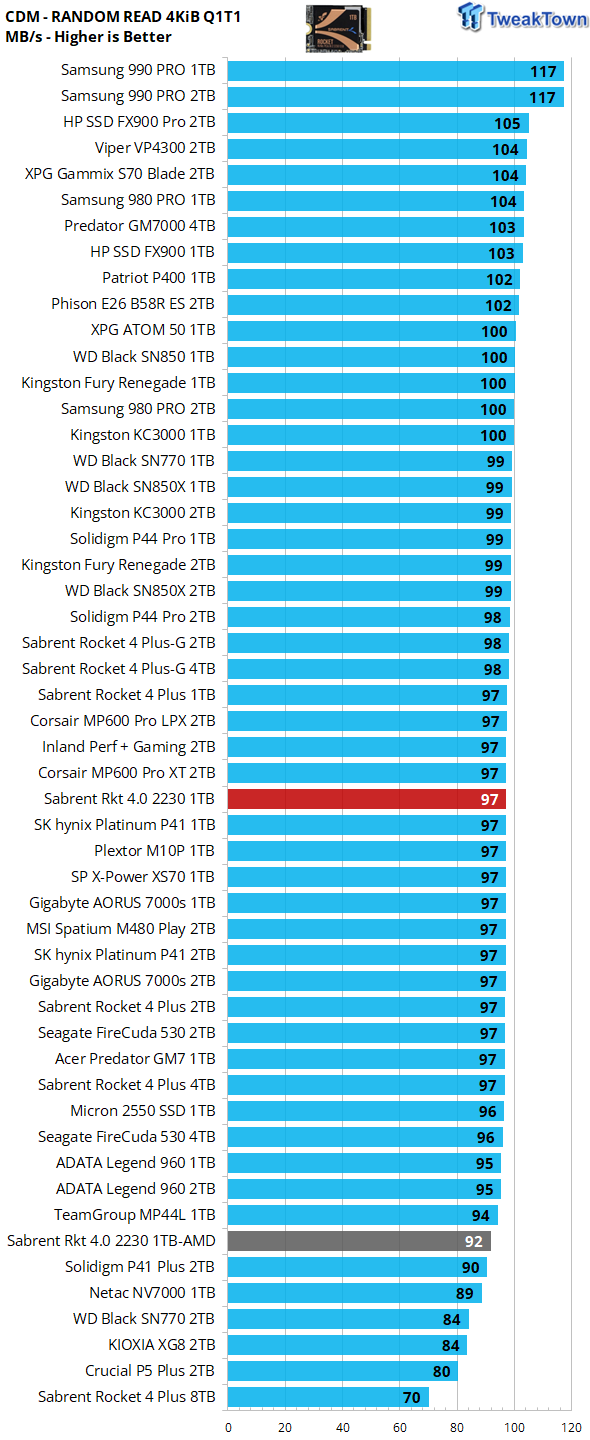 We employ CDM as our standard measurement for both sequential throughput and Q1T1 random read. Our sequential throughput numbers exceed factory up to specs for the 1TB model by 60 MB/s read, and a whopping 550 MB/s write.
As always, when evaluating synthetic performance, we are most interested in Q1T1 random read. 97 MB/s here is exceptional as we see it, as it is the highest we've ever obtained from an E21 T-controlled SSD. Impressive.
Anvil's Storage Utilities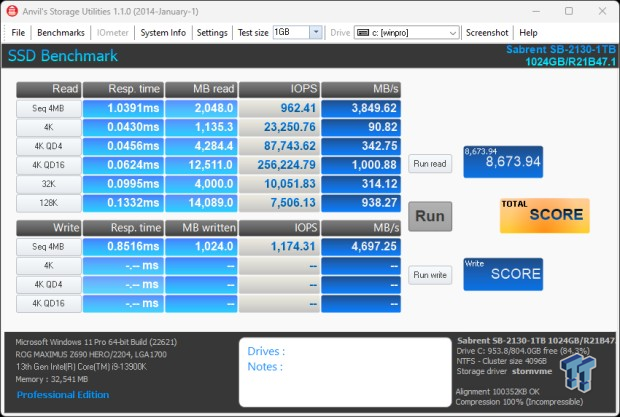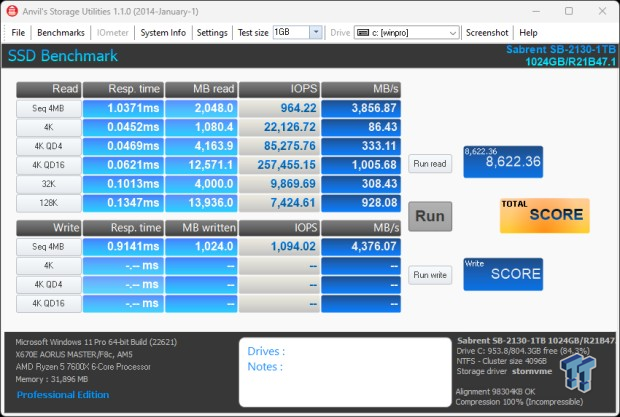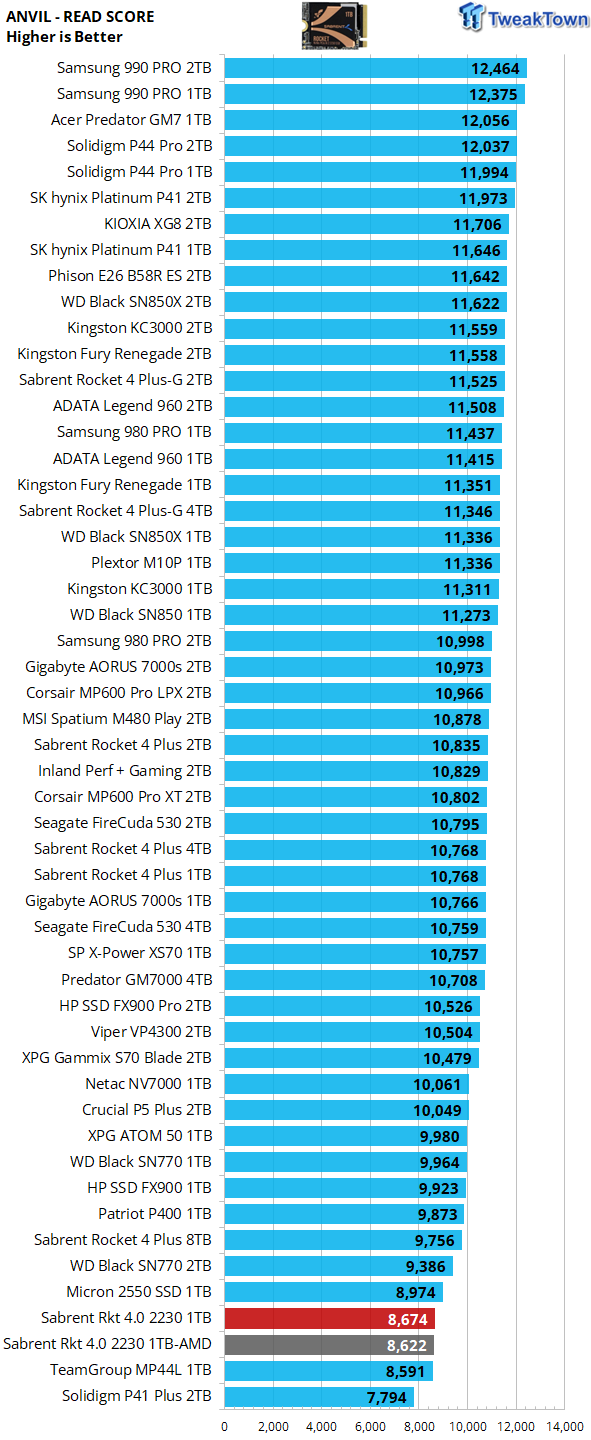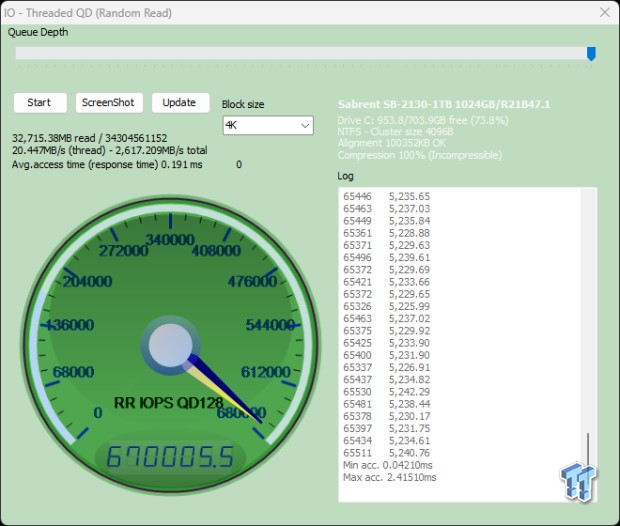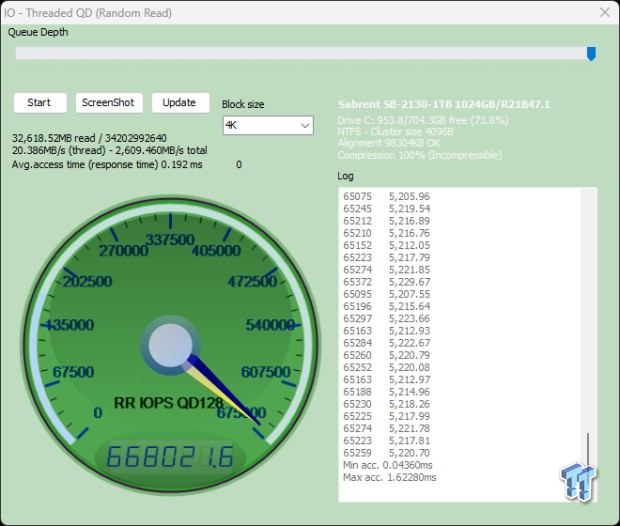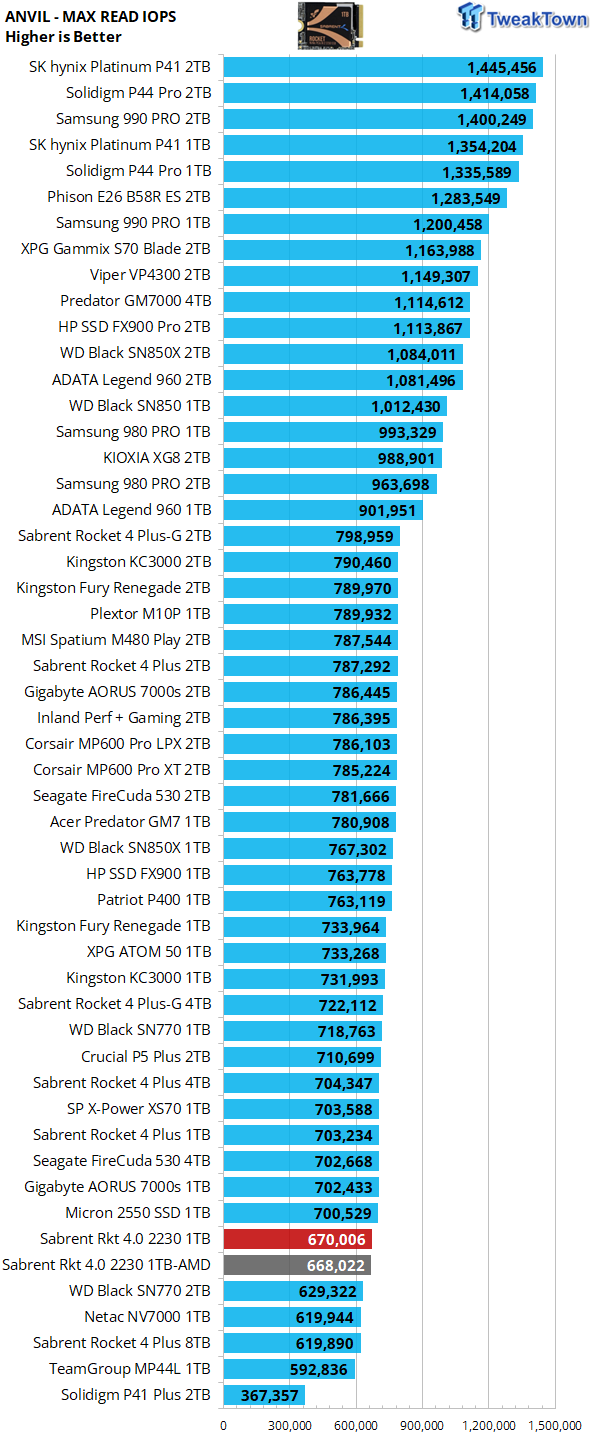 Scoring here is as expected for a 4-channel DRAMless PCIe Gen4 SSD.
We employ Anvil's random read test as our standard for measuring max random read IOPS. This test is very accurate as it at its core is Iometer skinned over. We test at QD128. Great result here as we have no issues exceeding factory specs in spite of our much more demanding user state of the OS disk filled with 150GB data.
ATTO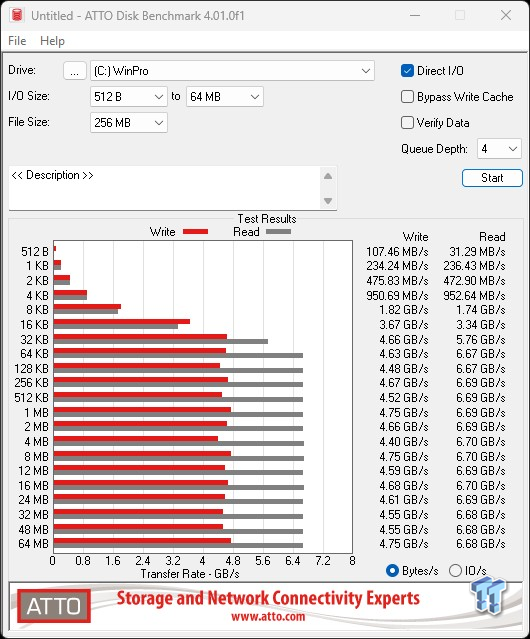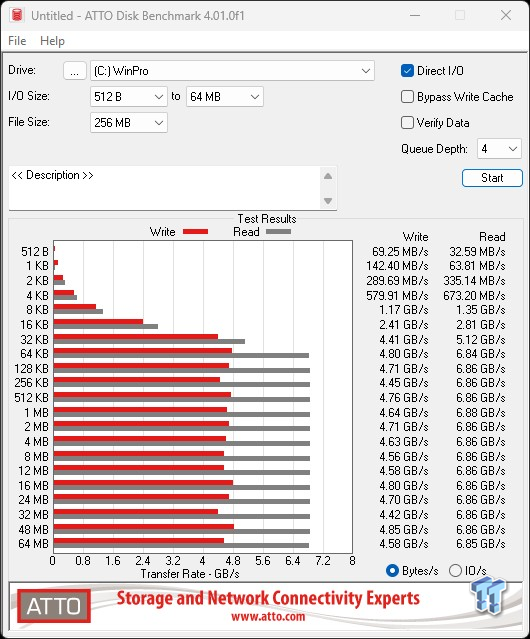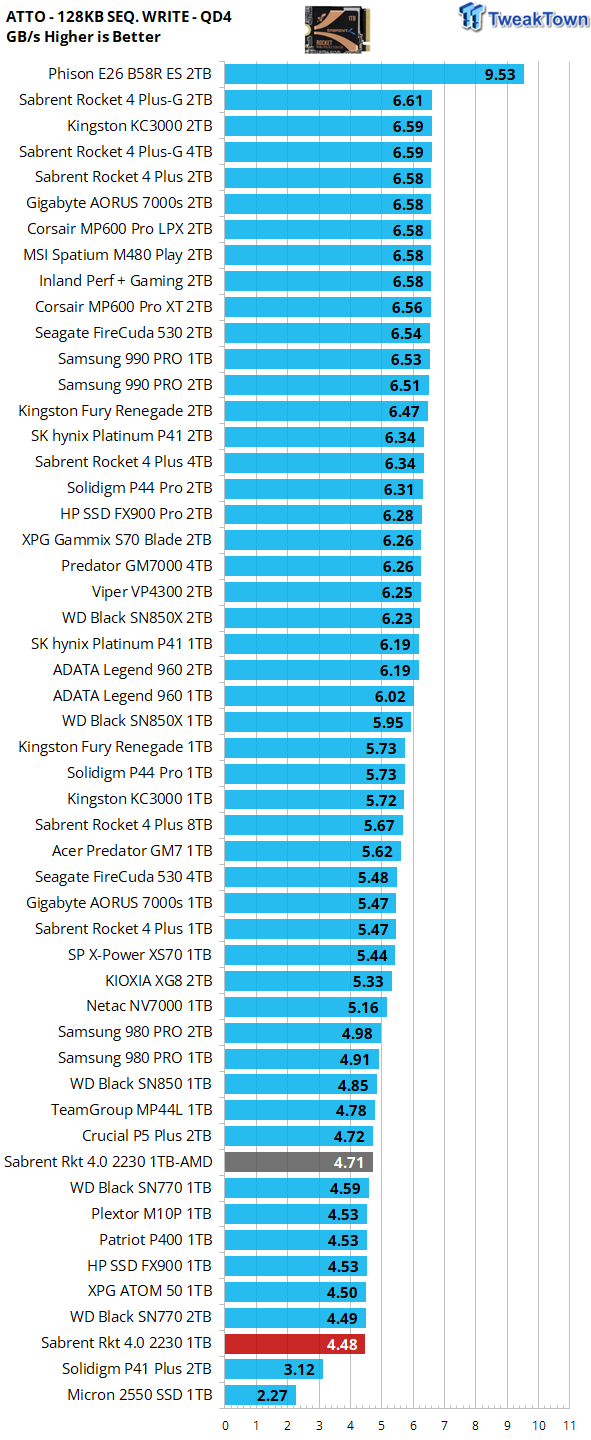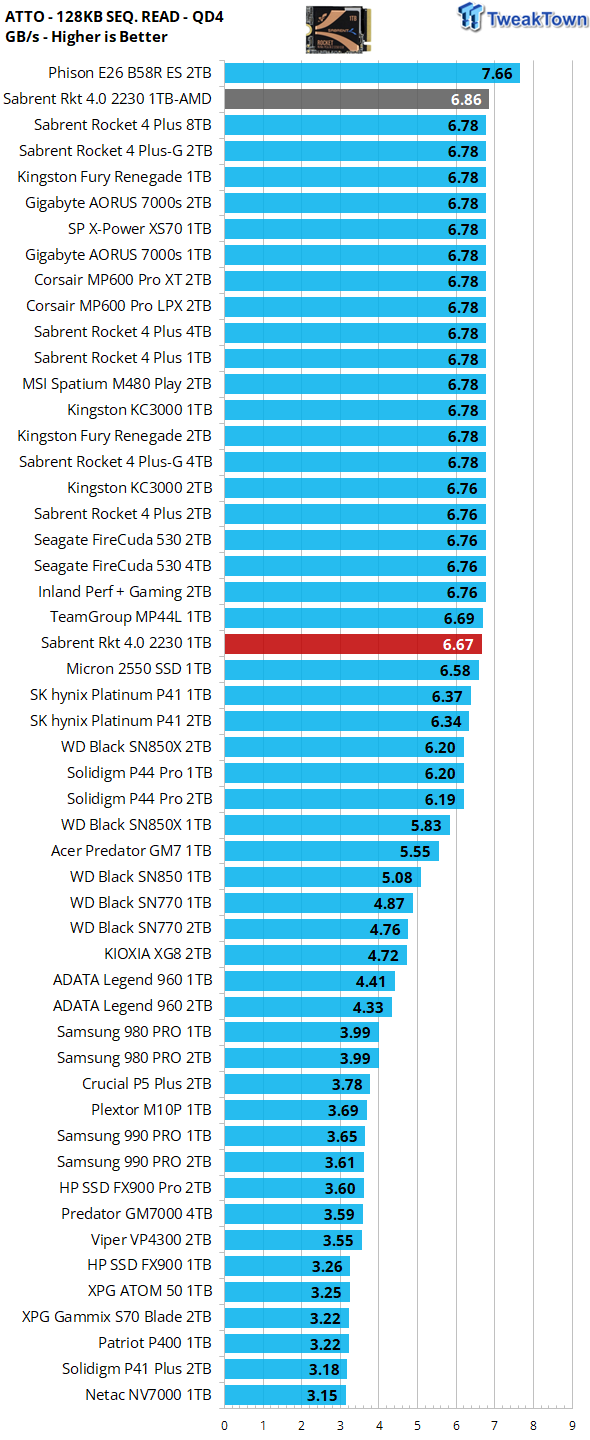 More than anything else, ATTO gives us a clear picture of what transfer sizes a particular SSD favors in terms of sequential throughput. The Rocket 4 2230 favors sequential transfers of 64KB or larger when serving data to the host (reading) or when programming (writing) data. This is exactly what we are looking for in that we want to see full speed at the smallest file size possible. In this case, full speed at 64KB is fantastic and almost unheard of.
Real-World Testing: Transfers, 3DMark SSD Gaming Test, PCM10 Storage
Transfer Rates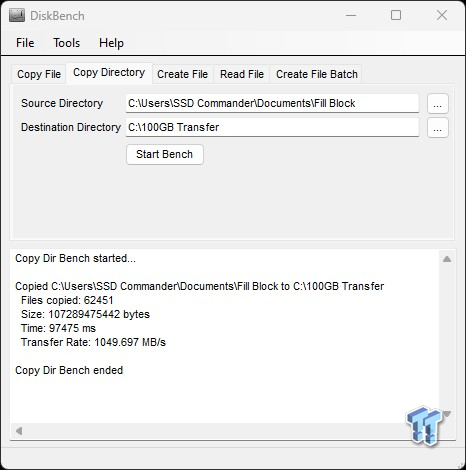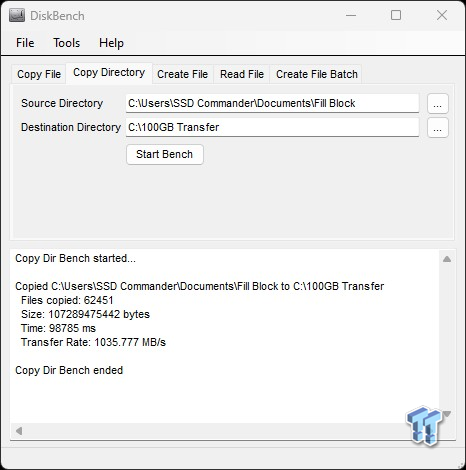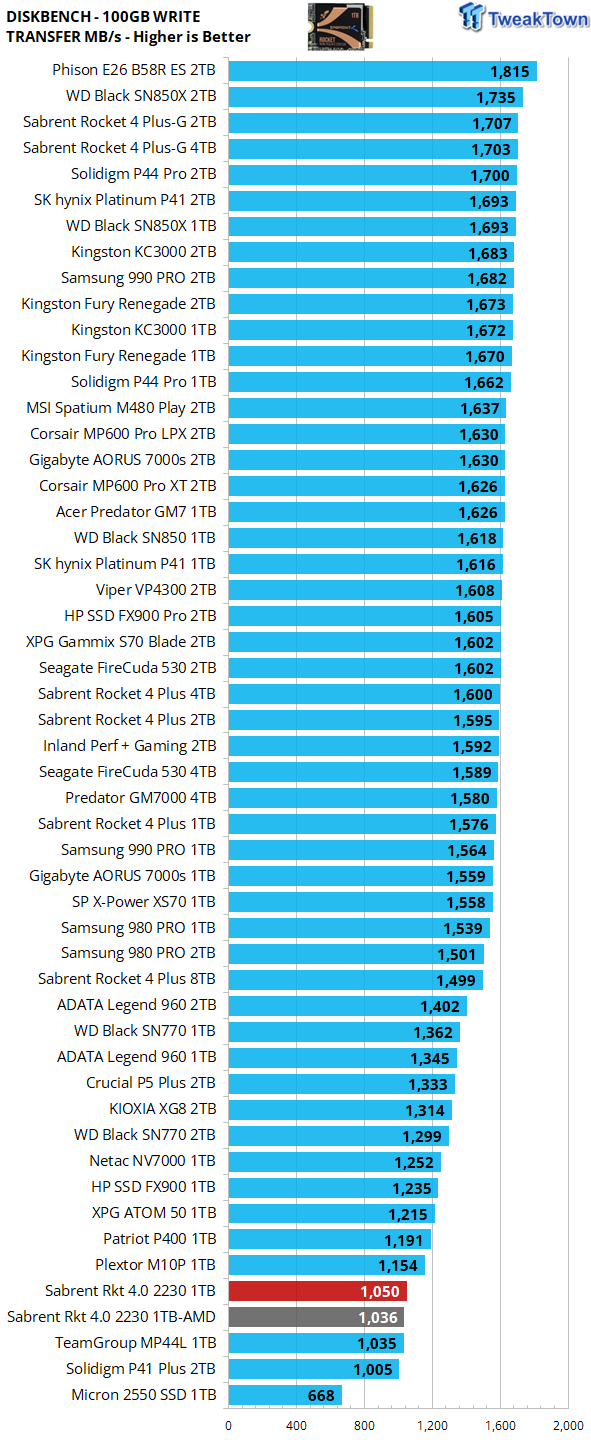 Our 100GB data transfer test is not your ordinary 100GB of data. Ours is a crushing mix composed of more than 62K files. Write performance random or sequential, is an infrequent operation, and as such, we do not consider it to be an important performance metric in the consumer space. An example being how many times is a game installed vs. how many times it's played.
Results here are somewhat better than expected, and in fact are the best we've obtained to date with this hardware configuration.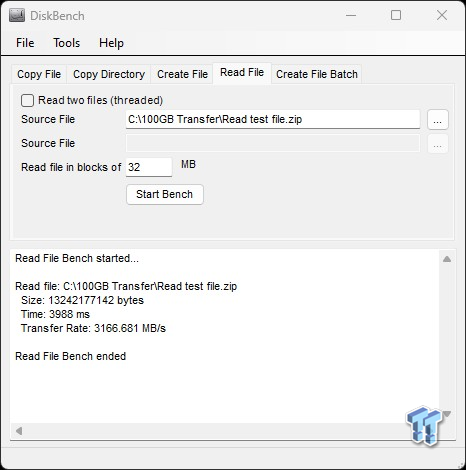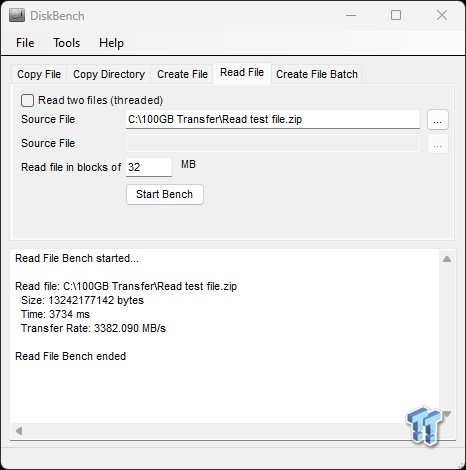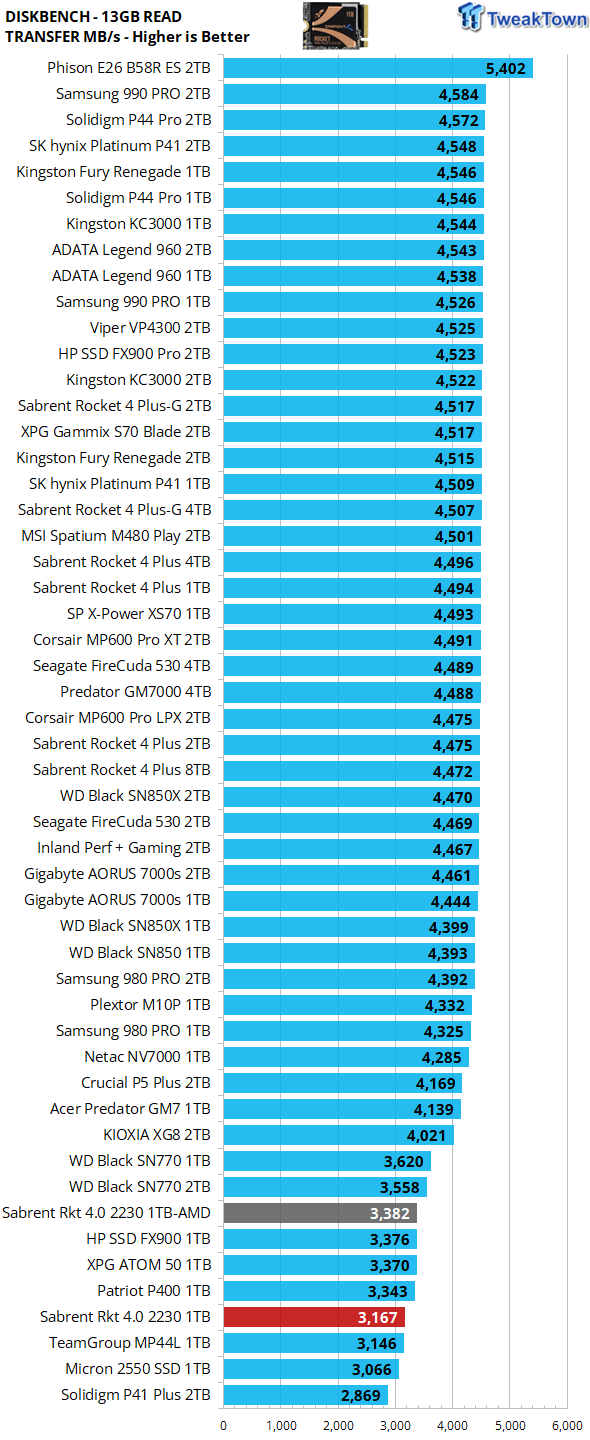 More of the same here, with our test subject delivering the best we've gotten from an E21 T-controlled SSD.
3DMark SSD Gaming Test
UL's newest 3DMark SSD Gaming Test is the most comprehensive SSD gaming test ever devised. We consider it superior to testing against games themselves because, as a trace, it is much more consistent than variations that will occur between runs on the actual game itself. This test is in fact the same as running the actual game, just without the inconsistencies inherent to application testing.
In short, we believe that this is the world's best way to test an SSDs gaming prowess and accurately compare it against competing SSDs. The 3DMark SSD Gaming Test measures and scores the following:
Loading Battlefield V from launch to the main menu.

Loading Call of Duty Black Ops 4 from launch to the main menu.

Loading Overwatch from launch to the main menu.

Recording a 1080p gameplay video at 60 FPS with OBS (Open Broadcaster Software) while playing Overwatch.

Installing The Outer Worlds from the Epic Games Launcher.

Saving game progress in The Outer Worlds.

Copying the Steam folder for Counter-Strike Global Offensive from an external SSD to the system drive.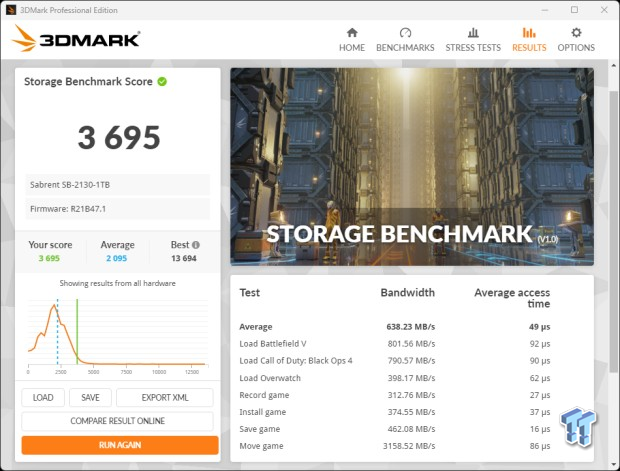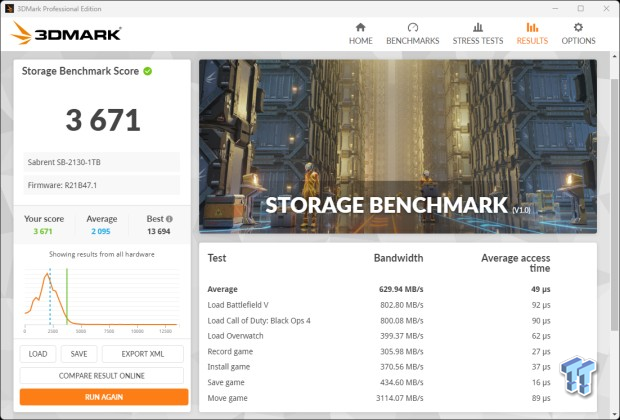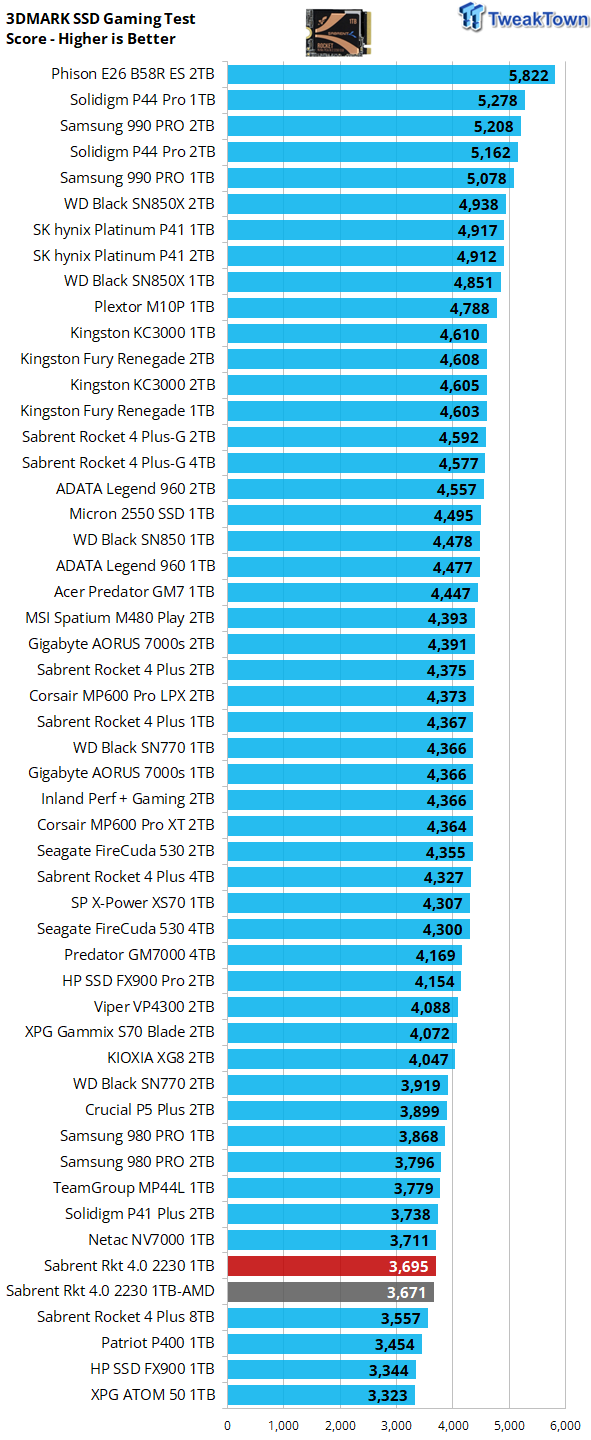 Gaming is a performance metric that matters to the majority of DIY consumers, especially to the enthusiast crowd that TweakTown caters to.
When it comes to storage duties for gaming, DRAMless SSDs aren't the first type of SSD that come to mind if you are after top-of-the-food chain performance. However, Sabrent has tuned this SSD for gaming, as evidenced by how it significantly outperforms its IG5220-controlled DRAMless competition like the P400, FX900, and ATOM 50. Impressive, especially considering this is a tiny single-package SSD.
PCM10 Storage Tests
PCMark 10 Storage Test is the most advanced and most accurate real-world consumer storage test ever made. There are four different tests you can choose from; we run two of them.
The Full System Drive Benchmark and the Quick System Drive Benchmark. The Full System Drive Benchmark writes 204 GB of data over the duration of the test. The Quick System Drive Benchmark writes 23 GB of data over the duration of the test. These tests directly correlate with mainstream user experience.
PCMark 10 Full System Drive Benchmark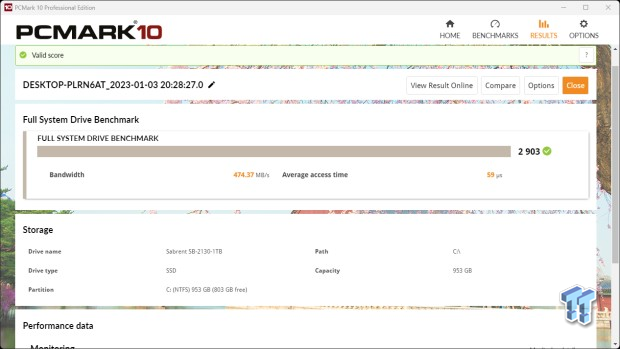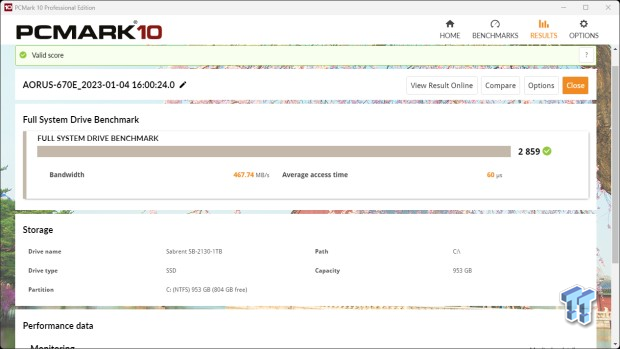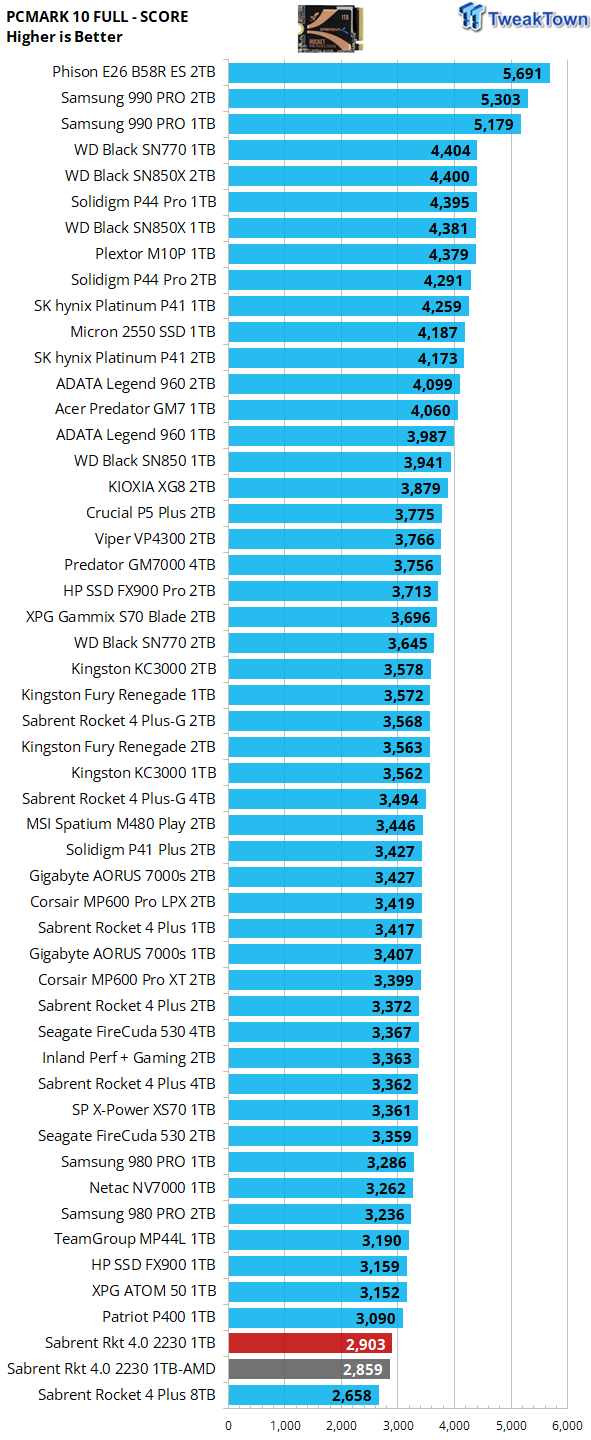 This particular test writes 204GB data and covers a broad range of common consumer tasks, including booting Windows 10, file transfers, Adobe and Office applications, and startup times for games, including Battlefield V, COD Black Ops 4, and Overwatch. Unlike synthetic numbers, this is comprehensive real-world data which is why we use it to rank SSDs in terms of user experience.
Scoring here is a bit less than we would like to see, but still plenty good for what it is as we see it.
PCMark 10 Quick System Drive Benchmark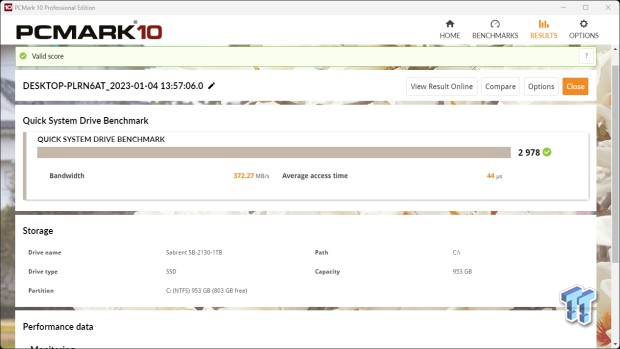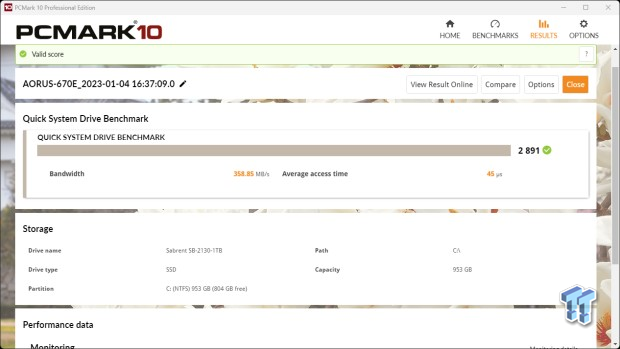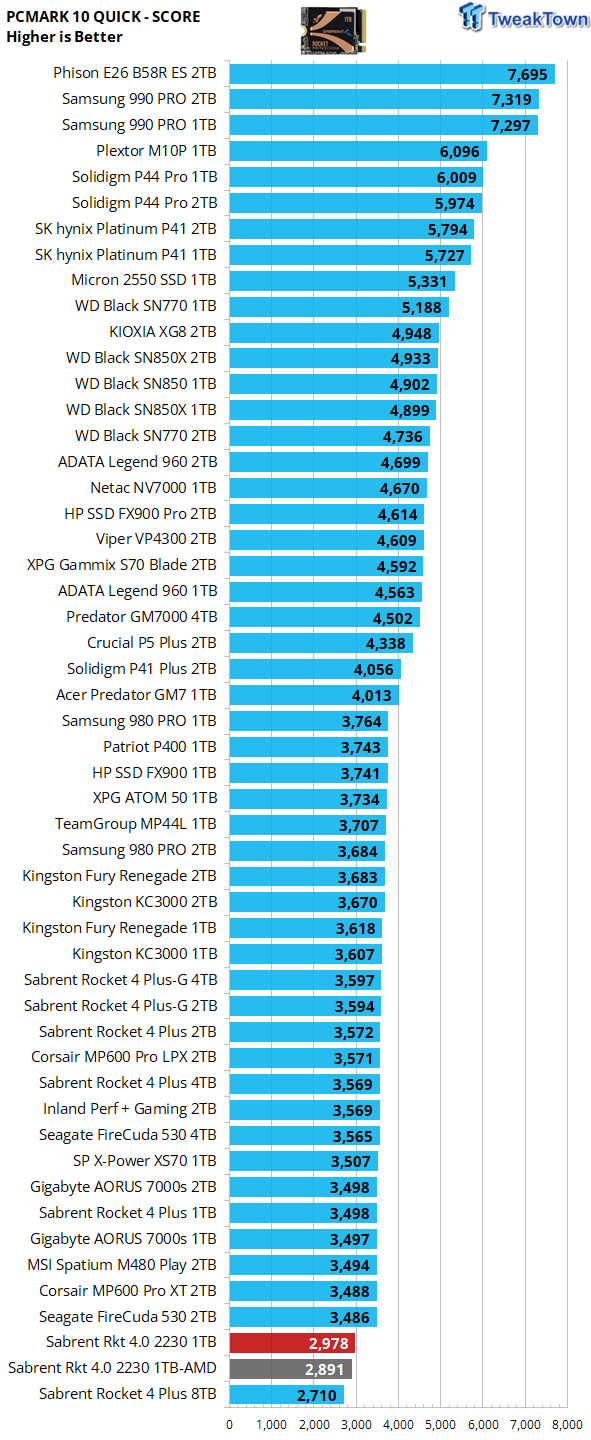 Again, the scoring here is lower than we would prefer, but again plenty good enough for what it is as we see it.
Final Thoughts
As we step back and take a considered overview of the numbers Sabrent's micro-sized Rocket 4 2230 1TB has just delivered, we feel like we need to point out that this SSD is at an inherent disadvantage compared with the rest of the SSDs that populate our charts. This drive has 3x less real estate to work with than the rest of the drives we are comparing it with.
In terms of synthetic performance, this drive actually exceeded our expectations, even defeating the similarly configured MP44L on several occasions. Because of its single-package design and tiny PCB, we still see that as impressive even though we don't typically place much value on synthetic results.
Keeping things in perspective, we need to consider the most likely use-case scenario for this tiny single-sided SSD, and that's most obviously a storage expansion upgrade for Steam Deck or maybe a Surface Pro or similar types of portable PC devices. In every case, the Rocket 4 2230 offers a huge performance upgrade over the device OEM storage.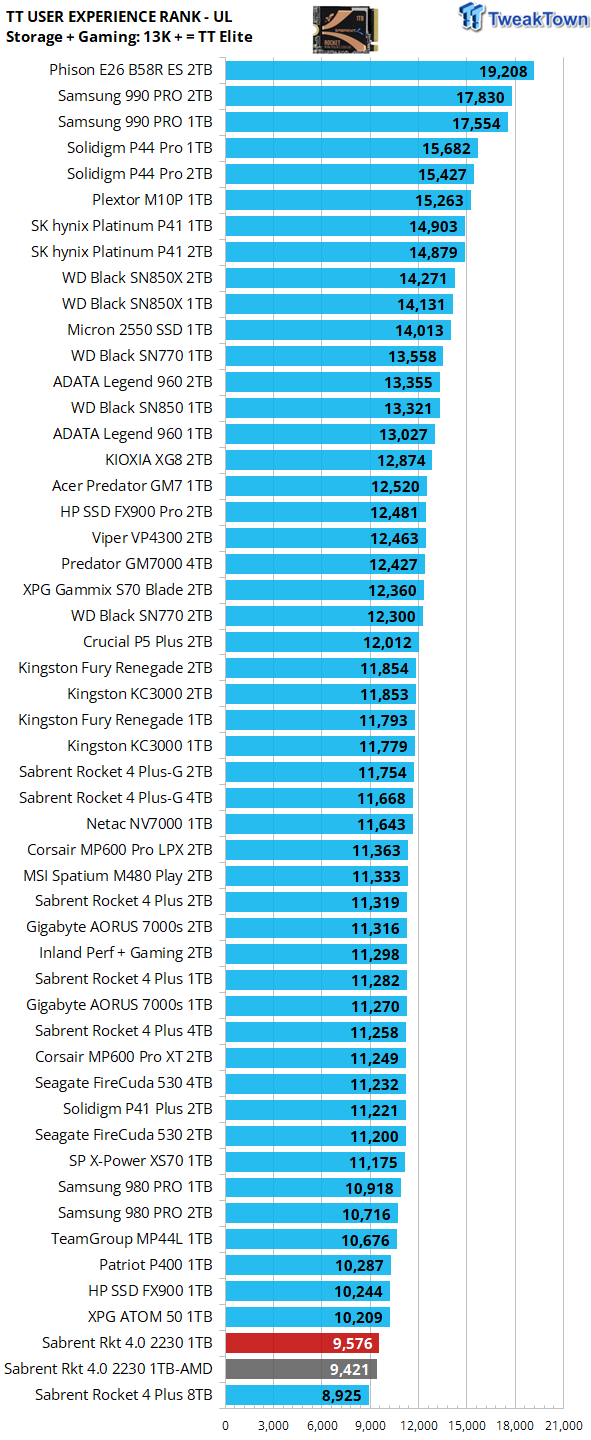 We rank SSDs in terms of overall user experience (performance where it matters most) as expressed by PCMark 10 storage and 3DMark gaming storage tests. We consider a user experience score of 13K or more to verify an SSD as a TweakTown Elite performer.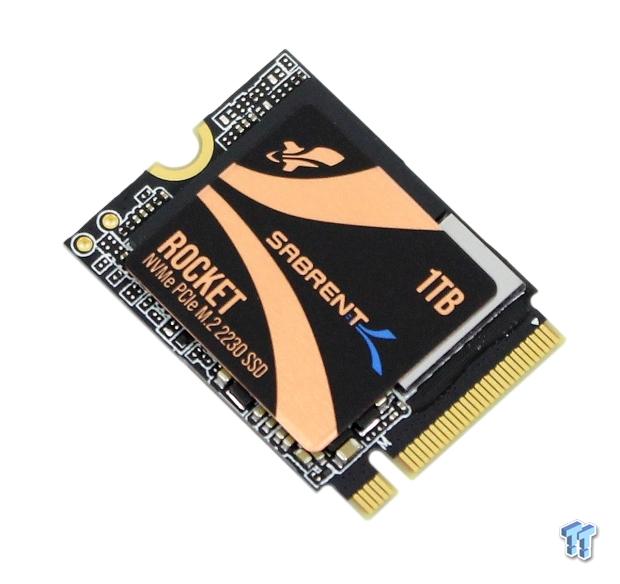 As it stands at this moment, there aren't too many options available for consumers if what you need is a single-sided 2230 Gen4 SSD at 1TB. Sabrent's newest fills this niche better than anything we've gotten our hands on to date, especially if you are looking to upgrade your portable PC gaming experience, and as such is well deserving of one of our highest awards.