Dell announced today at Dell World the most significant refresh to its OptiPlex commercial PC portfolio in five years, the Wyse 5050 AIO zero client for VMware, and new cloud multifunction printers to meet the changing needs of the future workforce. Considering the needs of a tech-savvy workforce always on the go, these new offerings are designed to increase employee productivity by helping them seamlessly connect to the business critical data and applications they need to get the job done. In addition, Dell Services is investing more in mobility applications and strategies to strengthen the way its commercial customers stay mobile, productive and efficient.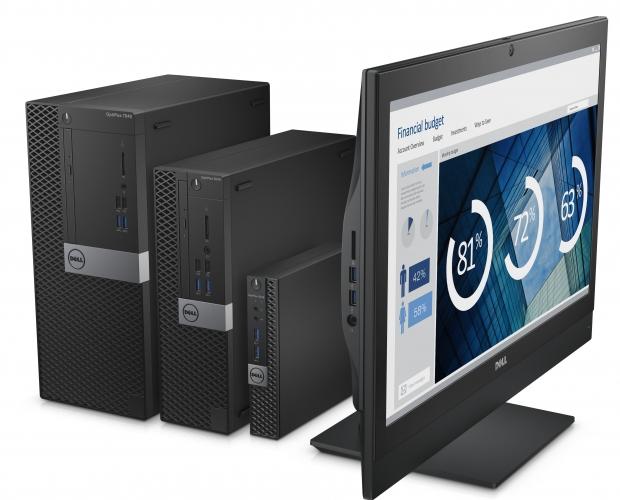 "We are defining the future of the PC and the role it plays in meeting our customers' most pressing computing needs," said Jeff Clarke, vice chairman, Operations and president, Client Solutions at Dell. "We are investing in this part of our business like never before, bringing new innovations to market that are redefining the role of the PC - whether it's an ultra-mobile 2-in-1, thin or zero client, or a desktop that now handles workloads for a mobile workforce who require a robust collaboration solution."
New Dell OptiPlex Desktops Optimize the Modern Workplace
The OptiPlex line of PCs are the world's most secure commercial desktops available with industry-leading endpoint security solutions from Dell's own Dell Data Protection suite that include comprehensive encryption, advanced authentication, leading-edge malware protection and advanced threat protection. OptiPlex is also the world's most manageable commercial desktop portfolio with Intel Core vPro processor technology and Client Command Suite. All of this is backed by enterprise-class support including Dell ProSupport Plus and Configuration & Deployment Services.
The fully revamped OptiPlex portfolio unveiled today will forever change perceptions about the commercial desktop with its smaller, faster and more energy-efficient Micro Form Factor, Small Form Factor, Mini Tower and All-in-One designs. The rapidly evolving workforce requires businesses to invest in technology that enables employees to work faster, make better decisions, and be more productive and collaborative. Yet today, over 200 million Dell commercial customers are working on a PC that is more than four years old.
The new OptiPlex PCs feature significant improvements over previous generation systems including:
OptiPlex 7040 with 6th Gen Intel Core vPro processor technology offers up to 70 percent better performance versus a five year-old system

up to double the memory capacity than previous generation product

four times the storage capacity of previous generation product

power consumption reduced by up to 63 percent with the new OptiPlex 7040 Small Form Factor

background system noise decreased by up to 32 percent with the new OptiPlex 7040 Small Form Factor
With these performance gains and new features, OptiPlex desktops are playing a new role in a world that is highly mobile. For example, the portfolio includes a new collaboration and conferencing solution utilizing the OptiPlex 7040 Micro with 6th Gen Intel Core vPro processor technology and Intel Unite software to deliver simple, instant and secure collaboration and meeting capabilities through wireless connectivity. Now, onsite and remote employees can easily see the same content displayed in a room, transition between presenters in the room or over the phone, make annotations and transfer files instantly. No dongles or adapters required!
The new OptiPlex portfolio offers space-saving versatility with its smaller footprint. The Mini Tower is 43 percent smaller than the previous generation and Micro desktops can save more than 7,700 square feet of valuable workspace when replacing 10,000 legacy desktops - this is important as companies are reimagining a more collaborative and future-ready work environment. The updated portfolio, which is leveraging a new 3000/5000/7000 model numbering structure to simplify product comparison and selection for customers, includes:
OptiPlex 7040: Enterprise-class desktop with premium management and security and the most expandability, including discrete graphics, dual hard drives and triple display, all in an innovative, compact design;

OptiPlex 5040: A full-featured commercial desktop with advanced performance, best-in-class security and manageability, without sacrificing the business-critical features;

OptiPlex 3040: A business desktop offering best-in-class security, manageability and high performance at the lowest entry price point for a commercial desktop;

OptiPlex 24 7000 Series All-In-One (7440): The world's most secure all-in-one with an ultra-sleek and premium design, a 23.8-inch Full HD display and an optional 4K Ultra HD display;

OptiPlex 22 3000 Series All-In-One (3240): An all-in-one experience with business-class performance, productivity features, and new 21.5-inch Full HD display.
Wyse 5050 AIO Zero Client: High Performance and Elegant Design
Dell Cloud Client-Computing has been meeting the needs of customers from a variety of industries - from healthcare to education to finance and government - as they look to desktop virtualization solutions to empower their workforce with secure delivery of apps and data from the datacenter to the endpoint without hampering productivity. According to IDC, Dell was the No. 1 provider of thin and terminal clients worldwide for 2014, and has shipped more thin clients year-to-date in 2015 than anyone elsevi. The Wyse 5050 AIO zero client is designed for VMware environments and provides the robust security businesses require with a zero attack surface for viruses and malware.
High Performance and Functionality: The Wyse 5050 AIO features a vibrant, Full HD 23.6-inch display. With powerful PCoIP technology, it offers full USB peripheral interoperability, rich multimedia, and support for high-resolution 3D graphics and advanced applications such as CAD and video editing.

Easy to Deploy and Run: Wyse zero clients allow for hands-off management or remote management with Wyse Device Manager, and also include Dell BIOS support, giving the administrator the ability to make adjustments to hardware functionality. Deploying the AIO zero client is effortless with a simple one-cord design and out-of-the-box automatic setup.

Elegant Design: The Wyse 5050 AIO is based on the best-selling Dell 24 monitor - P2414H. With the zero client on the back of the monitor, and built-in power supply, the 5050 sits elegantly on a desk without clutter. There are six USB ports, including four on the side of the chassis for convenient and easy access, and the zero client features rotating and detachable base for flexibility and comfort in positioning.
Dell also announced the latest version of its Dell Wyse Cloud Client Manager, release 9, a cloud-based management platform that manages thin clients, mobile devices, and mobile workspaces from a single console. With this release, Dell is making it easier to manage devices with centralized reporting and control of multiple branch offices and by allowing administrators to organize devices into multi-level groups and delegate administration of selected groups through role-based access control. In addition, this release enhances the management capabilities for Android, Windows and iOS platforms by adding support for iOS9, Windows 10 and enhanced application management functionality.
Last updated: Apr 7, 2020 at 12:10 pm CDT