Rockchip http://www.rock-chips.com/, China's leading fabless semiconductor company and mobile SoC solution provider, launched today at the COMPUTEX Show in Taipei the world's lowest power Wi-Fi technology, the Rockchip RKi6000. The RKi6000 is new ultra-low power Wi-Fi and memory technology that greatly reduces power consumption of IoT (Internet of Things) smart devices by 85%, advancing the widespread adoption of IoT in everyday products and appliances by providing more efficient power, a lower price, smaller size, and the ability to use Wi-Fi for the development of IoT devices.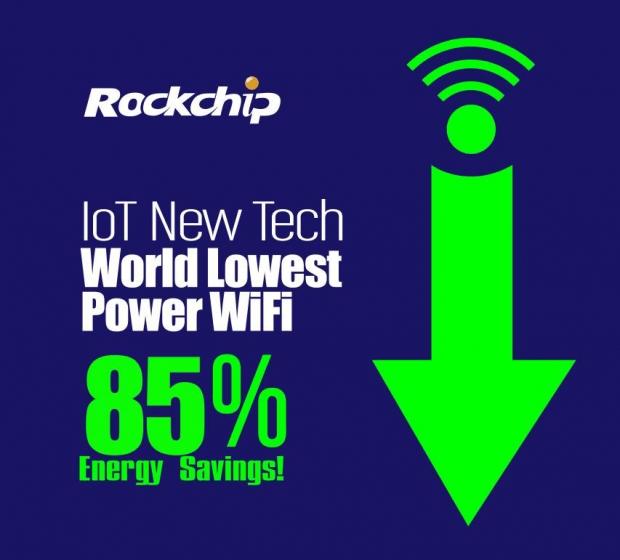 A New Standard for Wi-Fi
Awarded numerous international technical patents for the new Wi-Fi technology, the Rockchip RKi6000 SoC processor technology sets a new standard for Wi-Fi, with power consumption now equal to that of Bluetooth 4.0 LE (Low Energy), with receiving power consumption around 20mAh during use, 85% lower than standard Wi-Fi built with RF architecture. When compared with the Bluetooth/ZIGBEE standard, Wi-Fi is more convenient to use with the easy Internet connection provided by the standard Wi-Fi infrastructure, but because of its high power requirements, Wi-Fi was previously unable to be incorporated into portable devices with an electrical current limit. The RKi6000's on-chip processor and memory technology resolves this power issue, reducing power consumption to make Wi-Fi equal to Bluetooth LE, advancing the adoption of IoT devices by breaking Wi-Fi's power consumption bottleneck.
Allows AAA Batteries to be Used for 35 Years
Jointly developed with Rockchip's third party partner, Rockchip allows IoT devices' power consumption, size, and cost to be greatly reduced, allowing for faster time to market and a smaller, more efficient cost-effective design. Rockchip's technology also allows IoT devices to use a coin battery. In addition, AAA batteries can be used for up to 35 years, while competitors' technologies (such as Atmel) provide only a maximum of 10 years of use for AAA batteries. The RKi6000 allows Wi-Fi based smart product design in a variety of markets, including wearable, consumer electronics, mainstream home appliances, home safety, automation systems, automobiles and medical equipment
The RKi6000 will be widely used in smart RKi6000 achieves ultra-low power consumption through the following ways:
Improvements in wireless communication and radio-frequency architecture: Rockchip's patented technology greatly reduces an IoT smart device's power consumption by receiving and transmitting data continuously, enabling devices to achieve ultra-low power consumption while in standby and in use.

Adaptive Dynamic Power Control Technology: improves power efficiency in different working modes, greatly reducing all-over power consumption in different application scenarios and adjusting the chip's power configuration according to data transmission requirements and actual transmission quality, achieving the best energy efficiency ratio.

Technological innovation - connects to Wi-Fi without waking up the main-control processor: for IoT applications requiring long standby times while remaining online, the Rockchip RKi6000 maintains its Wi-FI connection without waking up the main-control processor, simplifying the power consumption system's design and extending battery life.
"In terms of a circuit's power consumption and the user-friendly design of a device, there is currently a large gap between Wi-Fi SoC based on traditional radio-frequency architecture and the practical needs of new IoT devices," said Gavin Que, Director of IoT Department, Rockchip. "The Rockchip RKi6000 closes the gap for wearable and other IoT devices, which are being developed for consumer electronics, home appliances, and many more products using the Wi-Fi standard, greatly reducing the cost of development and implementation, and speeding up a smart device's time to market."
The Rockchip RKi6000 will be available starting Q3 2015. For more information, see the website: www.rock-chips.com, Twitter: @IloveRockchip.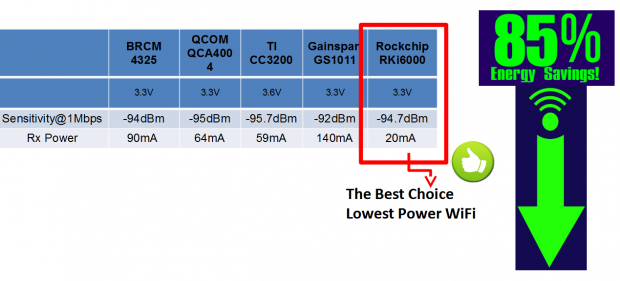 Last updated: Apr 7, 2020 at 12:09 pm CDT