The VP2780-4K delivers all the high-grade features and future-proof connectivity ports for colour critical applications
ViewSonic Corp., a leading global provider of visual solution products, introduces its new line of Ultra HD monitors. The VP2780-4K is ViewSonic's flagship Ultra HD monitor designed with a professional grade panel and connectivity. Building upon its award-winning display heritage, ViewSonic's new Ultra HD monitors successfully meet the needs of colour-critical multimedia design professionals.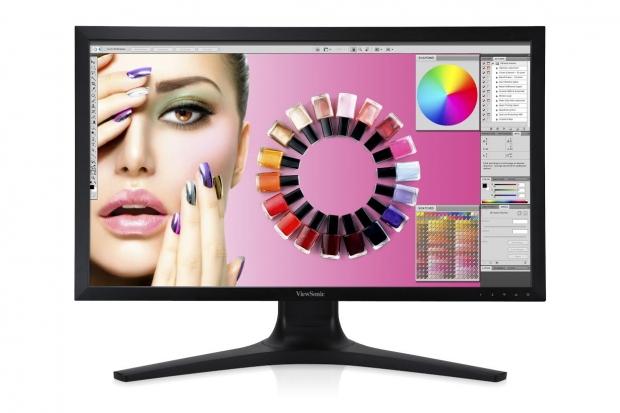 The 27" VP2780-4K offers an ultra-high 3840 x 2160 4K UHD resolution. The SuperClear IPS display technology provides a consistent and true-to-life image from any viewing angle. It delivers the ultimate colour performance with 100% sRGB colour coverage. The VP2780-4K has 10-bit colour, 14-bit processing, 3D LUT and Delta E≤2 colour accuracy, which renders the image on display and prints-out as accurate as it is on camera. Each display is individually calibrated and manually adjusted for greater colour accuracy, which is part of the production process to ensure perfect image quality. The VP2780-4K also offers five gamma settings, Gamma 1.8, 2.0, 2.2, 2.4, to 2.6 to deliver optimised colour performance and contrast ratio for graphic design, video editing, photography production, and more.
ViewSonic's MultiPicture functionality allows for efficient multitasking by providing simultaneous viewing of up to four split windows. MultiPicture supports Picture-in-Picture (PIP) and Picture-by-Picture (PBP) for multitasking and simultaneously viewing of up to 4 video sources at 1080p Full HD resolution. MultiPicture also supports equally split images from top to bottom (4K1K), from left to right (2K2K) and in 21:9. It features future-proof HDMI® 2.0 to support 3840x2160 content at 60Hz, the VP2780-4K also includes advanced DisplayPort, dual MHL, and 4-port USB 3.0 connectivity. With MHL, the VP2780-4K enables users to connect compatible mobile devices such as smartphones and tablets.
ViewSonic's proprietary Eco-mode energy-saving feature is built into the VP2780-4K. Eco-mode adjusts brightness of the display thereby reducing power consumption to lower running costs and prolong the life of the display. The ENERGY STAR Most Efficient mark is an extension of the ENERGY STAR brand and is designed to recognise and advance the most efficient products among those that qualify for ENERGY STAR.
The ViewSonic VP2780-4K has been designated as one of the Most Efficient ENERGY STAR certified products in 2015. As for eye-care functions, the VP2780-4K comes with Flicker-Free and Blue Light Filter technology. The Flicker-Free technology completely eliminates screen flickering by integrating DC-modulation LED backlights, and will positively impact the comfort and eyesight of users.
ViewSonic Blue Light Filter technology can be adjusted to 100 levels, lowering the amount of blue light output and protecting viewers from the possible side effects of blue light, with little or no compromise of colour. ViewSonic's Blue Light Filter reduces blue light by up to 87%. The VP2780-4K allows users to adjust the amount of blue light emitted from the screen enabling longer viewing times and increased eye comfort for work and multimedia applications.
"With more UHD content now available and consumers showing increased interest of using Ultra HD displays at work and at home, ViewSonic is harnessing two decades as a leader and innovator in displays to deliver a complete portfolio of Ultra HD monitors," said Max Hsu, PM Director for ViewSonic Asia Pacific. "ViewSonic VP2780-4K, with its stunning 4K Ultra HD definition and other advanced features, has been recognised with the "Most Efficient ENERGY STAR" certification and received positive reviews from media, representing the ideal colour-critical application.
The new VP2780-4K is available now with a RRP of $1,499 in Australia. For more information about ViewSonic LCD displays, please visitwww.viewsonic.com.au, or follow ViewSonic on Facebook.
Last updated: Apr 7, 2020 at 12:09 pm CDT