Extreme Core Density Designed for Scale-Out Computing
GIGABYTE Technology, a leading creator of high performance server hardware, announced today the MT70-HD0 server board - the first cache-coherent, dual socket ARM board to be released to market - and its associated 2U rackmount, the H270-T70. These two new models based on the Cavium (NASDAQ: CAVM) ThunderX ARMv8 processor accelerate GIGABYTE's recent efforts to bring accomplished ARM-based server products to the market thereby opening new doors for scale-out server workloads.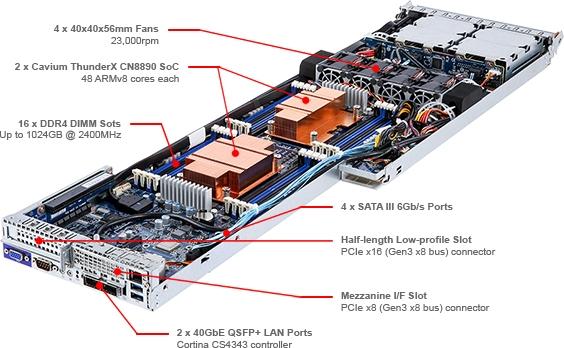 Designed for the 48 cores ARMv8 2.5GHz ThunderX processor, the MT70-HD0 is a dual socket motherboard built with the same half-width format used in the existing GIGABYTE 2U - 4 nodes blade servers and in the company's Open Rack systems. Each server node combines up to 96 cores with up to 1TB of high speed 2400MHz DDR4 memory, two 40Gb/s LAN ports directly controlled by the SoC processors, and full IPMI based remote board management capabilities. Low SoC TDP combined with high-end onboard memory and networking enables a platform with enormous potential for operators of core-intensive applications looking for uncompromised performance and significant power savings simultaneously.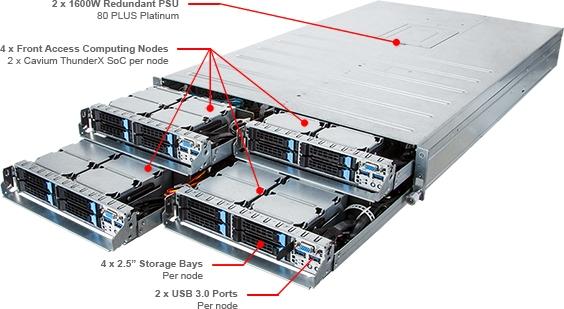 Click here for the complete specifications of the H270-T70
The H270-T70 is a 2U - 4 nodes rackmount using one MT70-HD0 board per blade to house 384 ARMv8 cores in total. Built with a redundant power supply system and a fan-based cooling system serving the four nodes, the rackmount is built with a high efficiency thermal and energy design complementing the power saving aspect of the ThunderX processors. With two different versions providing front and rear access to the nodes, this server is designed with the flexibility to deliver high-performance compute or balanced compute and storage acceleration for the most demanding applications in big data, large-scale web and virtualization domains.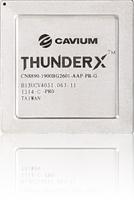 "We have already developed and released ARM based products oriented toward lightweight workloads and storage applications," said Alex Liu, Technical Marketing Executive at GIGABYTE. "But now with the MT70-HD0 and the H270-T70, we are adding the industry's first cache-coherent two-socket ARM platform to our portfolio using Cavium ThunderX processors, enabling a solution suitable for datacenter grade workloads. We have already begun initial shipments of these systems."

"Demand for Cavium ThunderX workload-optimized multi-core ARMv8 processors continues to grow. We delivered ThunderX ARMv8 SoCs with up to 48-cores, integrated accelerators and Ethernet fabric, designed for optimal performance and TCO for workloads including cloud, big data and large-scale web, " said Steve Cumings, Director, Market Development for Cavium's Data Center Processor Group. "We're excited to expand our already-successful collaboration with GIGABYTE to address the accelerating demand for ThunderX platforms."
The MT70-HD0 and the H270-T70 will be both available for volume shipment in the third quarter of 2015.
Last updated: Apr 7, 2020 at 12:09 pm CDT