MSI, leading gaming hardware brand, is leveling up by implementing the latest MSI 900-series video cards into the tiny MSI Nightblade powerhouse. The recent release of the NVIDIA GeForce GTX 980, 970 and 960 video cards enables MSI to offer gamers an even more lavishing gaming experience with the MSI Nightblade, which fits an ATX-size video card without the need for additional adapters, despite its mini-ITX form factor.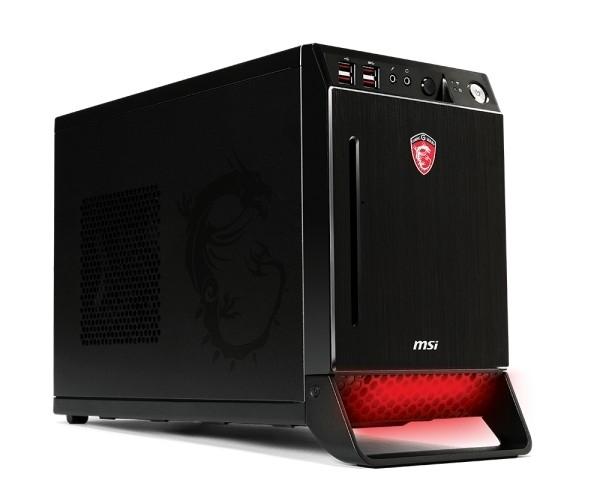 Gamers that want a powerful, compact gaming PC that can be carried to gaming and LAN events will have an excellent pick with the MSI Nightblade. By default, the Nightblade B85 gaming systems come with Killer Game Networking technology, Audio Boost 2 and Military Class 4 components, known for its stability and power efficiency. Selected resellers will also offer the MSI Nightblade with locally preferred configurations.
Red Dragon Case Fan and Optimized Airflow
The case fan inside the MSI Nightblade B85 is custom made for its chassis. The fan speed is dynamically adjusted depending on the activities done by the user. In the most extreme circumstances, the Dragon case fan can even run at a maximum of 3600RPM, much more powerful than conventional PC casefans.
No Compromise on Gaming Features
The MSI Nightblade B85 comes with Killer Game Networking technology for the best network speed while playing games. MSI's well-known Military Class Components provide a high stability in high demanding circumstances, such as gaming.
ATX Graphics Support
Despite its Mini-ITX form factor, the small sized Nightblade provides enough space for a full-size two slot-in video card via a PCI-E 3.0x16 slot. Graphics cards up to a lenght of 290mm and a thickness of 35mm can fit in, making the Nightblade a vicious tool for gamers craving for amazing in-game images while exploring virtual world's and battlefields.
Carrying Handle
A useful handle at the bottom-front of the Nightblade can be used to pick up and carry this gaming beast around from one LAN-event to the next. The level of mobility doesn't stop there. With help of the rubber covers fitting the metal screws on the backside of the Nightblade, this system can even be stacked up vertically after carrying it around. That way, the panel and connectors on the back remain unharmed each time when arriving at a new gamer's den.
Last updated: Apr 7, 2020 at 12:09 pm CDT