Inspired by electric-vehicle supercharging technology, UK hardware start-up Petalite have announced the Petalite Flux, an external battery for your phone that can be charged to 100% (2,600mAh) in just 15 minutes; combined with their revolutionary Power Dock technology the Petalite flux can either be charged normally via USB or in just 15 minutes with 10 amps of power when using the Power Dock.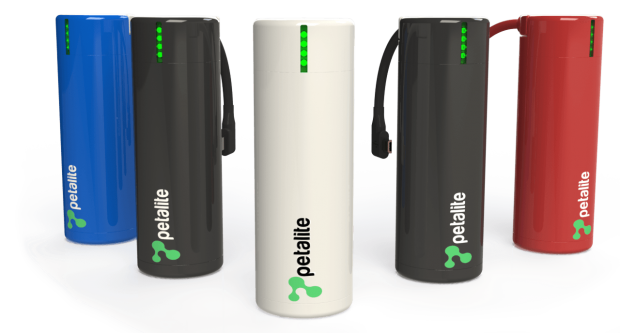 Petalite built the Flux to solve a clear issue with mobile phones: convenience when charging. Smartphones take an average of 2 hours per day to charge to 100%, that is over 56 days connected to a wall during a typical 2 year phone contract. Other external batteries exist but take hours to recharge once flat; with 15 minute charging you save 49 days of tethered wall charging throughout the life of your phone.
Engineered with performance in mind, the Flux is designed to keep up with the pace of modern life - a super-fast charge for people working and constantly on-the-go. The Flux removes the everyday worry of running out of power; an unneeded burden during the most pivotal moments of your day whether: you are out for lunch, at work, or socializing - you always have the power to stay connected.
Weighing 95g (3.35 oz), with a stylish, cylindrical design and utilizing automotive grade components, the Flux is incredibly durable and reliable, whilst also being ergonomic and light enough to fit within your hand, purse or pocket as you continue your daily routine. The Power Dock enables 10 amps of charging power compared to the 1 amp provided by the standard iPhone 6 charger, the secret to the Petalite Flux's performance.
Petalite CEO, Leigh Purnell, said: "I founded Petalite Battery Systems to permanently remove the stress and worry of having a mobile phone with a low battery when you are out. It is an increasing problem in modern life."
Currently Crowd-funding on Indiegogo here http://igg.me/at/petalite, the first generation of Petalite Flux and Power Dock are expected to be shipped worldwide to early adopters by June, 2015.
Last updated: Apr 7, 2020 at 12:08 pm CDT