Samsung Electronics Co., Ltd., the world leader in advanced memory technology, today announced that it has started mass producing 3.2-terabyte (TB) NVMe* PCIe solid state drives (SSDs) based on its 3D V-NAND (Vertical NAND) flash memory technology, for use in high-end enterprise server systems. The new NVMe PCIe SSD, SM1715, utilizes Samsung's proprietary 3D V-NAND in an HHHL (half-height, half-length) card-type form factor, to offer 3.2TB of storage capacity -- doubling Samsung's previous highest NVMe SSD density of 1.6TB.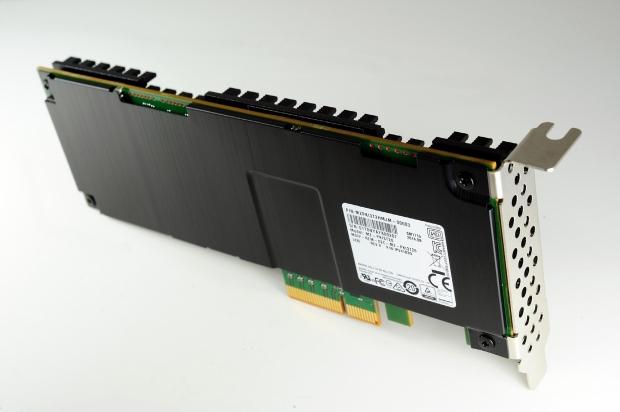 "Beginning with mass production of this new V-NAND-based NVMe SSD, which delivers the highest level of performance and density available today, we expect to greatly expand the high-density SSD market," said Jeeho Baek, Vice President, Memory Marketing, Samsung Electronics. "Samsung plans to actively introduce V-NAND-based SSDs with even higher performance, density and reliability in the future, to keep its global customers ahead of their competition."
The SM1715 is an upgraded version of Samsung's XS1715 in terms of drive performance and reliability. That 2.5-inch XS1715 was bestowed a 2014 Flash Memory Summit Best of Show Award earlier this year for being one of the Most Innovative Flash Memory technologies.
The newly introduced 3.2TB NVMe SSD provides a sequential read speed of 3,000 megabytes per second (MB/s) and writes sequentially at up to 2,200MB/s. It also randomly reads at up to 750,000 IOPS (input output operations per second) and writes randomly at up to 130,000 IOPS.
In addition, the 3.2TB SM1715 features outstanding reliability with 10 DWPDs (drive writes per day) for five years. This provides a level of reliability that enterprise server manufacturers have been requesting for their high-end storage solutions.
The SM1715 comes in 1.6TB and 3.2TB versions, adding more NVMe options to a 2.5-inch NVMe XS1715 lineup that includes 800GB and 1.6TB versions.
Since 2013, Samsung has introduced a range of industry-first 3D V-NAND-based SATA SSDs for PCs and data centers. Now, it is rolling out the SM1715 to accelerate the transition to the NVMe interface in the premium server sector, while expanding its 3D V-NAND SSD business to offer drives with more than 3TB of storage.
Last updated: Apr 7, 2020 at 12:08 pm CDT