AOC, a worldwide leader in monitor display technology, today announces four new Trade Agreement Act (TAA) approved monitors ideal for home office, government and education environments. Ranging from 20 to 24 inches, the user-friendly LED displays feature AOC's exclusive productivity enhancing and energy-saving software that allows users to customize power consumption configuration and viewing conditions. Not only are the monitors eco-friendly and Energy Star certified, they also offer slim and modern designs, and can be mounted to the wall for maximum space efficiency.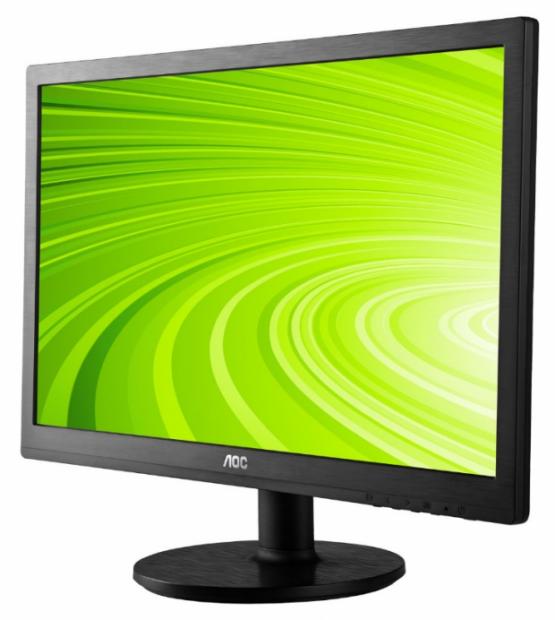 The four AOC TAA approved monitors include the 20-inch class e2060Swda-TAA display, the 22-inch class e2260Swda-TAA and e2260Swdn-TAA models, and the 24-inch e2460Sd-TAA display. Now available, the displays are backed by AOC's three-year warranty as well as the EASE Program with advanced exchange.
The new TAA approved monitors feature three unique AOC software programs for enhanced productivity and efficiency. Screen+ software allows users to divide the display into up to four self-contained work areas so that multiple documents or programs can be viewed simultaneously. This is particularly useful for the 24-inch widescreen display. The TAA approved monitors are all equipped with iMenu software as well, which allows access of the easy-to-use On Screen Display menu with the mouse for increased ergonomics. The monitors also include e-Saver software that enables users to set a low power configuration for the on/off, in sleep, or screen saver modes. It also allows users choose a scheduled time to turn the monitor off in order to reduce power consumption. Additionally, the monitors' Eco-mode provides five display settings (text, Internet, game, movie and sport) to optimize for different viewing conditions.
AOC's TAA approved monitors deliver stellar performance with 16.7 million color depth display, 5 ms response time and a 20,000,000:1 Dynamic Contrast Ratio, which reveals darker image areas in greater depth. All four displays also feature a Kensington Security Slot for added anti-theft security.
Both the 20-inch e2060Swda-TAA and the 22-inch e2260Swda-TAA monitors earned EPA Energy Star and EPEAT Gold certifications for their green packaging and production. Additionally, the monitors' LED backlights are completely free of toxic Mercury. The models feature a hair-line textured finish for a clean look and feel, and are equipped with built-in speakers for multimedia needs.
The 22-inch e2260Swdn-TAA and 24-inch e2460Sd-TAA models both offer full HD 1920 x 1080 resolution. They feature a fine textured black finish and also earned EPA Energy Star certification.
Specifications
e2060Swda-TAA
19.5" viewable image size; 16:9 aspect ratio

5 ms response time (typical)

20,000,000:1 contrast ratio

1600x900@60Hz recommended resolution

16.7 million colors supported

Brightness 220 cd/m² (typical)

VGA, DVI-D with HDCP inputs

Screen+, iMenu and e-Saver software

EPA Energy Star, EPEAT Gold

Kensington Security Slot

Two 2-watt built-in speakers

$159.99
e2260Swda-TAA
21.5" viewable image size; 16:9 aspect ratio

5 ms response time (typical)

20,000,000:1 dynamic contrast ratio

1920x1080@60Hz recommended resolution

16.7 million colors supported

Brightness 250 cd/m² (typical)

DVI-D with HDCP input

Screen+, iMenu and e-Saver software

EPA Energy Star, EPEAT Gold

Kensington Security Slot

Two 2-watt built-in speakers

$189.99
e2260Swdn-TAA
21.5" viewable image size; 16:9 aspect ratio

5 ms response time (typical)

20,000,000:1 dynamic contrast ratio

1920x1080@60Hz recommended resolution

16.7 million colors supported

Brightness 200 cd/m² (typical)

DVI-D with HDCP input

Screen+, iMenu and e-Saver software

Energy Star, EPEAT Gold

Kensington Security Slot

$179.99
e2460Sd-TAA
24" viewable image size; 16:9 aspect ratio

5 ms response time (typical)

20,000,000:1 dynamic contrast ratio

1920x1080@60Hz recommended resolution

16.7 million colors supported

Brightness 250 cd/m² (typical)

DVI-D with HDCP input

Screen+, iMenu and e-Saver software

EPA Energy Star

Kensington Security Slot

$199.99
Last updated: Apr 7, 2020 at 12:08 pm CDT