Westone, the leader in high performance audio and in-ear monitoring technology, announces the availability of the new W-Series. The W-Series 10, 20, 30 and 40 are the next generation of the acclaimed W-Series that bring superior sound for music lovers and audiophiles. Combining a state-of-the-art design with performance for all levels of audio lovers, the new W-Series is designed to continue the award winning success and acclaim of the Westone lineup while adding improved audio performance and an enhanced design for improved comfort, fit and user customization with the inclusion of two cables and multiple faceplates for users choice of colors.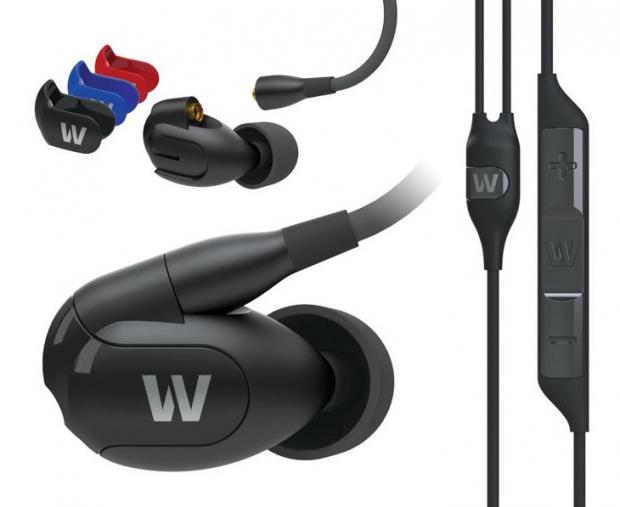 The W-Series features Westone's proprietary balanced armature drivers and advanced crossover designs. The W10 features our industry leading single armature driver that delivers outstanding performance and output. The W20/30/40 feature multiple balanced armature drivers and multistage crossover designs that yield sonic purity that is unrivaled in universal monitors at their respective price levels. The premier W40 offers a level of performance that is unequalled by competitors at any level.
The W-Series is supplied with our new replaceable EPIC cable for easy replacement or custom cable selection as well as an Apple MFi cable with 3-button controls and integrated microphone. The new connector is compatible with all the new Westone cables including the ADV active cable and the new UM Pro cable. The EPIC replaceable cable is constructed of high-flex, ultra-low resistance tensile wire, reinforced with a special aramid fiber, and braided for ultimate durability, acoustic transparency, and isolation from mechanical cable noise. The new audiophile connector makes this cable solution conveniently user-removable, upgradeable and replaceable.
The W-Series features interchangeable faceplates (red, blue and black included), straight EPIC replaceable cable, replaceable MFi cable and MIC, Mini-Monitor Vault II weather resistant travel case, and our patented STAR and True-Fit Tips. With Westone True-Fit technology, Westone combines 50+ years experience with in-ear applications that has yielded a low-profile, lightweight, universal earpiece which delivers maximum comfort and in-ear coupling for dynamic music listening.
W-Series features:
W10: single balanced armature delivers extraordinary detail and clarity in a compact ergonomic package.

W 20: a professional tool with a dual driver balanced armature design with passive crossover that has the range and performance for all music.

W30: unmatched sound signature tuned by artists, the three-way crossover is matched to individual low, mid, and high frequency drivers to make the sound mix smooth and balanced across all frequencies.

W40: The premier 4-driver system with 3-way crossover that yields the finest audio available today from any earphone.

"It's a great time to be a Westone enthusiast, especially with all the new products we will be introducing throughout the year. The W-Series is the latest in high performance earphones, designed & engineered for music lovers and audiophiles," said John F. Lowrey, Vice President, Audio Group at Westone. "The W-Series represents superior sound performance, fit and features that showcase the detail and clarity of the music."
The W-Series along with the CE Pro BEST and EXCITE Award winning Adventure Alpha Series (ADV), and other signature products from Westone will be on display at CEDIA Booth #662.
W10 will be available October 15th, 2013 with a suggested MSRP of $199.99, W20 for $299.99, W30 for $399.99 and W40 for $499.99 through authorized dealers and e-retailers including earphonesolutions.com.
Last updated: Apr 7, 2020 at 12:08 pm CDT