AVADirect, a leading provider of custom server systems, is the first system builder to offer 2U server system with support for up to four GPU or Tesla card units. Never has the industry seen or utilized such a solution, so AVADirect was quick to support and provide such a solution for professionals and end-users to use to their advantage.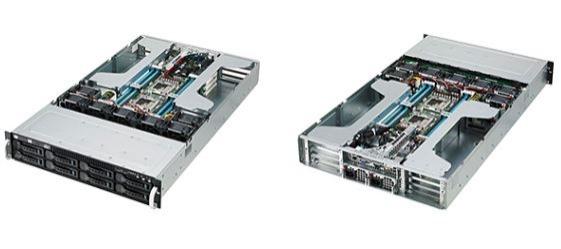 Thanks to ASUS, AVADirect is able to provide such a unique and ground-breaking solution. Using the ASUS ESC4000 G2 Black 2U server platform, specification of the server includes the following key features.
Up to 512GB of DDR3 1600Mhz

8x 16x 3.0 PCI-E expansion slots, providing support for 4x dual-slot GPU or Tesla units.

8x SATA ports, with RAID 0, 1, 5, 10 capabilities

8x Hot-swap bays

Additional support for CentOS, RedHat, SuSE, and VMWare

1+1 Redundant 1620W 80PLUS Platinum Power Supply
The above options are just a handful of feature-rich, cutting-edge technologies that allows the ASUS ESC4000 G2 Black 2U server platform to assist AVADirect in their goal to continue offering spectacular, custom server products to corporation and consumer end-users. While the ESC4000 can be used for a multitude of purposes, performance will mostly shine through the allocation toward render farms, imagine generators, rack-mounted graphics workstations, and multi-display requirements for increased workspace productivity. There is no job the AVADirect 2U Rack Server ASUS ESC4000 G2 Tesla­™ HPC Dual Xeon SATA Series Server System cannot complete; the possibilities are endless, and it starts with you! Experience the pure results of combined GPU/CPU performance, never before possible, in a 2U form factor.
Last updated: Apr 7, 2020 at 12:07 pm CDT