Seagate Technology plc today announced the next evolution of the company's wireless storage category, Seagate Wireless Plus mobile device storage at the 2013 Consumer Electronics Show. Designed to wirelessly stream content for up to eight smartphones or tablets with enough space for up to 500 high-definition movies, this new wireless hard drive, will extend the limits of today's mobile lifestyle. The new Seagate Wireless Plus now also includes a 10-hour battery life to match that of most tablets and smart phones. With the integrated 1 TB drive you'll have all you need to be entertained anywhere including long road trips or flights - without an Internet connection.
Seagate Wireless Plus mobile device storage is accessed through the mobile Seagate Media app for Apple iOS, Android and Kindle Fire HD devices. The Seagate Media app has been developed for all major mobile devices, including Android, Kindle Fire HD, Apple iOS and will also work with just about any device that can connect to a Wi-Fi network. Additionally, you can use Wireless Plus to enjoy video, photos, music and even documents on the big screen via Apple Airplay, DLNA or an app designed specifically for Samsung Smart TVs and Blu-ray players.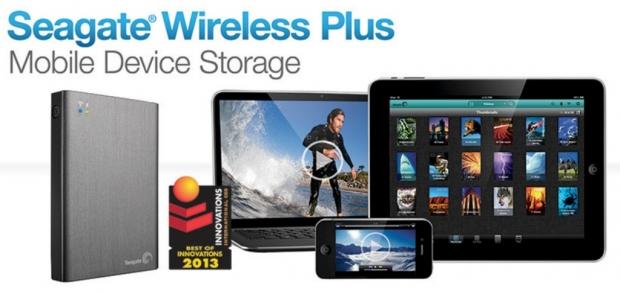 Seagate created this new category of wireless storage devices in 2011 to address consumers' desire to enjoy more content than tablets and smartphones can hold with their limited storage. A CES 2013 Best of Innovations Award Winner, the new Seagate Wireless Plus includes a new option to save content and files to the drive wirelessly through the new Seagate Media app. For the first time, consumers will be able to enjoy capturing a great HD video on their iPhone and then wirelessly uploading it, in full resolution, to Wireless Plus with its 1 TB of storage.
"Smartphones and tablets offer amazing new opportunities for Seagate to provide new consumer storage solutions in an increasingly mobile world," said Scott Horn, vice president of marketing at Seagate. "Seagate developed the concept of wireless storage to consumers with the freedom to enjoy their documents, movies, photos and music anywhere in the world, especially when they can't connect to the Internet. Seagate Wireless Plus builds on the success of our first-generation product and takes it even further."
The new 1 TB wireless drive comes with a removable SuperSpeed USB3.0 adapter for quick loading of photos, video, music and even documents. Fill it up and go, for true anywhere access of all your favorite entertainment or much needed work-related files anywhere. Because the Wireless Plus creates its own Wi-Fi network, there is no need to stream or download your content from the Internet or to spend money on a data plan. Everything is with you, where you want it, when you need it with a secure and wireless connection.
"Less than half of U.S. mobile phone users are highly satisfied with the storage of their mobile phone, and almost 20% are dissatisfied with their mobile storage capacity," said Brett Sappington, Director of Research at Parks Associates. "As consumption of video on smartphones and tablets continues to grow, consumers will seek the best ways to get content to their mobile device without eating up all of the data in their monthly service plan."
Pricing and Availability:
Seagate Wireless Plus mobile storage is currently available from Amazon and BestBuy.com, for an MSRP of $199.99.
Last updated: Apr 7, 2020 at 12:07 pm CDT