Today LaCie announced the 5big Thunderbolt Series, a massive and lightning-fast five-bay RAID solution. The LaCie 5big features capacity up to 20 TB and speeds up to 785 MB/s thanks to five 7200 rpm/64 MB cache hard disks preconfigured in RAID 0. With this excellent combination of capacity and performance, video professionals have all they need for post-production work including the ability to edit multiple 2K uncompressed 10-bit streams.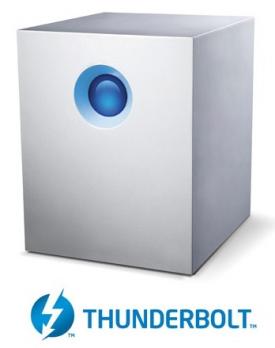 RAID Flexibility for Content Creation
With five disks, the LaCie 5big lets the user custom-make RAID configurations. Create a lightning-fast volume with three disks in RAID 0 and a safe volume with two disks in RAID 1. Plus the disks are hot-swappable, so the user can simply slide a new disk into the safe volume without switching off the device. Use the fast volume for use with Final Cut Pro X, Adobe Premiere or Aperture, and the safe volume to back up projects.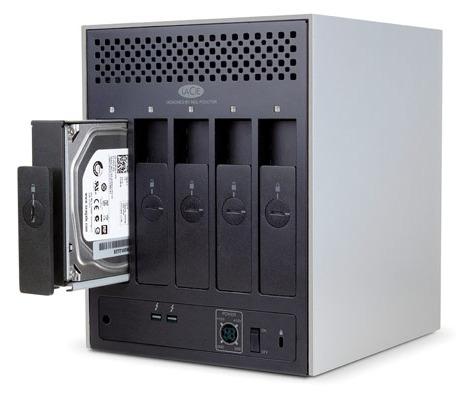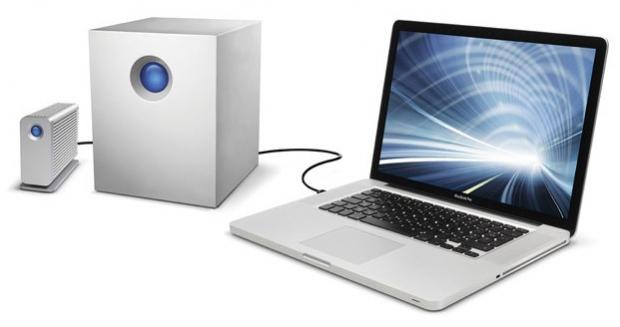 The LaCie 5big allows video professionals to move from a heavy desktop workstation to a versatile laptop setup with fast and massive external storage. Their desktop setup stays in the office while the laptop goes on business trips. Plus, with dual Thunderbolt ports, the user can daisy chain up to six Thunderbolt peripherals together.
Ideal Backup Solution for IT Managers
The LaCie 5big can also be used as a JBOD array. With five working days a week, an IT manager can assign each disk to a daily backup. It is an ideal backup companion to a Mac Mini Server for businesses that need a professional IT setup.
Dual Cooling System for Long-Term Reliability
Additionally, the LaCie 5big's advanced dual cooling system ensures long-term reliability by preventing overheating. The system consists of three key components: an innovative heat-dissipating aluminum casing, a Noctua cooling fan and jumbo heat exhausts. Plus, it's ultra quiet, which makes it perfect for even the most noise-sensitive creative environments.
Thunderbolt Leader
As a leader in Thunderbolt technology, LaCie has brought to market the largest portfolio of Thunderbolt storage solutions. Additional offerings include the LaCie Rugged USB 3.0 Thunderbolt Series, LaCie d2 USB 3.0 Thunderbolt Series, LaCie Little Big Disk Thunderbolt Series, LaCie 2big Thunderbolt Series and LaCie eSATA Hub Thunderbolt Series. Find out more at www.lacie.com/thunderbolt.
Availability
The LaCie 5big, design by Neil Poulton, is available in 10 TB and 20 TB capacities through the LaCie Online Store and LaCie Resellers starting at $1,199.00. Thunderbolt cable included. For more product information, visit www.lacie.com.
Warranty
The LaCie 5big is protected by a three-year limited warranty. It includes comprehensive, complimentary web-based resources, expert in-house technical support, and worldwide repair/replacement coverage. Warranty extensions and Advance Care Option can also be purchased. For details, visit www.lacie.com/warranties.
Last updated: Apr 7, 2020 at 12:07 pm CDT