HighPoint Announces 2nd Generation of SATA 6Gb/s Host RAID Controller
Dec 3, 2012 5:04 PM CST
HighPoint Technologies, Inc., the industry's leading SATA 6Gb/s RAID HBA manufacturer, announces the availability of their second generation SATA 6Gb/s storage controllers - the RocketRAID 600L series. HighPoint's RocketRAID 600L series HBA's represent the industry's most comprehensive, and affordable selection of 6Gb/s SATA PCIe host controllers. Powered by industry-proven RAID technology, SATA port multiplier support, and an intuitive RAID Management Suite, HighPoint RocketRAID 600L HBA's are the ideal SATA 6Gb/s storage solution for any PC and Mac computing platform.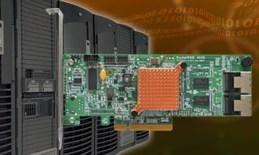 RocketRAID 2nd Generation SATA 6Gb/s PCIe Controller Portfolio
RocketRAID 600L series HBA's are the ideal 6Gb/s SATA storage solution for any PC or Mac. The four SATA/eSATA ports are available in internal, external and hybrid port-configurations, and are capable of supporting point-to-point and Port-Multiplier based storage devices. The compact board design, available low-profile form factor and industry standard port connectors make any storage upgrade, integration or expansion a seamless task.
HighPoint's newest 2nd generation SATA 6GB/s PCIe controller, the RocketRAID 642L, features both internal and external 6Gb/s SATA ports and is an ideal HBA platform for applications that require built-in storage expansion capabilities. The internal ports provide direct connections for up to 2 SATA hard drives and SSD's, while the external ports are capable of supporting an additional 10 SATA devices when used in conjunction with Port-Multiplier capable storage enclosures.
Comprehensive RAID Management Suites for any PC and Mac System
Second generation RocketRAID 600L HBA's deliver HighPoint's Industry-proven Hardware Assisted RAID technology, and a comprehensive RAID Management Suite. Customers can quickly and easily configure a wide-range of storage configurations, including RAID 0, 1, 5, 10 and JBOD arrays.
HighPoint's RAID Management Suite allows customers to create, restore and expand RAID storage configurations hosted by one or more RocketRAID 600L HBA's. An intuitive Web-based RAID Management Interface is available for all major operating systems platforms, and Command Line Interface (CLI) packages are available for Linux and FreeBSD distributions. RocketRAID 600L Device drivers are available for all major software platforms including Microsoft Windows, FreeBSD, Open source Linux distributions and Apple OS X.
Simple, Affordable Storage Expansion
Today's desktop and workstations never seem to have enough storage - the endless stream of HD movies, media libraries, and work-related projects make short work of standard hard disk capacity. HighPoint's 2nd Generation 6Gb/s RAID HBA's were designed to make storage expansion a simple and affordable proposition for any PC or Mac.
Unlike other 6Gb/s SATA RAID controllers, RocketRAID 600L HBA's offer support for both point-to-point and port-multiplier storage configurations. Each HBA can directly support up to four 4TB hard disks, for a total of 16TB of storage capacity.
Port-multiplier capable storage enclosures allow each RocketRAID 6Gb/s SATA port to support up to 5 hard disks and SSD's. A single 4-port RocketRAID 600 series HBA is capable of supporting up to 20 SATA devices and 80TB of storage capacity - all for less than USD$ 100! HighPoint's easy to use Web-based Management utility includes advanced RAID features such as Online Capacity Expansion (OCE) and Online RAID Level Migration (ORLE). A few clicks of the mouse allow customers to expand, upgrade or convert existing storage configurations, as the need arises, without starting from scratch or losing valuable data.
Availability and Pricing
RocketRAID 600 Series HBA's are currently available from HighPoint's world-wide network of Distribution and Retail channels.
Distribution Channels: ASI, Avnet, D&H Distribution, MaLabs,
E-Commerce Channels: Amazon.com, Amazon.ca, B&H, Newegg.com
MSRP:
6Gb/s SATA RAID HBAs - RAID and Port Multiplier Support
RocketRAID 642L (Hybrid Port Configuration: 2x SATA, 2x eSATA): USD$ 99.00

RocketRAID 644L (External Port Configuration: 4x eSATA): USD$ 99.00

RocketRAID 640L (Internal Port Configuration: 4x SATA): USD$ 99.00
6Gb/s SATA HBA's - Direct Connectivity
Rocket 644L (External Port Configuration: 4x eSATA): USD$ 69.00

Rocket640L (Internal Port Configuration: 4x SATA): USD$ 69.00
Last updated: Apr 7, 2020 at 12:07 pm CDT
PRICING: You can find products similar to this one for sale below.

United States: Find other tech and computer products like this over at Amazon.com

United Kingdom: Find other tech and computer products like this over at Amazon.co.uk

Australia: Find other tech and computer products like this over at Amazon.com.au

Canada: Find other tech and computer products like this over at Amazon.ca

Deutschland: Finde andere Technik- und Computerprodukte wie dieses auf Amazon.de
Related Tags