GIGABYTE TECHNOLGY Co. Ltd., a leading manufacturer of motherboards and graphics cards, today announced the record highest clock speed 7.86GHz on AMD's A10 5800K APU using the GIGABYTE F2A85X-UP4 motherboard.
Attending an AMD Extreme OC show on 20th Nov. in Taipei Taiwan, GIGABYTE's overclocking team, The Killers (featuring HiCookie, S.Dougal and John Lam), took part in an overclocking demonstration achieving two new records on AMD's new Vishera and Trinity platforms. The GIGABYTE F2A85X-UP4 motherboard was able to push the AMD 5800K to an incredible 7.86GHz, more than twice the 3.8GHz stock clock. The AMD FX8350 processor was pushed to 8.47GHz using a GIGABYTE 990FXA-UD3 board.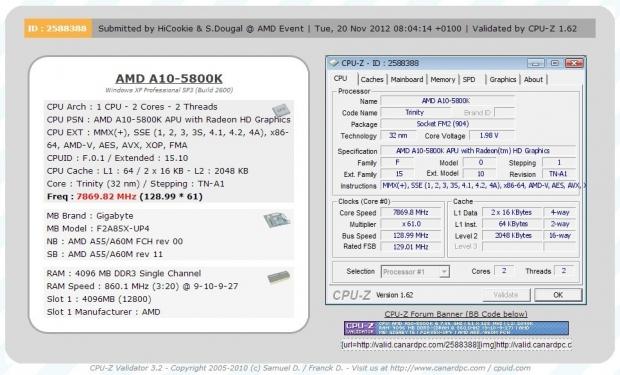 "This new record underlines just how much potential performance can be unleashed by our new Trinity platform, clearly demonstrating how GIGABYTE Ultra Durable motherboards help enthusiasts get the absolute maximum performance from their unlocked AMD APUs," said Michael Liao, Vice President, Sales of AMD.
"We are extremely excited with this OC result because the F2A85X-UP4 is the first motherboard from GIGABYTE to use our new Ultra Durable 5 technology - so the OC record is a testament to the high caliber of components that we use on our products," said Henry Kao, Vice President of the GIGAGYTE Motherboard Business Unit. "These results solidify GIGABYTE's position as the go-to platform for AMD overclocking enthusiasts."
The flagship GIGABYTE FM2 series motherboard comes in the shape of the GIGABYTE F2A85X-UP4 motherboard, designed to push AMD A-Series APUs to the limit with GIGBAYTE Ultra Durable 5 technology. Digital power controllers ensure high capacity, high current power delivery which, when coupled with high speed memory support, combine to push the onboard AMD 7000 series graphics processor to the absolute maximum.
Find the HWBOT validation here, and CPUID validation here.
Last updated: Apr 7, 2020 at 12:07 pm CDT