LG BRINGS 3D GAMING TO CINEMA 3D SMART TV's
LG Electronics Australia (LG), a global leader in consumer electronics, has today announced the local availability of 3D-enabled games for its 2012 CINEMA 3D Smart TV's. In an industry first, LG will bring games that were previously available on smartphones, tablets and only playable in 2D to the big screen in 3D.
Handpicked specifically for their 3D playability, these fun, family-friendly games have been optimised for LG's CINEMA 3D Smart TV platform. During the month of September, LG will launch a series of new 3D games to the 2012 Smart TV platform. Currently, there are five games available, these titles include; Air Penguin, Downhill Bowling 2, Frisbee Forever, Burn the City and Diversion.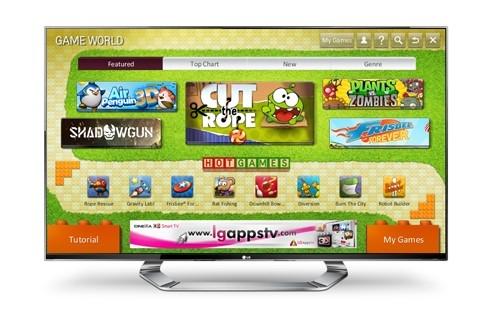 "We are excited to be able to bring 3D gaming to LG Smart TVs in Australia for the first time so family members can enjoy the immersive 3D fun together," said Brad Reed, Senior Marketing Manager - Content and Services. "With the arrival of these games developed for LG CINEMA 3D Smart TV, we are fulfilling our commitment in showcasing the potential of Smart TV as a genuine 3D gaming platform. LG CINEMA 3D Smart TV owners will be amazed as they become completely engrossed in the large screen and 3D gaming environments of their favourite games, and at how easy it is to be in control with the Magic Remote."*
The games are delivered in 2D, and then by pressing the 3D button on the Magic Remote the game has the ability to be viewed and played in 3D. The ergonomic Magic Remote* transforms to a motion-sensitive game controller, intuitively easy-to-use for both kids and adults alike. Thanks to LG's Passive 3D technology, users can enjoy LG's growing library of 3D games with comfortable, lightweight, battery-free 3D glasses.
The 3D games are located in the LG SmartWorld (LG Apps) section on all 2012 LG CINEMA SMART TVs. The games will be automatically updated onto the TV units as they become available, with the five games mentioned already available.
Air Penguin
Jump, fly and dodge through Antarctica. Air Penguin is incredibly simple and highly addictive. All you need to know is how to tilt. Take a journey through the icy South Pole to help Air Penguin save his family from melting ice caps. Who said penguins can't fly?! Make them flap their tiny wings! Tilt your way out of danger as you bounce, glide and slide through this Antarctic adventure today!
Features:
Multi-directional tilt control gameplay: Tilt Air Penguin in all directions to guide him safely through the Antarctic.

Two different modes for double the fun: Campaign through 125 stages in Story Mode or see how far you can go in Survival Mode.

Encounter sea creatures and weave past hazards: Hitch a lift on a turtle's back, swerve past angry sharks and watch out for thin ice.

Collect items and unlock special boosts: Acquire fish to use special features and abilities to help you on your way.
Price: $4.17
Downhill Bowling 2
Anyone can hurl a ball down a polished lane, but can you survive a wild ride downhill? Downhill Bowling 2 from developer GameResort, delivers intense bowling action that has you racing down slopes, charging up ramps, and blasting through pins. Grab bombs, coins, speed-ups and other power-ups as you speed downhill on a points rampage.
Features:
A dozen level across three cool worlds: Green Mountain, Wild West, and the cave.

Unlock new bowling balls using coins picked up in levels.

Take advantage of ramps, gaps, and other environmental features to boost your score.

Classic 10-pin bowling with a twist!
Price: $2.96 - Free trial also available
Frisbee Forever
Go wild in the world of Frisbee® Forever! Get ready for blast-off. Fly at breathtaking speed across more than 100 crazy tracks. Twist and turn in the California Theme Park, climb the majestic mountains in the Wild West or send the waves blazing in the Pirate filled Caribbean oceans. There's a level for everyone! Play with cool classic Wham-O® Frisbees® or brand new discs only available in Frisbee® Forever. Collect more than 100 Frisbees®, with plenty of trophies and secret bonuses to achieve. Are you a Frisbee® Master?
Price: $4.86
Burn the City and Diversion
You think you'd like to burn the city? Wanton destruction is easier than ever in Burn the City. Unleash the monster within in this fiery puzzle game that has you demolishing cities for points. Spit
fireballs to raze buildings and send those puny humans packing. It's not just about flinging fire, though-rack up combos for bonus points by exploiting the surrounding environment and maximizing power-ups.
Features
Destructive, explosive physics puzzle action like you've never seen

45 levels of pyrotechnic puzzle play

Boost your score by hitting giant wrecking balls, ice slicks, nuclear power plants, and other objects to heighten the destruction
Price: $5.00
* Magic remote may need to be purchased as an additional accessory for some models.
Last updated: Apr 7, 2020 at 12:07 pm CDT
PRICING: You can find products similar to this one for sale below.

United States: Find other tech and computer products like this over at Amazon.com

United Kingdom: Find other tech and computer products like this over at Amazon.co.uk

Australia: Find other tech and computer products like this over at Amazon.com.au

Canada: Find other tech and computer products like this over at Amazon.ca

Deutschland: Finde andere Technik- und Computerprodukte wie dieses auf Amazon.de
Related Tags