Taipei, Taiwan, 21 March, 2012 - When it comes to a wireless mouse with an in-style design and reasonable price, previously, there had been very few products in the market to choose from. GIGABYTE is excited to introduce a new option for consumers looking for a stylish mouse at a great price, the AIRE M77 Must-Have Wireless Mouse, which satisfies all your basic needs and much more! Just like the latest "It Bag" in the fashion industry, the AIRE M77 is your "It Mouse" that achieves exactly what you want and suits almost every condition. Plus, its ergonomic design and practical function setting will help you enjoy this mouse even more!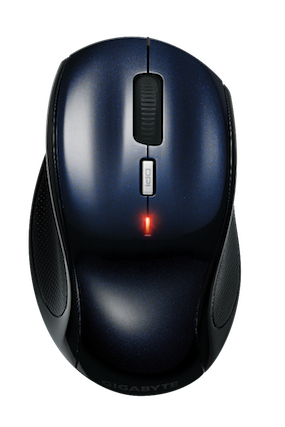 GIGABYTE introduced the "AIRE" series to stress not only the necessity of great comfort, but also the importance of a fashionable design. For those who work in the office and need to use a mouse for more than 6 hours a day, the AIRE M77 Must-Have Wireless Mouse is definitely the best choice. This model is designed specifically for right-handed users as its ergonomic shape can prevent your palm from feeling tired after long hours of use. The 4th and 5th keys located near the thumb conveniently facilitate web-surfing, or you can choose to personalize the function. DPI switch on the mouse makes it easy to switch on-the-fly from 800 to 1600 DPI respectively, and the low-power indicator reminds you when to change batteries!
The AIRE M77 Must-Have Wireless Mouse is equipped with a precise optical tracking engine, so that it's absolutely smooth to use. Additionally, the fine quality of a 2.4GHz receiver assures an operation range within 6-8 meters, making it ideal for both laptops and desktop computers. The great comfort, superior quality, and high C/P rate of the AIRE M77 Must-Have Wireless Mouse will expand your horizons for using a wireless mouse!
Product Features
Classic "Must-Have" style - Gives you all the basics and much more
Ergonomic design and comfortable grip - No tired feeling after long hours of use
High precision optical tracking engine
On-the-fly 800/ 1600 adjustable DPI
Ideal for right-handed users.
Last updated: Apr 7, 2020 at 12:06 pm CDT