AMD (NYSE: AMD) today announced the latest solution as part of its ongoing Web/Cloud initiative with the launch of the new AMD Opteron™ 3200 Series processor. Dedicated Web hosting customers seeking enterprise-class reliability have a new choice that delivers: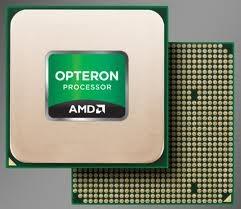 Great value with up to 38% better price performance1 and up to 19% less power per core2 than the competition;
ECC memory and server reliability features at a low price-point;
Fast hardware payback - In as few as 7 months hosting fees can cover hardware costs - up to 14% quicker than with the competition3;
Efficient economics for the Cloud with twice the core density per rack4.
"In today's economic environment, dedicated hosting providers need their data centers to become profit centers faster than ever," said Patrick Patla, corporate vice president and general manager, Commercial Business, AMD. "With the new AMD Opteron™ 3000 Series platform, Web and Cloud customers no longer have to compromise with desktop-class platforms in order to hit certain price points. Now they have all the benefits of a true server-class product at desktop-class price points. This helps rapidly-growing hosting customers achieve fast payback in their incredibly dense, power-efficient environments."
Since the launch of its new core server architecture, and AMD Opteron 4200 and 6200 Series processors last November, AMD unveiled a disruptive server strategy and intentions to leverage its leading graphics IP while driving down the power in future SoC offerings. As part of accelerating this, AMD recently announced it had entered into a definitive agreement to acquire Cloud pioneer SeaMicro.
Today AMD has delivered on its promise of a low-power, single-socket solution that brings server functionality with desktop economics. The AMD Opteron 3000 Series platform is targeted to the dense, power efficient 1P Web hosting/Web server market. Available in either 4- or 8-core CPUs, the AMD Opteron 3200 Series processor is shipping today in platforms from MSI, Tyan, Fujitsu and Dell. Based on the "Bulldozer" core, the AMD Opteron 3000 Series platform leverages Socket AM3+ and provides customers with the cost savings associated with a "desktop-like" infrastructure, yet still offers server-class reliability, enterprise-class silicon validation/testing, security features and server OS certification.
"AMD is a great partner, and we're excited about the new AMD Opteron 3200 Series CPU. It allows us to create a custom design for our DCS customers, and deliver a compelling combination of performance and energy efficiency, " says Dell Data Center Solutions' Steve Cumings. "As the leader in the Density-Optimized market segment, we require focused partner technology within industry standards - and this is a good fit for our customers."
Key Facts, Performance and Technical Detail
45W to 65W TDP
2.7 GHz base frequency, up to 3.7 GHz frequency using AMD Turbo CORE technology5
4- and 8-core options
2 DDR3 memory channels supporting ECC UDIMM
1333, 1600, 1866 MHz memory speed6
Supports 1.5V, 2Rank
Up to 32GB memory capacity
Supports up to 2 DIMMs per memory channel
Total Cache: 16MB for 8-core, 8MB for 4-core
L2 Cache: up to 8MB total
L3 Cache: up to 8MB total
Last updated: Apr 7, 2020 at 12:06 pm CDT