Elitegroup Computer Systems (ECS), the world's leading motherboard, graphics card, barebone system, notebook and mobile device manufacturer will be in CeBIT 2012 in Hall 15, Booth No. D29. This time, ECS will not only present a series of innovative designs and exclusive technologies, but also display a cross-generation breakthrough.
ECS AIO (All-In-One): Enrich Your Dream
ECS delightedly provides a wide range of Thin Mini-ITX for All-In-One (AIO) system to meet different demands. ECS Thin Mini-ITX is compatible with all PC and stylish All-In-One systems, and it also provides high BTO (Build-To-Order) capability for applying in different purposes. With a larger but thinner smart touch panel, Full HD 1080p support and HDMI-IN compatibility, the new generation G24 maximizes performance of the latest Window 8 operation system. The G24 delivers smoother and faster performance for multitasking, giving you the most joyful entertainment and gaming experience. You can find the best solution and intelligent choice for your needs.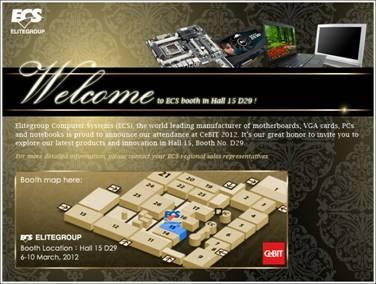 ECS Motherboard & Graphics Cards: Only Excellent Performance
ECS presents its series of motherboards and Thin Mini-ITX, which not only pass the environmental directives, WEEE, RoHS and EuP but also fulfill every need of users to ensure a satisfactory and environmentally friendly user experience. ECS will display the latest 7 series motherboards with fully functional and expansion ability to build up a multi-task dream computer station. ECS will keep providing surprisingly excellent performance from its various choices of motherboards.
ECS GeForce GTX 560 provides an excellent price-performance ratio for gaming users. It amazingly reveals more gaming power and supports the latest graphics language DirectX 11 for achieving a satisfied outcome. ECS GeForce GTX 560 demonstrates itself to be the top choice of high-end graphics cards.
ECS Notebooks and Classmate PC: Best Multitasking Solution
ECS notebooks deliver the best multitasking solution with high efficiency Intel Huron River platform and outstanding performance processor for business executives. With 14.0-inch or 15.6-inch HD display, and high transferring speed USB 3.0, it delivers the best performance for multimedia entertainment.
The new Classmate PC equipped with Intel Atom processor, up to 320-GB hard drive storage for solid-state and disk-drive options, and a high digital 1.3-megapixel rotating front facing camera. With 9 hours long stand power supply and a wide range of wireless connectivity including Wi-Fi and WiMax, it offers the best Interactive education environment for children.
ECS Wi-Bridge, Smart Connection to Wireless Digital Life
ECS Wi-Bridge is a portable wireless display adapter, which is lightweight and small in size to save more space on your living room or office desk. ECS Wi-Bridge successfully breaks the wireless limitation and simply connects your PC or NB with an HDMI high quality output display. It can be compliant with iOS and Android systems. You can access your content by a remote controller bundled in the package. ECS Wi-Bridge is the best wireless solution to break the boundary between your PC and the couch.
Green Company, Sustainable Development
For the past 25 years, ECS has devoted itself to providing innovative technology as well as sustaining the global environment. To be a green company, ECS promises to keep improving the quality of living for every global citizen. ECS sincerely invites everyone to visit ECS booth in 2012 CeBIT for new era of green life.
Last updated: Apr 7, 2020 at 12:06 pm CDT