New 1080p webcam offers more life-like experience, easier installation and lower PC processor burden for enhanced desktop videoconferencing and unified communications
FREMONT, Calif. - Jan. 18, 2012 - Logitech (SIX: LOGN) (NASDAQ: LOGI) is introducing the next generation of webcam technology for business with full 1080p HD video, onboard H.264 compression, USB Video Class (UVC) driver-less install and other premium features that enhance enterprise videoconferencing and unified communications.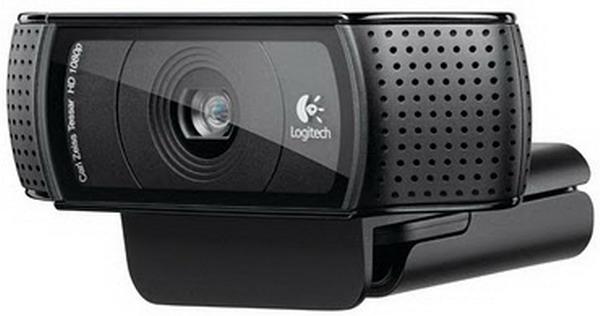 In collaboration with Skype™, Logitech is the first to offer true 1080p videoconferencing at a maximum 30 frames per second for a more life-like experience with fluid motion and vivid colors, overcoming the barrier to acceptance for unified communications (UC) solutions when video quality is too low to keep employees engaged.
Advanced H.264 hardware encoding manages video compression inside the webcam, when paired with a compatible H.264 videoconferencing client, rather than slowing down the PC's processor. This can significantly increase the ability to multi-task during video calls, by running several programs simultaneously during collaborative projects such as creating presentations or revising spreadsheets. Because of the reduced CPU load, H.264 webcams better enable videoconferencing on older and low-end PCs - a major cost-savings for businesses that want to move to UC without worrying about sluggish performance from legacy hardware. Also, because video is captured natively in the H.264 format, there is no extra compression step when sharing video clips - reducing upload time.
The UVC standard from the USB Implementers Forum, which Logitech helped develop, allows for driver-less plug-and-play installation - slashing deployment time in large enterprises that may need to simultaneously install hundreds or even thousands of webcams.
"We believe the combination of 1080p, H.264 compression and UVC driver-less install will help accelerate adoption of videoconferencing and UC in enterprises of all sizes," said Eric Kintz, vice president and general manager of Logitech for Business. "It's never been easier for video communications and collaboration to become part of everyone's work life, whether connecting with colleagues down the hall or partners on the other side of the world."
Logitech is bringing these ground-breaking technologies to market with the Logitech® HD Pro Webcam C920, expected to be available later this month worldwide, priced at $99.99 in the United States. The technologies will also be included in new video communications products for business that Logitech anticipates introducing later this year.
The Skype-certified Logitech C920 offers a range of additional premium features, including a razor-sharp Carl Zeiss® glass lens, 20-step autofocus, a wide 78-degree field of view for a true 16:9 HD image, dual microphones for uncompromising audio quality and Logitech RightLight™ 2 technology for clear images in poorly lit environments. The Logitech C920 is compatible with all major videoconferencing and UC software clients.
To enable full 1080p HD videoconferencing with the Logitech C920, users will need to download and install the latest version of Skype - Skype 5.7 Beta for Windows
Last updated: Jul 27, 2022 at 04:07 am CDT