ASUS, maker of the worldfs best-selling and most innovative motherboards, is excited to release a wide range of new X79 motherboards. All feature the new Intel X79 Express Chipset, with support for 2nd generation Core i7 processors in the new LGA 2011 Socket. The complete lineup includes P9X79 Series motherboards with total performance tuning and control, the enthusiast-centric ROG Rampage IV Extreme, the ultra-reliable TUF SABERTOOTH X79, and the professional P9X79 WorkStation Series supporting NVIDIA 4-way SLI and AMD CrossFireX.
All motherboards feature ASUS Dual Intelligent Processor 3 technology with the latest ASUS DIGI+ Power Control design providing three digital voltage controllers onboard, one for the CPU and two for DRAM. ASUSf class-leading Digital Power designs result in better performance, greater stability, and enhanced overclocking for all users. All of the new motherboards ship with multi-GPU support, PCI Express 3.0 capabilities*, exclusive ASUS UEFI and up to 64GB of quad-channel DDR3 support via 8-DIMM slots.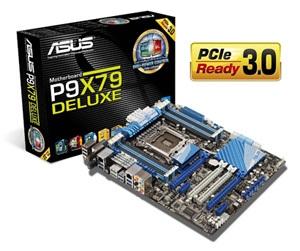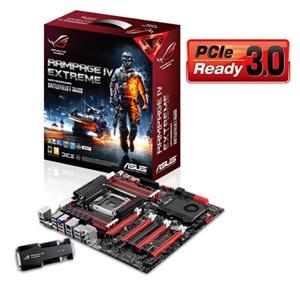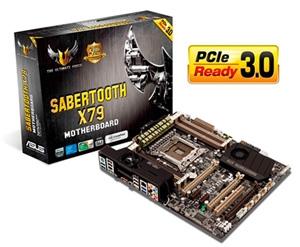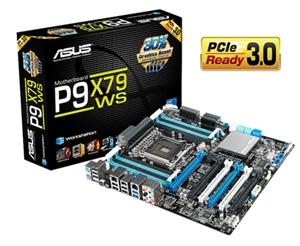 P9X79 Series: The ideal choice for unmatched features and user-friendly innovation
ASUS has developed the best power, system, and BIOS tuning options available for users to ensure an optimized computing experience on the new P9X79 Deluxe, P9X79 Pro, and P9X79 motherboards. Each feature ASUSf new DIGI+ Power Control and DIGI+ Memory voltage options that allow users to reach higher processor and DRAM overclocks with the upmost stability and reliability.
An 8-DIMM quad-channel design supports up to 64GB of DDR3 memory that takes full advantage of 64-bit applications. Additional memory capacity assists with intensive data, image, and video processing applications while users can also set up large RAM disks to greatly accelerate system performance. ASUS SSD Caching is extremely user-friendly with one-click speedup functionality that combines solid state drive speeds with mechanical hard drive capacities, providing up to three times faster storage performance.
The ASUS UEFI BIOS has won media and user acclaim for its intuitive and easy GUI interaction. The latest version has been upgraded with the industry first F12 BIOS snapshot hotkey, the F3 system info shortcut, and DRAM SPD (Serial Presence Detect), which offers advanced support for memory troubleshooting. USB BIOS Flashback enables true plug and play UEFI flashing with any USB storage device. It works even without powering up the PC, using only standby power without a CPU, Video card or memory installed. Optional BT GO 3.0! consists of an onboard Bluetooth v3.0 +HS module that offers wireless 802.11n support, adding instant access point detection and setup for Wi-Fi everywhere.
The exclusive ASUS BT suite includes several special functions, allowing users to easily sync and transfer files between PC and mobile devices, and even use smartphones to overclock or monitor their PC. ASUS USB 3.0 Boost adds new UASP support to accelerate USB 3.0 performance by almost three times over standard protocols with supported devices.
ROG Rampage IV Extreme: The best choice for gamers and enthusiasts
The Rampage IV Extreme supports 4-way NVIDIA SLI and AMD CrossFireX and is designed to empower overclockers to reach new records while also offering the absolute best gaming performance and stability. It comes loaded with overclocking features well-suited to competitive benchmarking. Exclusive ROG X-Socket means LGA 1366 based CPU coolers and LN2 containers can be used as-is with the new board. OC Key is an ROG-designed device that connects to the DVI port of any graphics card to display performance and overclocking info on the screen independent of system resources. Users can make changes with no additional software, and without slowing their PC down.
For enhanced and modified cooling, ROG has developed Subzero Sense, which detects cooling system temperatures as low as -193ßC. ROG Extreme Engine Digi+ II and specially sourced high-grade capacitors ensure long lasting and high-endurance power delivery demanded by gamers and competitive overclockers. The Rampage IV Extreme comes bundled with the hit game Battlefield 3 from EA and DICE, which uses the Frostbite 2 engine to showcase the latest in DirectX 11 technology and graphics effects.
TUF SABERTOOTH X79: The reliability choice for rugged engineering and long-life
The new TUF SABERTOOTH X79 ships with an intelligent thermal design, military grade-tested TUF components, and exclusive cooling features for enhanced system stability under the harshest conditions. TUF Thermal Armor with dual fans expands cooling and precise airflow for more effective heat dissipation, improving system reliability and performance. TUF Thermal Radar monitors real-time temps via 12 sensors in strategic locations on the board, automatically adjusting fan speeds to maintain extended stability and prevent overheating. Military-grade TUF components include capacitors, chokes, and MOSFETs. Their heat and stress tolerance allows ASUS to offer an exclusive 5-year warranty on the SABERTOOTH X79. Additionally, the new model includes the new DIGI+ Power Control design and UEFI, giving it the same precision, performance, and user friendly options offered by the P9X79 Series.
P9X79 WS: The ideal professional choice for multi-GPU expandability
Enhanced features and absolute stability is required from professional users and the P9X79 WS delivers, beginning with NVIDIA 4-way SLI and AMD CrossFireX and dual hardware-accelerated Intel LAN ports, which reduces CPU utilization for netcode processing by up to 71%. The P9X79 Work Station supports both Intel Core i7 processors and the upcoming workstation-specific Xeon family, and maintains compatibility with multiple memory, operating system, and RAID card selections. ASUS SSD Caching and USB BIOS Flashback are included along with ASUSf DIGI+ Power Control design and award winning UEFI.
Last updated: Apr 7, 2020 at 12:05 pm CDT