MSI has announced the launch of a new all-in-one PC model designed specifically for business users: the Wind Top AP2011. The industry-leading adoption of LED panel, integration of the display into the main body of the PC, and brand-new industrial design make for a neat, uncluttered desktop. The Wind Top AP2011 also features unique energy-saving technology, providing power consumption that is approximately 30% lower than conventional CCFL panel. Combined with MSI's other energy-saving technologies, this can help business enterprises to make substantial savings on their electricity bill, making this a truly "green" PC.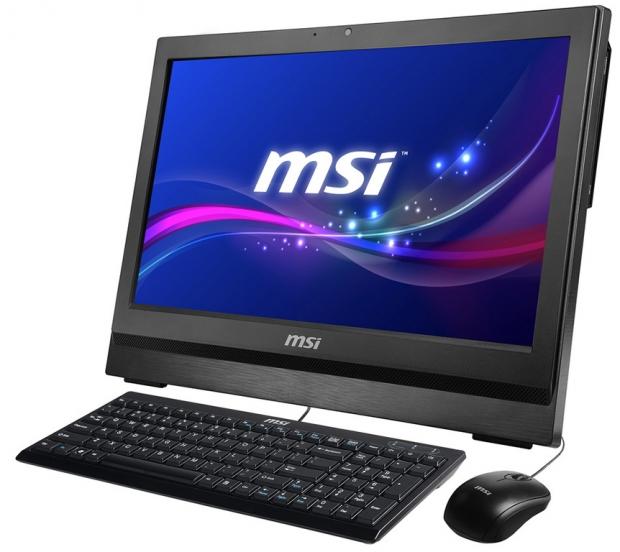 As far as performance is concerned, the Wind Top AP2011 uses the second-generation Intel Core processor, whose revolutionary computing capabilities permit more efficient multi-tasking. Besides its energy-saving characteristics and enhanced support for multi-tasking, MSI has also given the Wind Top AP2011 a range of additional features specially designed to meet the needs of business users, including the provision of multiple COM ports, the ability to link the AP2011 up to a barcode reader, credit card reader or credit card terminal. With its energy-saving design and its unique combination of advanced technology and efficient functionality, the Wind Top AP2011 is ideal for both individual users and business enterprises.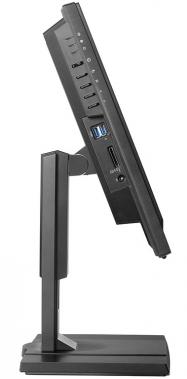 The new MSI Wind Top AP features the 2nd Generation Intel Core Processor, the first processor of its kind to have the graphics processing unit (GPU) and CPU integrated onto the same chip, while also building a set of visual functions into the chip that ensure higher image quality when viewing video content or photos. The Sand Bridge equipped MSI Wind Top All-in-One PCs for business users provide oustanding performance while maintaining efficient power usage. The GPU built into the processor can be uses to share a wide range of resources; processor core resources and GPU resources can be automatically transferred and reallocated to meet the current needs of the individual user, making for improved processing speed and enhanced working efficiency.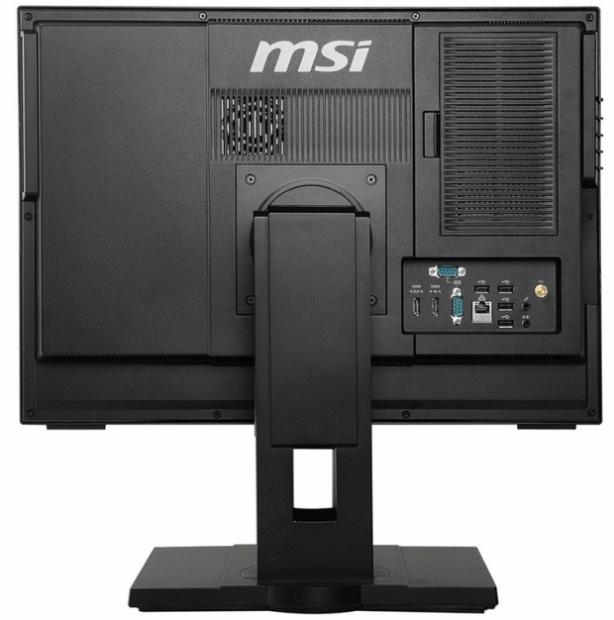 The inclusion of a comprehensive range of input/output interfaces provides a major step forward in working efficiency
The MSI Wind Top AP2011 all-in-one PCs for business users are equipped with a comprehensive range of input/out interfaces, to meet the needs of users in different industries and business areas. The Wind Top AP2011 has two COM ports to support use in office environments with POS systems, such as hotel registration desks, 24-hour convenience stores, filling stations, luxury boutiques, etc. These COM ports make it possible to link the PC up directly to a barcode reader, credit card reader or credit card terminal. This feature makes the Wind Top AP2011 the ideal tool for a wide range of business environments, with the potential to replace existing POS systems. The comprehensive range of input/output interfaces is combined with MSI Super Charger technology, which allows charging from a USB port even when the PC is switched off, and with USB 3.0 transmission interface, giving a ten-fold improvement in data transmission speed. These capabilities can meet a wide range of business needs; whether you need to give a presentation during a meeting, output information onto an in-store display, implement rapid transmission of high-resolution content, or handle big files, MSI's All-in-One PCs are ideal for the job.
MSI Instant Display Technology
Besides its comprehensive range of input/output interfaces, the Wind Top AP2011 also provides outstanding support for video input/output. The AP2011's HDMI high-definition multimedia interface provides simultaneous support for video input and output, making it possible to link the AP2011 to a second display, either for dual-screen operation or to make use of a larger display (e.g. for projection purposes). This further expands the range of scenarios and locations in which the AP2011 can be used, and makes for a further enhancement of working efficiency. For video input, the Wind Top AP2011 incorporates MSI Instant Display Technology, which is unique to MSI. With this technology, when the power supply to the all-in-one PC is switched on, the display automatically enters stand-by mode, with no need to press the power switch on the PC itself. When a device is connected to the HDMI input port, the display comes on automatically. If the PC is already on, then the display power / mode switch on the side of the display panel can be used to switch between modes. This technology helps the system to make additional energy savings.
An adjustable stand and auto-rotation function (optional extras)
To enable the Wind Top AP2011 to meet the needs of different industries even more effectively, MSI has designed the AP2011 with an adjustable stand. This stand offers a high degree of flexibility; the display pivots freely, it can be swiveled left or right, and the height and display angle can be adjusted easily; the display can also be stood up perpendicularly on the desktop. The AP2011 also incorporates the auto-rotation function found on some smart-phones and tablet PCs; when the display is adjusted by 90 degrees, the image displayed on the screen automatically changes to match the new display position, without the user needing to make the adjustment manually through software. This feature represents a significant advance in terms of practicality and convenience.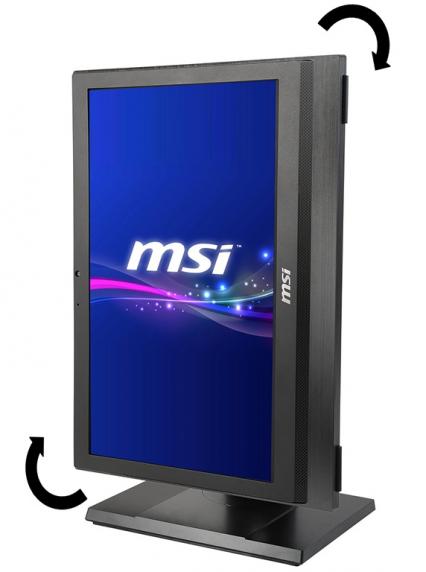 Outstanding performance combined with energy saving and carbon reduction
MSI's industry-leading adoption of LED panel for its All-in-One PCs makes it possible to create ultra-slim PC designs, while also enabling users to benefit from LED displays' low energy consumption. LED panel provides energy savings of approximately 30% compared to conventional CCFL panel. Combining this advantage with several other energy-saving technologies unique to MSI, the MSI Wind Top AP2011 LED All-in-One PC is able to provide overall energy savings of over 70% compared to a conventional desktop PC (assuming comparison with a standard 300@ desktop PC). Assuming that the PC is left switched on all day, this means average annual energy savings of 23,652 kWh, equivalent to an annual reduction of 1,856 in carbon dioxide emissions. Adopting LED All-in-One PCs can thus make a significant contribution towards helping business enterprises to reduce their energy consumption; these are genuinely "green" PCs. In addition, all of MSI's Wind Top AP2011 All-in-One business user PC models have been awarded U.S. Energy Star 5.2 certification, and conform to the European Union's latest ErP (Energy-related Products) directive, which was introduced in 2010, and the EU's RoHS (Restriction of Hazardous Substances) directive; furthermore, these products are made from non-toxic plastic, and use packaging material that is over 80% recyclable, further evidence of MSI's commitment to protecting the environment. MSI is working to ensure that the companys focus on energy saving and carbon reduction is embodied in every business user PC model, in a further upgrading of green technology.
Anti-glare display technology to protect users' eyes
Besides the use of LED and multi-touch technology, MSI has also adopted anti-glare technology for its Wind Top AP2011 PCs. This anti-glare function works effectively in a wide range of usage environments, from office buildings where glare can be a serious problem, to large retail outlets with bright lighting. Anti-glare function helps to protect users' eyes, while also enhancing their working efficiency.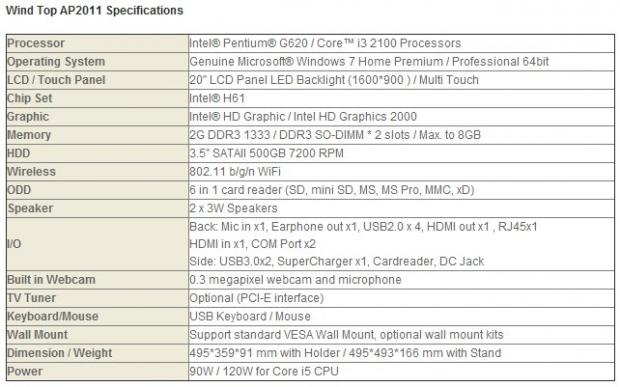 Last updated: Apr 7, 2020 at 12:05 pm CDT