Major Speed Advance in Audio and Video Access on Mobile Devices
Taipei, Taiwan - October 27, 2011 - ADATA™ Technology, a leading manufacturer of high-performance DRAM modules and NAND Flash application products, is expected to introduce its first micro SDHC UHS-I memory card in early November, aiming at the growing market of consumers who use smartphones and tablet PCs to enjoy real-time audio and video. The company brings a strong professional NAND Flash research and development team to the task of upgrading audio and video applications for smart mobile phones and tablet computers, and MicroSDHC UHS-I memory cards have the highest competitive advantage as regards cost effectiveness.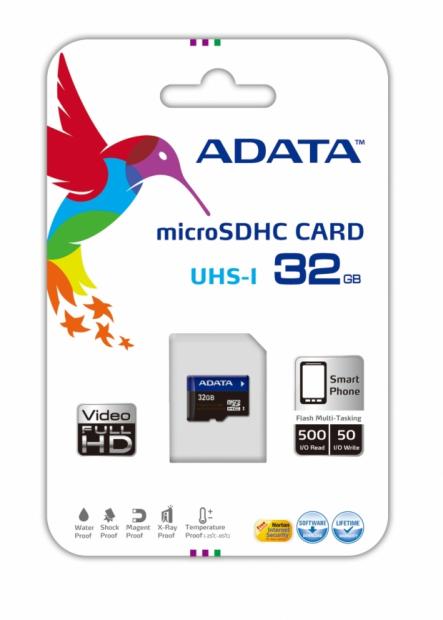 With the spectacularly increasing computing power of smart phones and tablet computers, the ability to simultaneously enjoy multiple applications such as web-browsing, 3D gaming and full-HD video recording/play-back requires unprecedented high IOPS performance on removable memory cards. Skip-free 1080p resolution video recording and fast application installing and launch are heavily affected by fast access speed of uSD cards. To address these needs, latest smart phones have already started supporting SD 3.0 UHS-I interface, which is four times the speed of SD 2.0 interface.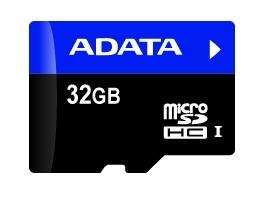 In view of this, ADATA will be introducing its first microSDHC UHS-I memory card, with read speeds of up to 20MB/second. The company is stressing random write (IOPS) speeds up to 50, with random read speed (IOPS) up to 500. This represents more than a tenfold improvement in small random file operation performance compared to the current uSD cards.
According to the new SD 3.0 UHS-I specification announced by the SD Association in 2010, the bus interface speed can reach 104 MB/second, with corresponding improvement in device performance. ADATA's microSDHC UHS-I memory card is backed by many years of professional R & D results. In addition to its outstanding product performance, ADATA is also emphasizing the cost-effective advantages of this technology, which allow consumers to enjoy SD 3.0 performance at a price that is close to that of SD 2.0 products.
The new microSDHC UHS-I memory cards will be offered in 4GB, 8GB, 16GB, 32GB and 64GB capacities, and will be sold through designated agents and distributors. For more product information, visit the ADATA website: www.adata-group.com.
Last updated: Apr 7, 2020 at 12:05 pm CDT