Stunning design, no setup hassle, and a full 4 watts of impressive sound
September 6, 2011, Taipei, Taiwan - Genius, a leading maker of computer peripherals, today releases a new two-piece 4 watt (RMS) SP-U150X stereo speaker system. Now available in the USA & Canada, this easy-to-use speaker system instantly upgrades any notebook, PC or Mac with vibrant stereo sound and music.
These sleek speakers make movies more vivid, enrich music, and bring games to life. The hassle-free USB and audio connectors provide buyers with a true, instant plug-and-play experience. Set up takes just seconds. No driver installation is needed.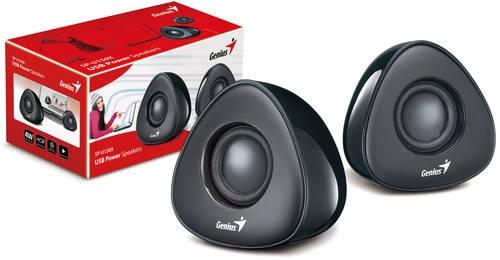 People can't help noticing the SP-U150X speaker's unique, eye-catching rounded triangle shape. The sleek finish with a glossy black outer shell and cool matte face complement any home or office. There's even a choice of color highlights: vivid yellow, green, or cool black. The SP-U150X is the ideal match that gives any desktop or notebook PC an extra touch of class.
Just 10cm high, there's no problem finding space for these speakers, but they can still provide clear, impressive sound, despite their compact size. They even offer a full frequency response range, with bass right down to 100Hz, a warm, rich mid-range, and treble up to 22,000Hz.
Moreover, with the Genius SP-U150X, there's no need to find space for yet another ugly power brick with its messy cables, either. Unlike some competing products, these speakers just plug directly into any suitable computer USB socket for power.
Weighing barely 0.4kg, these speakers are light and portable enough to carry and plug in anywhere, or to take along with a notebook PC, providing excellent sound and stylish looks on the move.
With very affordable pricing, classic chic design and truly impressive sound quality, the Genius SP-U150X stereo speaker system is certain to be very popular to consumers.
Package Contents:
• Two speakers with USB and audio cable
• One multi-language user's manual
Product information and photos are available at: http://www.geniusnet.com/wSite/ct?xItem=47656&ctNode=148&mp=1
About Genius
Genius is a leading international brand in computer peripherals. Established by KYE Systems Corp. in 1983, Genius offers PC products including computer mice, keyboards, web and security cameras, speakers, gaming peripherals, remote controls, headphones, digital cameras, digital camcorders and digital photo frames. The Genius consumer electronics range includes mobile phone accessories, Bluetooth headsets and iPod speakers. Since 2007, Genius has been one of Taiwan's top 20 Global Brands. For more information, you can visit the Genius website at www.geniusnet.com
Last updated: Apr 7, 2020 at 12:05 pm CDT