KINGMAX, a renowned first-rate memory module and USB flash drive manufacturer, has recently released its new SuperSpeed USB 3.0 flash drive, the ED-01. The USB 3.0 supports data transfer rates of up to 5Gbps which is 10 times faster than the traditional USB 2.0 running at 480 Mbps, and takes less than one minute to download a 20GB movie. In addition, the contoured design of the ED-01 boasts delicate and sleek curves, perfected with leather-like texture and a glossy metal trim, adding a sense of chic style.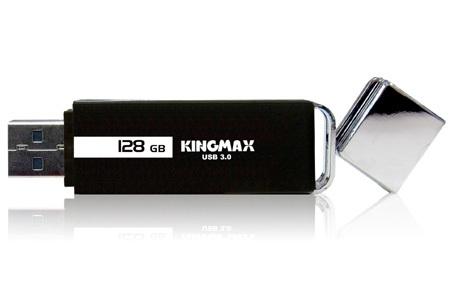 Adopting the USB 3.0 UFD Single Chip controller, the ED-01 USB 3.0's system is more stable and backward-compatible with USB 2.0. Moreover, using full-duplex bidirectional synchronization data transfer technology, the ED-01 read speed at 66 MB/sec and write speed at up to 41 MB/sec, way exceeding the performance of USB 2.0. Whether data is HD movies, photos or large presentation files with rich media, ED-01 will complete data transfers in an extremely short period of time. This new extreme flash drive not only meets the market's demands for large media file storage and transferring, but also transports the user to a super-speedy experience that every second counts.

The ED-01 USB flash drive has a unique design that prevents the cap from accidental drop-offs or loss. By attaching the cap onto the ED-01's tail end, you'll never have to worry about losing it-ever. Additionally, the delicate read/write LED indicator alerts users of the flash drive's status while in use.
At first sight, you'll notice the ED-01 sports a sleek contoured design that stands out from its competitors. Made with durable plastic combined with a special finishing procedure, the leather-like texture of the ED-01 is warm and smooth to the touch. Its elegant, low-profile design will demonstrate your taste for luxury and that you appreciate and use only the latest in technological advances.
The ED-01 USB 3.0 flash drive is fully compliant with the European Union's RoHS (Restriction of Hazardous Substances Directive) standards. It also passed CE certification in the EU, met the United States' FCC criteria and was awarded the latest Windows 7 certificate that guarantees its compatibility with operating systems. All KINGMAX products are manufactured under the most stringent quality control measures and rigorous tests, to ensure each and every product meets the highest standards for quality. The ED-01's product warranty further ensures consumers that they've purchased a reliable and reassuring experience.
Last updated: Apr 7, 2020 at 12:05 pm CDT