MSI unveiled its new generation CX480 laptop, with your choice of black, white, or summery blue as well as MSI's own flat brush finish for an all-new youthfully chic exterior. The new color film print technology gives it character and natural refinement that make it stand out from the crowd. The CX480 is the perfect mobile companion when you're enjoying some summer rays.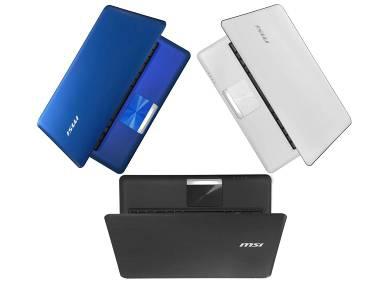 Eric Kuo, associate vice president for global sales, MSI Notebook, points out that not only is the eye-catching CX480 NB ideal for outdoor use, it packs Intel's high performance second generation Core i processor and nVidia GeForce GT520M discrete graphics card with 1GB DDR3 display memory. In addition, the ALS and ECO technologies give it up to 8.5 hours of battery time per charge, perfect for individuals that don't always have electrical outlets nearby.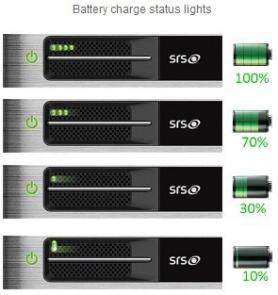 Stylishly summer
Brush metal finish: The CX480 has a brush metal finish that exudes a metallic luster, a touch pad with crystal diamond finish, and embedded speakers with layered design. The resultant stylish looks, reminiscent of a sophisticated sports car, make the CX480 stand out from the pack. Pick your color: In addition to black and white, the CX480 also comes in summer blue-a breezy change from the run-of-the mill NBs out there. Now, you can enjoy a notebook computer that brings you summer all year round.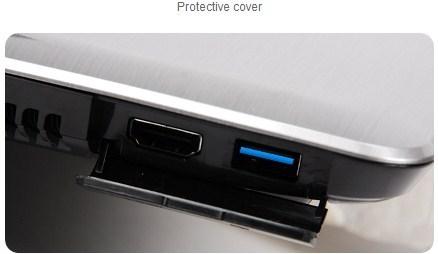 Tapered profile: The forward-tapering silhouette of the CX480 notebook computer is also evocative of F1 racers. The layering of materials that compose the sides cause the bright layers to blend into the delicate etching of the flat black strata, exuding an artsy yet unpretentious feel.
Boots up twice as fast
Intel 2nd generation Core i CPUs: The CX480 comes equipped with your choice of Intel's second generation Core i5-2410 (2.30GHz) or Core i3-2310 (2.10GHz) processor for superior performance. The CX480 also comes with MSI's own boot up technology which gets it up and running in half the time required by conventional laptops. The CX480 can also be preset so that when you flip open the lid with the power off, the laptop will immediately start booting up without the need to push the power button, saving time and increasing convenience. *Actual boot up speeds will vary with user settings.
GPU Boost: The CX480 features the nVidia GeForce GT520M discrete graphics card with 1GB of DDR3 display memory and supports DirectX 11 for enhanced performance. What's more, the automatic graphics switching in MSI's GPU Boost technology kicks them over to discrete graphics card mode to kick graphics processing up a notch or two. When performing general word processing tasks or surfing the Internet, it automatically cuts to the power-sipping integrated graphics chip mode, striking the ideal balance between performance and battery life.
Enhanced data protection
Time Stamp backup and restoration: Data backup and restoration are no longer a hassle with MSI's Time Stamp software. With one touch of a finger this new application backs up or restores data on the CX480 in seconds. You can set Time Stamp to back up automatically and it only takes ten seconds to finish data backup. You don't even have to turn your computer on to execute system restoration and get your computer back into tiptop health.
Air tight protection: Traditionally, hard drives are located in one corner of laptops, so if a laptop is dropped, there's a good chance the hard drive is going to be seriously damaged. With this in mind, MSI made a point of placing the hard drive away from corners to further safeguard the CX480. MSI also packed the hard drive in reinforced protection to form a sort of air bag, providing protection against shock.
Latest technologies for up to 8.5 hours on battery
ALS: The CX480 features ALS (ambient light system) which adjusts screen brightness from among 16 brightness levels depending on the ambient lighting, so your eyes don't feel fatigued even when you use the screen for long periods. It also extends battery time when the computer is in standby mode. In addition, the CX480 comes with MSI's own ECO engine power saving technology, so you can initiate Turbo Battery to significantly extend battery time with just one touch.
8.5 hours of battery power and fast recharge: Tests have shown that with a 6 cell battery, the CX480 can operate for as long as 8.5 hours on battery power. MSI's exclusive technology recharges it in half the time of traditional laptops. About 60 minutes is all you need to recharge to at least 80%. And so you can stay on top of battery charge status, MSI placed a set of four lights above the CX480's keyboard to the left. Four lights indicate fully charged, while three lights mean you have 70% battery power left. *Actual battery life and the time required to recharge the battery will vary with settings and how the laptop is used.
Friendly design
Intuitive smart function and instant scenario change key: Just press the "Fn" key and a window pops up, showing you frequently used functions, including screen brightness, volume, webcam, wireless network, mute, and standby. Now, turning on/off and adjusting functions is a breeze. What's more, simply depressing the function key twice lets you instantly switch wallpaper for various scenarios, such as work, meetings, personal, and home. The CX480's keyboard boasts greater responsiveness, so when you type, you can feel the keys respond, giving the keyboard a more solid feel.
Clutter-free design and all new heat dissipation design: The new generation CX480 laptop's all-new heat dissipation design places heat generating parts and components, like the processor, chipset, and graphics card, in the upper left corner of the chassis. The thermal block structural design then concentrates heat in that same area, so that the palm rest areas maintain a temperature on par with that of the human body to ensure comfort of use. Furthermore, traditional computer cable connector designs do not take user convenience into consideration, so cables tend to get in the way. MSI made it a point to put frequently used slots, like the USB 3.0 and HDMI, on the left side of the computer, while the DVD player is on the right to provide an obstruction-free area for the mouse.
One-touch BIOS updates: Updating BIOS is now easier than ever. MSI's new generation CX480 employs an all-new BIOS update system which allows you to automatically update BIOS under a Windows OS environment with one touch of the BIOS button. No more complicated steps.
Multimedia stereo sound
SRS PC Sound cinema-grade sound: The CX480 comes with new generation SRS PC Sound for natural wrap around, high fidelity sound whether you use the built-in speakers, external ones, or headsets. This machine is designed to satisfy your craving for crisp, clear sound.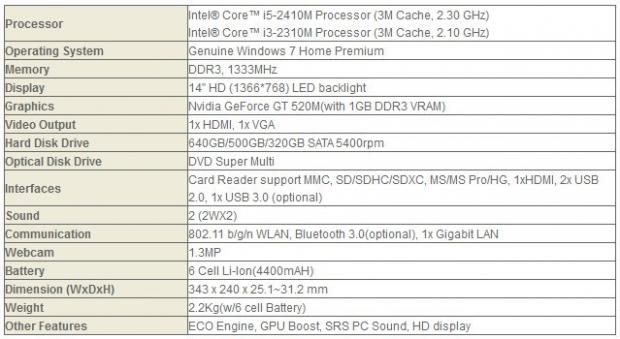 USB3.0 and Bluetooth 3.0: USB 3.0 and Bluetooth 3.0 come optional with MSI's CX480. New generation USB 3.0 boasts transfer speeds of 4.8Gbps-10 times faster than USB2.0. Bluetooth 3.0, which has data transfer speeds of 24Mbps, is three times faster than Bluetooth 2.1. In addition, the new generation CX480 notebook computer is equipped with a dust cover for the USB 3.0 and HDMI slots to protect them when they're not in use.
Last updated: Apr 7, 2020 at 12:04 pm CDT