The range of USB3.0 terminals is growing rapidly, but there are still newer PC systems barely equipped with suitable interfaces. Accessory specialist Sharkoon presents an internal USB3.0 hub, which provides easy access to four identical SuperSpeed ports on the front of the PC. The Sharkoon 4-Port USB3.0 Hub, with black front panel, is a separate 3.5" or 5.25" drive bay with the provided 5.25" mounting frame already pre-assembled.
It is connected to an external USB3.0 port on the main board on the PC's backside. For orderly feed through a 120cm long USB3.0 cable is enclosed with a pre-installed backplate. Power is supplied to the attached USB3.0 devices through the integrated 4-pin power supply connection. All four USB3.0 ports are each equipped with a LED status indicator.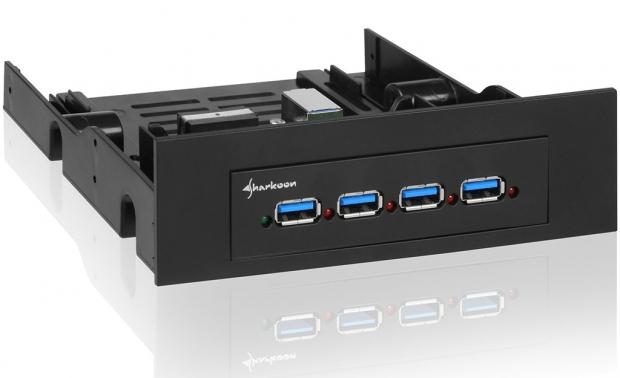 The Sharkoon 4-Port USB3.0 Hub is downward compatible with older USB standards, supports the operating systems Windows XP, Vista and 7, measures 67 x 103 x 26 mm (L x W x H) and weighs 67 g.
End customers can find the Sharkoon 4-Port USB3.0 Hub available immediately for the suggested retail price of 24.99 euros in authorized retailers.
Last updated: Apr 7, 2020 at 12:04 pm CDT