Kingston Technology Company, Inc., the independent world leader in memory products, today announced it has teamed up with SandForce Inc., a leader in high-performance SSD (Solid-State Drive) processors, to launch its first SATA Rev 3.0 (6Gb/s) based SSD targeted at enthusiasts, gamers, and performance users. The Kingston HyperX SSD feature the latest and most reliable SandForce controller to date, and is also available as a bundle with the HyperX Upgrade Kit for easy installation.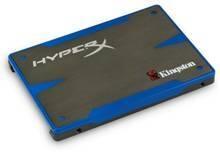 Shipping in 120GB and 240GB capacities, the HyperX SSD is based on SandForce SF-2281 controllers featuring SATA Rev 3.0 (6Gb/s). It allows for incredible sequential read/write throughputs of 525/480MB/s, IOPS of 40,000/60,000 (240GB), and SandForce DuraClass Technology to provide best in class endurance.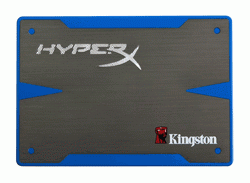 Enthusiasts have long known the Kingston HyperX brand as the industry leader in cutting edge memory. The new HyperX SSD continues this tradition of innovation and high performance by pairing the latest SandForce controller with Intel 25nm compute NAND (P/E 5K) to provide the performance and endurance that the most demanding users require.
"This launch is very exciting for us at Kingston. The SandForce controller allows us to deliver the high-end performance that is needed for power-users, gamers, and enthusiasts," said Ariel Perez, SSD business manager, Kingston. "Integrating a final production quality controller and firmware, and undergoing extensive testing has been an exacting process, but well worth the wait. By pairing SandForce's latest controller with Intel 25nm compute NAND (P/E 5K), we have built an SSD that meets the requirements set by true enthusiasts."
Key Features of the Kingston HyperX SSD:
• Intel 25nm Compute NAND (P/E 5K): 5K compute NAND provides significant endurance increase over standard 3K cycle NAND.
• Advanced Wear-Leveling Technology: Advanced algorithm ensures individual flash memory blocks are consumed at a very balanced rate enabling maximum endurance while maintaining optimal performance.
• User Configurable Over Provisioning*: The HyperX SSD allows for user configurable over provisioning, which enables the user to tweak the SSD's performance per their specific performance needs. The user can increase the size of the over provisioned spare area; consequently, reducing the overall capacity of the drive while increasing the speed and performance.
• TRIM and S.M.A.R.T Support: With additional support for both TRIM and S.M.A.R.T., the HyperX SSD is equipped with all essential tools enthusiasts, heavy users and gamers need to make the most of their PC's performance and drive endurance.
• DuraClass Technology: DuraClass Technology represents a set of NAND Flash management features that work in tandem to deliver world-class SSD reliability, performance, and power efficiency that differentiate SandForce SSD Processors from other Flash controllers.
• HyperX Upgrade Kit Includes:
o Acronis True Image HD migration software
o HyperX 2.5" Desktop Mounting Plate
o HyperX USB External Drive Bay
o HyperX Multi-Head Screwdriver
o HyperX SATA Data Cable
Kingston HyperX SSD Features and Specifications:
• Sequential speed:
o Sequential read 6Gb/s: 525MB/s
o Sequential write 6Gb/s: 480MB/s
• Sustained Random 4K Read/Write:
o 120 GB: 20,000 / 60,000 IOPS
o 240 GB: 40,000 / 60,000 IOPS
• Max Random 4K Read/Write:
o 120GB: 95,000 / 70,000 IOPS
o 240GB: 95,000 / 60,000 IOPS
• Form factor: 2.5"
• Interface: SATA Rev. 3.0 (6Gb/s) and Rev 2.0 (3Gb/s)
• Guaranteed: three-year Kingston warranty, 24/7 tech support
• Capacity1: 120GB, 240GB
• Storage temperatures: -40°C - 85°C
• Operating temperatures: 0°C - 70°C
• Dimensions: 69.85mm x 100mm x 9.5mm
• Vibration operating: 2.17G
• Vibration non-operating: 20G
• Operating shock: 1500G
• Power specs:
o 120GB: 0.455W (TYP) Idle / 1.6W (TYP) Read / 2.0W (TYP) Write
o 240GB: 0.455W (TYP) Idle / 1.5W (TYP) Read / 2.05W (TYP) Write

Last updated: Apr 7, 2020 at 12:04 pm CDT