Oslo, Norway - April 12, 2011 - Opera Software today released the Opera 11.10 browser, the newest update to Opera's desktop browser. Codenamed "Barracuda", it features improvements to two of Opera's most used features: Speed Dial and Opera Turbo.
Better-looking Opera Turbo
Ever deal with slow Internet connection speeds? By reducing the size of the webpage, the Opera Turbo feature in Opera 11.10 can boost browsing speeds by four times or more. In previous versions, this sometimes meant reducing the quality of images. Now, in the Opera 11.10 browser, overall image quality is improved. In our lab tests using a slow network, the new Opera Turbo produces pages that are, on average, 54 percent smaller and almost 40 percent faster to load than without Opera Turbo.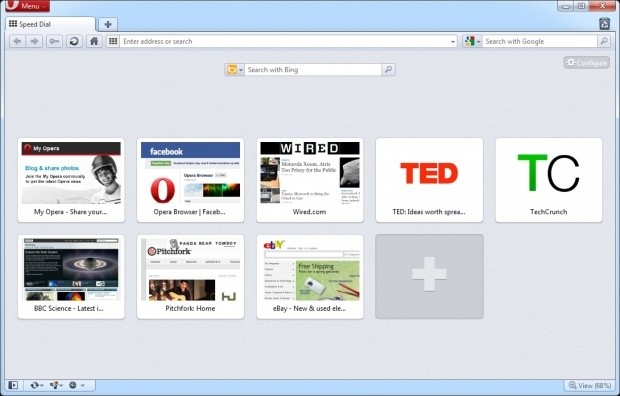 Here is a video that explains Opera Turbo: http://www.youtube.com/watch?v=D0VPwvSaCUg
Learn more about the Opera Turbo feature here: http://www.opera.com/browser/turbo/
"The Opera Turbo feature is crucial for anyone who travels or just has a slow Internet connection," said Jan Standal, VP of Desktop Products, Opera Software. "By reducing the size of the page, we can make browsing so much faster. So whether you're at a crowded Starbucks in San Francisco or are using a 3G modem in Sri Lanka, Opera Turbo can give you a better browsing experience."
More versatile Speed Dial
Speed Dial makes it easier and faster to access your favorite sites. The new browser gives you an unlimited number of dials to customize, thanks to the new Speed Dial flow feature. New layout choices, and an improved zoom slider in the configuration menu lets you arrange your Speed Dial to fit any monitor. While Speed Dial automatically adjusts layout to fit your screen, you can define the layout depending on your preference.
See the new Speed Dial in action here: http://www.youtube.com/watch?v=5_vxCY4BF_Y
Easier plug-ins
When you visit a page that requires Flash, the Opera browser can now download the plug-in automatically and install it in the background--a seamless, simple process.
More support for web developers
A new browser core makes the Opera 11.10 our fastest browser yet, but it also adds support for CSS3's multi-column layouts and linear gradients, the Web Open Font Format (WOFF) and Google's WebP image protocol.
More information for web developers is available here: http://dev.opera.com
Opera learns new languages
Now supporting more than 50 languages in total, the Opera 11.10 browser adds seven new languages: Afrikaans, Azerbaijani, Montenegrin, Malay, Tagalog, Thai and Uzbeck.
Opera's top features
For more than 15 years, Opera Software has consistently introduced new ideas to the browser. These innovations ensure Opera users stay ahead of the curve. Try our features for yourself and see what makes the Opera browser the most unique--and powerful--way to browse the Web.
Learn more about the smart features built into the Opera browser: http://www.opera.com/browser/features/
Download the Opera 11.10 browser here: http://www.opera.com/
About Opera Software ASA
Opera Software ASA has redefined web browsing for PCs, mobile phones and other networked devices. Opera's cross-platform web-browser technology is renowned for its performance, standards compliance and small size, while giving users a faster, safer and more dynamic online experience. Opera Software is headquartered in Oslo, Norway, with offices around the world. The company is listed on the Oslo Stock Exchange under the ticker symbol OPERA. Learn more about Opera at http://www.opera.com/.
Last updated: Apr 7, 2020 at 12:04 pm CDT