MSI Announces Wind U160MX Netbook
MSI has unveiled the beautiful 10.1-inch Wind U160MX netbook which packs Intel's dual-thread architecture-supporting Atom N455 CPU, DDR3 memory, and MSI TDE technology. The U160MX is powerful and its battery runs up to 8.5 hours on just one charge.
Eric Kuo, associate vice president for global sales, MSI Notebook, explains that the U160MX netbook is less than one inch thin and tips the scales at just one kilogram including the battery. The U160MX has a unique circular display axle and is sheathed in a brush finish black coating that protects against smudging. This elegant netbook also comes with a Chicklet keyboard, MSI's ECO Engine power-saving technology, Easy Face biometric software, the Easy Viewer photo manager, and the S-Bar tool bar. Stunningly beautiful and equipped with powerful MSI applications, you'll fall in love with it.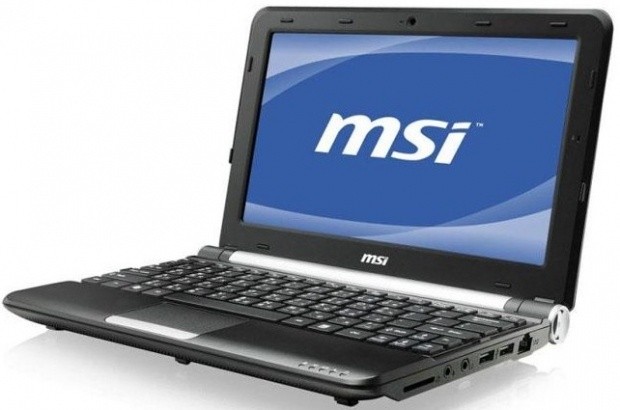 Ultimate in high tech
In a class of its own: The feather-light Wind U160MX features a display axle with a power button recessed into one end and an independent Chicklet keyboard set off by the shimmering silver glow of the touchpad mouse buttons. Meticulously crafted inside and out, the Wind U160MX is an elegant piece of work in a class of its own.
Chicklet keyboard: The U160MX also comes with MSI's Chicklet keyboard with each key independent from the others for solid, silent typing. Each stroke of the keyboard underscores the dedication put into the design and production of every detail.
10.1-inch LED screen refreshes in just 8 milliseconds: The Wind U160MX comes with a power-sipping 10.1" LED backlit display that refreshes in only eight milliseconds-more than twice as fast as traditional laptops, so it offers a smooth, clear, crisp picture when you watch movies and animation as well as better detail and richer colors. Now, you can have cinema-quality visual entertainment on a netbook.
High performance, extended battery life
Intel's latest Atom N455 processor: The Wind U160MX employs Intel's new generation Atom N455 processor and supports DDR3 memory. At 6.5 watts, it not only sips power, but also enhances performance by 10% and extends battery life by 15%.
TDE turbo technology: MSI's TDE (Turbo Drive Engine technology) instantly kicks the Wind U160MX into overdrive, so the system doesn't bog down when processing heavy-load applications, like image processing software.
ECO engine power saving technology: MSI's exclusive ECO technology allows the user to extend the Wind U160MX's battery life with the touch of a finger. You can choose from among five power management scenarios-Video Game, Film, Presentation, Word Processing, and Turbo Battery, effectively maximizing battery life. Actual tests show that the MSI Wind U160MX can run up to 8.5 hours on one charge. *Actual battery time will vary with differences in computer use and settings.
i-Charger: The U160MX netbook also comes with MSI's i-Charger technology which pumps more power through USB slots, so you can recharge devices up to three times faster. Now, while others are waiting for their mobile devices to recharge, you can be enjoying yours.
Exclusive applications
Easy Face biometric software: The Wind U160MX comes equipped with MSI's own facial recognition software which works in concert with the high definition webcam to protect data biometrically. Easy Face remembers passwords for MSN accounts as well as login passwords for websites and systems and can integrate all passwords for your personal accounts under one lock and key-your unique facial features. It remembers passwords, so you don't have to. What's more, the U160MX comes with Webcam Companion (an Internet webcam application), Visual Effect 2 (a conferencing application), and Print Creation (for printing), so this one machine can meet all of your needs.
S-Bar: The Wind U160MX boasts MSI's S-Bar toolbar, which consists of shortcuts for major OS programs and hardware as well as MSI's own applications. It allows you to control all system functions, auxiliary programs and applications as well as an array of programs, such as applications to save power and boost performance as well as MSI's multimedia software and the webcam, the projector, the wireless, Bluetooth, volume control, screen brightness, and standby mode. Operating multimedia was never easier.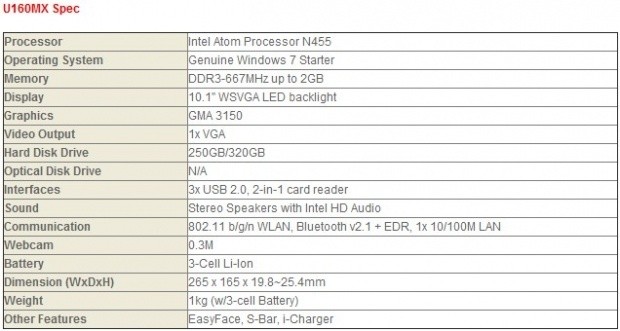 Last updated: Apr 7, 2020 at 12:04 pm CDT