Logitech HD Pro Webcam C910 Now Mac-Compatible
Works with iChat, Photo Booth, iPhoto, iMovie, FaceTime; Delivers HD Video Calls with Logitech Vid HD
Sydney, Australia - Jan. 5, 2011 -Logitech today announced that its flagship
Logitech® HD Pro Webcam C910
is now Mac-compatible - so you can make HD video calls and Full HD video recordings on a Mac® computer.
The newest Logitech HD webcam is not only plug-and-play ready with iChat®, Photo Booth® and FaceTime®, but with the latest Logitech software for Macs. Mac fans can now experience Full HD 1080p video recording and one-click uploading to Facebook™, YouTube® and Twitter™, as well as seamless integration with the editing and management functions of iPhoto® and iMovie®. And for video calls in HD 720p, Mac enthusiasts can now enjoy the fast, free and easy-to-use Logitech Vid™ HD for Mac.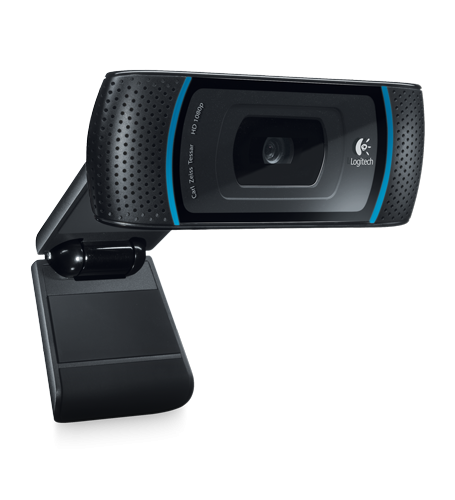 "Logitech is excited to bring HD 720p video calling and Full HD 1080p video recording to Mac fans for the first time," said George Saad, Director at Logitech Australia. "As well as providing plug-and-play ease, leading video quality and a variety of Mac applications, the top-of-the-line Logitech HD Pro Webcam C910 is now available with software that's designed specifically for Macs."
Compatible with All Major Video-Calling Clients
But the newest Logitech webcam is compatible with much more than just Macs. In addition to Apple applications such as FaceTime, iChat and Photo Booth, the Logitech HD Pro Webcam C910 will work with virtually every major video-calling client, including Skype®, Yahoo!® Messenger and Gmail™ Voice and Video Chat.
If you have a Mac computer, the Logitech HD Pro Webcam C910 is easy to set up. There's no need to purchase additional hardware - simply plug in the webcam and you'll be ready to make video calls on iChat and Face Time - as well as use the C910 webcam with Photo Booth and even QuickTime™.
The newest Logitech webcam also works with Windows®-based computers. And if you've already purchased the Logitech Webcam C910 webcam for your PC, and you also have a Mac, your webcam is now ready for making HD video calls on Logitech Vid HD with your Apple® computer.
HD in Every Way - From Video Calling to Stereo Sound
To bring you closer to the people you care about, the Logitech HD Pro Webcam C910 lets you record video in Full HD 1080p and make video calls in fluid HD 720p on Logitech Vid HD. It also features premium autofocus (even in extreme close-ups up to 7 cm) and crystal clear, stereo audio with two mics - one on either side of the webcam lens - so your video will always be razor sharp.
But Logitech did not stop at top-of-the-line performance. At just 25 millimeters, the exceptionally thin C910 webcam adds a modern minimalist touch to any MacBook®, iMac® or Mac Pro®.
One-Click Upload to Facebook, YouTube and Twitter
The Logitech Webcam C910 webcam makes it quick and easy to record, edit and upload Full HD 1080p videos to Facebook or YouTube, or post a video link to Twitter, so your video looks sharp when it goes viral. (To record and upload Full HD 1080p video, you'll need to download the Logitech Webcam Software for Mac at http://www.logitech.com/c910.)
Logitech Vid™ HD - Fast, Free, Easy HD Video Calling
A video call is a powerful way to connect face-to-face with your family and friends during the holidays. Logitech's newest webcam makes it fast, free and easy thanks to Logitech Vid HD. And with the introduction of Logitech Revue™ with Google TV™, you can call your friends in HD 720p, whether they're using Vid on a Mac, PC or Logitech Revue with a Logitech TV Cam. Vid HD is free for anyone - you can download Vid HD for Mac at http://www.logitech.com/vid.
10-Megapixel Photos
When you want to snap a photo of yourself or your family to send to loved ones, the C910 delivers brilliant 10-megapixel pics that you can e-mail with a few clicks. Plus, since it's compatible with iPhoto, you can touch up your snapshots before you post them to Facebook.
Pricing and Availability
The Logitech HD Pro Webcam C910 is currently available in Australia for a recommended retail price of $AU 149.95 at JB Hi Fi, Officeworks, Dick Smith Electronics, Harvey Norman, WOW, Bing Lee, Altech and Dell stores nationally. The Logitech Webcam Software for Mac is available for free download at: www.logitech.com/c910. For more information on the Logitech HD webcams, please visit www.logitech.com/webcams.
About Logitech
Logitech is a world leader in products that connect people to the digital experiences they care about. Spanning multiple computing, communication and entertainment platforms, Logitech's combined hardware and software enable or enhance digital navigation, music and video entertainment, gaming, social networking, audio and video communication over the Internet, video security and home-entertainment control. Founded in 1981, Logitech International is a Swiss public company listed on the SIX Swiss Exchange (LOGN) and on the Nasdaq Global Select Market (LOGI).
Last updated: Jul 27, 2022 at 04:07 am CDT