Opera Mobile 10.1 beta for Android available
Turbo charge your Android
Oslo, Norway - 9 November 2010
Android users now have a new choice when it comes to browsers. Today, Opera Software announced that Opera Mobile 10.1 beta is available in the Android Market for free, providing the many millions of Android users better browser performance and an improved user experience.
Android users are known to appreciate speed and functionality. They are also known for their demands for new and improved software for their handsets, as well as an almost emotional relationship to their phones. Now, they have the opportunity to run Opera Mobile, made by a company that shares their passion for a better browser.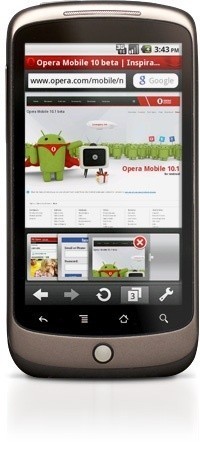 "Android users now have a better choice when it comes to using a browser on their mobile devices," said Lars Boilesen, CEO, Opera Software. "With Opera's new browser for Android, we give users the opportunity to access the Web, using the best tools available."
Opera Mobile boasts faster page loading than other browsers and a highly fluid panning, scrolling and smooth zooming experience. Speed Dial, another Opera innovation, gives quick and easy access to the user's favorite websites while the password manager saves the user from cumbersome mobile-phone typing. Additionally, users will experience better browsing on slow or congested networks with Opera Turbo, which provides up to 80 percent data compression.
Opera Mobile 10.1 Beta for Android also features:
- Easy tab management with visual tabs
- Opera Presto rendering engine
- Sync your bookmarks across devices with Opera Link
- Ability to be set as the default browser
- Geolocation support
- SVG support
Download
Download Opera Mobile directly to the Android phone for free from the Android Market or at m.opera.com/next. For more information, visit http://www.opera.com/mobile/.
Opera Mobile is available for Android users in the following 18 versions: Chinese Simplified, Chinese Traditional, Czech, Danish, Dutch, English, French, German, Italian, Japanese, Korean, Norwegian Bokmål, Norwegian Nynorsk, Polish, Portuguese, Russian, Spanish and Swedish.
About Opera Software ASA
Opera Software ASA has redefined web browsing for PCs, mobile phones and other networked devices. Opera's cross-platform web-browser technology is renowned for its performance, standards compliance and small size, while giving users a faster, safer and more dynamic online experience. Opera Software is headquartered in Oslo, Norway, with offices around the world. The company is listed on the Oslo Stock Exchange under the ticker symbol OPERA. Learn more about Opera at http://www.opera.com/.
Last updated: Apr 7, 2020 at 12:03 pm CDT