Thecus® Technology Launches N4200PRO NAS Server
The best Thecus® four-bay Zero-Crash NAS just got better
11/05/2010- The original N4200 made huge waves in the hardware community with its innovative features and functionality. Today, Thecus® Technology, the Creator in Storage, is proud to announce its successor: the N4200PRO. Packing an all-new Intel® Atom™ processor and DDR3 memory, the N4200PRO takes the original Zero-Crash NAS and puts performance into overdrive.
Performance freaks are going to love the new N4200PRO. Plentiful storage management options including RAID 0, 1, 5, 6,10, JBOD are present, as are convenient features such as hot-swap, hot-spare, online RAID migration and expansion, as well as auto-rebuild.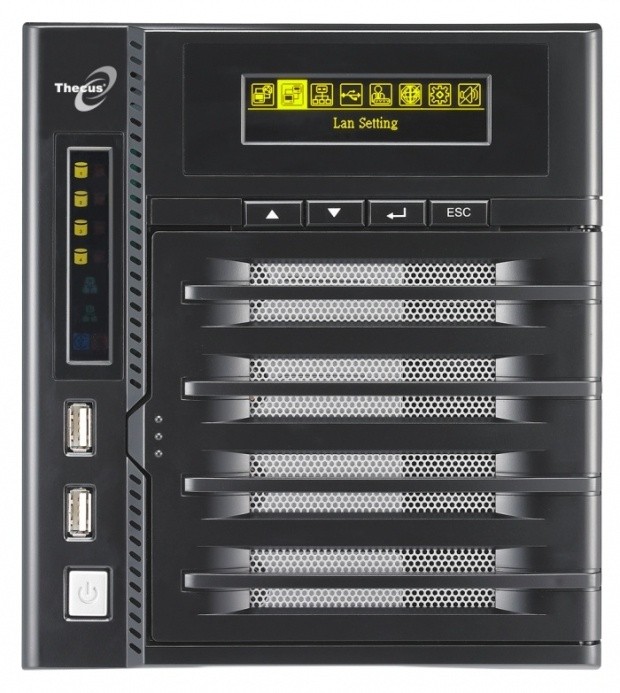 Of course, the N4200PRO brings over the most popular features from its predecessor. Dual DOM OS Redundancy protects your system's critical software with a secondary DOM that reprograms the primary DOM should it fail for any reason. A Mini-UPS protects the N4200PRO from sudden power outages, allowing the system to store unwritten data to the hard disks and safely shut down. The N4200PRO also retains the dual displays of the N4200, sporting an LCD display for system information, and a colorful OLED display that allows you to change a variety of system settings without having to boot a single computer. Finally, a full suite of useful features including an iTunes Server, Photo Web Server, Media Server, FTP Server, Print Server, Download Manger and more are included with the N4200PRO, making it not only one of the most powerful, but also the most robust storage devices available today.
"Upgraded with a next-generation Intel Atom processor and DDR3 memory, we've taken the original Zero-Crash NAS and made it even better," said Florence Shih, Thecus® Technology general manager. "Packing the latest technology and signature Thecus® features and friendliness, the N4200PRO is by far the most powerful, feature-packed, and secure four-bay NAS we've ever devised."
The N4200PRO is paired with Intel® Atom™ D525 processor coupled with 1GB of high-speed DDR3 memory. This combination of one of the latest Intel Atom processors and next-generation DDR3 memory delivers vastly increased file transfer performance, more concurrent connections, and an overall smoother operating experience. This boosted processing power will come into play when managing the N4200PRO's four SATA bays' worth of storage, which enables a maximum of 8TB of storage space.
"Many small businesses are deploying network attached storage appliances as their first company solution," said David Tuhy, general manager, Intel Storage Group. "Our newest Intel Atom processor with integrated RAID storage features enables companies like Thecus to deliver the energy efficiency, performance and data protection required to meet the needs of its customers."
For more information on the N4200PRO, check out:
http://www.thecus.com/products_over.php?cid=10&pid=427&set_language=english
Last updated: Apr 7, 2020 at 12:03 pm CDT