Turtle Beach Announces DX11 7.1 Channel Gaming Headset
Turtle Beach, a leader in premium gaming headsets and audio entertainment accessories, today announced its new Ear Force DX11 7.1 Surround Sound System Bundle, available exclusively at Best Buy stores nationwide. The Ear Force DX11 combines the exceptional audio quality and comfort of Turtle Beach's battle-tested Ear Force X11 gaming headset with the Ear Force DSS Dolby 7.1 surround sound processor. This dynamic duo delivers a rich and immersive surround sound experience with full chat support during Xbox 360 or PC gaming and while enjoying movies, TV and music.
"The DX11 headset bundle represents the ultimate in value and performance for discriminating gamers seeking a Dolby surround sound experience." Explains Michael Arzt, vice president, marketing and business development at Turtle Beach. "Players will gain a competitive edge and greater enjoyment of all their games (and movies) thanks to the well-defined directional cues and immersive power of the DX11."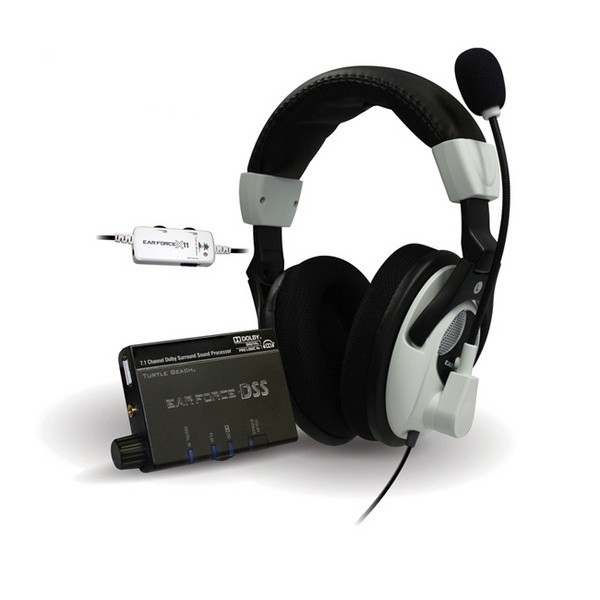 With the Ear Force DX11, video game and movie fans will be able to hear distinct audio events happening all around them, greatly enhancing the overall. DX11 users playing games and watching movies on their game consoles will actually hear the 7.1 surround sound from certain 5.1 channel audio tracks via additional "hidden" channels called Dolby EX.
Visually compatible with the Ear Force X31 and X41 wireless headsets, the X11 sports a black and white design motif with circum-aural ear cups, a deep-cushioned headband and long, adjustable boom mic. For added comfort, the ear cups have been made larger with deep fabric-mesh cushions that sit comfortably around the ears, allowing for enhanced game play for longer periods of time. An extra-long 16-foot cable makes it easy to move around the room while playing XBOX games.
Other key features and user benefits of the Turtle Beach Ear Force DX11 include:
• Variable bass boost to enhance the sound of explosions, gunshots and additional deep bass effects to increase the realism of games and movies;
• Large, acoustically-tuned ear cups with 40mm drivers produce superior audio with deep bass for all types of games, digital music, and entertainment.
• S/PDIF-to-analog converter that can down-mix multi-channel audio from digital devices to 2-channel analog headphone output. This enables digital sources to be connected to devices such as home theater receivers via standard stereo analog audio connections;
• Front panel USB pass-thru that allows other USB devices to be connected for power or data, eliminating the need for a power adapter and reducing the number of USB ports needed in a gaming or entertainment setup.
• Available AC power option from wall outlet via an optional Turtle Beach USB-to-AC power adapter (which can be purchased via TurtleBeach.com)
• Independent volume controls for game and voice signals to balance XBOX LIVE chat and game sound.
The Ear Force DX11 will be available exclusively through Best Buy and BestBuy.com. Other Turtle Beach premium gaming and audio products are available at Best Buy, GameStop, Amazon.com, Newegg, Meijer, Best Buy Canada, The Future Shop and other fine retailers.
Last updated: Apr 7, 2020 at 12:02 pm CDT