A message from Brian Slattery, Country Manager Australia and New Zealand , AMD
Today is an exciting day for AMD and I wanted to reach out to you directly with the news. AMD is transitioning the ATI brand to AMD with the first products to carry the AMD Radeon™ brand to be launched later this year. Similarly, graphics-related technologies such as ATI Eyefinity multi-display technology, and ATI Catalyst™ drivers, will change over to the AMD brand over the course of the next few months. Existing products will continue to maintain the ATI brand straight through to their end-of-life (EOL).
The rebranding from ATI to AMD has been an option since AMD and ATI first came together as one company four years ago. Based on market research and feedback from our partners, the time is right to fully consolidate the company under the AMD brand. We believe strongly, based on our research, that replacing ATI with AMD will be beneficial to strengthening the AMD brand and that associating AMD with the product and technology brands of Radeon, FirePro, Eyefinity and others has a net positive effect.
I have included a graphic below to illustrate the new AMD Radeon™ and AMD FirePro™ branding. I have also included the following letter from John Volkmann, corporate vice president, Brand Marketing at AMD Inc.,which adds perspective on this milestone.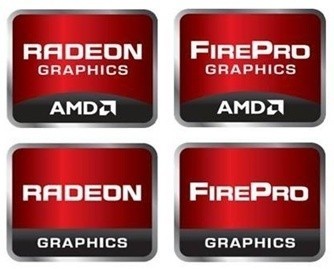 Our AIB and OEM partners have clearly indicated support of this move and in many cases have stated that they expected the transition to have happened even sooner than today. Nevertheless, I recognize that you may have your own questions or feedback about this milestone and I am keen to hear from you.
AMD has a great graphics business, its helped to redefine how consumers shop with VISION, and AMD Fusion technology is right around the corner. As always, I appreciate your generous partnership, and look forward to continuing to mutually grow our business.
Brian Slattery
Country Manager Australia and New Zealand , AMD
A letter from John Volkmann, Corporate Vice President, Brand Marketing, AMD
The personal computer is rapidly evolving ...from yesterday's productivity tool to today's essential information, communication and entertainment resource. Seemingly overnight, virtually any PC user is at once a photographer, video producer, author and publisher, with a voracious appetite for HD video quality content.
Knowing that people have changed how they are using PCs, we are responding by changing how we help design personal computers as well the way we market them. And the industry is taking notice. For example:
• Our "VISION Technology from AMD" initiative, launched less than a year ago, has been integral to the tripling of our notebook design wins this year over last. The VISION Technology message is simple: when you want a visually superior PC, you should look for the VISION sticker - it's that easy. VISION is tiered to allow consumers to easily self-qualify based on the activities they want to do on their computer.
• Over the past nine months, we introduced the industry's only complete family of DirectX 11 graphics products- enabling the world's most vivid PC experiences. As a result, AMD recently regained market share leadership in what has become a booming discrete graphics business. Additionally, Apple's recently refreshed iMac and Mac Pro computer lines feature AMD graphics.
• Recently we demonstrated our first AMD Fusion Accelerated Processing Units or APUs - and we expect to begin shipping our low power "Ontario" product later this year.
• Finally, with Intel subject to ongoing governmental scrutiny as to its compliance with antitrust enforcement orders entered against it in the U.S., Europe, and Asia, AMD's customers and partners have the freedom to make purchase decisions without fear of retribution.
AMD is on a roll, with Vision Technology - a refreshingly new usage-based marketing approach - as well as renewed leadership in the increasingly important discrete graphics market, and the upcoming launch of our first AMD Fusion products, engineered to reignite a whole new round of innovation in the IT and CE world. Now, in consultation with customers and enthusiasts worldwide, we are transitioning our ATI product family to the AMD brand later this year. This move will allow us to speak with one voice and focus our brand efforts, a very real benefit when striving to increase brand awareness on a global scale.
We may be saying goodbye to the brand, but the spirit of ATI lives on - in our AMD Radeon™ and AMD FirePro™ graphics products, our VISION Technology platforms and soon, in every AMD Fusion APU.
Thank you for your continued support,
John Volkmann
Corporate Vice President, Brand Marketing
Last updated: Apr 7, 2020 at 12:02 pm CDT