Puget Systems Delivers Silence to Performance Computing
Serenity SPCR Edition from Puget Systems is Certified By Silent PC Review as One of the Quietest PCs Available at 14 dBA@1m at idle, and 18 dBA@1m at full CPU/GPU load.
SEATTLE, WA - Puget Systems (www.pugetsystems.com), a boutique integrator of custom PC systems for enthusiasts, gamers, consumers and SMB markets, today announced a new addition to their popular line of Serenity PCs. The new Serenity SPCR Edition, their most quiet offering to date, has been certified quiet and reliable by Silent PC Review (SPCR).
"The Puget Serenity is a welcome addition to SPCR-certified silent PCs." wrote Mike Chin, founder and owner of Silent PC Review. "It is a carefully crafted high performance computer that compares well with any other computer of similar components in mid-2010, with an acoustic footprint that is very small. The noise of this system will hardly be audible in many environments, and certainly not in any ordinary office. At the same time, the Serenity is as well cooled as any PC around, which bodes well for a long and stable usable life."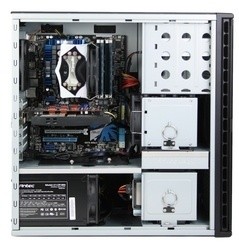 Silent PC Review certified the system with a measured sound pressure level of just 14 dBA@1m at idle and 18 dBA after an hour at full system load, commenting the readings were "about as low as we've measured." Their full review and certification is available at
http://www.silentpcreview.com/Puget_Serenity
.
"Puget Systems has long been known as a leader in quiet computing, and with the launch of the Serenity SPCR Edition, we've set out to set an even higher standard," said Jon Bach, president of Puget Systems. "Our rigorous testing and thermal imaging have allowed us to take on the challenge of providing excellent quiet cooling without sacrificing high performance. The Serenity is a product that takes our best practices, and packages them into a highly optimized configuration ideal for home computing, gamers and for the professional workspace. We have to turn off our monitors to test it, because the buzz from the monitors is louder than the system!"
Pricing and Availability
The Puget Serenity Series is available in three models. The new Serenity SPCR Edition certified by Silent PC Review is available immediately with prices starting at $1250.00. For more information, or to custom tailor a Serenity system, please visit (http://www.pugetsystems.com/serenity.php). Customers ordering online using the Puget Systems
Serenity SPCR Edition configurator
will have their new systems shipped within 5-7 business days.
About Silent PC Review
SPCR is dedicated to reviews, news and information about quiet, low noise, and/or silent computers and components as well as their energy efficiency and thermal performance. For more information, please visit http://www.silentpcreview.com/ .
About Puget Systems
Puget Systems is a specialized integrator of custom personal computing systems meticulously designed to exceed the discriminating requirements of consumers, enthusiasts, gamers and businesses in multiple industries. Puget Systems combines industry-unique custom innovations, the highest quality leading-edge components with an unparalleled commitment to personal service and support. Founded in 2000, Puget Systems is headquartered in its new facility in Auburn, Washington. For more information, please visit www.pugetsystems.com
Last updated: Apr 7, 2020 at 12:02 pm CDT