Browse the Web with Opera on Acer LumiRead
Oslo, Norway, and Taipei, Taiwan - June 01, 2010
Now you can browse the Web seamlessly with Opera on e-readers. Acer, the world's second largest PC vendor, has selected Opera Devices SDK to bring the full Web browsing to its new LumiRead. With its intuitive user interface design and easy access to the wealth of e-book resources on the Internet, the Acer LumiRead uses Opera to deliver Web content directly to its 6-inch, E Ink screen.
The Acer LumiRead comes with a full web browser powered by Opera Devices SDK 10.30 for Linux. Opera and Acer have worked together to make browsing online content on the e-reader device an enjoyable experience. The Acer LumiReader can enable e-read mode on e-book websites without any further customization required. The sub-screen panel shows the overview of the areas users are browsing, which enhances reading efficiency and is made possible by Opera's page-thumbnail feature. To navigate the Web intuitively with the e-reader, users can also benefit from Opera's spatial navigation by simply clicking the up and down arrows on the navigation pad to move between links in web pages or between menu items swiftly.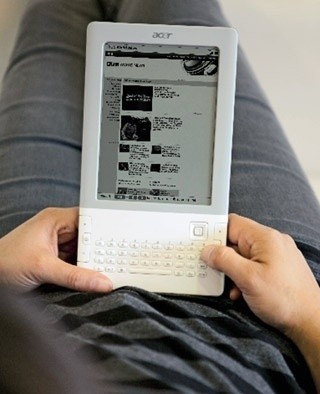 "Opera's history and expertise on the Internet platform and across devices establishes us at the forefront of industry innovation," said Lars Boilesen, CEO, Opera Software. "Acer LumiRead gains the power of Opera's innovative web technologies to delight its users with a smooth browsing experience on the E Ink devices."
Opera Devices SDK 10.30 for Linux uses Opera Presto 2.5, the same core engine as Opera Desktop and Opera Mobile. It has a great support for web and industry standards. It also provides support for extended validation certificates and fraud protection, which ensure users can browse safely with the Acer LumiRead.
About Opera Software ASA
Opera Software ASA has redefined web browsing for PCs, mobile phones and other networked devices. Opera's cross-platform web-browser technology is renowned for its performance, standards compliance and small size, while giving users a faster, safer and more dynamic online experience. Opera Software is headquartered in Oslo, Norway, with offices around the world. The company is listed on the Oslo Stock Exchange under the ticker symbol OPERA. Learn more about Opera at http://www.opera.com/.
Last updated: Apr 7, 2020 at 12:02 pm CDT