Kingston Technology Adds 'blu' to HyperX Lineups
Entry-Level Memory Newest Addition to HyperX Family
Fountain Valley, CA -- May 25, 2010 -- Kingston Technology Company, Inc., the independent world leader in memory products, today announced the release of an entry-level line of HyperX® memory modules for overclockers and gamers. The HyperX 'blu' memory modules have a new look, run at standard JEDEC speeds and timings, and have headroom for enthusiasts to push the performance envelope.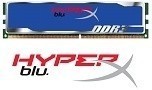 "The enthusiast community knows the HyperX name is synonymous with high speed, high quality and stylish design. HyperX blu enables us to bring these features to market at a lower price point," said Vincent Kim, HyperX product manager, Kingston®. "blu is the latest addition to the HyperX family in our ongoing strategy to match HyperX products with the various enthusiast market segments."
HyperX blu is available in DDR3, 1600- and 1333MHz 4- and 2GB kits of two. blu is also available in DDR2 800MHz, single modules and kits of two. Kingston HyperX memory is backed by a lifetime warranty and free 24/7 technical support. For detailed information please visit the Kingston Web site at www.kingston.com.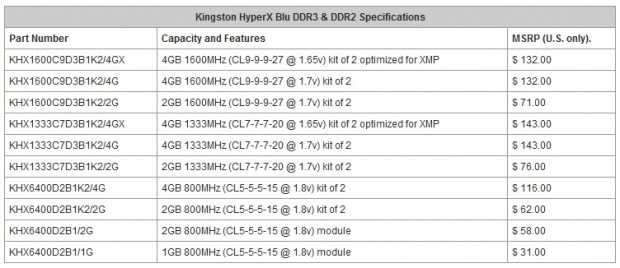 About Kingston Technology Company, Inc.
Kingston Technology Company, Inc. is the world's largest independent manufacturer of memory products. Kingston designs, manufactures and distributes memory products for desktops, laptops, servers, printers, and Flash memory products for PDAs, mobile phones, digital cameras, and MP3 players. Through its global network of subsidiaries and affiliates, Kingston has manufacturing facilities in California, Taiwan and China, and sales representatives in the United States, Europe, Russia, Turkey, Ukraine, Australia, New Zealand, India, Taiwan, China, and Latin America. For more information, please call 800-337-8410 begin_of_the_skype_highlighting 800-337-8410 end_of_the_skype_highlighting or visit www.kingston.com.
Last updated: Apr 7, 2020 at 12:02 pm CDT