Become an ASRock Facebook Fan, Win a Free ASRock Motherboard
Taipei, Taiwan, 12 April, 2010 - ASRock Inc, the worldwide famous motherboard manufacturer today announces the launch of a global lucky draw activity. This activity coincides with the latest announcement of AMD family motherboards - 890GX/880G/870 chipset. ASRock prepared three latest AMD motherboards as prizes to give away to ASRock fans!
To express gratitude for ASRock fans' support, there will be a lucky draw for all ASRock fans with the winner receiving an ASRock latest AMD Series Motherboard - 890GX Extreme3, 880G Extreme3 and 870 Extreme3. As long as you are the ASRock Facebook fan, you are qualified to attend this event and try your luck right away! The program will be expired on May 16th 2010. The winners will be announced on May 17th 2010 at ASRock Facebook and official website. If you are already an ASRock fan, don't worry, you're still qualified to attend this lucky draw.
Just quick join ASRock Facebook Fans Club, and you could be one of the lucky winners... we have three prizes left to give away! The earlier you become ASRock facebook fan, the more chance you will be our winners.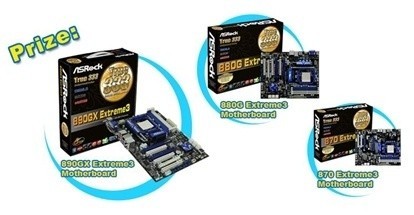 What's Special on ASRock 890GX/880G/870 Motherboard?
As part of UCC [Unlock CPU Core] and True333 line-up, ASRock 890GX Extreme3, 880G Extreme3 and 870 Extreme3 deliver exceptional upgrade capability, reliability and faster data transfer performance.
Exclusively equipped with an ASRock UCC Chip, these three boards are able to unleash the locked CPU core potentials and support the outstanding UCC [Unlock CPU Core] function. ASRock UCC allows users to enjoy an instant performance boost by simply tuning on the UCC switch on BIOS. Enabling the UCC feature in BIOS, the CPU cores might be upgraded from X2/X3 to X4, and even some of the CPUs could increase L3 cache size up to 6MB.
Utilizing today's most demanding technologies - USB3.0, SATA3 and eSATA3, these three boards are ensured to provide you the fastest data transfer performance. ASRock True 333 motherboard series offer the unmatched performance with the onboard acceleration of the NEC SuperSpeed USB3.0 with advanced 10X faster speed; SATA3 technologies from Marvell with up to 6Gbps data transfer speed, and the most convenient connectivity of eSATA3 devices. To enjoy a completely true computing, ASRock True 333 series motherboards can run the PCI-E for VGA card, SATA3 and USB 3.0 at full speed simultaneously.
Keep Close to all the action from ASRock!

There is always something extraordinary going on at ASRock Facebook! Keep your eyes peeled for exclusive technology offers from ASRock!
Last updated: Apr 7, 2020 at 12:01 pm CDT