Super Talent Introduces Encrypted USB 3.0 SuperCrypt Drive
The USB 3.0 Flash Drive that Delivers Secure Performance in Capacities up to 256GB
San Jose, California - March 2, 2010 - Super Talent Technology, a leading manufacturer of Flash storage solutions and DRAM memory modules, today announced the new USB 3.0 SuperCryptTM drive which features outstanding performance and supports AES hardware encryption. Available in 16GB, 32GB, 64GB, 128GB and 256GB capacities, this new drive supports USB 3.0 speeds of up to 240MB/s. Downloading a 600MB movie takes a mere 7 seconds with this new drive.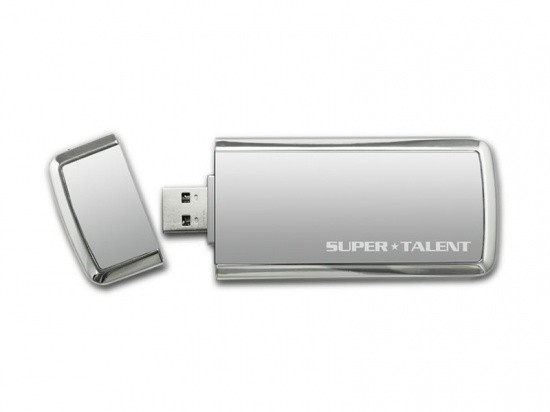 Measuring 95 x 34 x 15.4 mm, the new SuperCrypt Drive requires no separate cable and is fully backward compatible with USB 2.0 ports, at USB 2.0 speeds. Super Talent offers two AES encryption options, both of which include the STT encryption utility for password control: the SuperCrypt drive features 128-bit ECB encryption, while the SuperCrypt Pro features 256-bit XTS encryption for very robust security. The USB 3.0 SuperCrypt drive will be available in March from Super Talent resellers worldwide. Interested parties can
register here
for USB 3.0 product availability updates.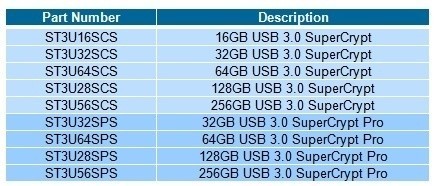 "SuperCrypt, the third product in our USB 3.0 lineup, is the perfect blend of security, performance and value and underscores Super Talent's commitment and leadership in the USB 3.0 market", said Super Talent COO, C.H. Lee. Super Talent now offers three different USB 3.0 lines with features and capacities to meet the needs of virtually any high performance storage need.

The company's USB 3.0 RAIDDriveTM, ExpressTM drive and SuperCrypt drive products are all based on Super Talent patented technology and are protected under US Patent # 7457897.
Last updated: Apr 7, 2020 at 12:01 pm CDT