A-DATA Introduces Newest Portable HDD CH94
Your Personalized Digital Pocket Diary
Taipei, Taiwan - January 18, 2010 - A-DATA Technology Co., Ltd., the worldwide leader in DRAM memory and Flash application products, introduced its latest Portable HDD, the CH94. Resembling the shape of a notebook, the ergonomic streamlined enclosure of CH94 gives a smooth touch as if an actual diary is held in hand. With the thickness just less than 20mm and the built-in wrap-around USB cable, CH94 is neatly designed to fit right in your pocket. Providing both convenience and easy portability, CH94 is the perfect companion for users who need be constantly on the go.
Personalize, Accessorize, Make It Mine
Besides its compact design, CH94 is also an ideal external storage device for those who are keen to express their unique individuality. Users are free to personalize their own CH94 with the self-adhesive letter stickers that come with the package. This unique DIY feature makes CH94 a fun hard drive to play with. The smooth surface of CH94 enclosure allows users to decorate the drive freely with their own original creativity.

CH94 is offered in four colors of black, white, pink and aqua blue, along with a full range of capacity from 250GB to 640GB. It supports all the latest operating systems via the simple plug-and-play, high-speed USB 2.0 interface. Users of A-DATA portable HDDs can also download value-add software HDDtoGO, OStoGO (no registration required), Norton Internet Security 2010 (60-day trial) for free and enjoy enhanced mobility and security with just few mouse clicks away. All A-DATA portable HDDs are backed by 3-year product warranty.
Win Free Portable HDD Now!
Celebrating the launch of new corporate identity, A-DATA is giving out free portable hard drives and other cool storage gadgets. Enter to participate in our online event 'Fly•Catch•GO!' and have a chance to win great prizes. For more information, please visit
http://www.adata-group.com/event/Fly-Catch-Go/en/
.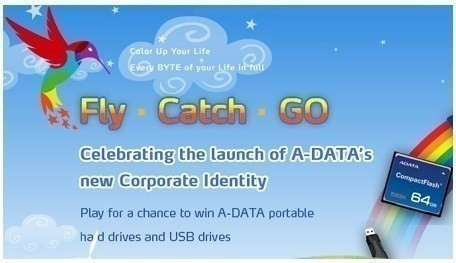 About A-DATA
A-DATA Technology, the world's 2nd largest vendor of DRAM Modules (iSuppli, May 2009), 4th largest of USB Flash Drives (Gartner, May 2009), and the Top 20 global brand in Taiwan, provides complete memory solutions, including DRAM Modules, USB Flash Drives, Memory Cards, Solid State Drives and Portable Hard Drives. Committed to constant innovation, A-DATA delivers first-rate quality and industry-leading product performance to worldwide customers. Widely known for its distinctive design, A-DATA products are internationally recognized by Germany's iF Design Award, Reddot Award, CES Best of Innovations Award, Japan's Good Design Award, Best Choice of Computex Award, and Taiwan Excellence Gold Award. For more information, please visit our website at www.adata-group.com
Last updated: Apr 7, 2020 at 12:00 pm CDT