Nokia E72 in stores now
November 16, 2009
Espoo, Finland - The highly-anticipated Nokia E72, a device tailor-made for business and personal messaging is now available in stores. To coincide with the arrival of the Nokia E72, Nokia has also released research* revealing that more people rely on email than on traditional phone calls or text messaging when sending and responding to critical information.
Speaking about the research results, Nokia vice president Ukko Lappalainen said, "The research shows that people are spending an average of five full days per year - equivalent to a full work week - responding to emails. Half of us (46 percent) choose email over voice or text to send and receive important information. The Nokia E72 was designed exactly with this kind of person in mind - it allows the owner to be more responsive and communicate how they want, whenever they want and wherever they are."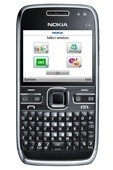 The Nokia E72 builds on the formula from Nokia's most successful full QWERTY keyboard device, the Nokia E71, and adds important new functionality such as desktop-like email and chat experiences. Morevoer, the latest version of Ovi Maps with A-GPS navigation and compass, an optical navi key and 5 megapixel camera are all packed into the sleek, beautifully-designed handset.
The Nokia E72 also comes with Nokia's push consumer email service, Nokia Messaging, and now for the first time people can set up instant messaging (IM) directly from the homescreen, accessing communities such as Windows Live(TM) Messenger, Yahoo! Messenger, Google Talk and Ovi Chat. Just like chatting via the desktop, people can respond to friends and colleagues across multiple communities in real-time.
The Nokia E72 can also accommodate multiple work and personal email accounts and, with separate profiles for work and play, allows people to be flexible when it comes to choosing how, when, where and who to respond to. While work emails rank as the most important messages to receive, they are not necessarily the most urgent messages to respond to. According to Nokia's research, half of respondents (49 percent) prioritise their partners ahead of their bosses or managers (29 percent), colleagues (23 percent) and even customers (31 percent).
The Nokia responsiveness research was commissioned to examine the various factors that influence how people respond to various issues and situations. In addition to the research, an online campaign at http://www.nokia.com/responsiveness invites people around the world to respond to various issues and comments from TED Fellows.
See the results of the Nokia responsiveness research in the Nokia E72 press kit http://www.nokia.com/A4664066?kit=112
A full list of Nokia E72 features is available at http://europe.nokia.com/find-products/devices/nokia-e72
Compatibility with the aforementioned services may be limited to certain countries.
* Research conducted by ICM among 7,826 people in seven countries in July 2009. Countries where research was conducted: UK, Russia, Spain, South Africa, UAE, Singapore and Italy.
About Nokia
Nokia is a pioneer in mobile telecommunications and the world's leading maker of mobile devices. Today, we are connecting people in new and different ways - fusing advanced mobile technology with personalized services to enable people to stay close to what matters to them. We also provide comprehensive digital map information through NAVTEQ; and equipment, solutions and services for communications networks through Nokia Siemens Networks.
Last updated: Apr 7, 2020 at 12:00 pm CDT