Taipei, Taiwan - August 29, 2019 - XPG - XTREME PERFORMANCE GEAR, a provider of high-performance products for gamers, Esports pros, and tech enthusiasts is pleased to announce that it will be showcasing its latest products at IFA Berlin 2019. The products on show will include its new 4D gaming mouse, Mera Edition gaming peripherals, and GAMMIX S50 solid state drive (SSD). Visit XPG at IFA Berlin 2019 (Sep 06 - Sep 11, 2019) at the MesseBerlin, stand 107, hall 12.
XPG Headshot Gaming Mouse - Get a Grip on the 4D Revolution
The XPG HEADSHOT is a truly revolutionary, disruptive and innovative take on the gaming mouse. Standing at the crossroads of two major megatrends, AI and 4D printing, the XPG HEADSHOT brings together intelligence, an ultra-light form factor, and a versatile lattice structure to deliver the ultimate gaming mouse. Leveraging an AI algorithm, the XPG HEADSHOT can be personalized based on the preferences and characteristics of individual users such as grip, hand size, surface finish, and customized design elements such as logos.
"The XPG HEADSHOT is the embodiment of our commitment to achieving a relentlessly fine-tuned and insanely ergonomic experience," said Luca Di Fiore, Director of Products and R&D at XPG. "From day one, we have sought out ways to accommodate both Esports professionals' needs with tech enthusiasts wants to create a mouse that is an extension and reflection of who they are."
XPG Mera EditionGaming Peripherals - Rethinking Gaming Gear
XPG will show off a new series of gaming peripherals that challenge the hyper-masculine preconceptions of what gaming gear should be. Based on a new XPG brand characteristic, XPG applied a fearless spirit into the products through a warm and audacious color. The new color is a stark contrast to the darker and edgier shades found on most gaming peripherals today. With an eye for breaking the mold and acknowledging that gamers are not a homogenous demographic, XPG is rolling out a full range of Mera Edition gear including headsets, mousepads, mice, keyboards and chassis.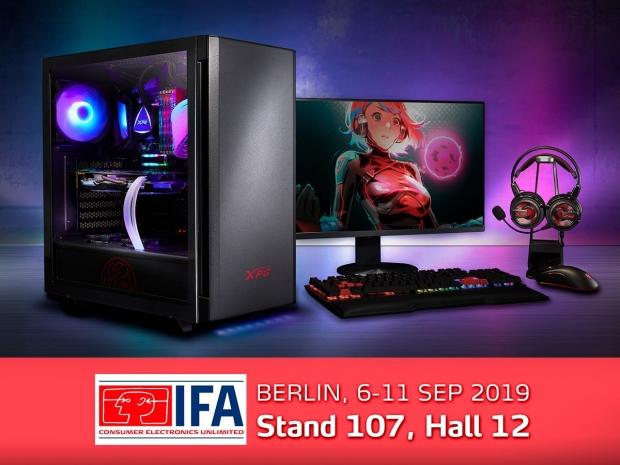 "With Mera Edition products, XPG is making a statement about what it means to be a gamer," said Alex Yin General Manager & Chief Gaming Officer at XPG. "And that statement is that gamers are individuals that don't necessarily need to conform to preconceived ideas what a gamer is, and should be fearless and adventurous in expressing themselves."
XPG GAMMIX S50 SSD - Made for Gamers, PC Enthusiasts, Overclockers, and Graphics Professionals
Sporting the latest PCIe Gen4x4 interface, the GAMMIX S50 supports the NVMe standard to deliver sustained read/write speeds of up to 5000/4400MB per second and random read/write of up to 750K/750K IOPS, offering speeds that are up to ten times faster than a SATA SSD. What's more, with 3D Flash memory in combination with SLC caching, it offers a leap forward in capacity, efficiency, and durability. With support for the M.2 2280 specification, the S50 supports the latest Intel and AMD platforms and is backward compatible with PCIe 3.0. These capabilities make the S50 ideally suited for gamers, PC enthusiasts, overclockers, and graphics professionals.
Visit the XPG Booth to See its Latest Products and the XPG Orb
Visit XPG at IFA Berlin 2019 (Sep 06 - Sep 11, 2019) at the Messe Berlin, stand 107, hall 12. Visitors to the XPG booth will witness all of the latest XPG gaming products in addition to those already mentioned above. What's more, visitors will get to see an impressive structure known as the XPG Orb, which took three thousand hours to build and consists of three hundred individual parts. Inside the XPG Orb, visitors will be able to experience the extreme performance of its latest products.
XPG has recently expanded its product offering, including XPG PRECOG headsets, XPG BATTLEGROUND mousepads, XPG SUMMONER keyboards, XPG BATTLECRUISER and XPG INVADER PC chassis, XPG LEVANTE water cooling systems, and CORE REACTOR power supply units, now all available worldwide.
Last updated: Apr 7, 2020 at 12:12 pm CDT