EK the premium liquid cooling gear manufacturer is releasing the EK-Leak Tester. A fast and safe way of testing for possible leaks in your liquid cooling loop. While traditional leak testing works, it requires hours before very small leaks are detected and then things can get messy. The EK-Leak Tester does the job way better!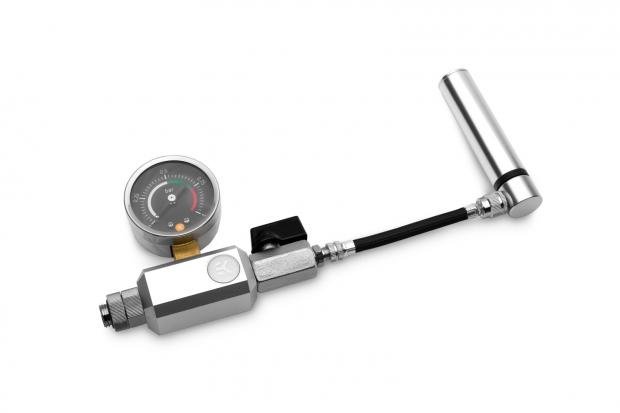 The main body is a solid piece of CNC machined aluminum. One end is fitted with a revolvable male G1/4" connection port so it can be directly screwed onto any standard port in your liquid cooling loop. The gauge is custom made for liquid cooling loop testing purposes, which clearly marks the safe pressure for testing. The other side of the tester is hooked up with a valve that will make sure no air is escaping through the tester unit. The small pump for pressurizing the loop is also included. However, for a maximum safety effect, EK suggests reaching a pressure you want for testing and leaving the tester on for at least 15 minutes. If no pressure drop occurs and the gauge remains on the same spot, you're good to go.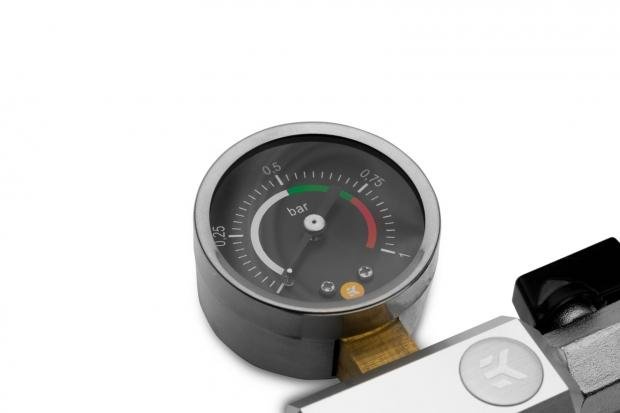 In order to prevent damage of your liquid cooling loop, keep the pressure in the predefined zone only, as marked on the gauge. Please read the user manual before using the EK-Leak Tester!